Sponsored
PC Gaming's Unsung Heroes: Best Components for Your Build Beyond a GPU and CPU
A fancy CPU and GPU grab the limelight, but it's time to celebrate the workhorse components that complete the ultimate gaming PC build.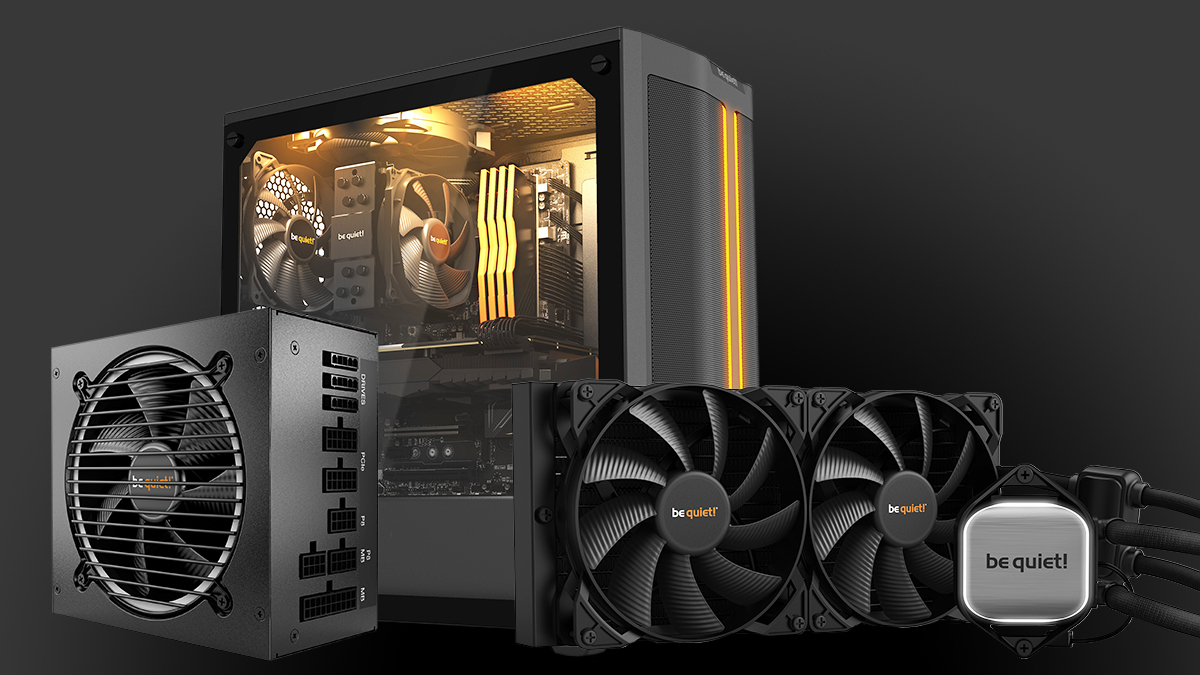 This article is presented by be quiet!
So you've managed to beat the scalpers and grab yourself a brand new NVIDIA RTX 30 or AMD Radeon RX 6000 GPU? Pair it with a top-of-the-line Intel or AMD CPU and you're ready to make a gaming PC that will make your friends and family justifiably jealous.
But not so fast. While the CPU and GPU hog the limelight, a top performing gaming rig is more than just those attention grabbing components. Below we've picked out the unsung heroes of PC building, with an explanation of why each one is important and tips regarding what to look for when shopping for each component. We've even made some product recommendations for each component that'll perform well without breaking the bank.
Let's get cracking.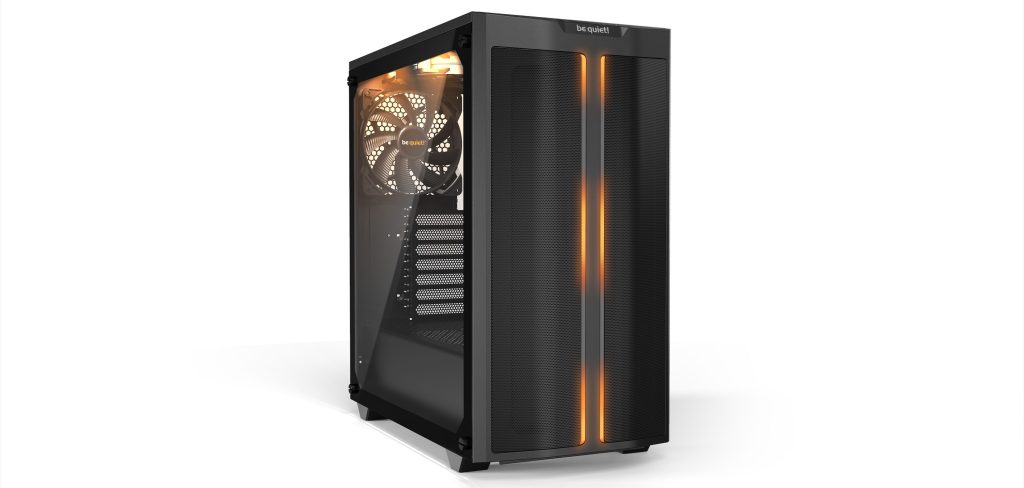 Case
Why it's important:
A good case is where it all begins. From a practical perspective, you want a chassis big enough for all of your components and with enough clearance for decent airflow. From an aesthetic point of view, you want something that's stylish and doesn't take up too much space. Quite the balancing act.
What you need to know before you buy:
The main thing is making sure everything fits. The good news is that a case's specs will tell you what size motherboard fits, from the teeny-tiny mini ITX all the way up to the enormous E-ATX. That alone is not enough though: you also need to ensure there's enough headroom for your components: mainly your CPU cooler and GPU, with enough space for case fans, too.
Most PCs do without an optical drive these days. If you're dead set on physical media, you'll need to track down a case with room for a DVD or Blu Ray drive.
Our recommendation:
The Pure Base 500DX has it all at a surprisingly competitive price. As you may have guessed from the be quiet! branding, it's all about keeping noise to a minimum, but there's also plenty of space for large GPUs and coolers and up to five SSDs, too.
It comes with three 140mm Pure Wings 2 fans preinstalled, and the programmable RGB lighting makes it look just as cool as it feels.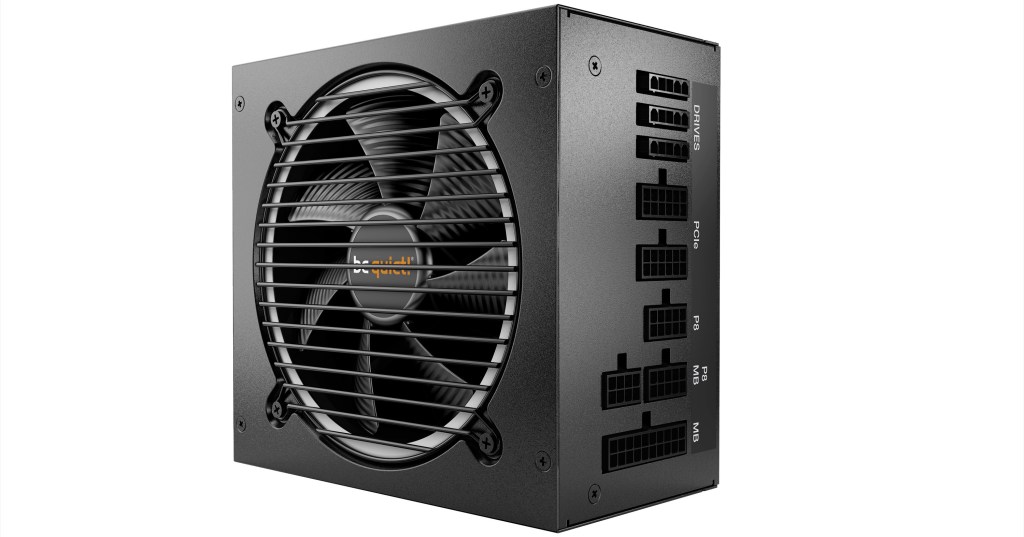 PSU
Why it's important:
It's no good having the best-in-class GPU and CPU if your computer can't provide the juice to make them work. The PSU is one component you don't want to scrimp on. Bluntly, you don't want to risk hundreds or thousands of dollars on a $50 saving, especially when PSUs from reputable companies tend to be more energy efficient and thus cheaper in the long run.
What you need to know before you buy:
Firstly, you need to know exactly the power that your components will draw, and be quiet! has a rather handy calculator to help you figure this out. Secondly, you need to ensure it fits your case – most PSUs are ATX in size, but some are designed for smaller shells so make sure they're compatible.
Finally, it makes sense to go modular if you can. This lets you add and remove wires as you need them, rather than leaving cables dangling awkwardly in your case, blocking airflow.
Our recommendation:
The Pure Power 11 is a flexible modular PSU with options for 550W, 650W, and 750W builds. Supporting up to four PCIe connectors and with 80 PLUS Gold and Bronze certification for its high efficiency, it's a solid, reliable solution that won't cost the earth. And as the name suggests, it's quiet, too.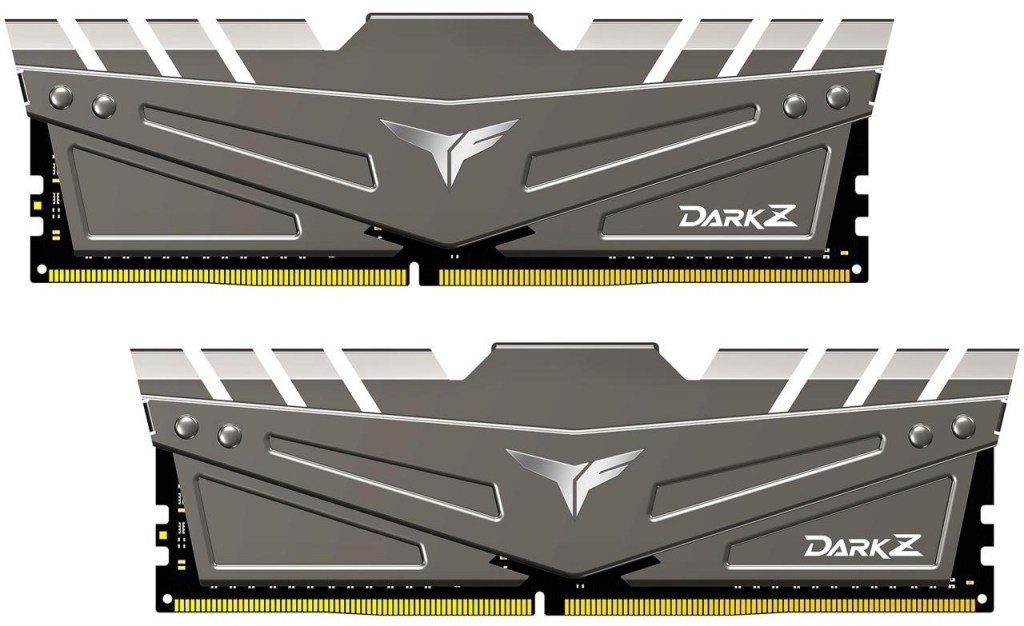 RAM
Why it's important:
After your CPU and GPU, RAM is the next most important factor in how games perform in your rig. It's as simple as that.
What you need to know before you buy:
First of all, the bare minimum for gaming comfortably in 2021 is probably 8GB. Doubling that to 16GB is recommended, but anything over that is largely overkill at the time of writing.
When it comes to RAM performance, the two things you need to look out for are frequency and latency. The former is how fast RAM can process data, while the latter is the time between entering a command and it being executed. For gaming, you want high frequency and low latency – though there is definitely a case of diminishing returns as the numbers improve, so it's not worth blowing your entire budget on the most expensive RAM you can find.
Our recommendation:
Teamgroup's T-Force Dark Z gaming RAM offers a lot of bang for your buck, with 16GB for under $100. It's low profile, offers good heat dissipation, and supports auto overclocking to help you push your frame rate as high as possible.

M.2 NVMe Storage
Why it's important:
If you haven't built a PC in a while, the fact Windows can boot off something that looks like a stick of RAM may surprise you. But M.2 NVMe – or Non-Volatile Memory Express – is significantly faster than SATA drives, and that means a big boost to boot up times and in-game loading screens.
What you need to know before you buy:
Firstly, you need a motherboard with an M.2 NVMe slot. Most motherboards made in the last few years will have this, but do double check before buying. Also, while M.2 SSDs are usually 22mm wide and 80mm long, some can be longer, so make sure your motherboard can cope.
Secondly, unless your game library is very small, you'll probably want a traditional mechanical hard drive as well, because you don't get a great deal of capacity for the money. NVMe can go up to 8GB in capacity, but the price might make you faint! 1TB and 512GB units are the sweet spot in terms of price, in our opinion.
Our recommendation:
It's not the fastest M.2 NVMe out there, but the WD Blue SN550 is a stupendous value that offers a lot of bang for your buck, with read and write speeds that put other budget SSDs to shame. It starts at around $50 for a 250GB drive, but we'd recommend spending a little more to get 500GB or even 1TB if you can afford it.

Cooling
Why it's important:
Without adequate cooling, your PC will overheat. This will cause crashes, instability, and worse. Seriously, don't scrimp on cooling – something that's doubly true if you intend to try your hand at overclocking.
What you need to know before you buy:
For CPU coolers, you need to make sure that the spec matches the processor you're attaching it to. This will be clearly labeled.
Air fans for cases, meanwhile, come in all sorts of sizes, from 80mm all the way up to 200mm, with 120mm being the most common. Check what slots your case has to ensure compatibility before you buy.
When the time comes to install them, remember that air fans can both suck air in and push air out, depending on the direction they're facing, so make sure they're the right way round. This guide will help you optimize airflow.
Oh, and it's worth paying extra for quiet fans, trust us.
Finally, there are water cooling solutions where sealed liquid coolant is pumped around components to keep them cool. These are more efficient than air coolers, but also more expensive, so tend to be better for those looking to overclock than casual PC gamers.
Our recommendation:
be quiet! Shadow Rock series CPU cooler
be quiet!'s Shadow Rock range of CPU coolers offer a great balance between price and performance while, as the brand name suggests, keeping the decibels down to a manageable level.
If your setup warrants more intense cooling, then look no further than be quiet!'s Pure Loop series of liquid cooling solutions. Available in 120mm, 240mm, 280mm, and 360mm, you get incredible heat dissipation without much noise.
For air cooling your case, be quiet!'s Shadow Wings 2 comes in 120- or 140mm sizes and do a great job of keeping things nice and chilled, while operating at whisper-quiet levels thanks to their anti-vibration mounting system and low rpm.
Monitor
Why it's important:
It's no good having the best GPU in the world if you cheap out on the monitor. You want crisp, bright, color accurate visuals with great contrast – with a high enough resolution to show off the graphics of today's AAA titles. Plus a great frame rate!
What you need to know before you buy:
While it's tempting to go all in on a 4K monitor, that's not actually what most gamers do, and not just because they're prohibitively expensive. 4K screens have high resolutions, but tend to lose out where it really counts: response time and refresh rate.
Response time is how long it takes a screen to shift from one color to another, and a lower number is better, because when gaming every millisecond counts. Look for less than 5ms.
Refresh rate, meanwhile, is the number of times a monitor can refresh in a minute, and most screens are still 60Hz. This means your frames per second (FPS) is also capped at 60, which is a bit of a waste of a top-end graphics card! Instead, gamers tend to look for screens of 144Hz or higher.
Our recommendation:
It's only 1080p, but the AOC G2 IPS monitor is a brilliant pick for gamers, as it boasts a 144Hz refresh rate, 1ms response time, and generally excellent all-round performance. And it doesn't break the bank whether you opt for the 24in or 27in model.

Gaming Keyboard
Why it's important:
A keyboard is something you have to look at and use every time you turn on your computer, so it's not something to cheap out on. And gaming keyboards aren't just about bright RGB lighting: they're about quick response times and customization, too.
What you need to know before you buy:
Most gaming keyboards are mechanical, which means that each key has an independent switch, rather than being connected by the same circuit layer. That makes them a bit louder, and you'll want to choose the right caps to balance volume, resistance, and feel to your taste. They'll also have anti-ghosting technology and n-key rollover to ensure you can press multiple keys at once.
Look out for extra features that you want: programmable keys, dedicated media controls, and customizable RGB lighting are popular extras.
Our recommendation:
The MSI Vigor GK50 Elite offers all the main features you'd want in a gaming keyboard, from programmable keys to custom lighting. On top of this, it's a pleasure to type on, and the fact that it can often be had for around half the price of its rivals is just a bonus.
Gaming Mouse
Why it's important:
A good, comfortable gaming mouse with customizable buttons and a low response time can really up your in-game performance – especially in competitive shooters where every competitive advantage is worth taking.
What you need to know before you buy:
With mice, it's all down to personal taste, and you may favor a high profile or low profile option depending on how you grip it.
Regardless of this, you should pay attention to the number of buttons (strategy gamers and MMO enthusiasts may want more), and the DPI – or dots per inch. This measures how far the cursor moves when you move the mouse an inch on your desk, and theoretically it's a case of "the higher the better." In practice, however, you likely won't use anything higher than around 1,600DPI, where it becomes too fast to be precise.
Our recommendation:
The Logitech G502 Hero has everything you'd want in a gaming mouse, and it's not so expensive you'll wonder what the hell you're doing. With 11 programmable buttons, a comfortable design, and removable weights to make it feel just right, it's an excellent choice.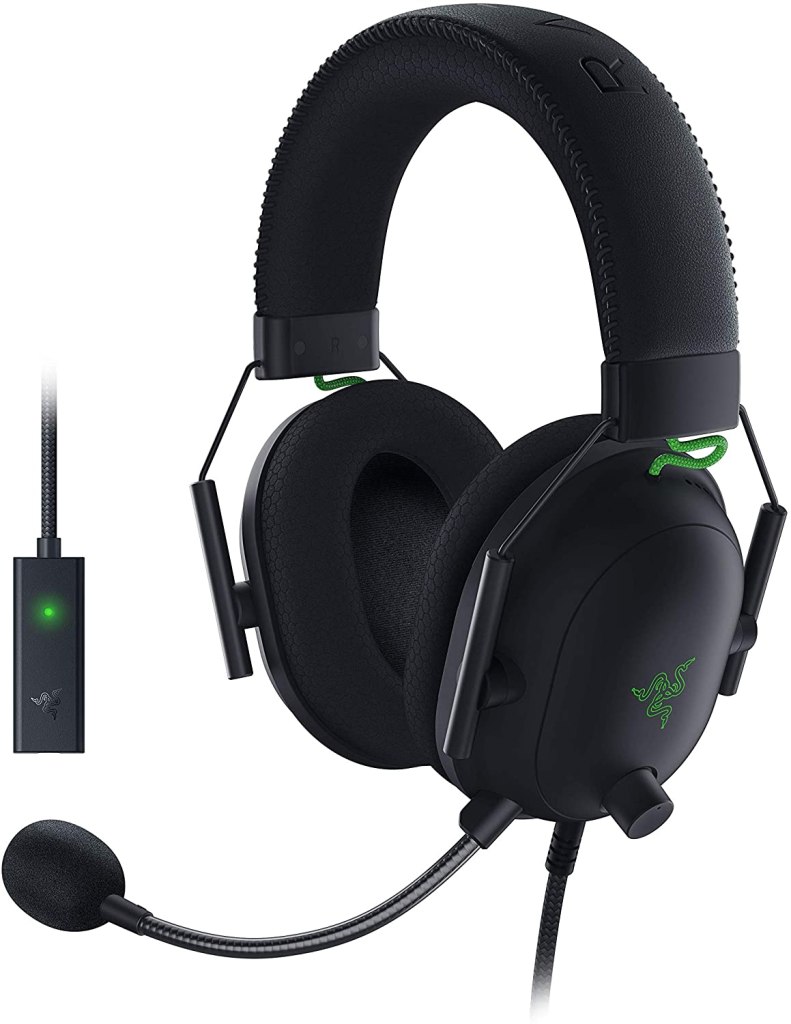 Headset
Why it's important:
Being able to hear clearly is vital to gamers in both single-player and multiplayer games. Being clearly heard is also important for the latter, so you'll need a good gaming headset that can be worn for hours at a time.
What you need to know before you buy:
The most important thing is comfort, so look for a headset with enough padding that it doesn't hurt the ears, and that's light enough to be worn for extended periods.
Also look out for driver size, which should give you an idea of sound quality (larger is better), noise isolation for blocking out the outside world, and virtual surround sound for the competitive advantage of knowing where enemies are lurking.
Our recommendation:
For $100, the Razer Blackshark V2 headphones are about as good as it gets, with comfortable memory foam ear cushions and superb sound delivered by the large 50mm drivers. The THX Spatial audio surround sound is just the cherry on an already delicious cake.
Great, now you have all the components you need to build a great gaming PC (assuming you've picked out a GPU and CPU already). But do you need help putting them all together? Check out our guide to building a PC here.