Features
How to Build a PC: The Den of Geek Gaming PC Guide
The Den of Geek Gaming PC is finally here! Check out how we built the ultimate PC for gamers from the best components on the market.
Earlier this year, Den of Geek launched two new PC Gaming series, one focused on the History of PC Gaming as well as a PC Building Guide meant to help our readers create their own powerful rigs to play the latest releases at the highest graphical settings and efficiency. The latter series has allowed us to work with the biggest tech companies and experts in PC Gaming who have provided us with invaluable advice for our own PC building efforts.
Today, Den of Geek is excited to unveil our official gaming PC, built from the best components from companies such as Intel, Nvidia, ASUS, Patriot, be quiet!, HyperX, ViewSonic, Alphacool, XPG, and ADATA. With the help from our friends at the brilliant PC modding company ModMyMods, we've assembled a rig with our readers in mind, a machine that can be built by beginners but that will also catch the eye of DIY veterans.
Not only do we plan to play and review all of the latest PC games on our new rig, but we'll also bring you along for the ride with our Den of Geek Plays live streams on Twitch, where you'll be able to watch the Den of Geek PC in action.
And if you're ready to take the next step and assemble your own gaming PC, we've produced a step-by-step video guide based on our own build. Watch as the experts at ModMyMods assemble the Den of Geek PC, with detailed walkthroughs of all of the featured components, in the videos below and click on the links to see a more detailed guide to each component!
Case
You'll want your rig to run smoothly and efficiently, as you play the latest and greatest PC games, but you'll also want your machine to look good while doing it! That's why we chose the be quiet! Pure 600 Window Orange as the official case of the Den of Geek PC. This case is incredibly versatile, so you can build your PC to your specifications. It also comes with two pre-installed coolers and is also optimized for water cooling technology. The Pure 600 is also designed to insulate sound, perfect for those who want a quieter rig. Oh, and it features a tempered-glass window on one side so that you can show off all your expensive components!
Motherboard
The motherboard is the foundation of any PC, which is why we chose the powerful ASUS Prime Z390-A LGA 1151 for our rig. Designed specifically for 8th and 9th generation Intel Core processors, the ASUS is made for today's most high-end systems. It's also quite nice to look at, with built-in RGB lighting and is designed to run at cooler temperatures than its competitors. The ASUS Z-390 also offers excellent audio quality for all your gaming needs.
CPU
One of the most important components of your PC is the processor, and if you're building a mid-range to high-end gaming rig specifically, you'll want a CPU that will be able to handle whatever you throw at it. That's why we chose the 8th-generation Intel Core i7-8700K for the Den of Geek PC. This CPU's most important feature is that it's made with overclocking in mind — that is, running this component at higher speeds than originally intended by the manufacturer, boosting your computer's speed significantly.
The Intel Core i7-8700K is also a good choice for those users who want to make live streaming a big part of their gaming schedule. This CPU offers up to 137 fps while streaming and recording. It's also a great processor for those who want to jump into virtual reality experiences.
Memory
Say you're running a high-intensity game at its highest graphical fidelity and also plan to stream it at 4K resolution and 60 fps. You're going to need a lot of RAM! Our build includes dual Patriot Viper RGB DDR4 8GB 3000MHz White memory cards, which brings our system up to 16GB of memory, offering speeds up to 4133MHz. That's plenty! To match the look of our ASUS motherboard, these Viper memory cards also have built-in RGB lighting that makes them not only powerful but stylish.
Den of Geek also recommends the ADATA XPG Spectrix D80 DDR4 RGB 8G and HyperX Predator DDR4 RGB.
Storage
When it comes to your PCs storage, you'll want a capable SSD. We went with the Patriot Viper VPN100 512GB SSD, which has been engineered specifically with gaming and high-end PCs in mind. This SSD has excellent read and write speeds and, to match our memory cards, also has a rugged design for maximum endurance. After all, you don't want to lose any of your saved games!
Den of Geek also recommends the ADATA 1TB XPG GAMMIX S11 Pro.
Power Supply
Here's one component you don't want to cut corners on. Without a high-quality power supply, you run the risk that your rig simply won't run or worse: that it'll fry your system. So go with the be quiet! Pure Power 11, which is perfect for powering a demanding machine and is virtually silent while doing it. Our specific PSU offers up to 700 watts of power, plenty for our needs.
Graphics Card
If you've been paying attention to the world of video game graphics recently, you know that the main topic of discussion is ray-tracing, which has completely revolutionized the way systems render light and shadow, making games look more realistic than ever before. We weren't about to skimp out on the best graphics the games market has to offer, which is why we installed the Nvidia GeForce RTX 2080 Ti graphics card. On top of its ray tracing capabilities, this Nvidia card is also optimized for all your live streaming needs.
Cooling
CPU Coolers
A system running this much gaming heat is going to need a heck of a cooling system. To keep our rig at optimal temperatures, we're using both the be quiet! Dark Rock 4 Air Cooler and Alphacool Eisbaer 360 AIO CPU Cooler.
The Dark Rock 4 is not only a powerful CPU cooler, but it's also virtually inaudible, meaning you'll never hear that annoying rackety fan sound when your rig gets hot. We specifically chose this cooler because it's designed to support overclocked systems running hotter than expected.
Since we plan to push our system to the limit, we've also decided to install water cooling in our rig. The Alphacool Eisbaer easily meets the cooling demands of an overclocked system, which means you won't have to worry about your components overheating. We should note that installing water cooling systems in your builds isn't for beginners, but once you're at that level of comfort, these cooling systems do look damn cool in your build.
GPU Cooler
For some extra cooling power for our Nvidia GPU, we also installed the Alphacool Eiswolf 240 GPX Pro Nvidia Geforce RTX 2080 Ti water cooling system.
Peripherals
Keyboard
Now we get to the really fun gaming stuff: the peripherals. First up, is our HyperX Alloy FPS RGB keyboard. This keyboard has a solid steel frame and features stunning customizable RGB lighting effects. Its Kailh Silver Speed keyswitches are designed to be ultra-responsive, perfect for games where every second and reflex counts.
Mouse
Nothing is more important in a chaotic and high-speed Apex Legends firefight for first place than your handy mouse. As your main tool of death, you'll want a mouse that can offer both precision and comfort. That's where the HyperX Pulsefire Surge mouse comes in. With RGB effects to match our HyperX keyboard, our rig is basically running a light show in our offices. But more importantly, this mouse is fully customizable. You can customize the DPI and assign macros and save it all to the mouse's internal memory. With DPI settings as high as 16,000, the HyperX Pulsefire Surge gives you the sort of precision you want when playing a first-person shooter.
Headset
With a rig this powerful, it's likely you're going to do some online gaming or live streaming during your play time. You'll need a great headset if so. Meet the HyperX Cloud Alpha, which offers a comfort fit with a noise canceling microphone so your teammates or viewers can hear you crystal clearly. HyperX's Dual Chamber Drivers also allow this headset deliver a cleaner sound when you need it most, like when playing the aforementioned Apex Legends.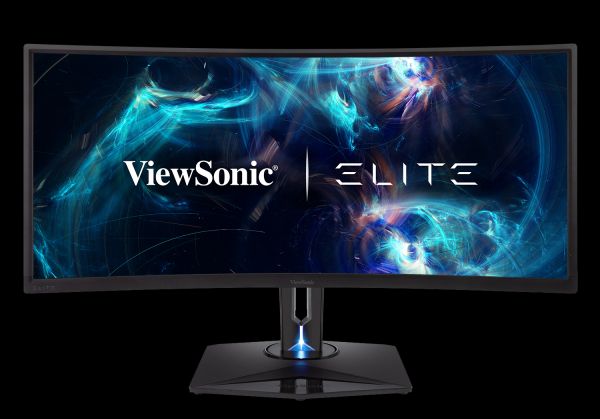 Monitors
Our dual monitor setup consists of the ViewSonic ELITE XG350R-C and the ViewSonic ELITE XG240R. Having two displays is ideal if you plan to live stream your games, as you can run the game on one screen and StreamLabs OBS on the other. Or maybe you'd just like to watch some Twitch while you work. Both of these ViewSonic monitors bring both high resolutions, vivid colors, and incredible refresh rates. And did we mention the RGB lighting?
Have any questions or comments for us about the Den of Geek PC? Write us in the comments below!