Sponsored
The Best CPU Coolers for PC Gaming From be quiet!
The right air or liquid cooler is the key to keeping all of your PC components at the optimal temperature. Luckily, be quiet! really delivers on that front!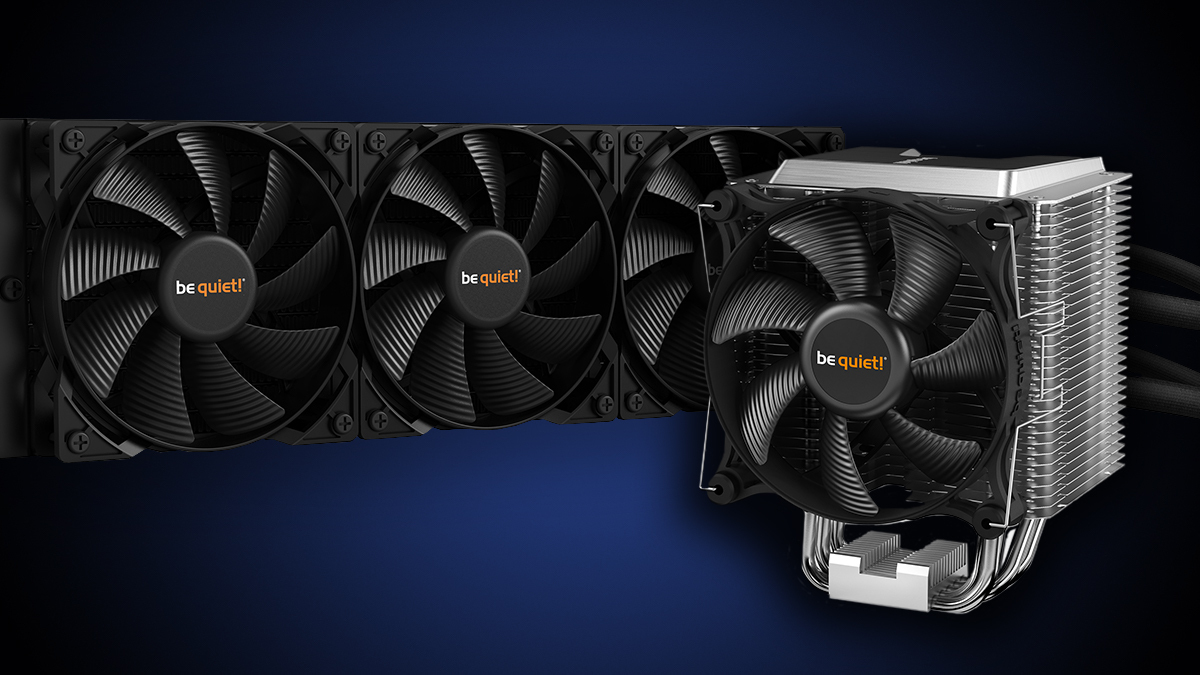 This article is presented by be quiet!
Does your PC sound like a jet engine taking off when you put it under even mild strain? A loud computer doesn't just hurt the ears–fans working overtime are a sign that the internals are getting too hot, and that can lead to crashes or even component failure, especially when you're gaming.
Adding more cooling, or improving the cooling solutions you already have, can make a huge difference, especially when it comes to your precious CPU. Fortunately, we've got a number of cooling suggestions from the cooling experts at be quiet!, but first a little background on what you need to know when turning the heat down on your computer.
Why now is the perfect time to improve your PC cooling
Even if your PC isn't currently wheezing under the strain and regularly crashing, you might still want to look into your cooling options, especially if you're eying new and exciting next-gen gaming hardware.
AMD's Zen 3 processors are top-of-the-line , and they'll soon be joined by Intel's 11th-generation Rocket Lake-S line of CPUs. Better performing chips mean that you'll also want better cooling to match – especially if you're into overclocking.
Overclocking, for those unfamiliar, is the art/science of pushing CPUs and GPUs to run at a higher frequency than intended. The trade off of overclocking is that over-performing components will create more heat. If overclocked components aren't properly cooled, you could potentially be looking at a shortened lifespan for the hardware.
While most of the heavy lifting for games falls on GPUs nowadays, overclocking can offer a boost to frame rates, as well as staving off the need to upgrade for a bit longer. Though in truth, plenty of people just do it for the challenge and satisfaction gleaned from making their hardware work harder.
That's why it's so important that you think ahead before buying the right CPU cooler…
What to look for when it comes to CPU cooling
The main thing to consider when upgrading your CPU cooler is whether you want air or liquid cooling. There are pros and cons to each, but as a rule of thumb liquid cooling is both more effective at reducing temperatures and a lot quieter. The flip side to this is that it tends to be both more expensive and a little more fiddly to install and maintain. That said, liquid cooling is the preferred solution for users who intend to overclock or really value their peace and quiet.
You'll also want to pay attention to the TDP rating of the CPU cooler. TDP – or Thermal Design Power – gives you an idea of how much heat the cooler can dissipate. In short, you want the TDP rating of the fan to be higher than that of the processor you're buying for. Otherwise you'll be looking at CPU throttling and excessive noise. Say you're building a PC with the Intel i7 10700k. Intel's specs page lists a TDP of 125W for that particular CPU, so you'll need a cooler that can at least match that. The higher you go, the cooler things will be.
The next thing to look at is how much physical space you have in your PC case. Computer chassis makers tend to list the maximum height allowed, and cooler manufacturers always list the dimension of the products, too. The same is true for liquid cooling radiators – if your case supports them, the mounting locations and sizes allowed will usually be detailed in the manual. So do check before buying. (be quiet! offers several excellent cases that support both liquid and air coolers.)
Finally, remember that your PC's overall cooling is only as good as your physical room setup. Ideally, you want to keep your computer a good 50cm away from surfaces to give the hot air plenty of room to escape. And obviously keep your PC away from radiators, lamps, and anything else that'll heat things up.
With all that in mind, here are some solutions from the cooling specialists at be quiet! each one of which can be bought for AMD or Intel processors.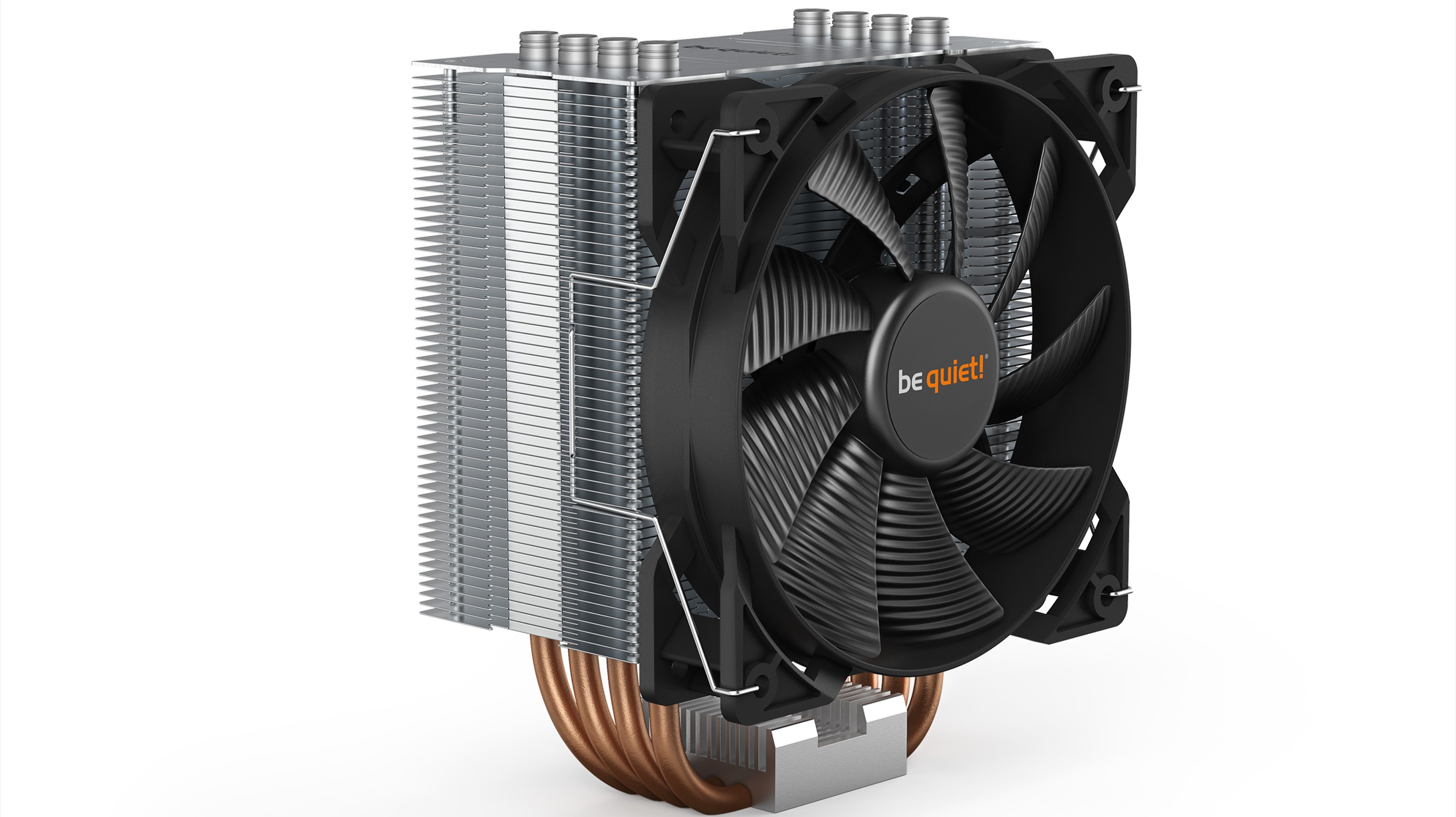 Entry level air cooling: Pure Rock 2 ($39)
The Pure Rock 2 air cooler delivers excellent bang for your buck – 150W TDP worth, to be exact. It comes complete with four high-performance 6mm heat pipes topped with a Pure Wings 2 120mm PWM fan to keep things quiet with a maximum volume of 26.8dB(A), which, again, is remarkable for the price tag. Its asymmetrical design means it shouldn't block your memory slots, either.
Learn more at bequiet.com or Buy on Newegg
Performance level air cooling: Shadow Rock 3 ($50)
Offering 190W TDP, the Shadow Rock 3 offers a good balance between price and performance, with five 6mm high-performance nickel-plated copper heat pipes to bring down the temperature. The Shadow Wings 2 120mm fan is pretty close to silent, too, only emitting 24.4dB(A) at top speed.
Learn more at bequiet.com or Buy on Newegg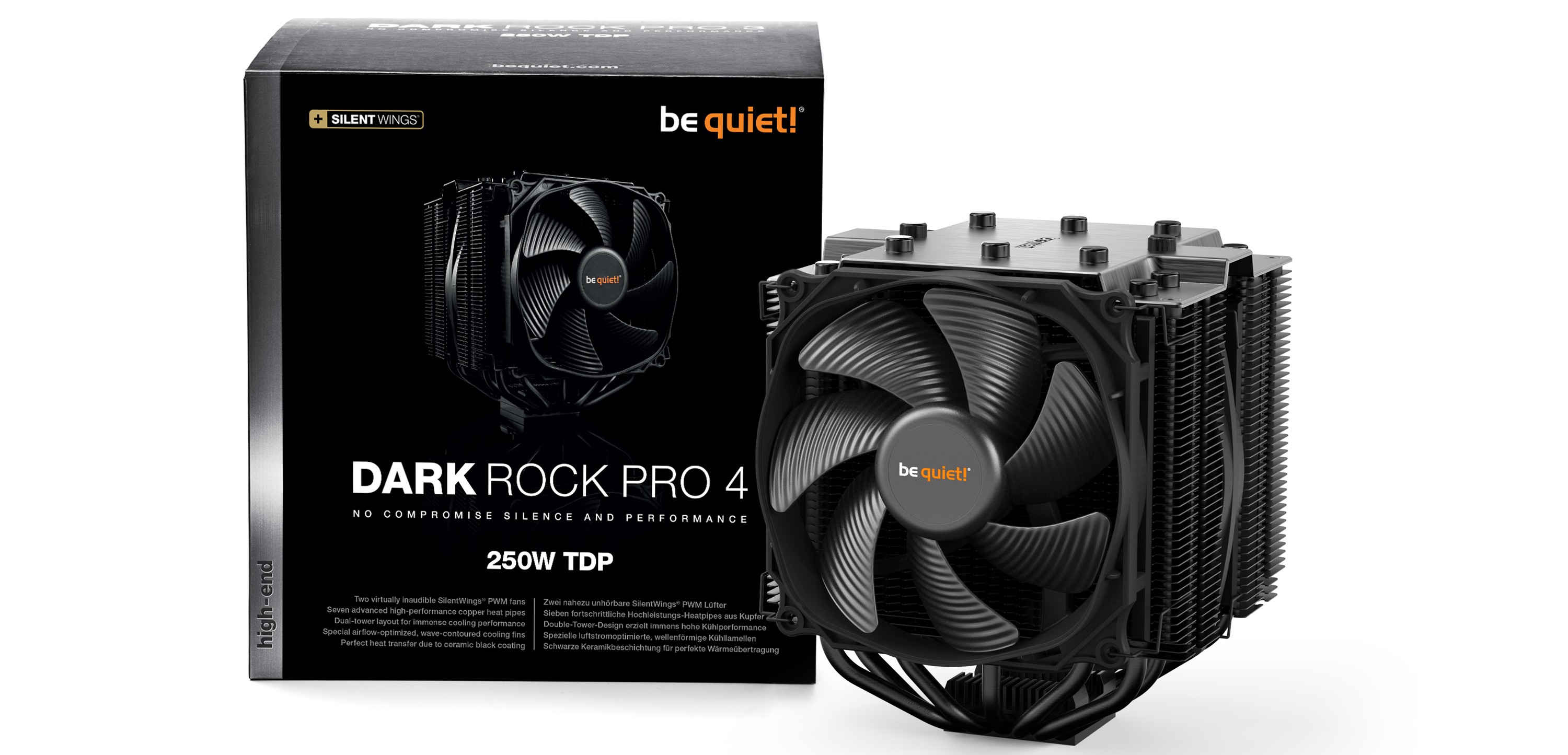 Enthusiast level air cooling: Dark Rock Pro 4 ($90)
For power users and those with serious overclocking needs, the Dark Rock Pro 4 is the ultimate air cooling solution. Offering 250W TDP, with only 24.3dB(A) of noise at top fan speed, this ought to meet the needs of even the most demanding user. The two Silent Wings fans are optimized for cool, quiet action and combine superbly with the seven copper heat pipes to keep things nice and chilled, no matter what you throw at your PC.
Learn more at bequiet.com or Buy on Newegg

What about liquid cooling solutions?
If you really want your PC to run as cool and quietly as possible, then be quiet!'s liquid cooling solutions are the answer. The kits are all-in-one solutions making them easy to install, even for liquid cooling novices.
The be quiet! Pure Loop liquid coolers come in four sizes – 120mm, 240mm, 280mm, and 360mm. In short, the bigger the radiator, the more surface area to dissipate heat, and the cooler your PC should run (case space permitting!)
While the smallest one should offer superior cooling for non-overclocked systems, there's a real benefit to getting the best you can afford – aside from anything else, it'll help when planning future upgrades.
But whichever you pick, you're guaranteed impressive performance and quiet operation, with key features shared across the sizes. You get between one and three Pure Wings 2 120mm fans pushing through cold air, with a doubly decoupled pump keeping noise and vibration to an absolute minimum. Maintenance is simple, with an easy-to-reach refill port (coolant included), and they're eye-catching to boot, with a stylish all-black aluminum design and white LED illumination.
Learn more on bequiet.com or Buy on Newegg
Have any other questions about be quiet!'s range of PC coolers, or how to choose the right one for your build? Let us know in the comments!