Features
Build Your Own PC: HyperX Headset, Mouse, and Keyboard
You don't really have a gaming PC until you have the right keyboard, mouse, and headset. Here are our thoughts on why you should go to HyperX for your peripheral needs.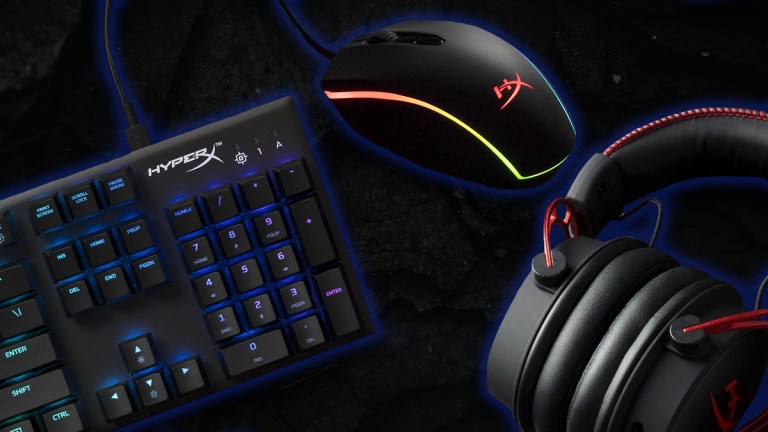 This is Part 10 of our PC Building series.
Building a gaming PC is a funny process. There you are with your new tower filled with all the glorious hardware that we've recommended, a brand new monitor (or two or three), and you've even managed to remember to get a copy of an operating system. You've spent the money, you've put the work in, and now you're finally ready to go.
But you're still missing three essential components of the PC gaming experience: a mouse, keyboard, and headset.
The components inside your gaming PC are going to do the heavy lifting, but having the right peripherals makes a difference when playing a competitive shooter or teaming up with your guild to finish that raid. More importantly, upgrading your gaming PC peripherals is often one of the most low-cost ways to upgrade your current setup without having to spend hundreds of dollars on new components.
With that in mind, let's take a look at a keyboard, mouse, and headset from HyperX that will not only complete your new PC but make your gaming experience better.
HyperX Cloud Alpha Headset
There are many reasons why you often see esports pros using HyperX headsets and the Cloud Alpha embodies just about all of them.
It starts with comfort. With its expandable headband and combination of memory foam and leatherette materials, you can comfortably wear the Cloud Alpha headset for hours. You might even forget that you have the headset on.
Well, at least you would if it weren't for the incredible sound of the Cloud Alpha. The headset uses separate sound chambers — one for bass and another for mids and highs — to convey complex sound in a compact delivery system. When wearing the Cloud Alpha headset, you can feel the sound all around you.
With so many incredible headset options on the market, it can be difficult to know which model you should invest in. Yet, the Cloud Alpha manages to stand out thanks to an incredible combination of comfort, durability, sound quality, and features, such as a detachable noise-cancellation microphone.
Whether you're playing casually with friends or trying rank up in your favorite competitive multiplayer game, the HyperX Cloud Alpha delivers.
HyperX Pulsefire Surge RGB Gaming Mouse
Unfortunately, buying a new gaming mouse is not going to make you a pro at Overwatch and Counter-Strike. However, a good mouse can not only make gameplay feel more natural, but it can make your gaming experience significantly more comfortable.
That's especially true of the Pulsefire Surge. Its design may look simple, but that's kind of the point. This mouse is designed to perfectly fit your hand and not "bulk up" with too many button options. Its Pixart 3389 sensor glides smoothly across your mousepad, while this model's Omron Switches are known to be good for up to 50 million clicks. Yes, this mouse can even survive Diablo marathons.
Besides, this mouse's design isn't quite as "simple" as you might think. Thanks to the support from the HyperX NGENUITY software, you're able to customize and modify everything, from this mouse's RGB colors to the button programs and dots per inch settings. The basic design of this mouse is incredibly solid, but it's this customization that allows you to truly make it your own. You can even save your favorite color patterns to the onboard memory.
It's that combination of solid fundamentals and incredible customization options that make this one of the easiest mouses to recommend. The HyperX Pulsefire Surge remains great no matter how good you are at your favorite game.
HyperX Alloy FPS RGB Mechanical Gaming Keyboard
Performance and durability absolutely matter when you're choosing a gaming keyboard. However, you really shouldn't overlook the value of looks when it comes to finding the keyboard for you. After all, there are too many keyboards out there that look like they belong in an accountant's office and not next to your gaming PC.
Looks are certainly one of the first things you'll notice about this HyperX keyboard. Its stunning backlit RGB keys are customized by the same NGENUITY software that lets you customize the Pulsefire Surge mouse. Those lights even shine through the key identification designs, which showcase a warm glow no matter how bright you choose to make this keyboard shine.
In this instance, looks go beyond bright lights. The solid steel frame of this keyboard not only enhances its durability, but it offers the entire build a striking design that subtly compliments the keyboard's flashier features. That combination of sturdiness and design carries over to the keys, which are rated for up to 70 million presses.
It doesn't end there. With its detachable cable and USB charge port, this keyboard is one of the most portable and versatile that you're going to find. It even offers that satisfying "click" sound you only get from the best mechanical keyboards.
That's certainly what you get here. This keyboard is as responsive and durable as you'll ever need for your gaming rig, but what will really win you over is how much you'll love looking at it.
With the help of these HyperX peripherals, you'll have so much more than a complete gaming PC build. You'll have accessories that are incredibly efficient and comfortable — and look good while doing it.
To read the complete PC Building series, click the links below: