News
Bugsnax: New Gameplay Revealed in PS5 Trailer
We have a new look at Bugsnax gameplay! Check out the trailer as well as some new details about the story.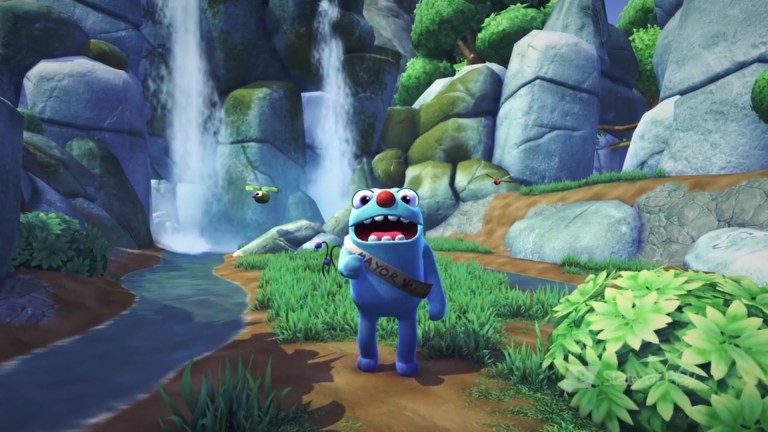 During the August PlayStation State of Play broadcast, developer Young Horses shared a new look at Bugsnax, the first-person adventure that will transport PS5 players to a world where bugs and food are one. The new gameplay trailer introduces many of the characters that will appear in the game as well as some of the tasty shenanigans you'll get up to.
You can watch the new gameplay trailer below:
As you'd expect from the creators of indie hit Octodad, Bugsnax is actually a little hard to explain, but in essence, it stars a journalist who is investigating a mysterious island populated with creatures that are half-bug and half-snacks. That means there are sentient strawberries running all over the island, donuts rolling around, and giant caterpillars made up of sandwiches. Yeah, this game is really weird.
Young Horses CEO Philip Tibitoski wrote on the PlayStation Blog that players "must solve the mysteries of Snaktooth Island by observing, hunting, and capturing Bugsnax using an advanced array of Snak-catching traps you'll discover on your journey. Shortly after arriving on the island and encountering Filbo Fiddlepie, the well-meaning interim mayor of Snaxburg."
"You'll explore Snaktooth Island, meet the rest of the cast of furry puppet-like Grumpuses, who each possess clues to the puzzling disappearance of Elizabert Megafig," Tibitoski continued. "Each one of these eclectic characters has their own story to tell; they'll require a little persuasion, often in the form of their favorite Bugsnax that you can help catch for them and yes, feed to them. Only then will they really open up to you, agreeing to interviews so you can learn more about these curious creatures called Bugsnax, and discover why each grumpus decided to join Lizbert's expedition."
It wasn't only the strange setting and characters of the game that made headlines during the PS5 showcase in June but the title's theme song, a tune that had people humming its melody days after it debuted. The song is suitably titled "It's Bugsnax" from the English indie-pop band Kero Kero Bonito (the trio of Sarah Midori Perry, Gus Lobban, and Jamie Bulled).
Unfortunately, the announcement trailer only had a snippet of the song, leaving many fans asking when they might able to hear the full track. Fortunately, Geoff Keighley and his Summer Game Fest finally delivered during a Developer Showcase in July meant to show off upcoming indie titles. The live stream featured the first full performance of the song and it absolutely slaps.
Listen to the full song below:
Bugsnax is coming to PlayStation 5, PlayStation 4, and PC in 2020.