News
Godfall Combat Preview Showcases PlayStation 5 Gameplay
The latest Godfall video shows why this looter action title could be the PS5's biggest early hit.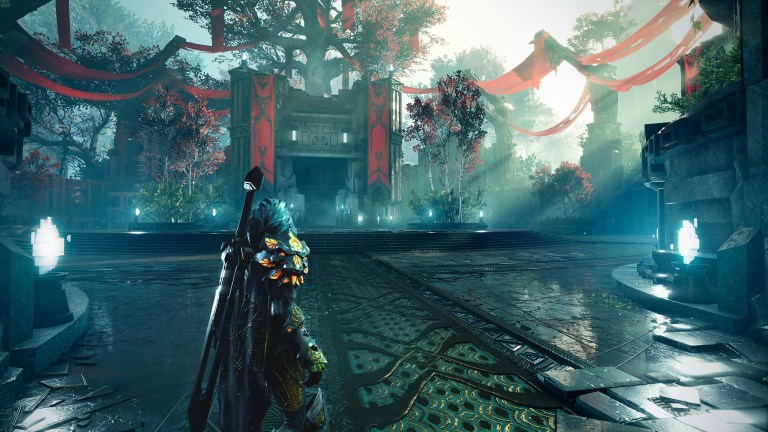 The Godfall team revealed an extensive gameplay preview of the upcoming PS5 title during Sony's latest State of Play event and shed some light on how this exciting title will distinguish itself from some considerable competition.
While much of the latest preview focused on Godfall's combat mechanics, the star of this show was the game's five main weapon types: Dual Blades, Longswords, Polearms, Two-Handed Warhammers, and Two-Handed Greatswords. As you might imagine, each type of weapon will handle differently than the other. For instance, Dual Blades will be faster while Longswords offer a more balanced and precise way to deal damage.
However, the differences between weapons extend beyond the natural advantages and disadvantages offered by their basic forms. Each weapon will also offer signature moves that you can use in combination with your character's skills. For example, Dual Blades allow you to charge your weapons for massive damage bursts while Longswords allow you to perform a devastating attack that moves forward in a straight path.
The idea seems to be that deciding which weapons work best for you will ultimately come down to not just the raw stats of every item but also your playstyle preferences, the nature of a combat situation, and the special skills offered by that weapon. It's an interesting approach complimented by the unique ways that Godfall will utilize the advantages of the PlayStation 5 controller.
"Godfall takes advantage of the PlayStation 5 DualSense controller's novel mechanics to produce a kinesthetic, tactile combat experience that's as gratifying in your hands as it is on the screen," says Keith Lee, CEO of Godfall developer Counterplay Games in a post on the PlayStation blog. "It was important for us to reflect that difference in your hands."
Along with haptic feedback features designed to "simulate a variety of surfaces and textures" such as slippery floors, Godfall will utilize the DualSense's adaptive triggers by modulating "resistance on the R2 and L2 inputs to give players a real, physical sense of what they're doing on screen."
For a better idea of how those concepts translate into gameplay (and for a look at one of Godfall's boss fights and weapon types) be sure to check out this extensive gameplay preview video:
Godfall is shaping up to be one of the PlayStation 5's most complete early exclusives, and we're excited to play it again in order to see if it can truly capture the magic of looter titles like Destiny Diablo, and Borderlands while utilizing some next-gen gaming concepts.