Features
Hogwarts Legacy PC Performance Issues: How to Fix Frame Drops and Crashes
The PC version of Hogwarts Legacy clearly has some performance problems, but there are a few things you can try before you throw in your house scarf.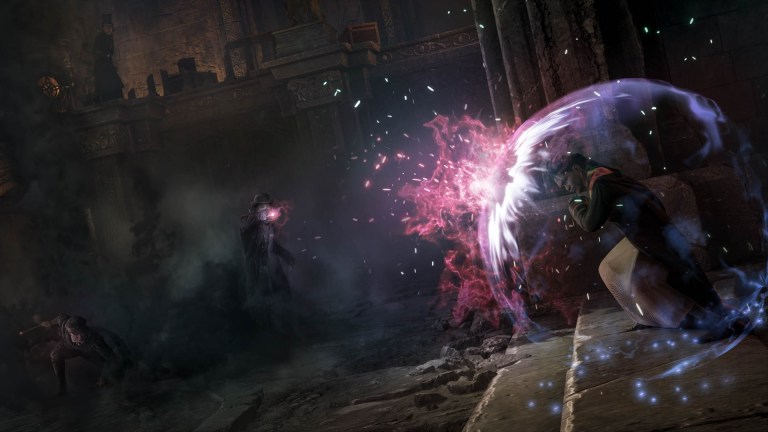 Hogwarts Legacy is based on the Wizarding World universe created by J.K. Rowling. You can read more about Rowling's history of transphobic remarks as well as find resources to support LGBTQ organizations here.
While many will not get to play Hogwarts Legacy until the game is released for PS5, Xbox Series X/S, and PC on February 10th, Early Access players have been enjoying a jump start on the adventure. Unfortunately, those playing the game early on PC have quickly realized that version of the game suffers from some notable performance issues.
Whether you're already playing Hogwarts Legacy on PC or you're hoping to optimize your PC performance when the game is released, here are a few things you can do to remedy some common issues.
How Bad Are Hogwarts Legacy's PC Performance Problems?
In short, the PC version of Hogwarts Legacy does currently suffer from a variety of performance issues. Most players are experiencing some kind of frame rate issues, occasional crashes, and general problems that prevent them from optimally running the game on even high-end PCs. It's not the worst case of PC performance problems we've ever seen (it's possible to run the game on PC at max settings with only minor performance issues), but it's clear that the PC version of the game is not working as intended.
Of course, if you're here, you probably already know that. Before we dive into potential solutions, though, here are a few things to keep in mind:
– Hogwarts Legacy is still in its Early Access period. It's entirely possible that the game's Day One patch (and other early upgrades) will address many early performance issues.
– The Hogwarts Legacy team previously shared the game's minimum and maximum PC system requirements. While even players with maxed-out gaming PCs may encounter issues, please be sure that your PC meets the game's requirements and exceeds as many as possible.
– Finally, there is no universal solution for Hogwarts Legacy's current PC performance problems. Significant fixes will come from the game's developers (if they come at all). Until those solutions are released, though, there are a few things you can do to at least slightly improve the game's performance.
With that in mind, here's a look at some of the more useful solutions to Hogwarts Legacy's most common PC problems.
Hogwarts Legacy: How to Fix Frame Rate Drops and Stuttering on PC
First off, you should know that many Hogwarts Legacy PC players are reporting that they don't suffer frame drops/stuttering issues until they actually reach Hogwarts. The intro part of the game actually appears to run pretty well. As such, you might want to wait until you reach Hogwarts before determining how well your game is running.
If you experience performance issues at that time, though, there are a couple of things you can try.
If you are above the minimum PC requirements in every major area (and had no problem running the instruction portion of the game), then V-Sync may be the culprit. It's highly recommended that you disable V-Sync in-game and enable it via your GPU control panel (if that option is available to you). It's highly recommended that you restart your game after changing those (or any other) settings. For some, that simple setting swap was enough to fix the game's biggest performance issues.
However, if you continue to experience significant frame drops and stuttering, then you'll have to dig a little deeper. Specifically, some users on Reddit, Steam, and elsewhere have stated that their DLSS settings were the source of frame rate issues. For some, it was simply a matter of needing to manually update their DLSS version manually. Others have stated that they needed to alter their DLSS settings to find the setting that worked for them. As before, give both a shot if needed and see which one works for you.
Ray Tracing also seems to be a common problem at the moment. While it's unfortunate to have to disable Ray Tracing for a game like this, there's a possibility that the feature isn't working as intended at the moment. You may be able to simply turn Ray Tracing (and all associated features) off and fix most performance problems.
If none of that works (or if your PC only barely meets performance requirements), then you're going to have to start changing the game's graphical settings. You may just be able to get away with lowering a couple of settings (most notably Shadow, Sky, Foliage, Texture, and Fog Quality) to Medium or Low. If performance issues persist, however, you're going to need to keep lowering those settings. It's also generally recommended that you play with your Framerate setting at "Uncapped" in order to ensure you're getting the best performance possible.
Finally, this Reddit user has posted a series of steps involving your PC's CFG settings that could fix all of your performance problems. However, I would recommend trying some of the steps mentioned above first (especially on high-end PCs). This method appears to be safe but reports vary on how effective it actually is.
Hogwarts Legacy: How to Fix Crashes on PC
It's entirely possible your Hogwarts Legacy PC crashes are related to some of the performance issues mentioned above. If you are able to improve the game's overall performance, then you may be able to fix some performance-based crashing issues. As such, please start with the possible solutions mentioned above before you try any other methods.
Unfortunately, Hogwarts Legacy appears to have crashing issues that go beyond simple performance problems. If the game keeps crashing on you after you've optimized performance, please try the following basic steps:
– Restart your PC.
– Make sure your graphics driver is up-to-date.
– Verify the game files by right-clicking on the game in your library, selecting "Properties," choosing "Local Files," and click on "Verify Integrity of Game Files."
– Disable GPU Overlocking.
– Try reinstalling the game (especially if you haven't made much progress yet).
If none of those basic steps worked, then you could be looking at a few other common crashing problems.
The first involves an issue with how the game manages VRAM during the start-up process. If your game keeps crashing near the start, then it may be mismanaging your PC's VRAM capacity. If that is the case, then this Reddit user may have found a temporary workaround to the problem that should at least let you get into the rest of the game.
Video Scaling is another commonly cited crash culprit. If you disable Video Scaling, you may be able to at least temporarily fix some common crashes that happen early into the game.
For the most part, though, most of the crashes players are reporting seem to be related to general performance issues and a lack of necessary updates. If you are playing the game on a PC that is clearly powerful enough to run the game, then some combination of the steps above should fix most of the commonly cited issues. However, if your PC barely meets performance requirements, then you may be stuck waiting for official updates before you're able to properly resolve current performance issues.