News
Hogwarts Legacy PC Requirements: Can You Run the Game?
The magical world of Hogwarts Legacy is almost ready to release on next-gen consoles and PC. If PS5 and Xbox Series X aren't an option, here are the PC specs you'll need to run the game.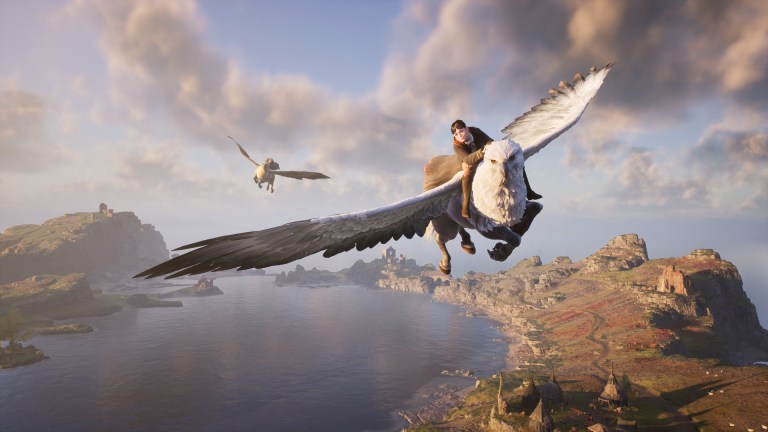 Gaming PCs have come a long way. These days, you don't need a powerhouse of a computer to play many modern games, but being able to play a game is not the same as experiencing it in all its glory. This distinction is repeatedly driven home whenever a major new game is released, and few games in 2023 have drawn as much attention as Hogwarts Legacy.
If you haven't been paying attention to the video game landscape (or were recently hit with the Memory Charm), Hogwarts Legacy is the latest game developed by Avalanche Software (the studio best known for Disney Infinity). Unlike other gaming entries set in the magical world of Harry Potter, though, Hogwarts Legacy takes place a good century before Harry Potter, Voldemort, or even Dumbledor apparated onto the scene. The game is an RPG that will let players make their own Hogwarts student, take classes, and play a key role in the 1890s goblin rebellion.
Hogwarts Legacy was originally supposed to be released as far back as 2021, bay a series of delays pushed the game all the way to its upcoming 2023 debut. Those delays were sad news at the time, but they ultimately gave developer Avalanche an opportunity to polish Hogwarts Legacy.
Of course, the gaming hardware landscape changed significantly during that wait. Scalpers and chip shortages greatly reduced the availability of gaming-critical components (though stocks have increased as of late). Still, those shortages and the delays of Hogwarts Leagcy's PS4, Xbox One, and Switch versions have left a lot of fans wondering if their PC will be powerful enough to run the game. To help you answer that question, here are the two Hogwarts Legacy PC spec requirements you need to know about.
Hogwarts Legacy: Minimum PC Requirements
If you just want to play Hogwarts Legacy on your PC and aren't looking for 4K resolution at 120 FPS, you won't need very powerful hardware. The following is the bare minimum you will need to run the game on PC:
OS: 64-bit Windows 10
Processor: Intel core i5-6600 (3.3Ghz) or AMD Ryzen 5 1400 (3.2Ghz)
Memory: 16 GB RAM
Graphics: NVIDIA GeForce GTX 960 4GB or AMD Radeon RX 470 4GB
DirectX: Version 12
Storage: 85 GB available space
If your computer meets these specs, you will be able to play Hogwarts Legacy at low settings and 720p resolution with decent, but stable, 30fps. While the game is best played on an SSD, an HDD will also work in a pinch.
Hogwarts Legacy: Recommended PC Requirements
If you want to push Hogwarts Legacy to its limits, you will need significantly beefier components. The following setup will let you explore Hogwarts in all its ray-traced glory:
OS: 64-bit Windows 10
Processor: Intel Core i7-8700 (3.2Ghz) or AMD Ryzen 5 36– (3.6Ghz)
Memory: 16 GB RAM
Graphics: NVIDIA Geforce 1080 Ti or AMD Radeon RX 5700 XT or INTEL Arc A770
DirectX: Version 12
Storage: 85 GB available space
If your gaming PC is close to, at, or exceeds those specs, you will be able to play Hogwarts Legacy on high settings at 1080p and 60fps. Although, if you are aiming for the best experience, Avalanche recommends using an SSD to make sure all the game's textures and levels load as quickly as possible.
While the above requirements sound daunting, they are actually more than attainable. If you own a computer that was top of the line no more than several years old, you should be able to play the game on low or medium settings, while modern budget computers you can purchase at your local Best Buy surpass all of the recommended requirements. Even a Steam Deck will be able to play Hogwarts Legacy. However, anyone who wants to max out the game and play it at 4K and 60FPS will need a PC powered by an Intel Core i7-107000K and an Nvidia RTX 3090Ti (or some dragon heartstring).
Finally, while these are the game's official hardware requirements, please note that nobody has gotten the chance to test the game on PC and share their findings. As such, it's entirely possible that the game will suffer from performance issues that ultimately raise the minimum requirements. Thankfully, we won't have to wait long to see exactly how well the PC version of the game performs.