News
Hogwarts Legacy Review Roundup: Is This the Dream Harry Potter Game?
Hogwarts Legacy is here, but does the game live up to the hype? Here's what the early reviews have to say.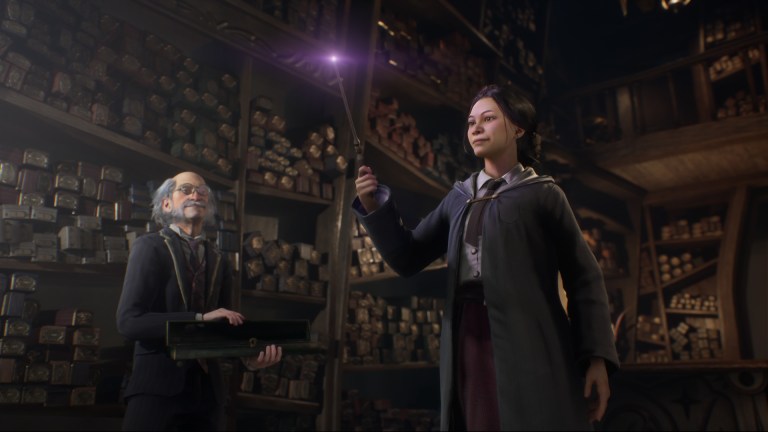 Hogwarts Legacy is based on the Wizarding World universe created by J.K. Rowling. You can read more about Rowling's history of transphobic remarks as well as find resources to support LGBTQ organizations here.
After some significant delays and a lot of discussions, Hogwarts Legacy is almost here. While you'll have to wait a few days to play the game for yourself (depending on which version you buy, that is), the first reviews of the long-awaited open-world RPG are pouring in.
Developed by Avalanche Software, Hogwarts Legacy is set in the 1890s and follows a fifth-year student who is joining Hogwarts later than most. That already challenging situation became significantly more difficult once the student realizes they can access a special form of ancient magic that puts them in the crosshairs of various parties. Now, they must not only survive the school's social and structural challenges but must uncover a conspiracy that could determine the fate of the Wizarding world.
While Hogwarts Legacy won't feature any familiar faces from the Harry Potter novels (or Quidditch), it's been billed as something of a dream game for Harry Potter fans. It will allow you to explore the grounds of Hogwarts at your leisure, attend classes, be sorted, and generally do most of the things that you dreamed of doing when you read the books. People have been waiting for such an experience for years, and expectations are understandably pretty high.
So does Hogwarts Legacy live up to those expectations? According to many early reviews, it kind of does, actually. Here is what some reviewers have to say:
Travis Northup, IGN:
"In nearly every way, Hogwarts Legacy is the Harry Potter RPG I've always wanted to play. Its open-world adventure captures all the excitement and wonder of the Wizarding World with its memorable new characters, challenging and nuanced combat, and a wonderfully executed Hogwarts student fantasy that kept me glued to my controller for dozens of hours. It's certainly weighed down by technical issues, a lackluster main story, and some poor enemy variety, but even those couldn't come close to breaking its enchanting spell over me."
Score: 9/10
Dalton Cooper, GameRant:
"Avalanche has created something truly special with Hogwarts Legacy. It succeeds at being the dream Harry Potter game that many fans were hoping for, and if nothing else, it creates a rock-solid foundation for future Wizarding World games to be built upon. Hogwarts Legacy lives up to the hype, and we can confidently say it's the best thing to come out of the Harry Potter franchise since the original books and movies."
Score: 4.5/5
Liam Croft, Push Square:
"Hogwarts Legacy has turned the hopes and dreams of Harry Potter fans into reality. Finally, there is a proper simulator of the school of witchcraft and wizardry, allowing you to create your own student, attend classes, and explore the vast landscape outside. It's not without its issues — side quests prove far too basic, the menus are poor, and annoying timers hurt the player experience — but they don't get in the way of something that so blatantly comes from a place of extensive love for the source text. Almost 26 years after Harry Potter and the Philosopher's Stone hit bookshelves, video game fans finally have a magical title to be proud of. It's everything we've dreamt of."
Score: 8/10
Jordan Middler, VGC:
"It is nostalgic without being nostalgia-bait. It's reverent to a franchise without having to play the hits. It's hard to argue against it being the strongest piece of Wizarding World media since the films concluded over a decade ago.
And while from a gameplay perspective, the march of time and open-world malaise mean that the real power of Hogwarts Legacy is the reasons you're doing things and the world you're doing them in, rather than the activities themselves, it's difficult to deny Avalanche has brilliantly captured the magic of the world of Harry Potter in what's surely the series' greatest video game."
Score: 4/5
Josh West, GamesRadar:
"Hogwarts Legacy is a solid first attempt. If Avalanche can be accused of anything, it's that the studio has tried to do too much all at once. Something was always going to give – between the massive open world, the messy RPG economy, exciting action combat, and adventure story that wants to cast you as a hero with homework due on Monday. But you can see a world in which a sequel sands down some of the rougher edges, and settles into a finer balance between the demands of an interactive experience and the lore of the wizarding world."
Score: 3.5/5