Features
Rick and Morty: A Guide to Every Voice Actor
In addition to its main cast of Justin Roiland, Chris Parnell, Spencer Grammar, and Sarah Chalke, Rick and Morty has welcomed many voice actors over four seasons.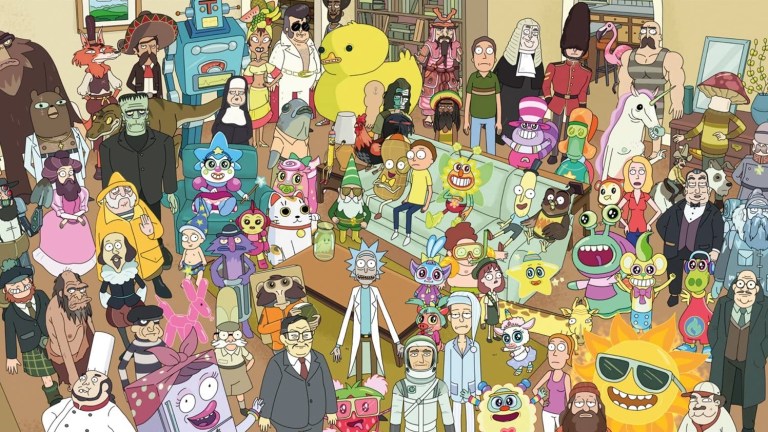 The world of Rick and Morty has grown to absurd proportions. The show spans multiple planets, galaxies, timelines, and multiverses, meaning there's always an opportunity to meet strange new people and creatures. 
As such, Rick and Morty's voice cast has grown along with the adventures of its titular pair. While co-creator Justin Roiland, Chris Parnell, Spencer Grammer, and Sarah Chalke have reliably voiced the central Smith-Sanchez family this entire time, the show also relies on a large crop of other voice actors. Some actors recur while others pop up only a time or two as very special guests. But all contribute to the rich aural tapestry of Adult Swim's very ambitious animated series.
Gathered here is a list of (to the best of our knowledge) every voice actor who has popped up on Rick and Morty, who they played, and where you may have heard (or seen) them before.
Justin Roiland
Rick, Morty, Mr. Meseeks, Mr. Poopybutthole, Mr. Always Wants to Be Hunted
Justin Roiland is not just the co-creator of Rick and Morty but also the vocal engine for how much of the show sounds. Roiland portrays Rick, Morty, Mr. Meseeks, Mr. Poopybutthole, and countless other distinctively voiced characters in the show's weird world. From the pilot on, Roiland's tic-filled voice patterns have driven a lot of the humor behind the show.
Roiland has been an animator and a voice actor for quite a long time, getting involved with his eventual Rick and Morty co-creator Dan Harmon and his Channel 101 imprint back in 2004. There he made Internet-only cult animated series like House of Cosbys, and 2 Girls One Cup: the Show. His voice was previously well known as Earl of Lemongrab ("Unacceptable!!!") in Adventure Time.
Chris Parnell
Jerry Smith
Former SNL cast member Chris Parnell has had a prolific career in comedy both as a live-action and voice actor. Parnell is best known for playing Garth Holliday in Anchorman: The Legend of Ron Burgundy, Dr. Leo Spaceman in 30 Rock, and many more roles in film and television. In the animation world he's voiced characters on Archer, Robot Chicken, Gravity Falls, and beyond. His voice is often perfect for the "everyman" role and as such he has only been required to embody the sad form of Jerry Smith on Rick and Morty thus far.
Spencer Grammer
Summer Smith
The daughter of Kelsey Grammar, Spencer Grammar got her start as Casey Carywright on the ABC Family college dramedy Greek. Since then, she has done chiefly live-action work on shows such as CSI, Chicago PD, and Grey's Anatomy.
Sarah Chalke
Beth Smith
Canadian actress Sarah Chalke brings two enormous roles from TV comedy's past to her work on Rick and Morty. At first she was best known as the "second Becky" on ABC sitcom Roseanne. She would then go on to portray Dr. Elliot Reid for nine seasons of the classic Scrubs. Chalke is still chiefly a live-action comedic actress today but has done some more voice work in the past, including on Clone High and American Dad.
Kari Wahlgren
Jessica, Cynthia, Samantha, Mother Gaia
Kari Wahlgren works extensively as a voice actress for animated movies, TV shows, and video games. As evidenced by her character list above, she is often Rick and Morty's go-to voice to portray one of Summer's teenage peers.
Brandon Johnson
Mr. Goldenfold
Brandon Johnson is a familiar face and voice to Adult Swim audiences. He has previously popped up on NTSF:SD:SUV and American Dad. On Rick and Morty he voices Mr. Goldenfold, who is seemingly the only teacher at Morty and Summer's school.
Phil Hendrie
Principal Gene Vagina
Philip Hendrie is best known for hosting The Phil Hendrie Show, a proto-Comedy Bang Bang-esque talk radio show in the 1990s where he portrayed both a fictionalized version of himself and many other wacky characters. He broke into animated voice acting in the late '90s, voicing dozens of characters on King of the Hill and popping up in Futurama as well. On Rick and Morty he plays the unfortunately named principal of Morty's school.
Ryan Ridley
Frank Palicky, Lighthouse Keeper, Concerto
Ryan Ridley is a writer and producer on Rick and Morty, and like many of the show's writers is sometimes called upon to lend his voice to a character or two. His best known creation is the Lighthouse Keeper on the Purge planet obsessed with his terrible screenplay. Ridley has also written for Ghosted, Blue Mountain State, and Community.
Rob Paulsen
Snuffles, Centaur
Rob Paulsen is a legendary voice actor best known for voicing two Ninja Turtles (Raphael and Donatello) and several Animaniacs characters. His filmography is truly impressive and includes the important role of Snuffles the Smith family dog on Rick and Morty.
Jess Harnell
Scary Terry, Ruben
Harnell is another Animaniacs veteran. After voicing Scary Terry and some additional voices in season 1, Harnell has yet to return to Rick and Morty.
Patricia Lentz
Joyce Smith
Patricia Lentz provides the voice of Jerry's mom. She's had a long, impressive career of live-action and voice acting with some highlights including Runaways, Sabrina the Teenage Witch, and Happy Days.
Dana Carvey
Leonard Smith
The voice of Jerry's dad is provided by one of SNL's better known alums in Dana Carvey. A master impressionist, Carvey was an important figure on SNL during the '80s and would go on to star in Wayne's World, The Master of Disguise, and Trapped in Paradise. Shortly after his SNL career, he hosted The Dana Carvey Show, which did not last long but is notable in TV history for having an incredible cast of writers including Louis C.K. Charlie Kaufman, Jon Glaser, Robert Carlock, and frequent Dan Harmon collaborator Dino Stamatopoulos.
Echo Kellum
Jacob Philip, Brad, Triple Trunks
"I throw balls far. You want good words? Date a languager." So sad that we had to leave Brad behind in C-137. Echo Kellum provides the voice of Brad and several other Rick and Morty characters.. Kellum is a UCB grad who has appeared in Key & Peele, Comedy Bang! Bang! and most notably Arrow as Mister Terrific.
John Oliver
Dr. Xenon Bloom
John Oliver now carries on the legacy of The Daily Show in his superb HBO news series Last Week Tonight. Prior to finding his perfect comedy news niche, Oliver had a lengthy comic acting career starting in his native England and extending into his new home in the U.S. Oliver previously played an important recurring role in Harmon's Community and pops up just once on Rick and Morty.
David Cross
Prince Nebulon
David Cross is one of several sketch comedy legends who lent their voice to Rick and Morty as part of their lengthy careers. Cross created and starred in sketch series Mr. Show with Bob and David alongside co-creator Bob Odenkirk (how has he not popped up on Rick and Morty yet?). Since then he's had a successful stand up career and been a part of some impressive TV ensembles such as Arrested Development.
Dan Harmon
Birdperson, Kevin, Mr. Marklovitz, Davin, Ice-T, Dr. Glip-Glop, Nimbus
Dan Harmon is the co-creator of Rick and Morty alongside Roiland. The two share a long history going back to the Channel 101 days. While both Roiland and Harmon are skilled storytellers, Harmon has truly delved into the science of story throughout his career. Harmon is best known for creating and showrunning Community, which became an onscreen sensation for fans and an offscreen nuisance for NBC due to Harmon's at times difficult behavior. On Rick and Morty, Roiland and Harmon deploy Harmon's deadpan delivery to good use, with him often playing monotone characters like the beloved Birdperson.
Tom Kenny
King Jellybean, Squanchy, Conroy, Million Ants, Etc.
Tom Kenny is an incredibly successful voice artist who you likely best know as none other than SpongeBob SquarePants. On Rick and Morty, Kenny's roles are decidedly less wholesome than the sponge who lives in a pineapple under the sea. Kenny was a big factor in season 1 playing King Jellybean and Sqaunchy. He's popped up sparingly in seasons 2, 3, and 4 as well, most notably as Million Ants of the Vindicators.
Cassie Steele
Tammy Gueterman, Tricia Lange
Somebody's gotta play Tammy Gueterman, that traitorous monster. And that "honor" goes to Cassie Steele. Steele's name is recognizable to Canadian (and some American) audiences due to her role as Manny Santos on Degrassi: The Next Generation. Rick and Morty was her first voice acting role. She will continue her voice acting career as the lead in Disney's upcoming Raya and the Last Dragon.
Claudia Black
Mar-Sha/Ventriloquiver
Claudia Black has turned up on Rick and Morty twice, once in season 1 and once in season 4. It's a surprise she hasn't done so more often as she's built up quite the voice acting career. After becoming well known in sci-fi series like Farscape and Stargate SG-1, Black continued on into a successful gaming career, providing her voice to Uncharted, Gears of War, and Dragon Age.
Maurice LaMarche
Morty Jr. Brad Anderson, Abradolf Lincler, Crocubot
Maurice LaMarche's smooth baritone is quite familiar to many animation fans. LaMarche has voice acted in everything from Animaniacs to Futurama. He's got a killer Orson Welles impression and that seems to be the starting point for many of his Rick and Morty characters.
Alfred Molina
Mr. Needful
Many of us know Alfred Molina from his incredibly successful film career in projects like Boogie Nights, Spider-Man 2, and The Da Vinci Code. But Molina has also had quite the career as a voice actor as well. In the past couple decades, Molina has lent his sturdy voice to Rango, Monsters University, Ralph Breaks the Internet, Frozen II, and more. He was clearly a shrewd choice for the Lucifer-like Mr. Needful. It's a wonder why he hasn't turned up on Rick and Morty more.
Richard Fulcher
King Flippy Nips
Richard Fulcher is best known as the unofficial third member of British comedy troupe The Mighty Boosh, though he himself is American. Fulcher wrote and acted in every incarnation of The Mighty Boosh. He has also had a prolific career in comedy acting outside the troupe. As of late, Fulcher has leaned into his voice acting abilities including this sadly one-off role on Rick and Morty as King Flippy Nips, ruler of Pluto.
Nolan North
Scroopy Noopers, Multiple Others
Nolan North has done extensive videogame work in franchises such as Uncharted, Assassin's Creed, and the Arkham series. That's right: the voice of shrimpy Plutonian Scroopy Noopers on Rick and Morty is both Nathan Drake and Desmond Miles. North also voices many other characters in positions of authority for the show.
Aislinn Paul
Nancy
Aislinn Paul is another Degrassi: The Next Generation alum who has broken into the voice acting world. On Rick and Morty, Paul plays only Nancy, Summer's nerdy classmate who everyone is always mean to. Hopefully one day there will be justice for Nancy.
Alejandra Gollas
Lucy
Alejandra Gollas is a bilingual Mexican actress who has acted in films, TV shows, and stage productions for decades. Her only Rick and Morty role was that of creepy Titanic enthusiast Lucy.
Scott Chernoff
Revolio Clockberg Jr.
Originally referred to as "Gearhead," Revolio Clockberg Jr. is one of Rick and Morty's most recognizable recurring characters. Embodying this important role is veteran voice actor and TV writer Scott Chernoff. Chernoff has lent his voice to dozens of animated properties and has even written for many successful comedies including BoJack Horseman, The Tonight Show with Conan O'Brien, and School of Rock. He is one of many Channel 101 veterans involved in Rick and Morty and pitches in with some other background voices on the show here and there.
Keegan-Michael Key
Schleemypants
Keegan-Michael Key is likely best known as half of the ultra successful sketch comedy duo Key & Peele. (Wonder whatever happened to the other guy!) Key has had an enormously successful career as a comedic actor on television. On Rick and Morty he plays testicle-looking time cop Schleemypants.
Jordan Peele
Second Fourth-Dimensional Being
Oh, here's Peele! Schleemypants' unnamed partner is the only character Peele has played on Rick and Morty.
Jemaine Clement
Fart
New Zealand comedic actor Jemaine Clement is best known for being half of the Grammy award-winning comedic musical act Flight of the Conchords alongside Bret McKenzie. Clement has also worked extensively with fellow Kiwi Taika Waititi to produce recent classics like What We Do in the Shadows. His deadpan delivery was a perfect choice monotone gaseous being "Fart."
Andy Daly
Krombopulos Michael
Krombopulos Michael is Rick and Morty's Boba Fett: he looks cool but ultimately does nothing. Playing K.M. was one of the most sought-of "character voice actors" in the industry. Daly's cheerful everyman delivery has proven useful on dozens of comedy shows across the entertainment landscape. Perhaps best known for his starring vehicle Review with Forest MacNeil, Daly has also lent his voice to series such as Harley Quinn, Bob's Burgers, and Big Mouth. He can also be heard as a crucial role on Roiland's Solar Opposites.
Christina Hendricks
Unity
Christina Hendricks is best known for her role as Joan Holloway on Mad Men. In addition to that, however, she's appeared in quite a few genre films and shows like Firefly, Life, and The Neon Demon. Hendricks has done some voice work here and there and her only role on Rick and Morty to date is assimilation expert and one-time Rick Sanchez paramour Unity.
Patton Oswalt
Beta-Seven
Patton Oswalt is basically the dark matter of the comedy universe. He and his voice turn up just about everywhere. Perhaps his best known voice acting role is that of lead character Remy in Ratatouille. On Rick and Morty he has played only Beta-Seven thus far and is surely due for some more appearances.
Keith David
The President
Even if you've never heard of Keith David, you have surely heard his voice. An unmistakable baritone with gravitas, David has leant that voice to projects such as Gargoyles, Halo, and Spawn. David has worked with Harmon before on the final season of Community. Surely, there is no better voice for Rick and Morty's unnamed President…or its Reverse Giraffe.
Kurtwood Smith
General Nathan
Not sure if you recognize Kurtwood Smith's voice? You would if he called you a dumbass. Yes, Smith is best known to TV audiences as Eric Forman's ornery dad Red on That '70s Show. He provides that same ornery spirit to the role of General Nathan on Rick and Morty in "Get Schwifty."
Stephen Colbert
Zeep Xanflorp
Stephen Colbert is of course a longtime comedic actor, host of The Colbert Report, and now host of The Late Show on CBS. The Late Show understandably takes up most of his time nowadays but he was nice enough to portray the intelligent alien living inside Rick's flying saucer's Miniverse battery.
Nathan Fielder
Kyle
"The Ricks Must Be Crazy" has quite the star power among its voice cast. In addition to Colbert's Zeep, the episode also introduces another Microverse populated by Kyle. Kyle is played by Nathan For You's cringe comedy maestro Nathan Fielder.
Jim Rash
Glaxo Slimslom
Jim Rash is another frequent Dan Harmon collaborator, best known for his role as Dean Pelton on Community. Rash is an accomplished comedic actor and an Oscar award-winning screenwriter. He's the perfect choice to play alien couples counselor Glaxo.
Matt Besser
Fungo
Matt Besser is an improv comedy specialist who is a founding member of the Upright Citizens Brigade comedy troupe. Over his long career, he's appeared in just about everything. On Rick and Morty he portrays alien diplomat Fungo, who tries to convince Jerry to donate his penis to Shrimply Pibbles.
Werner Herzog
Shrimply Pibbles
Werner Herzog might be the strangest inclusion in the Rick and Morty voice canon. Herzog is a towering figure in the cinema world as a director, screenwriter, documentarian, and occasional actor. His German accent and generally serious and pessimistic disposition has made him a natural target for comedies looking to inject a bit of weird humor into the proceedings.
Chelsea Kane
Arthricia
Chelsea Kane has appeared in several TV series targeted to tween audiences like Disney Channel's Jonas and Freeform's Baby Daddy. Her brief role as the Purge planet's Arthricia was a jumping off point to try more voice actor roles on shows like Hot Streets, Regular Show, and DC Super Hero Girls.
James Callis and Tricia Helfer
Pat and Donna Gueterman
James Callis and Tricia Helfer portray the parents of double-agent Tammy Gueterman for a very specific reason. Callis and Helfer are best known for their roles on Syfy's classic series Battlestar Galactica, with Callis playing brilliant scientist (and traitor to humanity) Gaius Baltar and Helfer playing Cylon model Number 6. Pat and Donna Gueterman on Rick and Morty look just like the actors playing them, which should have been our first clue that something is amiss.
Nathan Fillion
Cornvelious Daniel
Who is Nathan Fillion if not nerd culture's best friend? Fillion came into prominence by playing Captain Mal Reynolds on Joss Whedon's beloved Firefly. Since then Fillion has had a solid career on shows like Castle and The Rookie. In his spare time, however, he provides his voice to animated series like Rick and Morty and Big Mouth, often playing a thinly-veiled version of himself. Cornvelious Daniel is notable for being the first character onscreen in Rick and Morty to enjoy that sweet, sweet McDonald's Szechuan sauce.
Tony Hale
Eli
Tony Hale won two Emmys for playing the Vice President's bagman Gary Walsh on Veep. Before that he was the youngest Bluth child, Buster, on Arrested Development. As of late, however, he's getting more into the voice acting scene. You (or your kids) may best know him as the beloved Forky in Toy Story 4. But prior to that, he popped up as a cheery Mad Max-style biker named Eli on Rick and Morty.
Joel McHale
Hemorrhage
Joel McHale is, of course, another Community alum. He played lead character Jeff Winger on Harmon's old NBC series. In addition to that, McHale has had a lengthy career in comedy, having hosted The Soup and Netflix's recent Tiger King special. He was also a tight end of the University of Washington football team but that's neither here nor there. He voices bucket-wearing post-apocalyptic warlord Hemorrhage on Rick and Morty.
Susan Sarandon
Dr. Wong
Perhaps no character on Rick and Morty has delved deeper into Rick's psyche than Smith-family psychologist Dr. Wong. Lending her voice to Dr. Wong in the infamous "Pickle Rick" episode is legendary actress Susan Sarandon a.k.a the Louise in Thelma and Louise.
Peter Serafinowicz
Agency Director
Peter Serafinowicz is a British comedian and actor who used his role voicing Darth Maul in The Phantom Menace as a launching pad to befriend some truly talented creators and get some truly fascinating roles. Serafinowicz has popped up in Shaun of the Dead, Guardians of the Galaxy, Parks and Recreation, and more. He also portrayed the titular Tick in Amazon's The Tick. His role in Rick and Morty is briefly that of a Russian villain agency director who tries to take down the ever-elusive Pickle Rick.
Danny Trejo
Jaguar
"Pickle Rick" really has quite the impressive guest voice cast. Danny Trejo joins Peter Serafinowicz and Susan Sarandon in lending his voice to this episode. Trejo plays Rick's loose canon action hero ally, Jaguar. Outside of Rick and Morty, Danny Trejo may be one of the most recognizable faces in entertainment. A frequent collaborator of Robert Rodriguez, Trejo has leveraged his fascinating upbringing and tough guy appearance into countless roles.
Gillian Jacobs
Supernova
Another Community alum! Superhero team The Vindicators requires a lot of guest voice talent and clearly Dan Harmon knew one place to turn. Jacobs played Britta on Community (she's the worst). The Pittsburgh-born actress has also appeared in Girls, Don't Think Twice, and Ibiza.
Christian Slater
Vance Maximus
Christian Slater is a big get for Vindicators leader Vance Maximus. While he's best known to modern audiences as the titular Mr. Robot in Mr. Robot, Slater got his start as an actor with popular roles in movies like Heathers, Interview with the Vampire, and Broken Arrow. Slater has had a fruitful voice acting career as well, having previously played "Slater" in Archer.
Lance Reddick
Alan Rails
Alan Rails is another one of the hallowed Vindicators crime-fighting team. Playing the ghost train-summoner is Lance Reddick. Reddick has been a mainstay on television for decades, turning up in Oz, Fringe, Lost, and more. Most notably he played Cedric Daniels for the entirety of The Wire's run.
Logic
Logic
Logic is one of the few Rick and Morty guest stars who gets to be an animated version of himself. This Maryland-based rapper has released five successful albums and enlisted Rick and Morty to help promote his sixth mixtape Bobby Tarantino II.
Clancy Brown
Risotto Groupon, Story Train passenger
Talk about a guy with a commanding voice. Clancy Brown has been a successful actor for a long time, going back to his roles in Highlander, The Shawshank Redemption, and Lost. He's undoubtedly best known to animation fans, however, as the voice of stingy Krusty Krab owner Mr. Krabs in SpongeBob SquarePants. On Rick and Morty, he's played alien restaurant manager Risotto Groupon and a Story Train passenger in season 4's "Never Ricking Morty."
Thomas Middleditch
Tommy Lipnip
Thomas Middleditch is likely best known to television audiences as overmatched tech tycoon Richard Hendrix on HBO's Silicon Valley. That's just the tip of the iceberg for Middleditch's comedy career. The prolific improviser played Tommy Lipnip in Rick and Morty and must have impressed Justin Roiland enough to give him a lead role on his Hulu comedy Solar Opposites.
John DiMaggio
Multiple Minor Roles (Death Stalker, Leader, Knight, etc.)
John DiMaggio is an incredibly busy voice actor. If you've ever enjoyed an animated comedy, there's a good chance DiMaggio contributed his voice to it. His best known roles include Bender on Futurama, Jake the Dog on Adventure Time, and Scotsman on Samurai Jack.
Sherri Shepherd
Judge
Sherri Shepherd is an actress, comedian, and TV personality best known for being a co-host on The View for seven years. Since then she's turned up as an actress or talking head on many shows and lent her voice to portray a judge that deals with Morty in the season 4 premiere.
Sam Neill
Monogatron Leader
In addition to having one of the best Twitter accounts in the world, Sam Neill is also an actor best known for playing Dr. Alan Grant in Jurassic Park and Jurassic Park III. The New Zealander has continued to work quite a bit in recent years, turning up in Thor: Ragnarok and Peaky Blinders. On Rick and Morty he plays the leader of the Monogatron alien race in "The Old Man and the Seat."
Taika Waititi
Glootie
Playing another Monogatron, this one named Glootie, is New Zealand actor/director Taika Waititi. Waititi got his start in the New Zealand comedy scene alongside other Rick and Morty guest star Jermaine Clement. Since then he has only gone on to become one of the most in-demand filmmakers on the planet. Waititi is behind Thor: Ragnarok, JoJo Rabbit, and an upcoming Star Wars film.
Kathleen Turner
Monogatron Queen
Kathleen Turner is what you would call a "get" for Rick and Morty. Turner has won two Golden Globe awards and been nominated for an Oscar and several Tony awards. She is best known for her roles in '80s movies Romancing the Stone, Prizzi's Honor, and The War of the Roses. Turner has also been working as a voice actress since the '80s, voicing Jessica Rabbit in Who Framed Roger Rabbit and going on to act in The Simpsons and King of the Hill as well.
Jeffrey Wright
Tony
Jeffrey Wright is no stranger to sci-fi, having toiled away as sad robot Bernard on Westworld for three seasons. Wright got three-quarters of a way to an EGOT in one role by playing Belize in Angels in America. Since then he's acted in several Daniel Craig Bond films, Boardwalk Empire, and The Hunger Games. On Rick and Morty he plays the role of an alien who vexes Rick into an existential crisis by continuing to use his private toilet.
Elon Musk
Elon Tusk
Elon Musk is a South African/Canadian/American engineer and industrialist who serves as the founder and CEO of SpaceX and CEO of Tesla, along with numerous other ventures. Presumably he did not call anyone behind the scenes of Rick and Morty a pedophile but you never know.
Justin Theroux
Miles Knightley
Justin Theroux has had quite the career in Hollywood. He first came to prominence acting in the David Lynch films Mulholland Drive and Inland Empire. He then continued to appear in major films while also writing some for good measure like Tropic Thunder, Iron Man 2, and Rock of Ages. On television he played Kevin Garvey in HBO's The Leftovers. For Rick and Morty, he played the role of "heist artist" Miles Knightly in "One Crew Over the Crewcoo's Morty." You son of a bitch, I'm in.
Pamela Adlon
Angie Flint
Pamela Adlon is the rare case of an actor who was first best-known for voice work breaking into the live-action arena in a big way. Adlon is best known for giving voice to Bobby Hill on King of the Hill, while also voice acting in other animated projects like Recess, and 101 Dalmatians: The Series. A longtime collaborator of Louis C.K. (though not so much anymore), Adlon appeared on FX's Louie and got a well-received FX show of her own, Better Things. On Rick and Morty, Adlon portrays Angie Flint – a lock-picker who Rick recruits to his heist team.
Matthew Broderick
Talking Cat
Matthew Broderick is a longtime stage, film, and television actor best known for his roles on Ferris Bueller's Day Off, WarGames, The Producers, and much more. Most recently he turned up on Netflix's sadly-departed post-apocalyptic comedy Daybreak. On Rick and Morty, Broderick plays a Talking Cat with a secret so heinous it will drive anyone to near insanity.
Liam Cunningham
Balthromaw
To portray the voice of a wizened dragon, Rick and Morty turned to an actor best known for a series filled with them. The Irish actor Liam Cunningham is known to most people as Ser Davos Seaworth from Game of Thrones. Though not usually a voice actor he must have enjoyed his role on Rick and Morty as he turns up again briefly in Roiland's Solar Opposites.
Phil LaMarr
Multiple Minor Roles
The first two things most people (and by most people I mean me) think of when they think of Phil Lamarr are his time on Mad TV and the moment his head explodes on Pulp Fiction. But aside from sketch comedy and head explosions, LaMarr has had a remarkable voice acting career. He portrayed the title character in Samurai Jack while also providing his voice to Justice League, Static Shock, and countless video games. It's surprisingly hard to figure out what voices Phil LaMarr plays on Rick and Morty but given his talents it's certain to be quite a few.
Christopher Meloni
Jesus
When Rick and Morty briefly presented the savior of mankind in season 4's sixth episode, surely there was only one choice to play him. Christopher Meloni has had one of the more fascinating careers in entertainment. After playing the deadly serious role of Elliot Stabler on Law and Order: SVU for years, Meloni has re-embraced his comedic side in projects like Happy!, Harley Quinn, while reprising his role in the Wet Hot American Summer franchise.
Paul Giamatti
Story Lord
Paul Giamatti once joked in a late night talk show interview that his role in any given heist or action movie would be the guy wearing a headset in a van, typing on a computer, and telling the hero to "get out of there, man!" He has since parlayed that character actor sensibility into a remarkable, multi-award-winning career. Giamatti is best known recently for portraying Chuck Rhoades on Billions and producing AMC's Lodge 49. Prior to that he played lead roles in American Splendor, HBO's John Adams, and much more. The guy has a good handle on stories and therefore makes perfect sense as Rick and Morty's Story Lord.
Alan Tudyk
Chris, Observant Glorzo, Multiple Minor Roles
Alan Tudyk is a nerd culture mainstay. Very few comic-cons come and go without Tudyk involved in at least one project presenting within them. Tudyk has played Hoban "Wash" Washburne on Firefly and its spinoff movie Serenity, Mr. Nobody on Doom Patrol, and many more beloved characters. His live-action appearances are just the tip of the nerd iceberg, however, with Tudyk providing his voice to everything from Solo: A Star Wars Story (K-2SO) to Harley Quinn (Clayface/The Joker). On Rick and Morty, Tudyk plays several unnamed characters.
Rob Schrab
God
Rob Schrab is a Channel 101 veteran and longtime Harmon collaborator. Schrab is best known for his work as a director of projects like Monster House, Community, Parks and Recreation, and more. On Rick and Morty he plays none other than God…or at least the Zeus-like god of a remote planet.
Jim Gaffigan
Hoovy
Jim Gaffigan is a wildly successful standup comedian who co-created and starred in a TV show about his life for TV Land called The Jim Gaffigan Show. While he's appeared sparingly in films, of late he's dabbled in voice acting, lending his voice to Hotel Transylvania 3, Playmobil: The Movie, and Luca. His kindly Midwestern accent lends itself nicely to the helpful but doomed Hoovy on Rick and Morty.
Planetina
Alison Brie
Five seasons in and Rick and Morty is still finding old friends from Community to make their debut. Alison Brie played Annie Edison on Dan Harmon's classic series. Since then she's become quite the star, serving as a lead on GLOW and voice acting in BoJack Horseman and The Lego Movie 2. She even provided the voice of Natasha Romanoff a.k.a. Black Widow in the video game Marvel Avengers Academy.
Steve Buscemi
Eddie
Steve Buscemi is a prolific and talented character actor known for his classic roles in Fargo, Reservoir Dogs, The Sopranos, and more. That he plays such a relatively minor role on Rick and Morty suggests that he might be a fan of the show and just wanted to stop by and say hey. Buscemi is also notable for being a New York firefighter prior to his acting life.
Christina Ricci
Princess Ponietta
Once known as a talented child actor, Christina Ricci has continued her creative work into adulthood. The actress has starred in films like Speed Racer, Black Snake Moan, and the upcoming fourth Matrix movie. Bless her for dropping by Rick and Morty only to play an CHUD horse-person princess pregnant with Rick's heir.
Kyle Mooney
Blazen
Kyle Mooney is an SNL cast member and writer who specializes in offbeat characters and sketches. He also wrote and starred in 2017's Brigsby Bear. His role hasn't been officially confirmed on Rick and Morty yet but it seems as though he voices the Mortal Kombat-esque faux badass Blazen.