News
Gamescom 2020: Schedule, Date, Games, Opening Night Live, and How to Watch
Gamescom 2020 is here! We've got all of the details you need to know about the event including schedule and how to watch Opening Night Live!
There might not have been an E3 to obsess over this year, but we're still getting at least one major video game event this year. Despite the fact that the in-person expo was canceled due to the Covid-19 pandemic, a digital version of Gamescom 2020 is set to kick off this week, bringing gamers all of the latest announcements, reveals, trailers, and gameplay footage.
Indeed, this may be our best chance yet to see what's coming to the PlayStation 5 and Xbox Series X ahead of their Holiday 2020 launches. You'll get to see new footage from the upcoming Ratchet & Clank: Rift Apart for PS5 as well as a closer at Call of Duty Black Ops: Cold War, plus so much more!
Here's everything you need to know about Gamescom 2020:
Gamescom 2020 Dates
Gamescom 2020 will be held from Thursday, Aug. 27 to Sunday, Aug. 30.
Gamescom 2020 Schedule
As in past years, the festivities will open with Geoff Keighley's Opening Night Live presentation, which will be full of big game announcements and reveals. Then the show will be split into American and German programming. The US-centric segments will be hosted by IGN.
Here's a visual breakdown of the schedule (all times ET):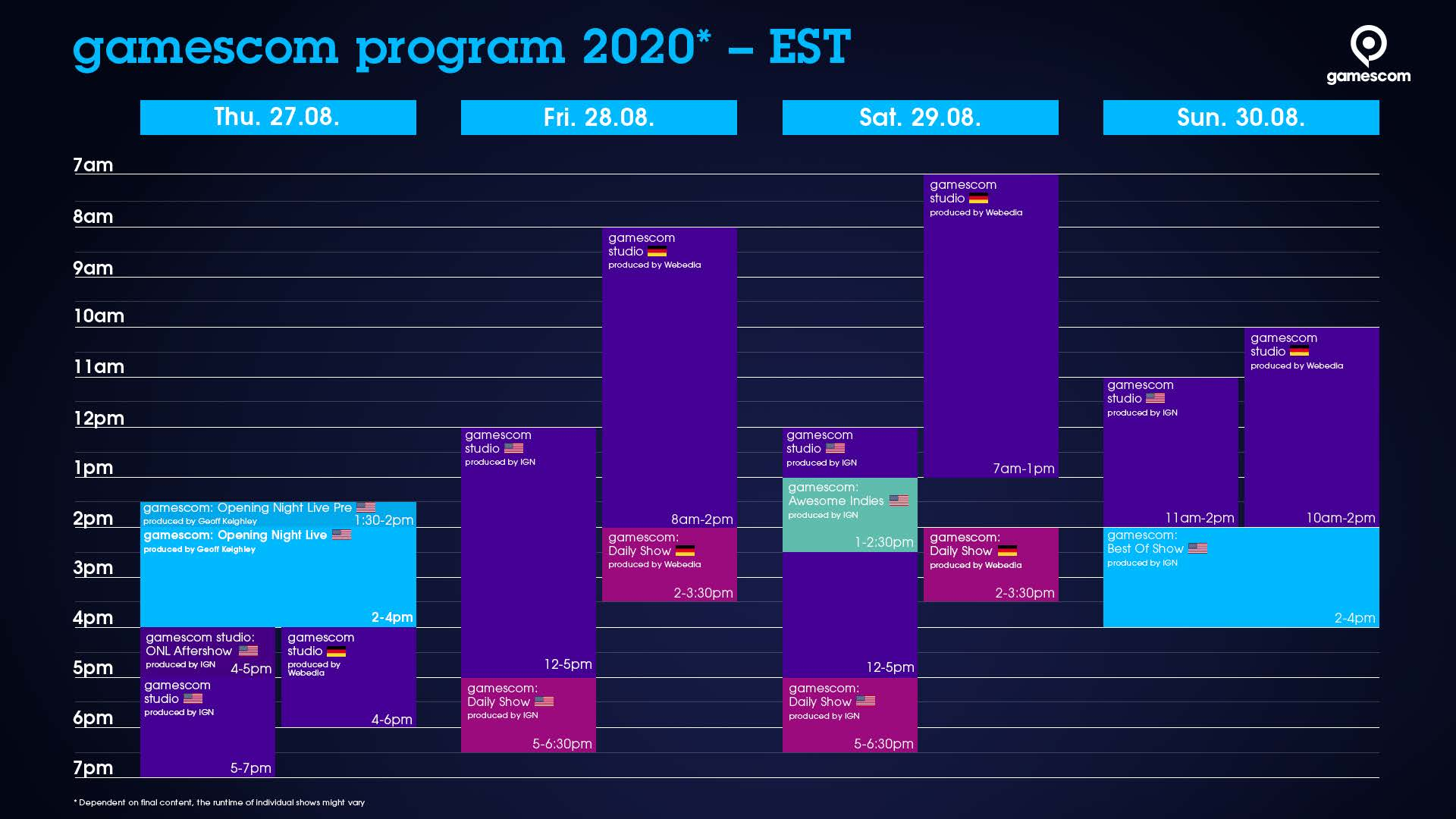 If you're in the US, here are the events you'll want to keep an eye out for (all times ET):
Opening Night Live: 2-4 pm
Gamescom Studio Hosted by IGN: 4-7 pm
Gamescom Studio Hosted by IGN: 12-5 pm
Gamescom Daily Show: 5-6:30 pm
Gamescom Studio Hosted by IGN: 12-5 pm
Gamescom Awesome Indies: 1-2:30 pm
Gamescom Daily Show: 5-6:30 pm
Gamescom Studio Hosted by IGN: 11 am-12 pm
Gamescom Best of Show: 2-4 pm
Gamescom 2020 Live Stream
Gamescom 2020 will be live streamed in full across all four days of the event. You can watch all programming below:
In a press release, Keighley announced quite an impressive list of publishers and studios set to appear in Opening Night Live. The list includes 2K, Activision, Bandai Namco, Bethesda, Blizzard Entertainment, Bungie, Deep Silver, Devolver/Mediatonic, Electronic Arts, Frontier, Focus Home, Gearbox, headup Games, Sony Interactive Entertainment, Square Enix, Warner Bros. Games, Xbox Game Studios, and "more surprises to be announced."
You can watch Opening Night Live below: