Features
How to Find a PS5 and Xbox Series X In 2023
We're finally at the point where anyone who wants a PS5 or Xbox Series X can finally find one. You just have to know where to look.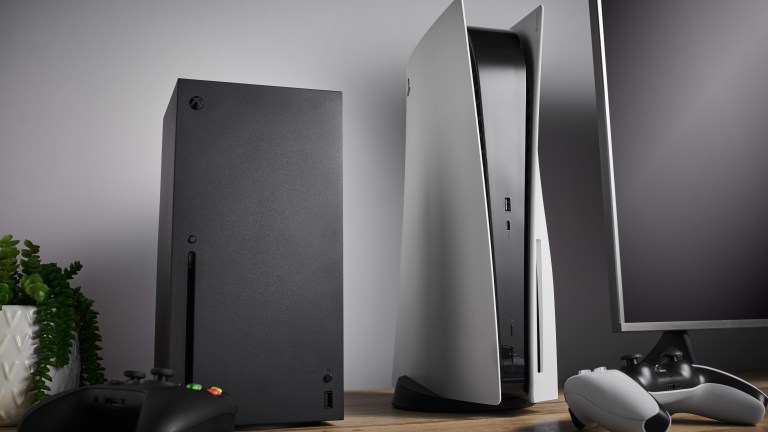 When the PlayStation 5 and Xbox Series X/S were released, they were instantly the punch line of several jokes. Sure, the consoles were (and still are) powerful thanks to their lightning-fast SSDs and workhorse GPUs, but few people could experience that power due to supply issues, scalpers, and other issues accelerated by the Covid-19 pandemic. But good things come to those who wait, and those still looking for a PS5 and Xbox Series X have a pretty good chance of finding one in 2023. You just have to know where to look.
Last year, Sony and Microsoft finally managed to get their manufacturing woes under control. Thanks to various factors, including a fixed global supply chain, console manufacturers can make enough products to meet demand. Now gamers can have an Xbox Series X in every lounge and a PlayStation 5 in every bedroom. With some diligent searching, you can find all the Xbox Series X and PlayStation 5 consoles you will ever need. Or you can read this article.
Where to Find a PlayStation 5
Amazon – Your go-to online store for almost every product imaginable by invitation, including PlayStation 5s. To prevent scalpers from vacuuming up consoles, Amazon has adopted an invitation-only waitlist system. Just visit the PS5's store page and click the "Request Invitation" and start waiting. If selected, you will receive an email that lets you buy a console, but act fast; your invitation will only last for 72 hours. As of writing, only the more expensive model with the disc drive is available.
Best Buy – When you need to buy electronics, Best Buy is the first choice of many people. This has left the store's PlayStation 5 stocks depleted. Best Buy sells disc and discless models, but they sell out quickly, so if you see them in stock, don't wait. Alternatively, Best Buy also sells the God of War Ragnarok bundle, which is more readily available. But once those stocks run out, they won't be renewed.
Costco – The United States' de facto wholesale store. Everything available at Costco has to be bought in bulk, including electronics like the PlayStation 5. You can't buy the console piecemeal there, but you can purchase a bundle that includes a PS5, a copy of God of War Ragnarok, a Sony Pulse headset, an extra controller, and 4 $25 PlayStation store gift cards.
GameStop – Regardless of what you think of GameStop's trade-in practices, you can usually find consoles for sale in your local GameStop. You can buy new and refurbished copies of the disc and discless PlayStation 5, as well as bundles and special editions of the console while supplies last.
Meijer – If you live in the midwest, you probably shop at Meijer for your groceries, electronics, and other goods. Currently, Meijer sells the God of War Ragnarok bundles of PlayStation 5 in both disc and discless variety, but you can only pick them up in the store.
Newegg – Newegg is the internet's premier computer hardware shopping website. Need a GPU or mouse? Newegg probably sells it. Need a PlayStation 5? Newegg sells it as well, but only the digital God of War Ragnarok bundle. The site also sells PlayStation 5 consoles supplied by third parties, but these are more expensive than other sources.
PlayStation Direct – Of course Sony would sell its own PlayStation 5s directly. If you can buy games and PS5 accessories from the site, why not also buy consoles? However, you can only currently buy the disc and discless God of War Ragnarok bundles and the solo disc console. The digital PS5 isn't available as of writing, but that could change in the future.
Sam's Club – Sam's Club is Walmart's answer to Costco and functions the same way. As such, Sam's Club is a wholesale store and sells items in bulk, the PlayStation5 included. Currently, you can only purchase a bundle that includes the disc PS5, a voucher for God of War Ragnarok, an additional controller, and a Dualsense charging dock.
Target – Target is a gigantic department chain that sells groceries, clothes, and everything in between, including PlayStation 5s. If you want to buy a console online, you have to purchase the God of War Ragnarok bundle, but if you want the console by itself, you have to walk into a store and hope they're in stock. Currently, Target seems to be out of digital PS5s.
Verizon – Verizon is supposed to supply phones and wi-fi internet routers; why would it sell PlayStation 5 consoles? Because why not? Some Verizon stores sell disc PS5s, but to buy one, you have to visit an outlet with stock. Unfortunately, Verizon has discontinued selling discless PS5s.
Walmart – Walmart is Target's largest rival since they serve the same general purpose and sell roughly the same items, and yes, that includes PlayStation 5s. You can purchase plenty of consoles online, but most of them are supplied by third parties. If you want a guaranteed new one, you will have to buy the God of War Ragnarok bundle, at least until Walmart's stocks replenish.
Where to Find an Xbox Series X/S
Amazon – As with the PlayStation 5, Amazon only sells Xbox consoles via an invitation waitlist. If you want the Xbox Series S, currently Amazon only sells them through bundles. While Microsoft has partnered with many retailers for its All Access payment plan program, Amazon is not one of them.
Best Buy – Best Buy's relationship with the Xbox is complicated. The electronics chain sells Xbox Series X consoles on their own, but only if you can find one in stores. If you want it shipped to your home, you have to pay extra for the Forza Horizon 5 bundle. The Xbox Series S, meanwhile, is more readily available as both an in-store purchase and shipped product. Moreover, you can buy the console a la carte or in a bundle. However, if you would rather pay on the go instead of all at once, Best buy offers an Xbox All Access plan for both Xbox Series X and S.
Costco – As with the PlayStation 5, you can only buy the Xbox in Costco if you buy it in a bundle. This Xbox Series X bundle comes with the console, an extra controller, and a copy of Forza Horizon 5.
Dell – Since Microsoft produces both the Xbox Series X and the Windows OS, it makes a bit more sense for Dell to sell Microsoft products such as the Xbox Series X. Well, that's a half-truth. Currently, Dell sells the Xbox Series S Fortnite and Rocket League Legends bundle and refurbished Xbox Series S consoles.
Fred Meyer – Just like how Meijer is only found in the U.S. midwest, the Fred Meyer chain of stores is situated in the northwest. But while Meijer sells PlayStation 5 bundles, Fred Meyer instead sells Xbox Series S bundles, which include the console, an extra controller, and a headset.
GameStop – GameStop sells PlayStation 5s, so of course it also sells Xbox consoles. While you can only purchase Xbox Series X consoles and bundles in GameStop stores, the company will ship Xbox Series S consoles and bundles. GameStop has also partnered with Microsoft to offer the All Access payment plan for Xbox Series X and Series S platforms
Newegg – Even though Newegg primarily sells computer hardware and components, it also sells game consoles, Xbox included. You can purchase an Xbox Series X through the site, but most are supplied through third-party sellers and are more expensive than normal. The same applies to Xbox Series S consoles sold through Newegg.
Sam's Club – As with the PlayStation 5, Sam's Club only offers Xbox consoles through bundles. These include the Xbox Series X and Xbox Series S.
Staples – Staples might primarily sell computers and office supplies, but the retail chain also sells consoles such as the Xbox Series X. However, you can only pick these up in the store, so make sure your local Staples has them in stock before visiting. Moreover, the store currently doesn't sell Xbox Series S.
Target – Target has as much trouble holding onto PlayStation 5s as it does Xbox consoles. You can only buy an Xbox Series X if you pick up the console or Forza Horizon 5 bundle in the store. Meanwhile, you can only purchase the Xbox Series S in stores, but the Series S bundles are available for shipping. Like other chain stores, Target offers All Access payment plans for both the Series X and Series S.
Verizon – While Verizon sells PlayStation 5 consoles, you can only buy Xbox Series X and Series S consoles through the retailer if you use the All Access plan.
Walmart – Most of Walmart's Xbox stock consists of expensive third-party resellers, including all of its Xbox Series X consoles. However, Walmart does still sell some Xbox Series S bundles. Plus, while you can't outright purchase an Xbox console through Walmart, you can pay in increments via an All Access plan.
Microsoft Store – As you probably guessed, Microsoft sells Xbox Series X and Series S consoles directly through their online store. They're actually a pretty reliable source for both.