News
FIFA 23 World Cup Mode Update: Release Time, Teams, New FUT Cards, and Ultimate Soundtrack
The biggest tournament in world football is back. Here's everything you need to know about the FIFA 23 World Cup mode.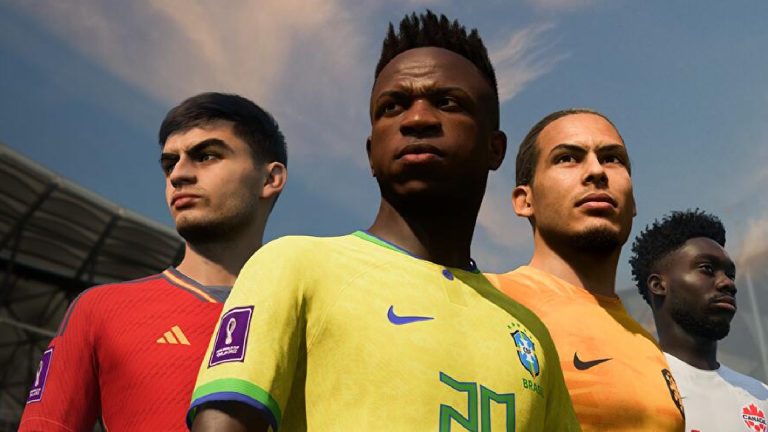 World football takes center stage once again this November. This year's FIFA World Cup will be played in Qatar, marking the 22nd edition of the tournament. Defending champions France will be looking to repeat their 2018 glory, while other favorites like Belgium and Brazil will try to claim the title. And then of course there is England, who haven't won the tournament since 1966 and will be looking to finally take the cup home this year.
This also means FIFA 23, the final EA football sim that will carry the "FIFA" name, is getting a new World Cup mode this month ahead of the tournament's start on Nov. 20. Here's everything you need to know to prepare for the game's big World Cup update…
FIFA 23 World Cup Mode Release Time
The long-awaited World Cup mode will finally hit FIFA 23 on Nov. 9, while the FIFA Ultimate Team update with new card packs will release on Nov. 11 at 10:00 PT/13:00 ET/18:00 GMT.
Other features arriving with the FIFA 23 World Cup mode include online tournaments and a World Cup Live match type that allows you to play past or current fixtures as the real-world cup progresses. For an overview of everything coming to the game with the new World Cup update, check out the trailer below:
FIFA 23 World Cup Mode Teams
If you want a realistic simulation of the tournament, FIFA 23's World Cup mode will allow you to play as one of the 32 nations that have qualified for Qatar 2022. The group breakdown is as follows:
Group A: Qatar, Ecuador, Senegal, Netherlands
Group B: England, Iran, USA, Wales
Group C: Argentina, Saudi Arabia, Mexico, Poland
Group D: France, Australia, Denmark, Tunisia
Group E: Span, Costa Rica, Germany, Japan
Group F: Belgium, Canada, Morocco, Croatia
Group G: Brazil, Serbia, Switzerland, Cameroon
Group H: Portugal, Ghana, Uruguay, South Korea
That said, if you'd prefer to customize the groups or play as a nation that didn't make it to the final 32, you can do that too. The other national teams included in FIFA 23 are Austria, China PR, Czech Republic, Finland, Hungary, Iceland, Ireland, Italy, New Zealand, Northern Ireland, Norway, Romania, Scotland, Sweden, and Ukraine.
FIFA 23 Ultimate Team World Cup Cards
To celebrate the FIFA World Cup, Ultimate Team mode will also be getting a series of new Heroes cards. Here's the full lineup of cards and their stats (via Radio Times):
Yaya Touré (Ivory Coast/Premier League, 87)
Park Ji-sung (South Korea/Premier League, 86)
Ricardo Carvalho (Portugal/ Premier League, 88)
Claudio Marchisio (Italy/Serie A, 87)
Landon Donovan (USA/MLS, 86)
Diego Forlán (Uraguay/La Liga, 88)
Lucio (Brazil/Bundesliga, 89)
Rafael Márquez (Mexico/LaLiga, 88)
Javier Mascherano (Argentina/Premier League, 88)
Peter Crouch (Premier League, 85)
Tomas Brolin (Sweden/Serie A, 87)
Harry Kewell (Australia/Premier League, 87)
Dirk Kuyt (Netherlands/Premier League, 86)
Sidney Govou (France/Ligue 1, 86)
Jean-Pierre Papin (France/Ligue 1, 89)
Rudi Völler (Germany/Serie A, 89)
Joan Capdevila (Spain/La Liga, 86)
Włodzimierz Smolarek (Poland/Eredivisie, 86)
Saeed Al-Owairan (Saudi Arabia/SPL, 85)
Hidetoshi Nakata (Japan/Serie A, 87)
Morientes (Spain/La Liga, 89)
Abedi Pele (Ghana, Ligue 1, 89)
David Ginola (France/Ligue 1, 89)
Jurgen Kohler (Germany/Bundesliga, 89)
Jay-Jay Okacha (Nigeria/Premier League, 88)
Antonio Di Matale (Italy/Serie A, 88)
Mario Gomez (Germany/Bundesliga, 88)
Diego Milito (Argentina/Serie A, 88)
Joe Cole (England/Premier League, 87)
Ivan Cordoba (Colombia/Serie A, 87)
Jorge Campos (Mexico/MLS, 87)
Robbie Keane (Ireland, Premier League, 86)
Ole Gunnar Solkjaer (Norway/Premier League, 86)
Freddie Ljungberg (Sweden/Premier League, 86)
Aleksandr Mostovoi (Russia/La Liga, 86)
Jerzy Dudek (Poland/Premier League, 86)
Sami Al-Jaber (Saudi Arabia/MBS Pro League, 86)
Lars Ricken (Germany/Bundesliga, 85)
Tim Cahill (Australia/Premier League, 85)
Clint Dempsey (USA/MLS, 85)
The new cards will drop on Nov. 11. Players will receive a starter pack at that time, with the rest of the cards available through the in-game store or unlocked as rewards. The new card packs will be available until Dec. 23.
FIFA 23 Ultimate Soundtrack
FIFA 23 doesn't just mark the arrival of another World Cup. It also marks 25 years of FIFA games, which is why EA has released a new playlist with the greatest hits from across all editions of the world's most popular football sim. If you're a longtime FIFA fan, you already know there are some absolute bangers on the Ultimate FIFA Soundtrack.
You can give the full playlist a listen below: