News
FIFA 23 Just Decided Who Will Win World Cup and Who Will Score the Most Goals
EA's popular football sim's FIFA World Cup winner predictions have been correct for the last three World Cups.
The biggest tournament in football not named the Champions League will hit the world stage on Nov. 20, bringing with it all the excitement this beautiful sport has to offer. While defending World Cup winners France are determined to lift the trophy once again like they did in 2018, there are definitely a few other nations viewed as favorites to win it. Just taking a peek at the FIFA World Ranking, Brazil, Belgium, Argentina, England, Spain, The Netherlands, Portugal, and Denmark should all do very well at this year's tournament in theory, but football is ultimately unpredictable.
Well, unless you're EA Sports. For years, the video game publisher has used its popular football sim FIFA to predict World Cup winners. That's nothing new for the studio, of course — they do the same every year with Madden and the Super Bowl. But what is really interesting is that FIFA has correctly predicted the last three World Cup winners: Spain at South Africa 2010, Germany at Brazil 2014, and France at Russia 2018. Just ahead of the debut of the World Cup in Qatar, FIFA 23 has now predicted who will lift the cup in 2022.
After simulating all 64 matches of the World Cup with all 32 nations participating in the tournament, FIFA 23 has a winner: apparently, Argentina and footy superstar Lionel Messi are about to have a massive end of year. (Sorry, England, FIFA says it's not coming home.)
The final ultimately came down to Argentina and Brazil, South American rivals who haven't won the World Cup in quite some time. La Seleção won it most recently at Korea/Japan 2002, while Argentina last tasted glory at Mexico 1986. In other words, a real-world win for either of these nations would be a very big deal, especially after European nations have dominated world football for so long.
"The stage was set for two of football's greatest rivals to meet for the first time in a FIFA World Cup since 1990 and the first time ever in the Final," EA said in a statement about the simulated World Cup final. "Unsurprisingly it was another tense game that was decided by a single goal, but it was the Albiceleste that sent their nation into euphoria as Lionel Messi scored his eighth goal of the tournament to give his country their first FIFA World Cup title since 1986, their third overall, and filled in the last remaining spot in his trophy cabinet."
EA did not reveal the final score of the match, but did confirm that France clinched third place. Not a bad result for Les Bleus.
FIFA 23 also predicted the top goal scorer of the tournament. Unsurprisingly, the game says Messi will take home the Golden Boot with 8 goals in 7 matches. Memphis Depay of The Netherlands and Kylian Mbappe take second and third place with 6 goals a piece. Interestingly enough, FIFA 23 is also predicting a big World Cup for American superstar Christian Pulisic, who scored 5 goals across 5 simulated matches, tying in goals with Brazil's Richarlison and Vinicius Jr.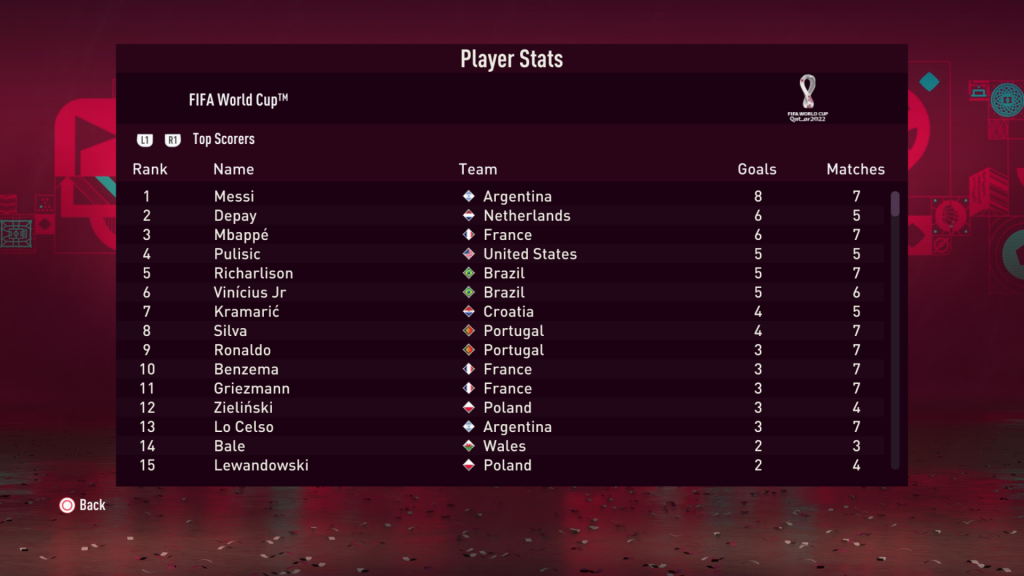 Meanwhile, things were more complicated when selecting the best goalkeeper of Qatar 2022, but an Argentinian ultimately took the Golden Glove home, too: "There was a four-way tie for the Golden Glove between Rui Patrício of Portugal, Alisson of Brazil, Dominik Livaković of Croatia, and Emiliano Martínez of Argentina, but it was Martínez who picked up the award by virtue of progressing the furthest in the tournament."
Finally, EA Sports also announced its prediction for the Team of the Tournament based on the stats after all 64 matches had been simulated. Unsurprisingly, it's largely populated by players from Brazil and Argentina:
Emiliano Martínez – ARG
João Cancelo – POR
Raphaël Varane – FRA
Marquinhos – BRA
Marcos Acuña – ARG
Leandro Paredes – ARG
Rodrigo de Paul – ARG
Vinícius Jr – BRA
Lionel Messi – ARG
Kylian Mbappé – FRA
Richarlison – BRA
Football fans looking to jump into the World Cup action early can do so now on FIFA 23, which just dropped its big World Cup update, bringing with it officially licensed online and offline World Cup tournament modes as well as new Ultimate Team cards and much more.
FIFA 23 is out now for PlayStation 5, Xbox Series X/S, Nintendo Switch, and PC.