News
E3 2021 Needs to Find a Way to Stay Relevant in Changing Times
E3 2021 goes digital as the event's reluctance to embrace that format in the past raises questions about how it fits into the future.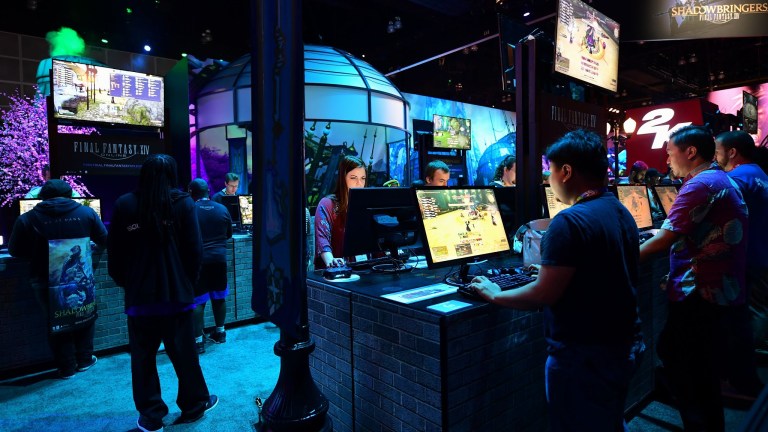 The ESA has revealed that E3 2021 will run from June 12 to June 15 as an "all-virtual video game showcase that will be 100 percent free for attendees." So far, the ESA is touting "early commitments from Nintendo, Xbox, Capcom, Konami, Ubisoft, Take-Two Interactive, Warner Bros. Games, and Koch Media" with more possible presenters to come.
Considering that the fate of E3 2021 was very much in doubt after last year's event was canceled due to the COVID-19 pandemic, and companies everywhere hosted their own digital events as the ESA failed to organize the same, this announcement may be more than E3 fans could have hoped for. E3 shouldn't be an in-person event quite yet, but a digital version of E3 featuring heavy hitters like Nintendo, Capcom, and Microsoft certainly feels like something close to that return to normalcy that so many of us crave.
Just as there are questions about what normalcy means after the events of the last year and the circumstances which propelled them, though, E3's organizers, fans, and presenters will have to answer some tough questions about how the event will stay relevant at a time when its greatest attribute often feels like the memory of what was.
Make no mistake that E3 was in trouble even before the 2020 event was canceled due to circumstances beyond its organizers' control. In recent years, studios like EA, PlayStation, Activision Blizzard, and even Nintendo (to a degree) decided to abandon their traditional E3 presentations in favor of their own dedicated shows and broadcasts. The reasons for their departures vary, but as Sony's controversial (and largely underwhelming) 2018 E3 presentation showed, the pressure and costs of constructing a yearly presentation with competition undertones sometimes aren't worth the potential payoff from a business perspective.
The absence of those companies was certainly felt at E3 2019 which had its fans but its best-remembered moment was a Keanu Reeves cameo that has lost some luster since we've all played the game that was clearly not ready for the spotlight it was afforded at that show.
Many of the companies that have left E3 have used the word "change" to justify their decision. Former Sony Worldwide Studios chairman Shawn Layden said in 2019 that "the world has changed, but E3 hasn't necessarily changed with it." In 2020, longtime E3 partner Geoff Keighley said that "the show does need to evolve." Both Keighley and Layden noted their desire for E3 to look beyond the booths and show floor and find new ways to connect with fans, preferably digitally.
While leaks suggest that the ESA's own suggestions for change involve an emphasis on influencers, live gimmicks, and even potential paywalls for digital content, E3 2021 doesn't currently seem to feature any of that. Based on what we know now, it might actually be that largely digital event that will move beyond the physical boundaries of E3s gone by that some have complained about and instead reach a global fanbase directly in their homes. E3 2021 has a chance to become the E3 that some former major presenters seemed to hope it would become years ago.
However, the biggest potential problem with E3 2021 isn't its changes but rather the expectations of the one group of people who seem most insistent that E3 doesn't change: its vocal supporters.
There's no universal reason why fans love E3, but the most common reasons fans look forward to the show tend to involve key elements such as the surprise of big game reveals, the competitive nature of the show (and subsequent arguments over who "won"), and the feeling of celebrating all things gaming during a big-budget week that seems to bring everyone to the same place one way or another.
There is no beloved element of E3s of the past that has become more outdated and dangerous than the expectations of the big reveal. A quick look at reactions to E3 2021 confirmation across social media reveals that fans are already hyping themselves up for the following games:
Metal Gear Solid and Silent Hill sequels/remakes
Grand Theft Auto 6
Metroid Prime 4
Breath of the Wild 2
Starfield
The Elder Scrolls 6
Maybe some of those games will appear at the show in some capacity, but we're once again in a situation where the absence of impossibility fuels unreasonable expectations which burrow their way into even cynical minds and become the standard. What's worse is that the hype for these potential announcements is amplified in many cases by the belief that E3 2021 will be different from the various digital events that we saw throughout 2020 which were hyped to the moon in the days leading up to their premieres but rarely featured the kind of big announcements fans hoped they would.
The fact that there's a semi-popular belief that E3 2021 will be substantially different from recent events in that respect already suggests that not enough people have realized the situation the video game industry faces right now. As more and more games are delayed to 2022 and beyond, the impact of the COVID-19 pandemic on production schedules everywhere should be much clearer than it seems to be. Digital showcases weren't underwhelming because they took place outside of E3; they were often underwhelming because studios were trying to figure out how to finish games from home while creating digital presentations from the same place. The elements that impacted the impact of those showcases are as prevalent as ever.
Even if they weren't, pre-pandemic E3s have made it increasingly clear that those mind-blowing reveals that defined E3s of the past are becoming much rarer. Leaks, quarterly expectations, and a constant news cycle mean we rarely see a game at E3 that we didn't already know or strongly suspect was coming. When we do (such as the reveal of The Elder Scrolls 6) it's often for a game that is so far away that it might as well not even be confirmed. Yet, we still have fans expecting to see those games even as developers do everything in their power to tell us that they're years away. Even those who know better find themselves weighing what we do see against the games they really want to know more about.
More importantly, the fact of the matter is that the video game industry is burdened by crunch culture and skyrocketing costs that often force employees to work unreasonable schedules to complete games that more often satisfy increasingly unreasonable ROI expectations than the vision of their creators or even the desire of fans. In that dangerous environment, we've built this monolith to gaming that seems bright to outsiders but is being propped up by the members of an overworked and sometimes unstable industry that must constantly find ways to satisfy a yearly expectation for the big new thing.
Yet, there may be no weaker E3 tentpole than the idea of industry competition. It's absolutely true that E3s of the past directly played into that competition element. The very first E3 was even highlighted by Sony's surprise PlayStation release date and price announcements which essentially ended the Sega Saturn's chances before they even got started. Subsequent years also saw companies take potshots at each other in an attempt to steal the biggest spotlight the gaming industry had.
Now, though, we've got Microsoft and Nintendo working together, Sony putting PlayStation Studios games on Game Pass, and PC players laughing as they get more games than ever. It's not that competition in the industry is gone so much as it is that companies really aren't interested in continuing to take shots at competitors that they're more willing to work with than ever before. What we're often left with in the wake of E3 isn't a debate over the best showing but a petulant justification for outdated fanboyism that rarely amounts to more than which console will get the special DLC hoodie in the next Assassin's Creed.
That leaves us with the idea that E3 will live on as this event that gets people excited about the gaming industry and brings them together, which is honestly what E3 2021 is going to have to capitalize on if it's going to battle against times that are slowly walking towards the door as E3 tries to keep the party going with stories of that time that went to the lake in college.
You can assign E3 a fiscal value, but I can tell you what E3 is worth to you. I also can't deny that even the worst E3 tends to be more exciting than the best digital showcase we saw in 2020. After a year of searching for hope and answers, I'm looking forward to a generally harmless event that makes millions of people feel good and feel a connection with each other.
But in the same way that Blockbuster launched Blockbuster By Mail years after Netflix showed them what the future was going to be, I can't help but feel that this year's digital E3 showcase reeks more of necessity than the ability to read the room and truly innovate. What can E3 do with a host of presenters that already struggled to host their own digital showcases who must now scrape together enough new games to justify a spectacle? The show's inability to innovate in years when it was positioned to do so raises serious doubt about its ability to innovate in areas that it's intentionally avoided for years.
Maybe E3 2021 will be an effective enough stopgap and get us to E3 2022 when the novelty of being able to join crowds of people at a video game event (or watch those proceedings) will suddenly feel new again. However, E3 2021's real job may be convincing us that this event has figured out something about digital presentations that has eluded some of the industry's heaviest hitters so far.
If E3 2021 can capture that magical something that even mediocre E3s of the past have benefited from, then maybe it can overcome all of these hurdles. At the very least, it can delay the need to justify its place in a video game industry that keeps finding new ways to tell us that it needs to move on from the burden of our sometimes nostalgic ideas of what gaming was and what we want it to be. If it can't, then those winds of change that we've been feeling more and more recently may blow over the empty halls of the L.A. Convention Center come June 2022 as we all realize that the tough answers to the questions of the future are rarely found in the past.