News
E3 Takes Down Sexist Tweet Promoting Harmful Stereotypes About Women
E3 drew the ire of Twitter after posting a sexist tweet promoting an insulting list that reinforced gross stereotypes about women.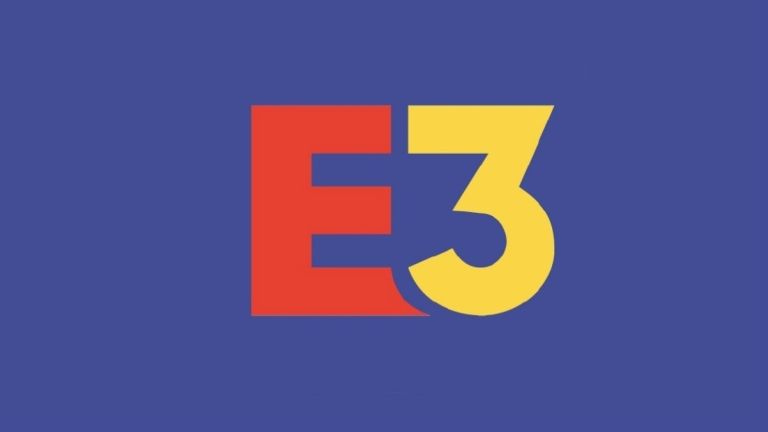 The Entertainment Software Association (ESA), the video game lobby group that also organizes E3, was forced to take down a tweet that users accused of being sexist. The tweet in question promoted a list first published by the site Parade titled "25 Online Games That Women Enjoy," which has also now been taken down by the outlet "after hearing your comments and reviewing again."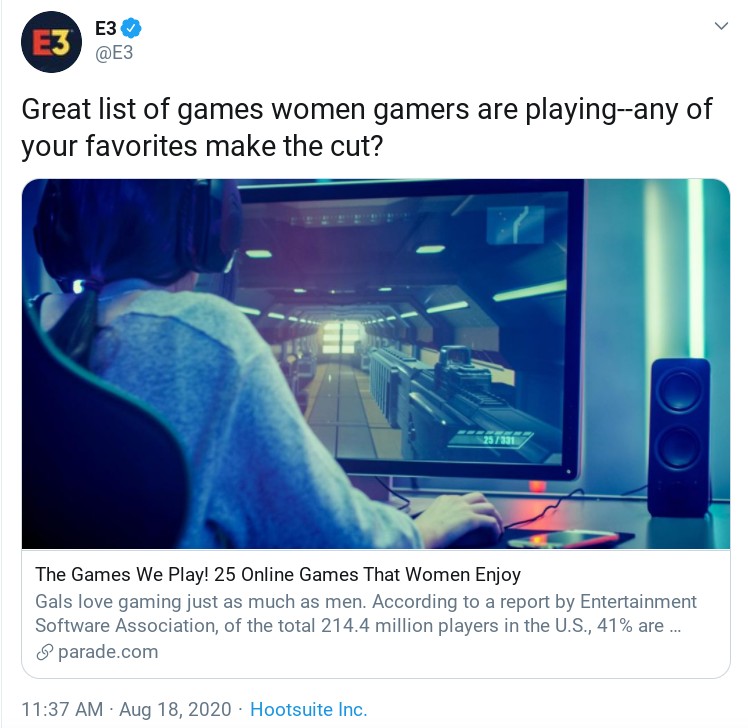 "Great list of games women gamers are playing — any of your favorites make the cut?" read the deleted tweet. According to Kotaku, by the time the post had been taken down, thousands of Twitter users had responded to the tweet.
Per Kotaku, the article reinforced damaging stereotypes about women, suggesting that a mix of card, cooking, farming, life simulation, mobile, and Kim Kardashian games were the most popular titles played by women. The games selected for the list were condescending, to say the least, suggesting women only play casual games, a particularly gross stereotype often aimed at women in the community by "hardcore" male gamers, or that these were the specific games made for women.
The list failed to capture the greater scope of diverse gaming experiences enjoyed by women. While it's true that women could enjoy all of the games featured on the list, including Animal Crossing: New Horizons and Overwatch (the two rare selections that weren't casual mobile or card games), they're in no way the only games played by women.
The article also referred to its target audience as "girls" several times throughout, a word that men often use to patronize or belittle women, especially when it comes to discussing their participation in spaces and communities that some ignorant corners of the internet still consider male-oriented.
"Girls love gaming just as much as men" began the article, according to Kotaku, which also pointed to the Bejeweled Classic entry as another example of sexist language. "Diamonds are a girl's best friend. Am I right, ladies?" read the start of that entry.
As pointed out by Screen Rant, the Parade article also featured "heavily coded language to attempt to persuade women to play the games listed," pointing to the Disney Codeillusion entry specifically. It begins, "Who says coding is just for males?"
The ESA apologized in a follow-up tweet, saying, "We messed up. We are taking down the post and apologize for perpetuating a harmful stereotype. We will do better."
According to Digital Trends, one user asked whether the ESA thought "this stereotype of women is funny" while others suggested that the ESA actually consult women before sharing articles attempting to represent them.
Considering the ESA itself recently reported that 41% of gamers in the US are women, the organization should probably spend a bit more time familiarizing itself with this huge section of the gaming community.