Features
How Much Are The Biggest Video Game Companies Worth?
Following Microsoft's acquisition of Activision Blizzard, we take a look at the current market values of some of gaming's biggest companies.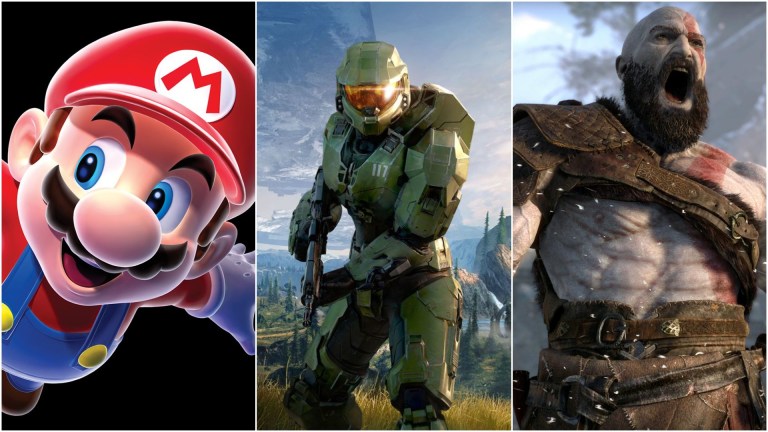 Activision Blizzard is currently under investigation following accusations of harassment, discrimination, and fostering a hostile work environment. You can read more about the investigation here.
Microsoft's shocking (though still pending) acquisition of Activision Blizzard has everyone buzzing and a lot of people suddenly wondering how much Sony, Nintendo, Capcom, Square Enix, and their other favorite video game studios are actually worth. After all, it certainly feels like more major developers could be purchased in the very near future.
So far as that goes, talking about the "net worth" of a business is kind of tricky. Yearly revenue figures are often the most pressing and valuable metric when it comes to those kinds of finances, but they don't really give an entirely accurate picture of a company's worth so far as potential acquisitions and similar discussions go.
Instead, we're going to focus on a company's estimated market cap in order to give you a better idea of exactly how valuable they currently are. A market cap is the value of a publically traded company's total shares of stocks, and it is often calculated (at least by the general public) by multiplying a company's share price by the number of its outstanding shares.
While the variables involved in that equation ensure that a company's market cap is always changing in some way, it's still one of the best ways to get a picture of a company's overall current value. For instance, Activision Blizzard's market cap was estimated to be around $64 billion when they were reportedly purchased by Microsoft for about $68.7 billion.
Having said that, it's important to note that a company's market cap is not exactly their net worth nor does it represent the amount of cash they have on hand. While it's a useful figure to look at when you're trying to get an idea of how much it would theoretically take to buy a certain company, there are many other factors that help determine how successful those companies are, how much they're actually making, how much they are willing to spend, and how much it would actually take to make those kinds of deals happen.
With that out of the way, here's a look at the current estimated market caps for some of the biggest video game studios (or their parent companies) in the world.
Microsoft: $2.3 Trillion Market Cap
Xbox's parent company unsurprisingly finds itself at the top of this particular list with a market cap of over $2 trillion. You probably never found yourself wondering how Microsoft can afford to make some of the acquisitions they've been making, but this figure should help answer any lingering questions.
Tencent: $555 Billion Market Cap
Chinese technological company Tencent has been investing in more and more video game studios in recent years, and they're now considered to be one of the most powerful video game (or video game-adjacent) companies in the world. While they've primarily been interested in mobile gaming in the past, they're certainly starting to broaden their horizons thanks to a buyout of Riot Games, heavy investment into Epic Games, and many more similar deals.
Sony: $143 Billion Market Cap
Much like Xbox and Microsoft, trying to get a feel for what kind of war chest PlayStation is working with requires you to also look at what Sony's current market cap is. While Sony is obviously focused on so much more than the PlayStation brand, PlayStation's recent revenue figures and estimated net worth show that they're certainly a big part of that company.
Nintendo: $55 Billion Market Cap
While Nintendo's market cap may seem significantly lower than Sony and Microsoft's caps, it's important to remember that they're the first company on this list that is almost entirely focused on and built around their gaming revenue. When you look at it from that perspective, this already impressive number is somehow even more impressive.
Roblox Corporation: $45 Billion Market Cap
While there is a very good chance you've never heard of the Roblox Corporation if you're not a gamer of a certain age, the makers of Roblox have grown into one of the most successful video game companies in the world in recent years. While the Roblox Corporation has had to answer a lot of questions about how their game uses (some prefer to say "exploits") the creative efforts of its mostly very young player base, Roblox's growth shows few signs of slowing down.
EA: $38 Billion Market Cap
It shouldn't surprise you that EA finds themselves relatively high on this particular list, but the company's estimated $38 Billion market cap compared to Activision Blizzard's reported $64 Billion cap may leave you wondering if someone could actually buy them out. The answer to that question is always a hypothetical "yes," though it's important to consider how the ongoing investigation into Activision Blizzard's practices and leadership almost certainly impacted their decision to sell.
Take-Two Interactive: $18 Billion Market Cap
Take Two's recent $12.7 billion acquisition of Zynga (whose market cap is around $10 billion) may have been overshadowed by the Activision Blizzard deal, but the publisher of Grand Theft Auto and so many other major game franchises is still one of the biggest video game companies in the world.
Bandai Namco: $15 Billion Market Cap
Bandai Namco's international success and diverse game lineup have helped them become one of the most valuable game publishers in the world today. Interestingly, much of their video game revenue comes from high sales figures for a variety of their titles rather than a few major games that they rely on for microtransaction revenue.
Ubisoft: $7 Billion Market Cap
Much like EA, Ubisoft is one of those companies that almost always pop up during discussions about high-value acquisitions that could possibly happen in the near future. While their size, revenue, and status still make it unlikely that they will be purchased anytime soon, the Activision Blizzard deal obviously changed that particular conversation in a pretty big way.
Konami: $6 Billion Market Cap
While Konami barely bothers to pretend to be interested in publishing and developing "traditional" games anymore, the company's controversial efforts to expand the scope of their operations in recent years haven't exactly hurt the bottom line. They're also still sitting on a treasure trove of valuable video game properties.
Square Enix: $5.9 Billion Market Cap
They may be slightly lower on this list than some of their big-name competition, but Square Enix's revenue has slowly been growing over the last 10 years or so. They're certainly one of the most popular topics in any discussion about which studios could be acquired next. At this time, though, there have been no reliable reports that suggest Square Enix's leadership is interested in selling the company or that there are any serious buyers out there.
Capcom: $4.9 Billion Market Cap
Much like Square Enix, there has been a lot of talk about whether or not Capcom could soon be acquired by another major video game company. The studio certainly boasts a compelling blend of legacy titles and modern hits that would surely appeal to potential suitors, but much as it is with a lot of publishers and developers in this market cap range, you do need to consider the incredible number of variables that complicate any potential Capcom deal.
CD Projekt: $4.9 Billion Market Cap
While Cyberpunk 2077's disastrous launch absolutely hurt CD Projekt's overall value, the company is still doing quite well for itself in the grand scheme of things. The fairly popular belief is that their value will continue to rise as they fix Cyberpunk 2077 and unveil new projects that will, hopefully, not suffer from that game's many issues.
Sega: $3.6 Billion Market Cap
While Sega is no longer the console manufacturer and industry presence they used to be, they've actually done quite well for themselves in recent years thanks to a number of successful new properties and some legacy hits. They're certainly in the conversation about possible studio acquisitions, though they arguably have been in that conversation for many years now and haven't sold quite yet.
Nintendo vs. PlayStation vs. Xbox: Which Company Makes the Most Money?
For those who really want to know where the three big console manufacturers stand from a revenue perspective, here's a look at their gaming 2020 revenue figures (based on reports from Niko Partners analyst, Daniel Ahmad):
Sony: $22.67 Billion
Nintendo: $15.79 Billion
Microsoft: $13.83 Billion
Now, those numbers are based on 2020 figures, but early 2021 estimates suggest that the gap between those companies is likely about the same (even though all seemingly enjoyed some level of revenue growth during that year). As Ahmad notes on Twitter, Xbox and Activision Blizzard's combined 2020 revenue would put that theoretical company at about $21.9 billion for the year (which would still trail Sony).