News
Elder Scrolls and Fallout Publisher Bethesda Acquired by Xbox
Xbox has purchased Bethesda Softworks and its parent company ZeniMax Media, bringing some of the biggest franchises in gaming under Microsoft's roof.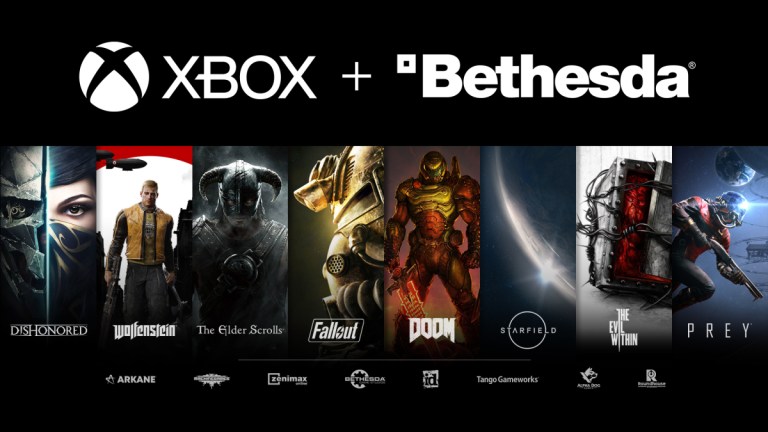 Xbox has acquired famed video game publisher Bethesda Softworks and its parent company ZeniMax Media for $7.5 billion in a status quo-shattering deal that is sure to change the gaming landscape. Bethesda is best known as the publisher behind The Elder Scrolls, Fallout, Wolfenstein, Doom, Quake, and the upcoming space RPG Starfield. The studios acquired under the deal include Bethesda Game Studios, id Software, ZeniMax Online Studios, Arkane, MachineGames, Tango Gameworks, Alpha Dog, and Roundhouse Studios, bringing Xbox's total number of first-party studios to 23.
In a press release, Microsoft confirmed that it plans to bring all of Bethesda's franchises to Xbox Game Pass. Future Bethesda titles, such as The Elder Scrolls 6 and Starfield, will release on Xbox Game Pass on "the same day they launch on Xbox or PC."
"One of the things that has me most excited is seeing the roadmap with Bethesda's future games, some announced and many unannounced, to Xbox console and PC including Starfield, the highly anticipated, new space epic currently in development by Bethesda Game Studios," wrote Xbox head Phil Spencer in a blog post on Xbox Wire.
"The key point is we're still Bethesda," wrote Bethesda SVP of global marketing Pete Hines of the acquisition, reassuring fans that they can still expect upcoming Bethesda games to still be made by Bethesda. "We're still working on the same games we were yesterday, made by the same studios we've worked with for years, and those games will be published by us."
Hines explained that the acquisition was very good Bethesda as Microsoft "offers access to resources that will make us a better publisher and developer. We believe that means better games for you to play. Simply put – we believe that change is an important part of getting better. We believe in pushing ourselves to be better. To innovate. To grow."
It's unclear whether this acquisition means that upcoming Bethesda games will now be exclusive to Xbox platforms and PC. Recently, Xbox has been moving away from some platform exclusives, releasing smaller Xbox indies like Cuphead on Nintendo Switch and PlayStation 4. Ori and the Will of Wisps dropped on the Switch last week, while Halo: The Master Chief Collection hit Steam last year. Still, with Sony continuing to lock up exclusives for the PlayStation 5, such as Final Fantasy 16 and Deathloop, it's possible Microsoft will do the same to strengthen the first-party lineup of its own next-gen consoles, Xbox Series X and Series S.
"Like us, Bethesda are passionate believers in building a diverse array of creative experiences, in exploring new game franchises, and in telling stories in bold ways," concluded Spencer's message to fans. "All of their great work will of course continue and grow and we look forward to empowering them with the resources and support of Microsoft to scale their creative visions to more players in new ways for you."
Said Hines in his own note, "Yes, it's a big change for us, but after taking a minute to absorb the magnitude of this acquisition, we're going to continue doing what we know and love: making great games. We're going to keep trying new things. We're going to take the same passion we've poured into what we do, and the passion that our community brings to the things we make, and do even better."
We'll keep you updated as we learn more.