Features
PS5 vs. Xbox Series X/S vs. Nintendo Switch – Which Console Won 2021?
2021 was the first full year of the PS5, Xbox Series X/S, and Nintendo Switch war, but which console came out on top?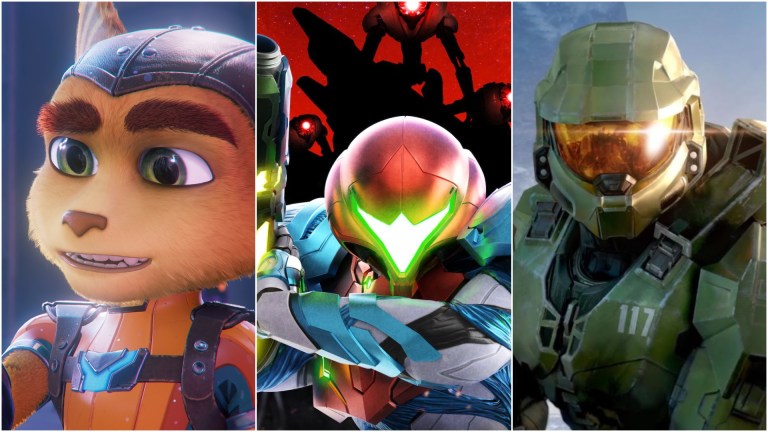 While the first full year of the Xbox Series X vs. PS5 vs. Nintendo Switch console war was impacted by delays, shortages, and other detrimental factors largely outside of anyone's control, 2021 ended up being a surprisingly good year for games that still offered an early look at how the battle between the next-gen consoles is going to play out.
Which next-gen console "won" 2021, though? Well, that question is obviously somewhat subjective and largely based on a year that was anything but typical, but as 2021 comes to a close, now certainly seems to be the time to declare the year's "winner" as best as we're able.
In order to do that, we're going to assign each console 1 to 3 points in five different categories (with one point going to the last place console in that category, two points going to the second place console, and a full three points to the first place console). For reference, here's an overview and explanation of the categories we'll be using to rate each console:
Sales – How many units of each next-gen console were sold in 2021? This category is based on the most recently published official sales figure as well as the most reliable available estimates.
Hardware – This category accounts for the advantages (and disadvantages) offered by every piece of hardware in each console's "family."
Services – Points are awarded in this category for the quality of exclusive services offered by each console. Unlike features offered by each piece of hardware, these services are typically optional.
Exclusive Games – Points are awarded in this category for the quality (and, when appropriate, quantity) of exclusive games released for each console family in 2021.
The Future – This category is based on what upcoming exclusive games and services each console manufacturer revealed for 2022 and beyond.
With that out of the way, let's get started.
Nintendo Switch: 2021 In Review
Sales – 3 Points
While the official sales numbers for every next-gen console are sometimes subject to a reasonable margin of error, there's very little doubt that the Nintendo Switch dominated the sales year. In fact, some estimates suggest that Nintendo will have sold nearly 20 million Switch units by the end of 2021.
The Switch's early release date and multiple hardware options certainly give it an advantage in this department, but a look at the console's lifetime sales strongly suggests it could very well end up being the best-selling of the three next-gen consoles by the time this war is over.
Hardware – 2 Points
While the somewhat underwhelming release of the Switch OLED was one of the year's biggest controversies, it's hard to deny that the Switch's hardware design is still one of the biggest contributors to its incredible success.
Time will tell if Sony and Microsoft will even try to directly compete with the Switch's hybrid design, but for the moment, Nintendo has cornered that market with one of the most enjoyable and innovative console designs ever.
Services – 1 Point
While Nintendo finally decided to add N64 (and Sega Genesis) games to Switch Online this year, the subpar quality of those N64 ports, as well as the premium price required to access a relatively limited library of retro games, means that Nintendo once again didn't quite get all of what should have been a home run.
It's true that Nintendo just doesn't seem to be as interested in digital services as their competitors, but that naturally means that they fall dead last in this particular category.
Exclusive Games – 1 Point
It actually wasn't a terrible year for Switch exclusives (Metroid Dread was incredible and New Pokémon Snap, Mario Party Superstars, and Mario Golf: Super Rush were all solid or better), but it's clear that Nintendo's reliance on their own properties hit them especially hard in a year when everyone was struggling to get major games out of the door.
Fortunately, things should only improve for Nintendo from here…
The Future – 2 Points
Few upcoming exclusives can compete with the power of Breath of the Wild 2, but even if that game were to somehow vanish off the face of the Earth, Switch fans still have Splatoon 3, Metroid Prime 4, Pokémon Legends: Arceus, Mario + Rabbids: Sparks Of Hope, Triangle Strategy and more to look forward to in the (hopefully) near future.
It would have been nice to see some of those games get released this year, but the Switch's future certainly looks bright.
PlayStation 5: 2021 In Review
Sales – 2 Points
While the PS5 did break the Switch's sales streak at one point this year, even Sony's official figures seem to confirm that the Switch will outsell the PS5 in 2021 in terms of total units. The exact numbers aren't in yet, but it seems like Sony will end up selling around 15 million PS5s by the end of the year (based on existing quarterly reports and Q4 estimates).
However, it will certainly be interesting to see if the PS5 ends up outselling the Switch in 2022 as additional PlayStation units (hopefully) become available.
Hardware – 1 Point
While I absolutely love the PS5's controller, I have to say that I've yet to embrace (or honestly even use) so many of the PS5 Control Center features that Sony promoted ahead of the next-gen console's release. While its also nice that the PS5 offers some native backward compatibility options (something the Switch certainly can't boast), the limited nature of that system compared to the Xbox Series X, and Sony's sometimes controversial next-gen upgrade policies, mean that even that hardware feature comes with an asterisk.
That said, I do suspect that the PS5's hardware is going to look a lot more appealing in 2022 and beyond as more developers focus on true PS5 exclusives that better utilize the console's power.
Services – 2 Points
PlayStation Now gives the PS5 an advantage over the Switch in this area, and the free monthly games you get with PlayStation Plus are certainly comparable to those offered by other services.
However, no Sony gaming service can match the value of Game Pass and everything that Microsoft has built around that service. We'll see if that changes in 2022 as the PlayStation team reportedly prepares to debut an expanded subscription service.
Exclusive Games – 2 Points
While I previously speculated that the PS5's 2021 exclusives would be better than the Xbox Series X's exclusives, that was before Ghostwire and Horizon Forbidden West were delayed to 2022. Those delays changed the dynamic just a bit.
Still, Returnal, Deathloop, and Ratchet And Clank: Rift Apart ended up being GOTY quality exclusives, and smaller titles like Kena: Bridge of Spirits helped fill out the PS5's exclusive lineup.
The Future – 3 Points
God of War Ragnarok should be on any shortlist of the most anticipated upcoming exclusives, but it's really the potential of major upcoming PS5 games like Final Fantasy XVI, the KOTOR remake, Marvel's Wolverine, Gran Turismo 7, Forbidden West, Ghostwire Tokyo, and Marvel's Spider-Man 2 that gives Sony the advantage in this crucial category.
Even if the PlayStation team doesn't debut that rumored new game streaming service next year, it's about to be a very good time to be a PS5 owner.
Xbox Series X/S: 2021 In Review
Sales – 1 Point
Microsoft is notoriously private when it comes to releasing exact Xbox hardware sales figures, but even the most generous estimates suggest that the Xbox Series X/S will finish in third for the year in terms of next-gen unit sales. I'd guess that the PS5 will outsell the Series X in 2021 by about 5-6 million units, but that's honestly an educated guess based on rough estimates.
Still, a late-in-the-year sales surge for the Xbox Series X/S means that Microsoft is heading into 2022 with a lot of momentum.
Hardware – 3 Points
There may come a day when the PS5's advanced SSD helps it pull ahead of the Xbox Series X in terms of power, but in a year when true next-gen exclusives were few and far between, it was the Series X's quality of life and consumer-friendly features that set it apart.
Xbox's "Quick Resume" feature is generally more useful than anything offered by the PS5's Control Center, and the console's backward compatibility programs are strictly better than any similar services offered by other consoles. The Series S is also arguably the nicest "budget" next-gen console option out there.
Services – 3 Points
This particular conversation begins and ends with Game Pass. Microsoft took a big risk when they decided to bet a large part of their future on a gaming subscription service, but every year since Game Pass' debut reminds us how valuable it is.
Throw in some amazing cloud gaming progams that are seemingly destined to quite literally change the game, and this ended up being the easiest category to call in Xbox's favor.
Exclusive Games – 3 Points
To be perfectly honest, I didn't expect Halo Infinite to be nearly as good as it ended up being. However, that game and Forza Horizon 5 ultimately gave Xbox the exclusive heavy hitters they've been missing in recent years.
While the PS5 still ended up delivering one more "can't miss" major exclusive this year, Xbox's two big guns were well-supported by noteworthy smaller titles like Twelve Minutes, The Gunk, The Artful Escape, The Ascent, Microsoft Flight Simulator, Sable, and more. This was a tough category to call, but the quantity of Xbox's quality exclusives ultimately gave it a slight (and surprising) edge.
The Future – 1 Point
Microsoft may have narrowly won the exclusives race this year, but it's important to remember that they still don't typically emphasize exclusives in the same way that Sony and Nintendo do. So, while Starfield should be one of 2022's biggest games, questions that remain about the state of some of Xbox's other noteworthy upcoming exclusives (such as Fable 4, Perfect Dark, Redfall, and Senua's Saga: Hellblade II) force me to give the edge to Sony and Nintendo in this department. On paper, they seem to have more "sure thing" big hits in their arsenal.
The Xbox team could easily turn the tide by confirming some additional Bethesda exclusives, acquiring more studios, revealing more games, or expanding Game Pass, but at the moment, they're the one console manufacturer I have the most questions about when trying to answer the bigger question, "What's next?"
PS5 vs. Xbox Series X/S vs. Nintendo Switch – Who Won 2021?
Third Place: Nintendo Switch – 9 Points
Even in a "slow" year, the Nintendo Switch dominated the sales charts and proved its staying power. It should be all good news for Nintendo from here.
Second Place: PlayStation 5 – 10 Points
The PlayStation team may have gotten bit by some delays and other circumstances beyond their control, but there's very little doubt that the PS5 will soon become a worthy successor to the PS4.
First Place: Xbox Series X/S – 11 Points
The Xbox team's emphasis on subscription services, quality-of-life features, and backward compatibility felt more valuable than ever this year, while the Xbox Series X/S's lineup was bolstered by a rare influx of must-have exclusives. It was Xbox's best year in years.