Sponsored
The History of Jurassic Park in LEGO
Unearth the rocky history of the LEGO sets based on the iconic Jurassic Park franchise!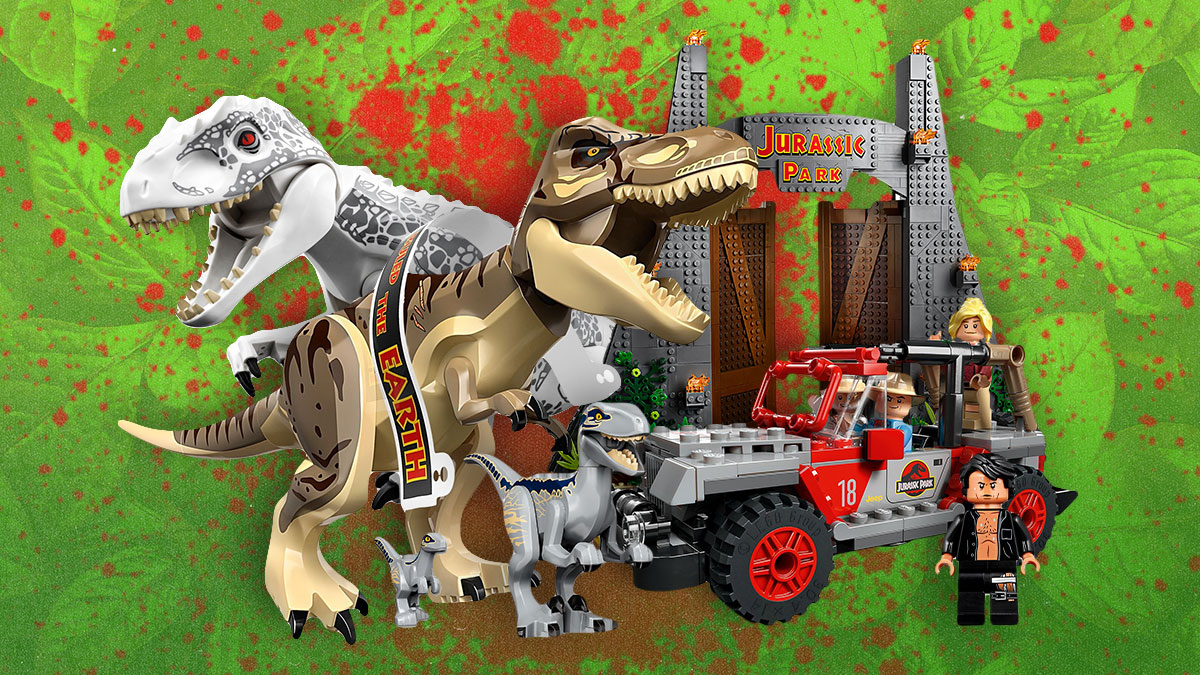 This article is part of Collector's Digest, an editorial series powered by: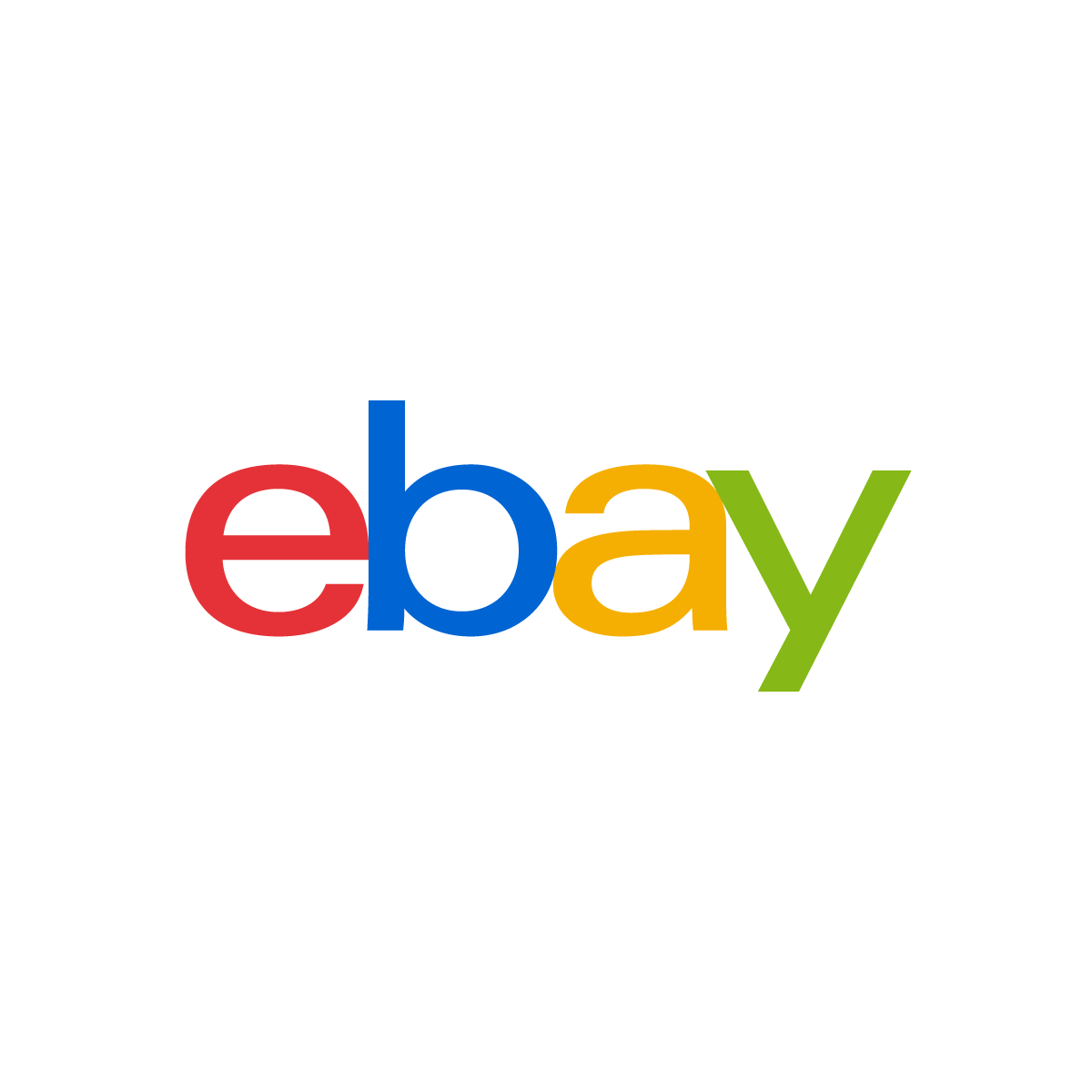 Thirty years ago, moviegoers around the world left theaters stunned after witnessing one of the most revolutionary films in cinema history, Steven Speilberg's Jurassic Park. Fast forward three decades and Jurassic Park has expanded beyond just the confines of a remote island off the coast of Costa Rica; it has blossomed into an empire. With six films, TV shows, iconic Universal Studios rides, massive merchandise tie-ins, and more, it's safe to say Jurassic Park has established itself as one of the cornerstones of popular culture in the 21st century, and The LEGO Group has capitalized on its success. However, things haven't always been smooth for the LEGO Jurassic Park theme. We've unearthed the history of these brick-built dinosaurs and some of the best LEGO products you can purchase on eBay at this very moment!
Here is the history of Jurassic Park through the lens of LEGO.
LEGO Studios & Jurassic Park III
Steven Spielberg Moviemaker Set
Our story begins with a theme obscure for even some hardcore LEGO fans: the short-lived line referred to as Studios. Released during the dawn of readily accessible video editing software, Studios encouraged LEGO fans to create their own films using LEGO bricks, providing them with the materials necessary, including a camera and CD (remember those?) with a program to stitch together their movies. The first ever Studios set, 1349, was sponsored by the director of Jurassic Park, Steven Spielberg. Titled Steven Spielberg Moviemaker Set, the 442-piece product included various Jurassic Park-related items, such as a brick-built recreation of a T. rex foot and a figure of the full dinosaur. However, nowhere on the packaging does it mention that the set is based on Jurassic Park in particular.
Find 1349 on eBay here
Raptor Rumble
The first officially licensed Jurassic Park LEGO sets were released a year later, in 2001 to coincide with Jurassic Park III dropping in theaters. Still under the Studios branding, two products were made, the 1370 Raptor Rumble and 1371 Spinosaurus Attack. The first set pictures two velociraptors and a pterodactyl acting the compound on Isla Sorna from the film. While the dinosaurs and structure build are quite accurate to the source material, LEGO elected to insert iconic LEGO Adventurers star Johnny Thunder into the set instead of a character from the movie.
Find 1370 on eBay here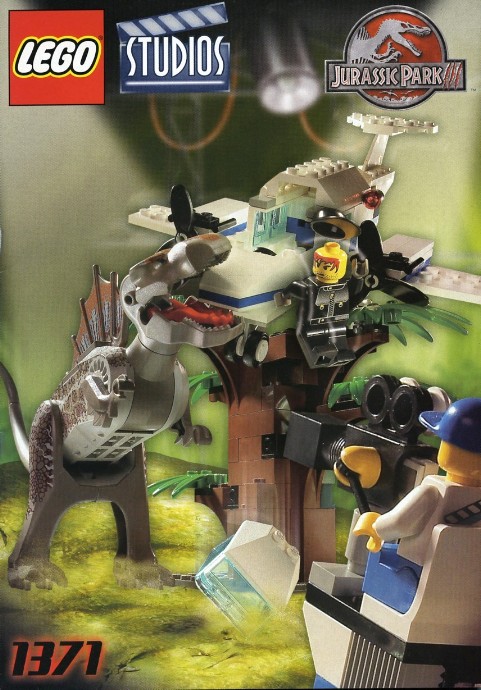 Spinosaurus Attack
The second Jurassic Park III set, Spinosaurus Attack, recreates the most iconic set piece from the film. Complete with a propeller stuck in a tree and the only ever physical appearance of the Spinosaurus in LEGO form, this set captures the beloved moment with a unique early aughts LEGO charm. However, no official characters are included here, with the figures simply being referred to as Pilot and Cameraman.
Find 1371 on eBay here
Jurassic World
Raptor Rampage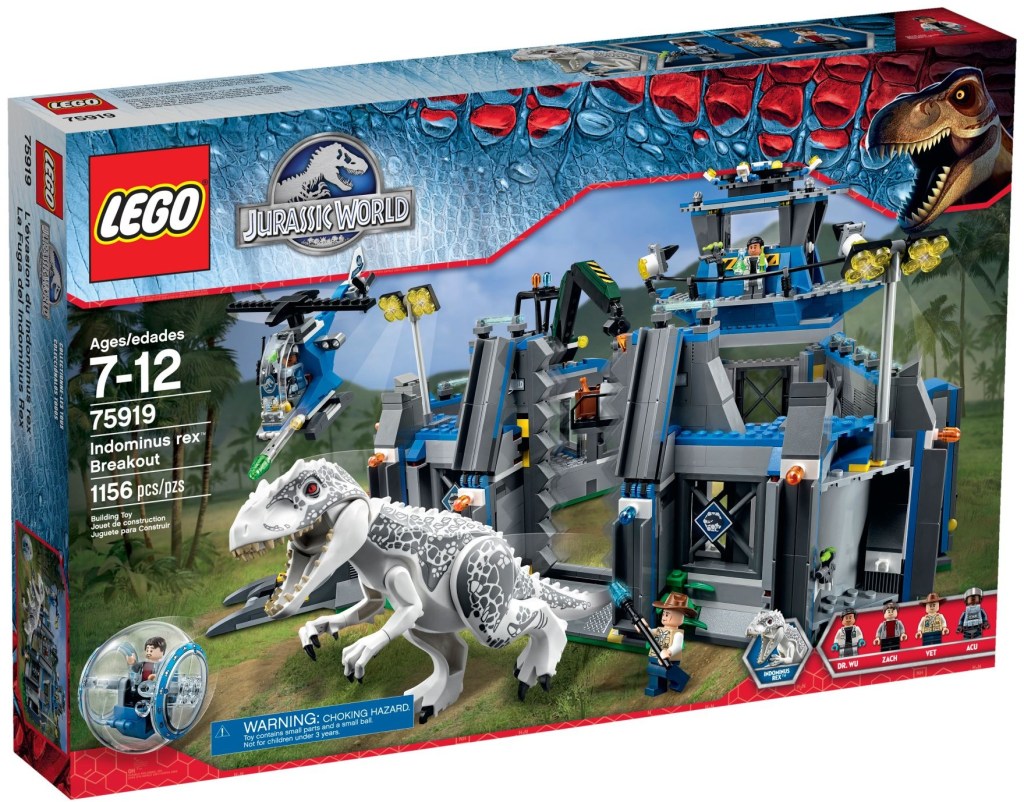 Indominus rex Breakout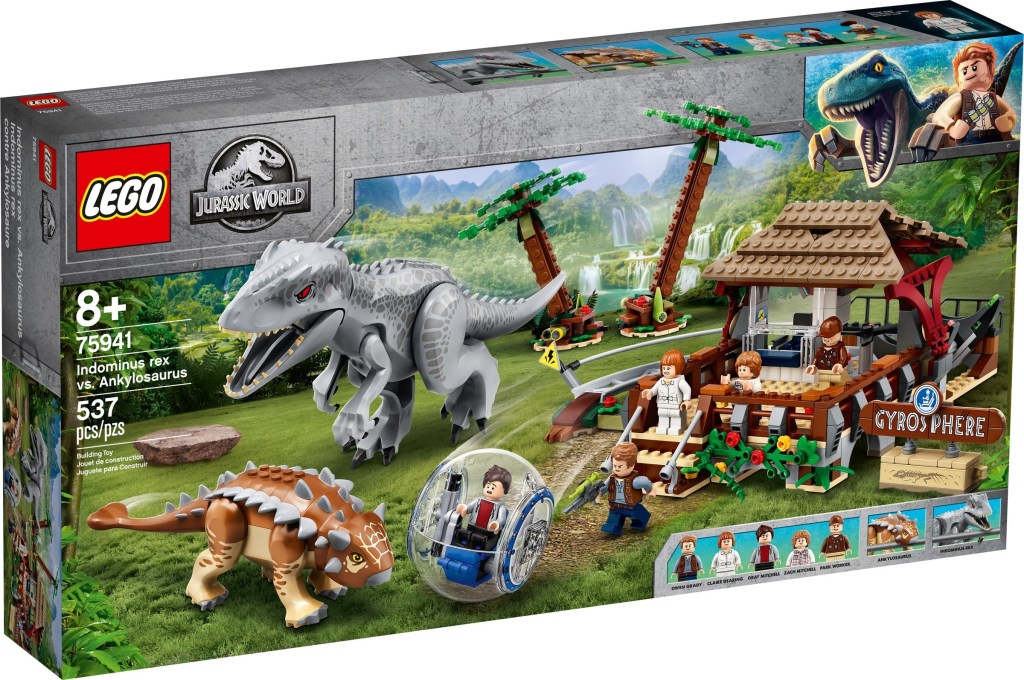 Indominus rex vs. Ankylosaurus
Fans of LEGO Jurassic Park would have to wait another 14 years until more sets were made. Released alongside the soft reboot of the franchise in 2015, LEGO went all in on sets based on Jurassic World. Highlights include 75917 Raptor Rampage, a 324-piece set featuring the first appearance of the beloved raptor Blue as a LEGO figure. In addition, named characters from the franchise were included as minifigures for the first time, featuring Chris Pratt's Owen Grady and Bryce Dallas Howard's Claire Dearing. The biggest of the 2015 Jurassic World sets was 75919, Indominus rex Breakout. Made with 1,156 pieces and a giant specialized mold for the film's main villain, this was the ultimate set for any LEGO Jurassic Park collector at the time. In fact, the Indominus rex received an additional set years later in 2020, 75941 Indominus rex vs. Ankylosaurus.
Find 75917 on eBay here
Find 75919 on eBay here
Find 75941 on eBay here
Jurassic World: Fallen Kingdom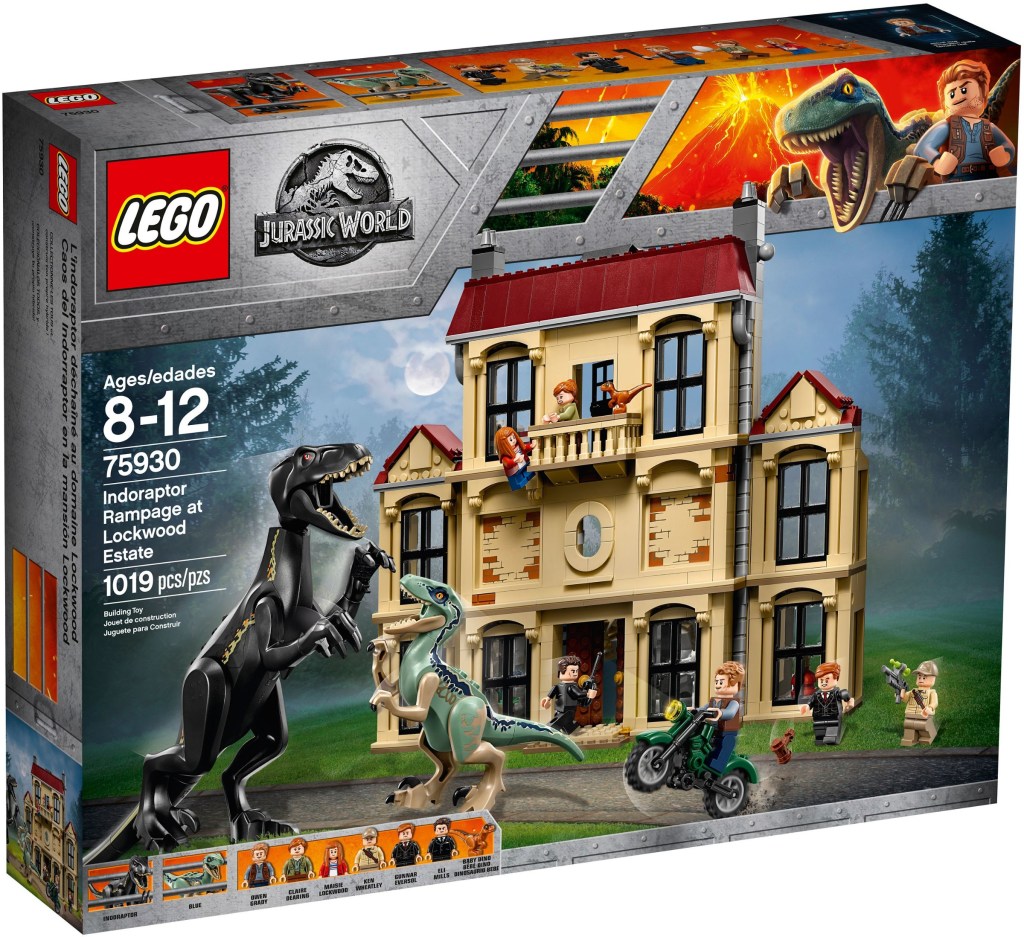 Indoraptor Rampage at Lockwood Estate
After a three-year hiatus, LEGO went prehistoric once again for the follow-up film to Jurassic World, subtitled Fallen Kingdom. The flagship set of this wave was the 75390 Indoraptor Rampage at Lockwood Estate. LEGO repeated the inclusion of the film's main antagonist in the largest set, this time the all-black Indoraptor. Blue was also a component of the build, giving fans a chance to set up a diorama of the two beasts battling it out on the rooftop of the estate.
Jurassic World Dominion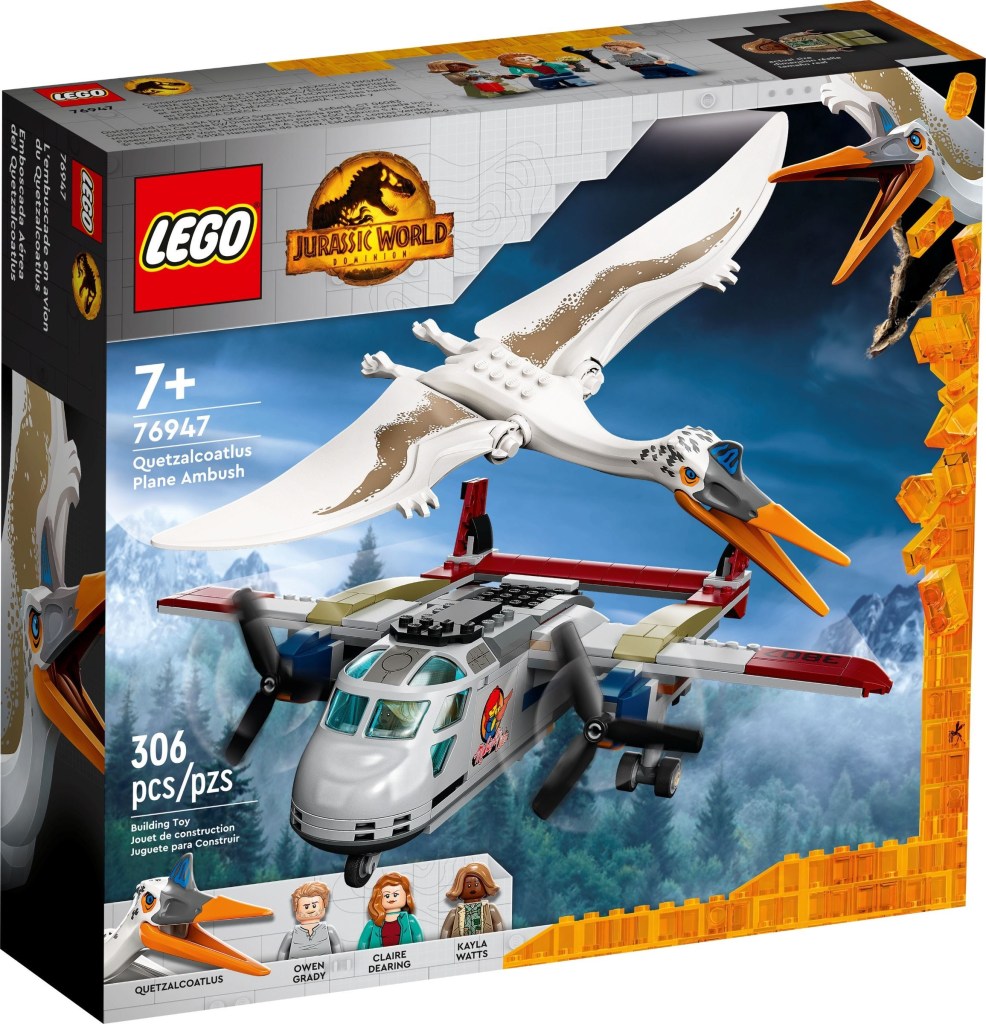 Quetzalcoatlus Plane Ambush
Giganotosaurus & Therizinosaurus Attack
The third and supposedly final film in the Jurassic World franchise, Jurassic World Dominion, was released last summer. LEGO continued to dig up as many Jurassic sets as they could. 10 individual products were made, with a few featuring new dinosaurs to the LEGO catalog. Set 76497, Quetzalcoatlus Plane Ambush, incorporated the most enormous aerial monster the Jurassic theme has ever seen, while 76949, Giganotosaurus & Therizinosaurus Attack, depicted the epic final confrontation between two titan dinosaurs.
Find 76949 on eBay here
Legend of Isla Nublar & Camp Cretaceous
T. rex vs. Dino-Mech Battle
Baryonyx Dinosaur Boat Escape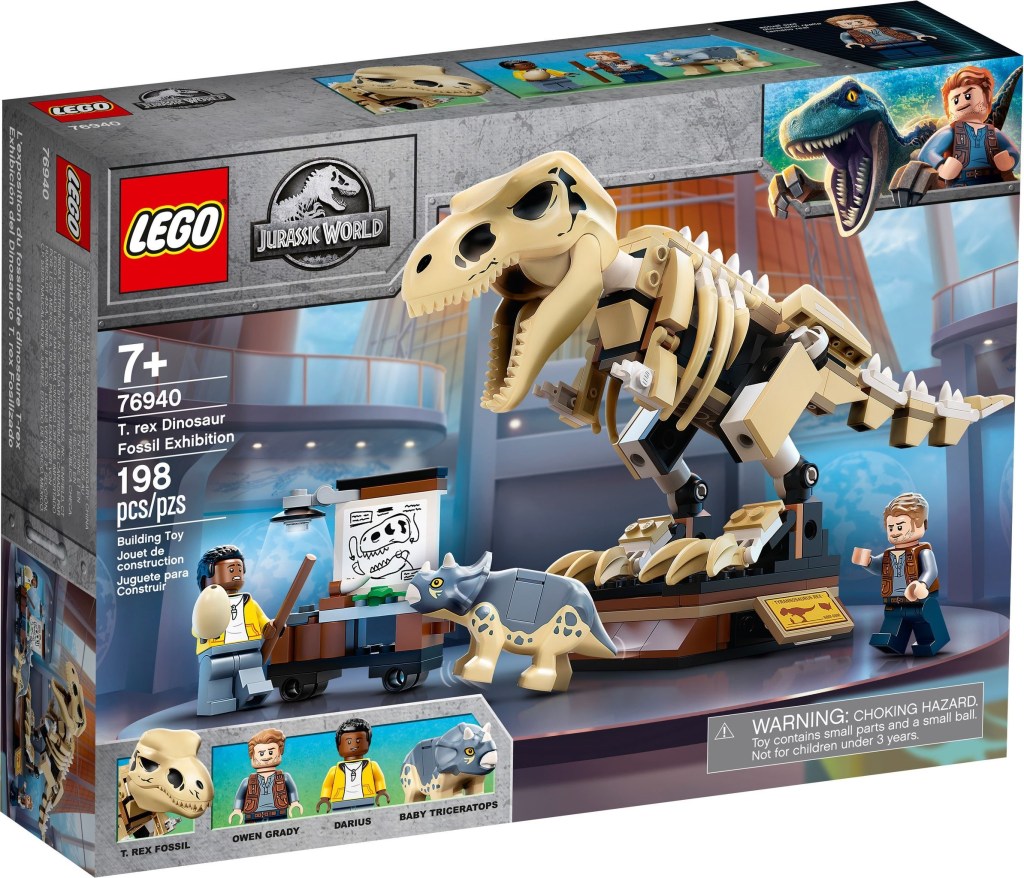 T. rex Dinosaur Fossil Exhibition
Did you know that there were multiple animated Jurassic World spinoff series? LEGO did, and they made several sets to celebrate them. First came Legend of Isla Nublar, a miniseries made with the LEGO animation style. From 2019-2020, the Danish toymaker created eight sets from the show, with the biggest being 75938 T. rex vs. Dino-Mech Battle, a very literal name for a set that features a robotic Dinosaur similar to Mechagodzilla fighting a T. rex. The second series, Netflix's Camp Cretaceous, received a small wave of products in the summer before Jurassic World Dominion. While the most extensive set, 76942 Baryonyx Dinosaur Boat Escape, featured a dinosaur being transported on a ship ala The Lost World: Jurassic Park, the best set from this line was 76940 T. rex Dinosaur Fossil Exhibition, a brick-built model of a T. rex skeleton.
Find 75938 on eBay here
Find 76942 on eBay here
Find 76940 on eBay here
Jurassic Park
Jurassic Park Velociraptor Chase
Jurassic Park: T. rex Rampage
Believe it or not, it took LEGO until 2018 to make official sets based on the original Jurassic Park movie from 1993. The first ever LEGO Jurassic Park set was 75932 Jurassic Park Velociraptor Chase. This set captured the horrific kitchen scene from the film, one of the most iconic moments in creature feature history. A year later, the biggest Jurassic set ever stormed into stores, 75936: Jurassic Park: T. rex Rampage. The 3120-piece behemoth comprised two main builds: the Jurassic Park gate, an iconic entry point from the film, and an absolutely monstrous LEGO T. rex.
Find 75932 on eBay here
Find 75936 on eBay here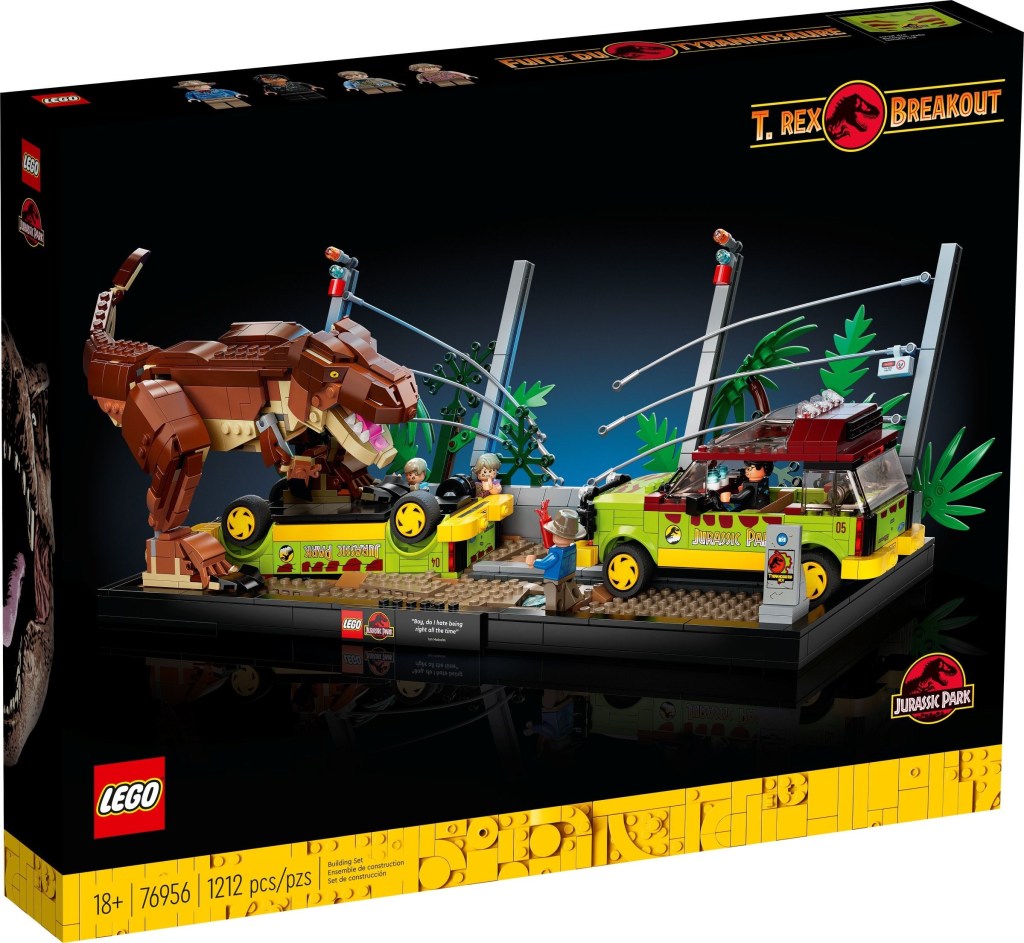 T. rex Breakout
Three years later, LEGO decided to tackle a seminal moment from the 1993 classic, this time the scene where the T. rex first escapes during a torrential downpour. The set in question, 76956, T. rex Breakout, used 1212 pieces to build a smaller T. rex than 75936, but also two of the adored lime green and red Ford Explorers, with one sinking into the mud as part of the diorama.
Find 76956 on eBay here
Jurassic Park 30th Anniversary
Dilophosaurus Ambush
Triceratops Research
Brachiosaurus Discovery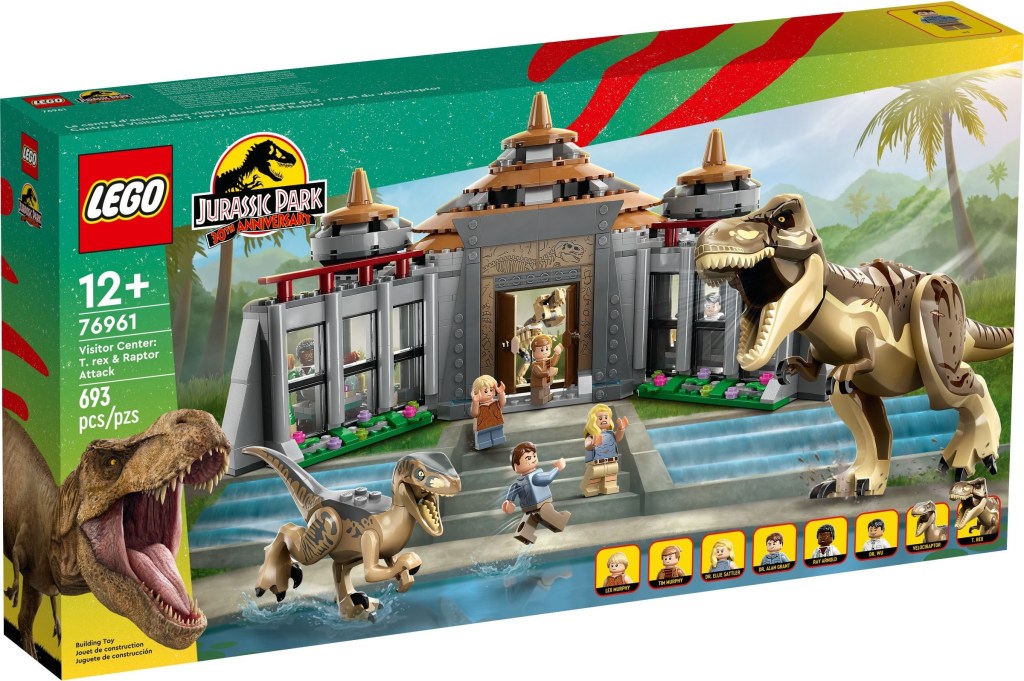 Visitor Center: T. rex & Raptor Attack
Finally, LEGO celebrated the 30th anniversary of Jurassic Park this June with a wave of 5 sets depicting the most epochal moments from the film. These scenes include Dennis Nedry getting eaten by a dilophosaurus (76958), Robert Muldoon's quintessential "clever girl" scene against a velociraptor (76957), Alan Grant and Ellie Sattler witnessing dinosaurs resurrected for the first time (76960), when the visitors center banner falls over a T. rex (76961), and even Ian Malcolm proclaiming, "that is one big pile of shit!" about triceratops' droppings (76959).
Find the 30th Anniversary of Jurassic Park sets on eBay here