Features
Richard Pryor Vinyl Reissues Highlight the Evolution of Comedy
If you only know Richard Pryor from movies and TV, his early live shows will blow your mind and free your truth.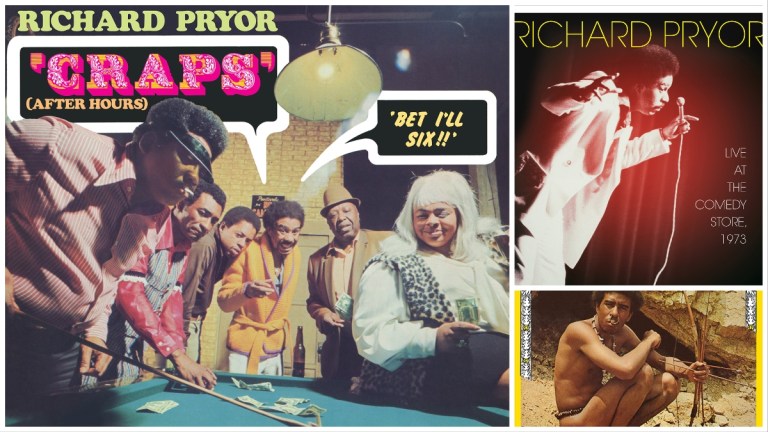 Richard Pryor did more than reinvent comedy, he changed culture, and not only in America. The five-time Grammy Award-winner, actor, writer, director, and standup icon underwent a series of self-discoveries which he revealed to audiences from the inside out long before co-writing Blazing Saddles, and conquering every aspect of showbiz. He did it without compromise. Listeners can study the growing genius of his most transformative years, 1968 through 1973, on newly remastered vinyl reissues of Pryor's early live albums released through STAND UP! RECORDS along with Omnivore Records and Pryor's production company Indigo. Richard Pryor (1968), 'Craps' (After Hours) (1971), and the vinyl debut of Live At The Comedy Store, 1973, along with the bonus material, shows the artist's evolution into a revolutionary force.
As the recordings will attest, Richard Pryor is his own theater troupe. Even without the visuals, we can visualize him inhabiting each and every character. He plays them with love, even the ones he is destroying with his satire, because he brings out their inner motivations, fears, false bravado, and confusion in ways everyone can relate with, and sympathize towards. This doesn't take away from the anger, and it doesn't soften the social commentary. It sharpens the criticisms because each voice reveals their most intimate feelings. Pryor blasted through comic boundaries, mining these ultra-personal stories to paint a bigger picture of race, sex, and social unease from a place that was universally accessible, authentically challenging, and funny as hell.
The Road to the First Album
Pryor started taking comedy seriously in the Army, and played the "black and tan" Harold's Club in Peoria, and other smaller clubs in East St. Louis, Youngstown, and Pittsburgh, after his dishonorable discharge. He also played burlesque houses and the "chitlin circuit," where comedians like Redd Foxx and Moms Mabley played while simultaneously breaking the color line of the bigger houses. Pryor also played the Borscht Belt clubs in the Catskills, before settling in Greenwich Village coffee houses where comics like George Kirby, Dick Gregory, and Godfrey Cambridge infused commentary and social satire which rivaled and was embraced by contemporary groundbreakers like Mort Sahl and Lenny Bruce. Pryor was fascinated with how Bruce challenged audiences. The comedian's overdose death in August 1966 contributed to Pryor's search for defiant expression.
Like George Carlin, who would make a similar transition on the label owned and run by Flip Wilson (it is impossible to overstate the degree Wilson elevated the art of comedy), Pryor also spent a lot of the 1960s mining inoffensive material for populist laughs. He worked his way up to regular appearances on The Tonight Show Starring Johnny Carson, The Mike Douglas Show, The Merv Griffin Show and The Ed Sullivan Show. In his 1995 autobiography Pryor Convictions, And Other Life Sentences, Pryor recalls Groucho Marx asking him at a party: "How do you want to end up? Have you thought about that? Do you want a career you're proud of?" The artist's "epiphany" came in September 1967.
Pryor began working in Las Vegas in 1966, when Bobby Darin signed him as the opening act for his show at the Flamingo. It is hard to separate the myth from the legend in Pryor's year-later onstage "meltdown" at the Aladdin, but he grew increasingly aware white audiences couldn't relate to the characters developing inside the comedian's mind, and the lengths he was going to repress and constrain himself on the Strip.
Pryor was a little coked out when he noticed Dean Martin in the audience at the Aladdin. "I imagined what I looked like and got disgusted," Richard writes in Pryor Convictions. "I gasped for clarity as if it was oxygen. The fog rolled in. In a burst of inspiration, I finally spoke to the sold-out crowd. 'What the fuck am I doing here?' Then I turned and walked off stage."
Pryor walked off the wrong end of the stage, and people thought he might never work the big houses again. But Scott Saul's biography, Becoming Richard Pryor, notes that Pryor returned to the Aladdin to fulfill his contract, was released as punishment for the profanity, and did subsequent shows at Caesars Palace.
Becoming the Title Character of the Eponymous Album
After the Aladdin incident, Pryor also made non-controversial appearances on The Ed Sullivan Show, The Tonight Show, and The Pat Boone Show. He guest starred on an episode of The Wild Wild West, and made his big screen debut in the 1967 William Castle film The Busy Body, starring TV skit comedy pioneer Sid Caesar. Jazz legend Miles Davis swapped Pryor's slot as his opening act for prime placement at an early 1968 show at New York's Village Gate in an "intuitive, supportive, generous … vote of support," we read in Pryor Convictions. Pryor was signed to the agency that handled the Beatles and the Supremes.
At the same time Pryor was playing Redd Foxx's club in Central Los Angeles, playing to mainly Black audiences, and getting schooled in Malcolm X, Foxx's longtime friend. "The breakdown was the only way I could shed the phony image and start building my self-respect," Richard writes in Pryor Convictions. "I read a copy of Malcolm X's collected speeches and I really searched for the truth." Pryor writes that it taught him "about human beings, about being human."
Originally released in 1968, Richard Pryor was recorded at the Troubadour in West Hollywood, while Pryor's career was at a crossroads, on the brink, and poised to go over the edge.
"In 1968, when I physically ran into Richard Pryor crossing the street, and got introduced to him and spent two years in the same room with [him] and got my comedy chops down, Richard was a King, man," Penelope Spheeris, director of The Decline of Western Civilization" (1981) and Wayne's World (1992), told Den of Geek. She directed Pryor in his personal passion project Uncle Tom's Fairy Tales, a scathing satire where a rich white man is put on trial by the Black Panthers for raping a Black woman.
Filmed in 1968, Uncle Tom's Fairy Tales has never been released. Pryor damaged the original prints, which were put back together by Spheeris. Rumors circulated for years that rival comic Bill Cosby bought it to keep it off the market. When asked if a print might still be in Cosby's garage, Spheeris told us "Jennifer Lee Pryor and I have been going through every single piece of footage that we've been able to find. Unfortunately, Jennifer had a little fallout with Bill and his wife Camille, and they wouldn't cooperate when she asked if she could try and get that footage back."
When first Pryor reached New York City, he realized white America wanted their Black comedians colorless. After reading a Newsweek profile on Cosby, and being told by an agent that Cosby was more suited for white television, Pryor began to imitate the popular comedian, even jokingly calling himself "Richard Cosby" in interviews. "I made a lot of money being Bill Cosby," Pryor told The New York Times, "but I was hiding my personality."
An Original Voice
Pryor's first album was a break of distinction. "In its original form, Richard Pryor alerted the world that Pryor had stepped out of Bill Cosby's long shadow and developed a style — surreal, nervy, improvisational — that was all his own," Scott Saul writes in the album's liner notes.
Even in imitation, Richard was always unique, doing surreal comedy like an impression of the first man to walk on the sun, but he was also honing his one-man theater craft, absorbing and re‐creating people around him, laughing at themselves, and losing himself in character. When Cosby gives his mother a piece of wood for her birthday or his father half a pack of cigarettes that's not even his brand in a bit, it comes out of the mouth of an adult. Not Pryor. When he becomes a kid in the Richard Pryor track "Rumpelstiltskin," he becomes a kid. Everything about him is a child. Even through the audio we can imagine his eyes, his rumper-stilted walk.
Pryor brings the same inner reality to every single person he interprets on the stage, from the manicured army lieutenant who runs "kill class" for new recruits, to a Black superhero whose X-Ray vision helps him "see through everything but whitey."
The cover, by Gary Burden, was nominated for Best Album Cover at the Grammys. Inside the grooves, Pryor created a new style in American comedy. It was truly unprecedented. Sides 3 and 4 of the double-deluxe vinyl Richard Pryor includes bonus material recorded at the same time, originally issued on Evolution/Revolution: The Early Years (1966-1974). Some extra tracks capture Pryor playing the game of improvisation, but don't expect the standard something-you-can-hold-in-your-hands-which-won't-offend-anyone's-mother improv troupe suggestions. Pryor holds open conversations, and makes deep connections with the audience, even if it is only because he likes the sound of someone's voice.
Pryor finds subtle personifications in language, the sounds of words define character, emphasizing emotion with breath, consistently sensitive to pitch and inflection, and shading each beat with the rhythms of the most natural speech. He also gives lessons in natural history, and unnatural conclusions, like being taught "Black people didn't have a god, cos we worshiped things like air, water, trees, each other," as he says on "Black Power." "It was considered pretty savage by the white man." Though not a concern, as Pryor assures a racially-provocative heckler during the show: "You have nothing to fear from the Black man except his thoughts."
Throwing Dice and Making the Point
Comedy performances are a lot like rock shows, with bootleg recordings of live performances making the rounds on what used to be called "party records," which caught much more "blue" material from artists like Pryor, Foxx, even Don Rickles, Buddy Hackett, and the fictitious but marvelous Mrs. Maisel. Laff Records was founded in 1966. It specialized in raunchy good times, and its roster began with local Black comedians recorded at the York Club, in South Central L.A.
Pryor signed with Laff Records on Dec. 9, 1970, when his personal life was in shambles. His stepmother and father had died, his mother was hospitalized with cancer. His wife Shelley filed for divorce, and he was sued separately by two other women for child support. He was hooked on cocaine and owed his dealer.
"By the end of 1970 I just felt full. I knew it was time to go back and resume my career as Richard Pryor, comedian," Pryor writes in Pryor Convictions. "For the first time in my life I had a sense of Richard Pryor the comedian. I knew what I stood for. I knew what I had to do. I had to go back and tell the truth."
Originally released in March 1971, 'Craps' (After Hours) was recorded at Maverick's Flat and the Redd Foxx Club. Encouraged by Foxx, along with comic mastermind and Pryor's frequent co-writer Paul Mooney, Richard could say anything he wanted. The 32 tracks are casual and loose, the tone is more aggressive, the attacks are direct, the confessions are intimate and relentless. Pryor is unafraid to get naked, admitting to extreme paranoia and horrific bouts of jealousy. Listening to it now, he's harder on himself than anyone he aims his jabs at.
Except maybe the nightsticks and billy-clubs. Pryor doesn't have to say Blacks in America live in a police state, he enacts day-to-day life in occupied territory. He still does it with an open humanity. The Black cop who has to outdo his white partner in "I Spy Cops" does it so he doesn't lose his pension. "The Line-Up" reveals police line-ups to be good practice for show business.
"This fascinating collection chronicles how Richard Pryor evolved from 1960s nightclub comedian to being the voice of his generation," Larry Karaszewski (co-writer of Dolemite Is My Name, The People vs. Larry Flynt) writes in his introduction to 'Craps' (After Hours). "The performances capture the moment where Richard Pryor stopped being polite. Where he took off his suit and tie and gloves. Where Pryor began to reflect what was happening in the streets and in the counterculture."
Bonus material was selected from Evolution/Revolution: The Early Years (1966-1974) and No Pryor Restraint: Life in Concert. Pryor recorded the alternate version of "Wino & Junkie" and "Whorehouse, Pt. I" at the People's Festival held at Laney College in Oakland, and allows himself to plumb autobiographical material for political relevance. "I lived in a neighborhood with a lot of whorehouses," we read in Pryor Convictions. "Not many candy stores or banks. Just liquor stores and whorehouses." Also on the bill were the agricultural agitprop experimental troupe Teatro Campesino, and the soul sounds of The Lumpen, the official band of the Black Panther Party.
Never Meant for the Public
Pryor rolled into Berkeley, in California's Bay Area in February 1971, after the Northridge earthquake rocked Beverly Hills. Marvin Gaye's What's Going On "became the soundtrack for my life up there," Pryor writes in Pryor Convictions. "'What's goin' on?' Marvin would sing. 'Fuck if I know,' I'd answer."
Away from the turmoil of his personal entanglements, and the pressures of Hollywood celebrity culture, Pryor's time in Berkeley solidified his message. He found it in the Bay Area bars, nightclubs, barber shops, and through talks with Angela Davis, Black Panther Minister of Defense Huey Newton, writers Ishmael Reed, Cecil Brown, and Claude Brown. It was time to bring the message to the masses.
Pryor showed up on prime time. He had a guest role on The Partridge Family, wrote scripts for Sanford and Son, Flip Wilson, and won an Emmy in 1973 after co-writing two television specials for Lily Tomlin. Pryor recorded his first concert film, Live And Smokin', in 1971. The next year, he played the role of Piano Man to Diana Ross' moving interpretation of the embattled Billie Holiday in Lady Sings the Blues, following it up with parts in Hit, Wattstax, and Uptown Saturday Night. In 1973, Pryor and Mel Brooks wrote a screenplay for a western called "Black Bart." Once the studios got a promise that Cleavon Little rather than Pryor would play the lead, the film went out as Blazing Saddles.
Now an institution, the Comedy Store opened in West Hollywood in April of 1972. Live At the Comedy Store, 1973 was recorded on Oct. 29 and 30, the first two of four nights Pryor played the club. In his liner notes to the album, Cory Frye writes the appearances were never meant for commercial release. Pryor was trying out new material for upcoming shows at The Kennedy Center in Washington D.C., and San Francisco's Soul Train Club, which would yield a Grammy-winning, top-charting album in 1974.
Live At The Comedy Store, 1973, is bolstered by material from …And It's Deep Too! The Complete Warner Bros. Recordings (1968-1992) and Evolution/Revolution: The Early Years (1966-1974). Richard is in exquisite form, whether he's updating material or materializing madness. He even speaks in tongues for the masses, teaching us that Jesus Christ was so powerful he "turned a rock to stone." Pryor turns his "Street Corner Wino" into a concrete messiah for his second coming in "Wino and Junkie."
The reissues of Richard Pryor, 'Craps' (After Hours), and Live At The Comedy Store, 1973, are reminders that some things never get fixed, but speaking powerful truths through unfiltered humor never gets old.
You can buy the Richard Pryor vinyl reissues at Stand Up! Records.