Sponsored
The Shocking History of Garbage Pail Kids
From the '80s to today, Garbage Pail Kids have been thrilling fans of all ages. Here's why.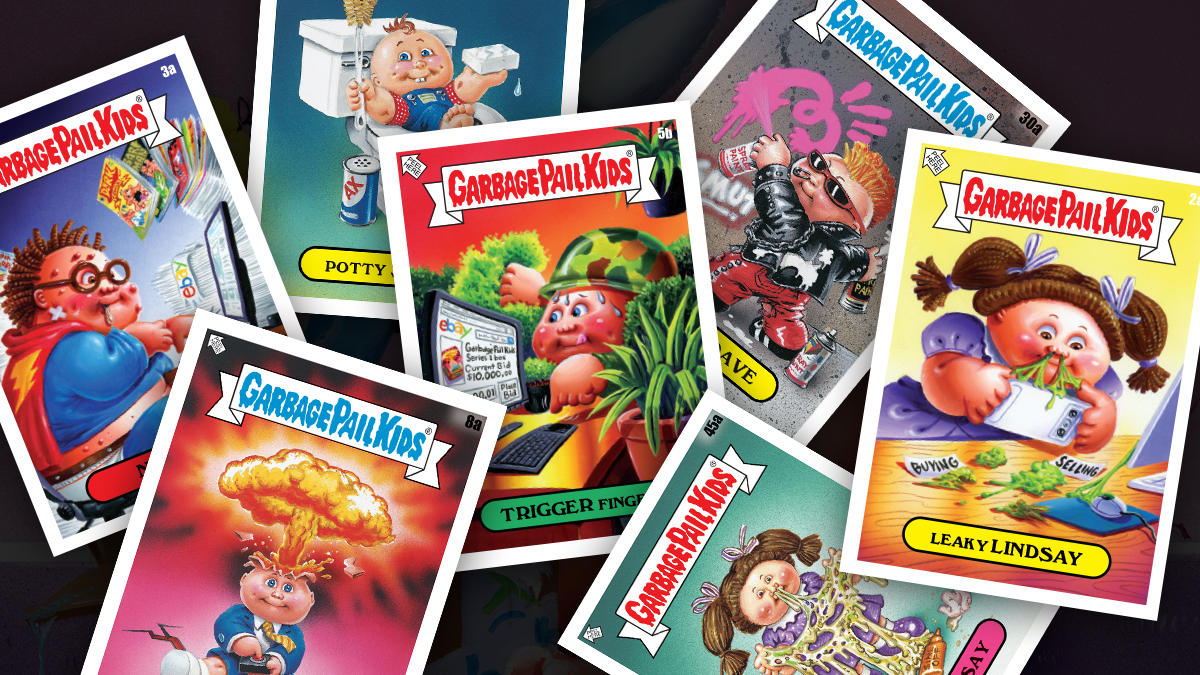 Presented by: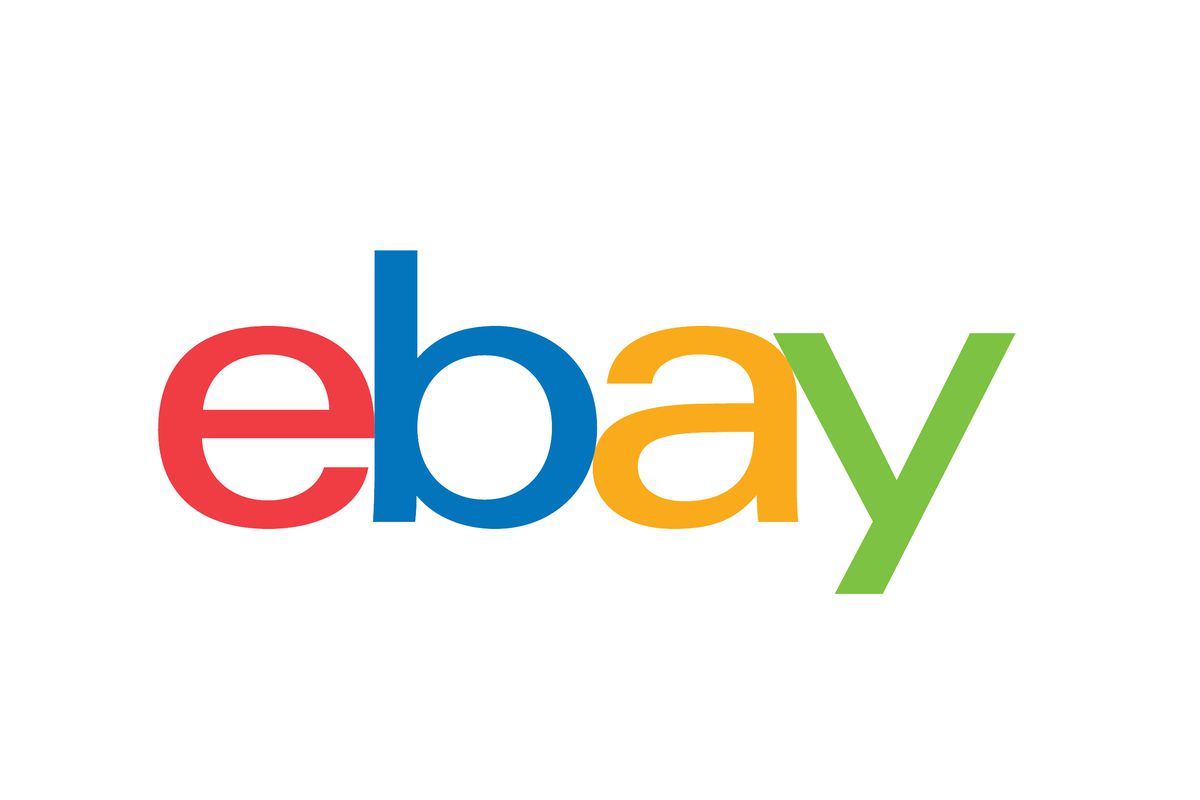 This story appears in the Den of Geek x eBay special edition trading card magazine.
Garbage Pail Kids gave birth to my anti-authority streak. I was in fifth grade waiting for art class to start and showing off my prized Ashcan Andy to enraptured classmates when my teacher walked in the classroom, sighed, confiscated the card and proceeded to rip it up. "This junk has no place in an art room," she stoically declared as Andy was transformed into sad confetti before my eyes. Years later, I came to realize that this demonstration was all about jealousy – these cards had instantly engaged students in art in a way that her years of teaching never could.
And let me be clear here: Garbage Pail Kids are most definitely art. Often grotesque and always eye-catching, the unfortunate children showcased on these cards fostered an interest in painting, illustration, and design for generations of kids since Topps first introduced them back in 1985 (their pun-heavy names also were a gateway for subversive humor). After 35 years, Garbage Pail Kids have become a cultural institution—not to mention schoolyard contraband for nearly four decades, an unexpected bonus that would make the creators of these cards—veterans of the counterculture themselves—beam with pride.
To trace the origins of Garbage Pail Kids, a brief history lesson is in order. Although they were best known for their baseball cards, the Topps Company also had huge success with bubblegum cards based on popular films and TV shows. Further expanding their creative pallet, Topps released numerous humor card lines, the most popular of which was Wacky Packages. Like Mad Magazine before them, these stickers showcased parodies of contemporary products with bitingly accurate focus.
In the early 1980s there was no bigger consumer frenzy than the Cabbage Patch Kids. These dolls from Xavier Roberts and Coleco featured an elaborate backstory and cloyingly adorable looks that became the stuff of toy legend (news reports featuring near riots as parents tried to get their hands on the damn things were commonplace in the early 1980s).
Naturally, then, Cabbage Patch Kids were an ideal target to get the Wacky Packages treatment. But the decision was wisely made by Topps execs that Garbage Pail Kids could be a card line of their own. Spearheading the project was underground comics legend Art Spiegelman (who would go on to win a Pulitzer Prize in 1992 for his groundbreaking holocaust graphic novel Maus), Raw comics anthology contributor Mark Newgarden, and artist John Pound.
Pound, a veteran of painting fantasy and science fiction book covers, was brought by Spiegelman to illustrate the original Wacky Packages "Garbage Pail Kid" card (featuring one of the dolls pushed into a trash can and touting orders to send the unfortunate soul to the Department of Sanitation). Though this Wacky Pack was shelved, Pound single-handedly painted all the characters featured in the first Garbage Pail Kids set. "They liked the idea sketches I sent in," he says, "and asked me to do all 40 paintings in two months, which was faster than I was used to, but I got organized and made the deadline."
Working with Spiegelman, Newgarden, and Topps creative favorite Jay Lynch to craft ideas, Pound's early characters included the now iconic Adam Bomb, and remain some of the most beloved in the line (for the record, Pound names Adam Bomb, Up Chuck, Jolly Roger, and Mona Loser as some of his favorite creations).
Looking back over three decades later, Pound sees several reasons why Garbage Pail Kids have endured:
"The original concept had strengths: doing a parody of the famous Cabbage Patch Kids, and a name that was both clear and familiar sounding," he says. "The concept's rebellious attitude and shock value gave it initial attention. Also, in the '80s, Topps products were widely distributed, like in drug stores, variety stores, convenience stores."
Although he freely admits that "I wasn't expecting it, but Garbage Pail Kids became a huge hit," Pound says aesthetic concerns were foremost on his mind when painting these garish figures. "On my end, despite the abundant gross humor and shock value, I simply wanted the art to feel good to look at. And I tried to put love into the paintings."
The care with which these outlandish cards were created was appreciated by consumers. Fifteen different series of Garbage Pail Kids were produced between 1985 and 1988. There was spinoff GPK merchandise too, ranging from folders emblazoned with images of popular characters to the on-brand/subversively named Cheap Toys. The Garbage Pail Kids Movie was released in 1987 with The Facts of Life co-star Mackenzie Astin in the lead. On that topic, The Toys That Made Us and A Toy Store Near You creator Brian Volk-Weiss sums up the flick perfectly: "That movie is so bonkers even seeing it is not believing it. It reminds me in a weird way of a low budget Batman and Robin in that it was like a ton of people were involved with the green light and execution and seemingly had no oversight on any matter."
But as far as Volk-Weiss is concerned, a new motion picture has plenty of potential. "I would love to see them do a 'serious' reboot that would be similar to the first Guardians of the Galaxy film in that they take the characters and the world seriously," he states, "but the fun and humor and oddness stays intact too." While there may be a future on screen for New Wave Dave and company, whatever it turns out to be must avoid the mistakes of the infamous 1987 cartoon series – which was produced for CBS but never aired due to the then-ongoing controversy surrounding the franchise (it eventually landed on DVD, and the less said about it the better.)
Despite a lull in any new products that lasted from the late 1980s until 2003, Garbage Pail Kids never really left the public consciousness. If anything, they were inspiring new talent. Enter Buff Monster. The Hawaii native and prolific street artist known for his upbeat, ice cream-inspired work was so inspired by Garbage Pail Kids that he created his own line of sticker art cards, The Melty Misfits. With names like Mind-Blowin' Owen (featuring a cameo by a very Adam Bomb-esque character) and Bam Bam Sam, these intricately designed stickers—created on the type of antiquated machinery that Garbage Pail Kids were made on—come complete with a retro-styled wax pack and showcase Buff Monster's own unique aesthetic as they pay homage to the Topps line.
Talking about why he personally connected with Garbage Pail Kids, Buff Monster makes a salient point on why these things were so memorable in the first place.
"If you look at most trading cards, they are less than what they're about. Having a baseball card is a 'less than' experience than watching the game. If you're watching a baseball game in person, that's great, but watching a baseball game on TV is actually better because you've got commentary, and you've got playback, and all this sort of stuff," he tells us.
"But Garbage Pail Kids stand out because the art was made for the cards, so the card was the thing. The card wasn't some sub-version of something else. It was the point of making the art in the first place. And so that has always stuck with me. And that is really kind of what it comes down to for me."
Buff Monster's The Melty Misfits stickers are a burgeoning phenomenon for the 2020s, just as Garbage Pail Kids were for the 1980s. It's understandable that he is partnering with eBay for a special pack of The Melty Misfits, some of which will come packaged with a random "Golden Ticket" card that will entitle the recipient to have Buff Monster create a character of their choice.
"This pack that we're going to do is a nice little introduction to me and eBay working together," he says. "This is a very easy thing for the completist to get. And that's good."
It's clear when talking to Buff Monster that Garbage Pail Kids continue to inspire. And the cards themselves feel more vibrant than ever, way more relevant today than the doll that inspired them in the first place. Case in point? Recent political and horror-themed Garbage Pail Kids sets (which are really one and the same when you think about it) have brought old fans back into the fold.
Another example of booming Garbage Pail Kids interest is the 2017 documentary 30 Years of Garbage: The Garbage Pail Kids Story. The film's writer and (with Jeff Zapata) co-director is Joe Simko, himself an accomplished artist and graphic designer who has worked on the card line and IDW's spinoff Garbage Pail Kids comic, as well as his own series of The Sweet Rot graphic novels and his Cereal Killer trading cards. Simko vividly remembers when Garbage Pail Kids entered his life.
"I first discovered Garbage Pail Kids when I was 10 years old while riding the school bus. A couple of kids were sharing them," Simko says. "It was the second series, and I just remember that artwork jumping out at me. Never had I seen such appetizing visuals on a trading card before. I knew instantly they were an attack on the highly successful Cabbage Patch Kids dolls, which dominated the kid's market landscape at the time. Garbage Pail Kids were such a great middle-school kids protest to that cutesy Cabbage Patch world."
Simko has been a part of Garbage Pail Kids lore since 2009, and during that time has given the Garbage Pail Kids treatment to everything from Stranger Things to Universal Monsters. "I think my favorite Garbage Pail Kids projects are the licensed product paintings I get to do," he says. "For instance, the Garbage Pail Kids cereal for FYE was just so great to work on. Doing cereal box signings at the FYE pop-up shop during San Diego Comic-Con was an overwhelming experience. Greeting Garbage Pail Kids fans, when I too am a fan, is amazing."
When I mention the brand's longevity to Simko, he is quick to sum up their continued popularity. "Garbage Pail Kids have lasted this long due in part to the dedicated group of collectors who grew up on the series in the '80s. Yes, there are younger kids buying them today, but the nostalgia it brings to those grown-up kids keeps the spirit and revenue of the Garbage Pail alive."
Bringing things full circle, he also vindicated myself and everyone else who was ever frowned upon for appreciating the cards' artistic merits.
"They are a true form of art. To pass judgement on them and reject these cards as 'art' because of the subject matter, is to have a narrow perspective of what art is," Simko says. "Credit goes to the original creators of the Garbage Pail Kids cards during the 1980s, Art Spiegelman and Mark Newgarden. Art and Mark knew the ingredients to make GPK work. And of course the artists, John Pound, Tom Bunk, James Warhola, and Jay Lynch, were the 'cooks.' They made it taste and look perfectly gross. Without any of these creative minds, I believe Garbage Pail Kids would not be the success it became at the time."
Despite being anchored to a fad from the 1980s, Garbage Pail Kids are ultimately timeless. Children of all ages will always take to the goofy grossness that is embedded in the line's DNA. Nostalgia is a potent thing too, but as recent years have illustrated, Topps is always looking to evolve the IP, be it through virtual Garbage Pail Kids, high-end collectible figures, or just by continuing to bring in great artists to keep the bread and butter of the franchise—the card line—going strong. These Kids may be pushing 40, but in the heart of fans, they'll never age.
Garbage Pail Kids eBay x Topps Exclusive
The 10-card set created by Joe Simko is the first exclusive from eBay and Topps. Each card is representative of buying and selling on eBay. The set will be available for $19.99 on eBay for one week starting on August 10.