Sponsored
Read Our Trading Card Magazine Featuring Garbage Pail Kids!
Den of Geek and eBay present a special magazine loaded with hot trading card exclusives!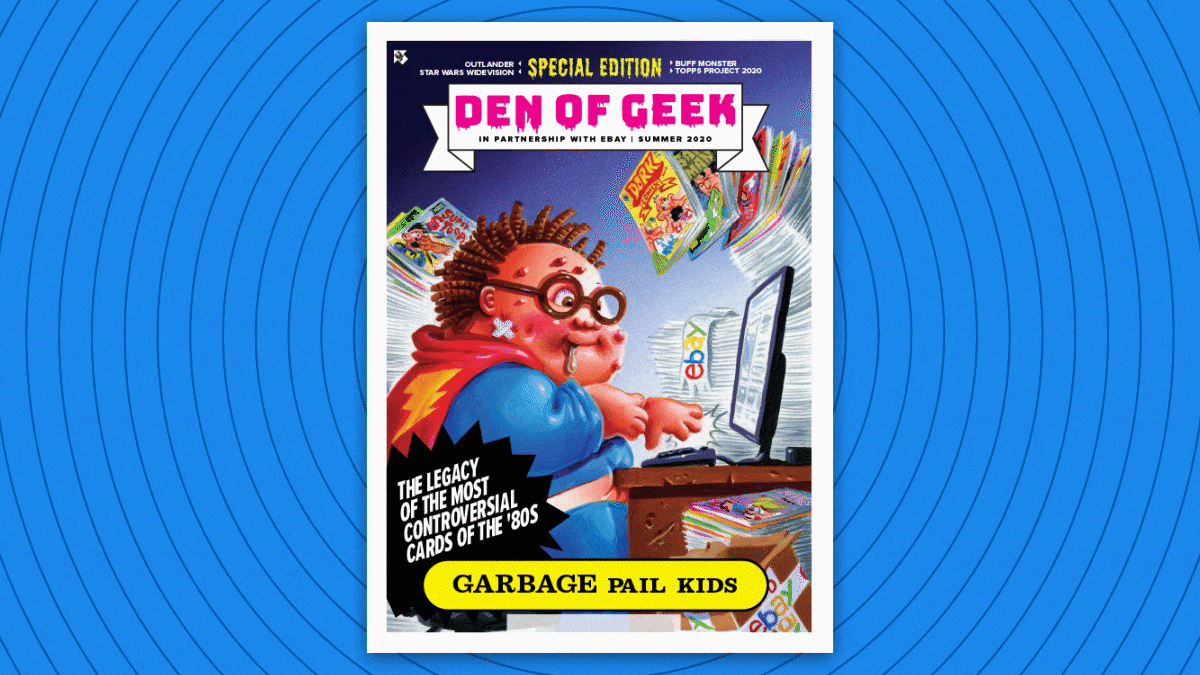 The latest issue of Den of Geek goes right in the garbage! Wait, that came out wrong. For the 35th anniversary of one of the grossest and most beloved '80s icons, we're dumpster-diving into the history of Garbage Pail Kids! We've partnered with eBay to release a 32-page magazine devoted to all things trading cards.
What's inside this special edition? We bring you the inside scoop on what it takes to be a professional Magic: The Gathering or Pokemon player. Ever wonder what goes into making a cool and truly collectible chase card? You'll want to see what's cooking in our features on Outlander and The Umbrella Academy trading cards.
We'll also take you behind-the-scenes of Topps Project 2020, the hottest and most groundbreaking sports cards event to come along in years. Plus Garbage Pail Kids isn't the only trading card set celebrating an anniversary this year; Star Wars Widevision turns 25 and we go inside the creation of the most faithful cinematic representation ever put on a trading card.
And if that's not enough, check out eBay's Instagram and Facebook page in August for details on exclusive card releases!
How To Read The Den of Geek x eBay Issue
1) Scroll on for the digital edition embed via Issuu.com or click here. Recommended for desktop and tablet reading!
2) You can find the issue highlights, table of contents, and individual article links at the bottom of this article.
3) You can request a physical copy below. Supplies are limited. This is a collector's item after all!
How to Get A Physical Copy:
Digital editions are great, but sometimes nothing beats good old-fashioned paper! We're giving away 500 copies (while supplies last). Here's how to win one….
Click here to enter via our official magazine giveaway page!
On our magazine giveaway entry page, you'll need to enter your shipping details — if you're selected as one of the winners, we'll ship a copy of our new magazine directly to you.
Entries will be accepted until Friday, August 7. Winners will be selected at random and then emailed to confirm that they've won. Winners will not need to reply to our announcement email to accept their prize — simply kick back and wait for your mag to arrive!
Den of Geek x eBay Issue Table of Contents:
Op-Ed by Brian Volk-Weiss
Outlander Trading Cards
History of Star Wars Widevision