Features
Fandango Fanshop Buyer's Guide: The Best Jurassic Park Items
Covering from "Jurassic Park" to "Jurassic World: Fallen Kingdom," these collectibles are dino-mite!
This article is presented by Fandango Fanshop. 
Ever since Jurassic Park first hit theaters 25 years ago, the world has been in a dinosaur frenzy. And what's not to love? Steven Spielberg's incredibly entertaining adaptation of Michael Crichton's watershed best-seller spawned one of the highest-grossing franchises in motion picture history. With the recent release of Jurassic World: Fallen Kingdom opening up the film series to what feels like endless future possibilities, this is a saga that won't be going extinct any time soon.
Naturally, a franchise of this size has spawned endless merchandise, and there's no better place to get your Jurassic Park goods than Fandango Fanshop. Here's a rundown of our favorite Jurassic products. When it comes to offering great products, Fandango Fanshop has spared no expense. See for yourself:
Jurassic Park Velociraptor Hatchling Replica
The only thing that's a bummer about the Jurassic Park franchise is that audiences can't own dinosaurs of their very own. Or can they? Nearly as much fun as the real thing (although way less dangerous) is this gorgeously designed replica of the velociraptor hatchling from the original film.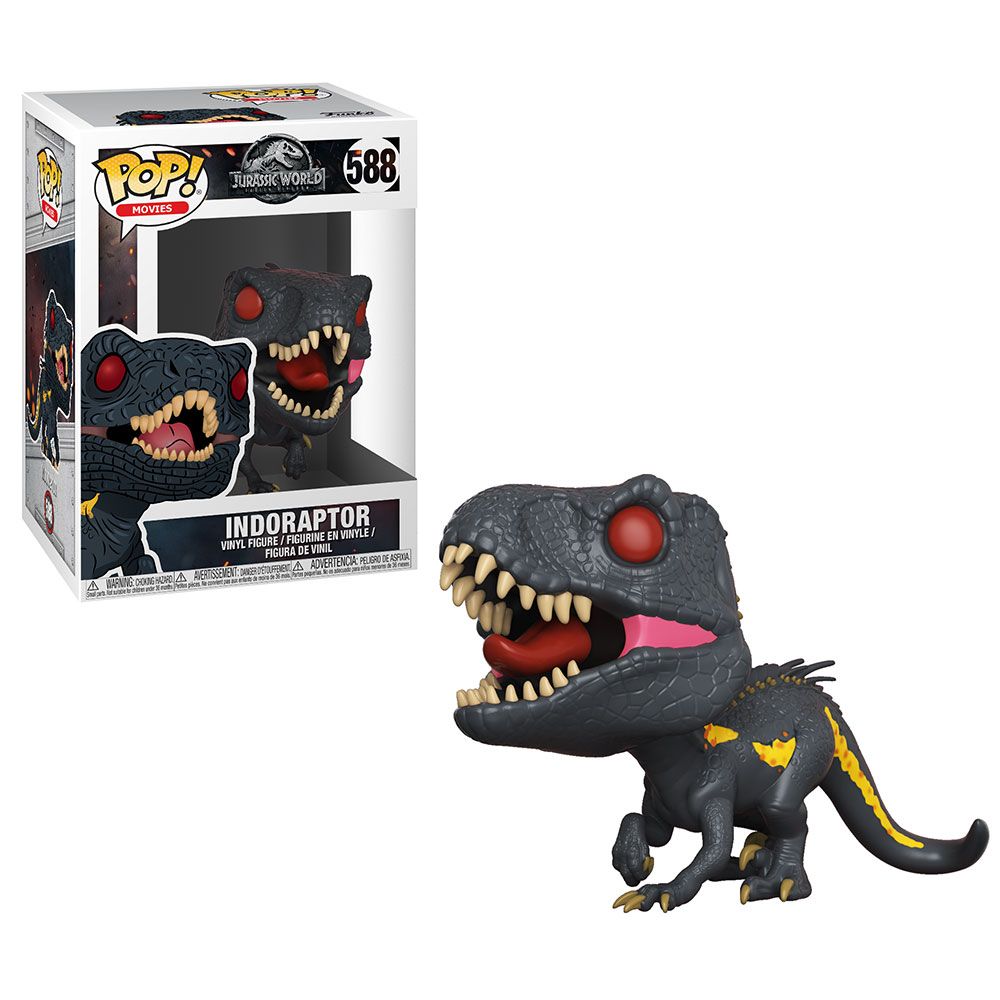 Funko Pop! Jurassic World: Fallen Kingdom Indoraptor
The terrifying — and super cool-looking — hybrid that Dr. Henry Wu introduced in Jurassic World: Fallen Kingdom will make a fantastic addition to your Funko Pop! collection. And it's way safer than the real thing, too!
Funko Pop! Jurassic World: Fallen Kingdom Stygimoloch
To badly paraphrase Queen's "Bohemian Rhapsody," just allow us to say 'Stygimoloch, Stygimoloch, you can buy on Fandango!' Okay, maybe not, but you should know that this dinosaur whose name translates to "demon from the River Styx" looks downright adorable as a Funko Pop! figure.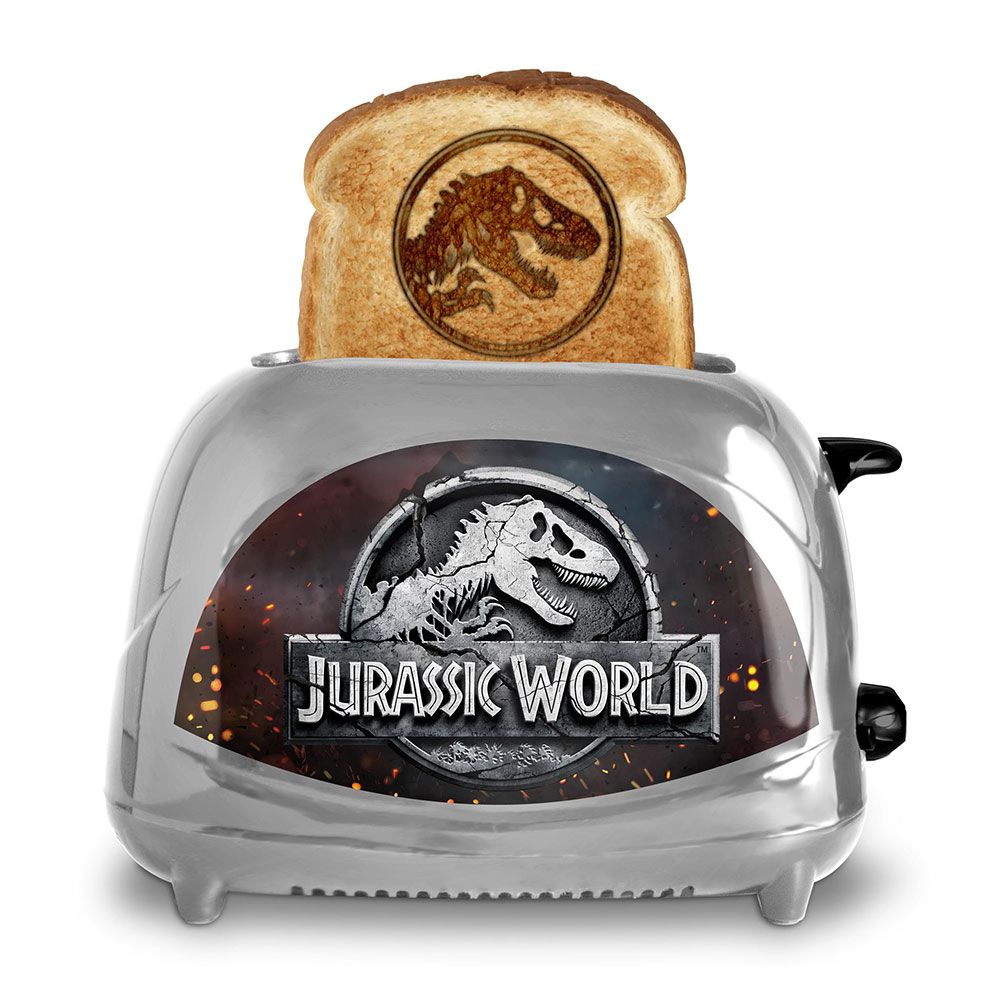 Jurassic World: Fallen Kingdom Toaster
Welcome, to Jurassic Toast! Sure, toast, bagels, English muffins, and other kinds of toastable breakfast options are tasty, but they aren't the most visually exciting foodstuffs. At least they didn't use to be. With the Jurassic World: Fallen Kingdom Toaster, you'll get your day started off in a fun way…one that will make you grateful that you don't have to worry about getting eaten by a dinosaur.
Funko Pop! Jurassic World: Fallen Kingdom Claire
It's Bryce Dallas Howard, in Funko Pop! form! Fight from dinosaur rights from the comfort of your own home with this fun, Funko! vinyl toy of the Jurassic World saga's heroine, Claire Dearing.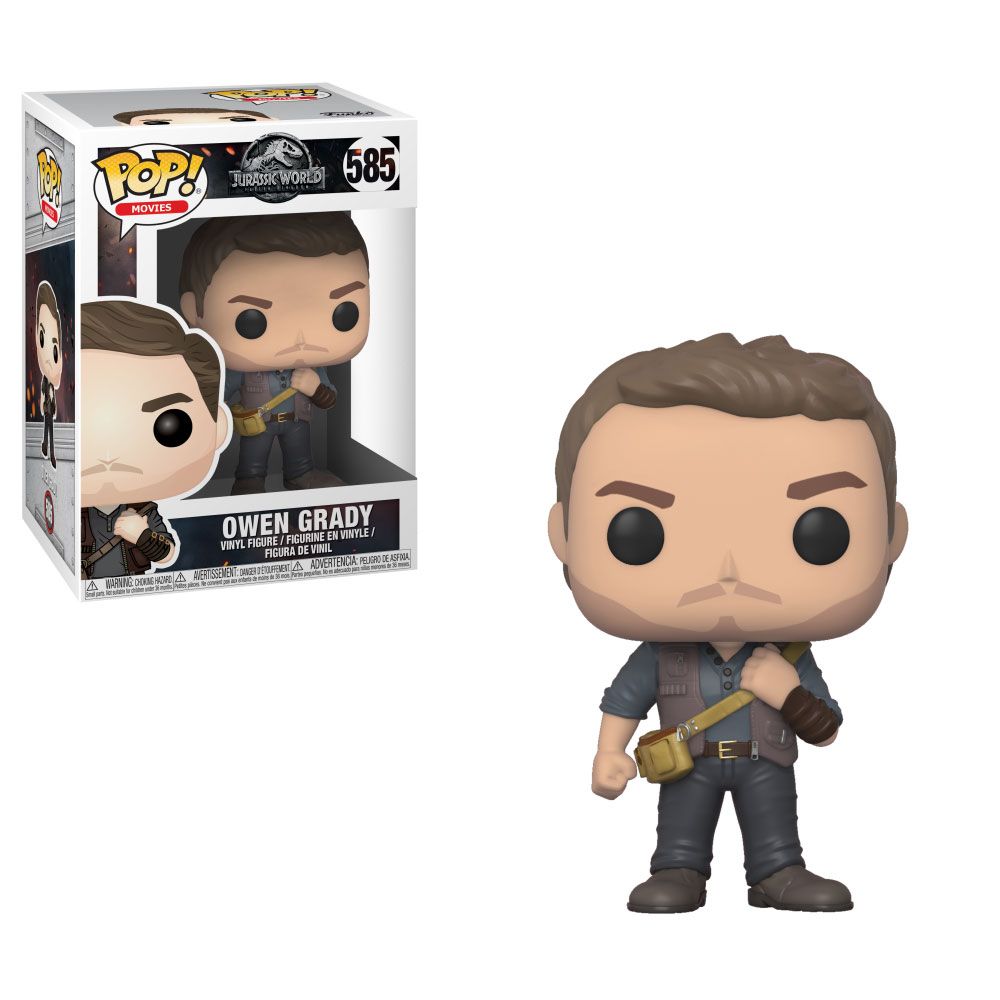 Funko Pop! Jurassic World: Fallen Kingdom Owen
And where Claire Dearing goes, Owen Grady follows. Captured in a suitably heroic pose, this Funko Pop! toy of everyone's favorite raptor whisperer looks ready for adventure. Although dude could really use a vacation, eluding bloodthirsty dinos has got to be exhausting.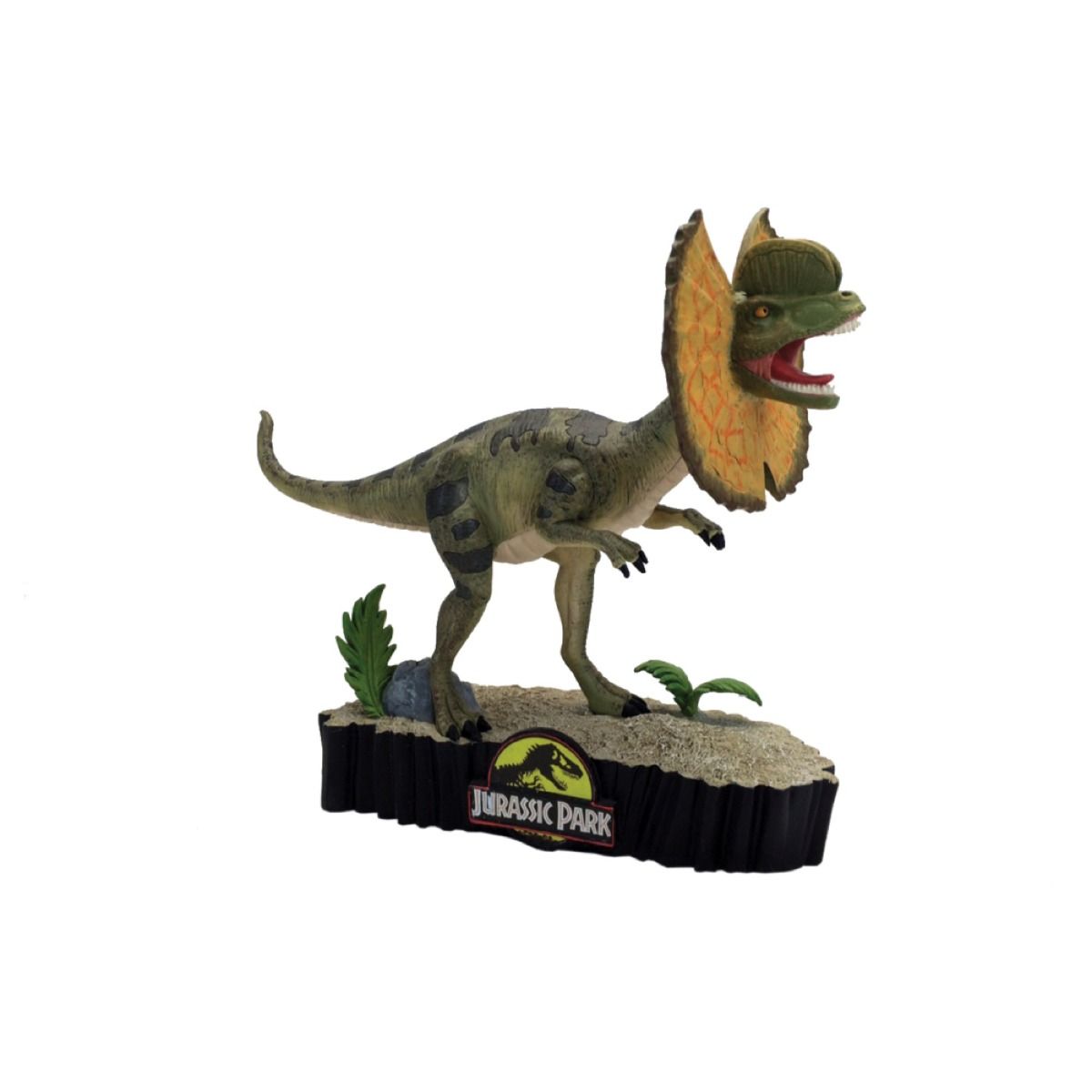 Jurassic Park – Dilophosaurus Premium Motion Statue
Goodbye, Newman! When the Dilophosaurus killed the scheming Dennis Nedry in the original Jurassic Park, it was a moment when the audience exploded into applause. This 8″ long statue featuring a beautifully sculpted and painted Dilophosaurus poised to attack recreates that crowd-pleasing moment in dynamic fashion.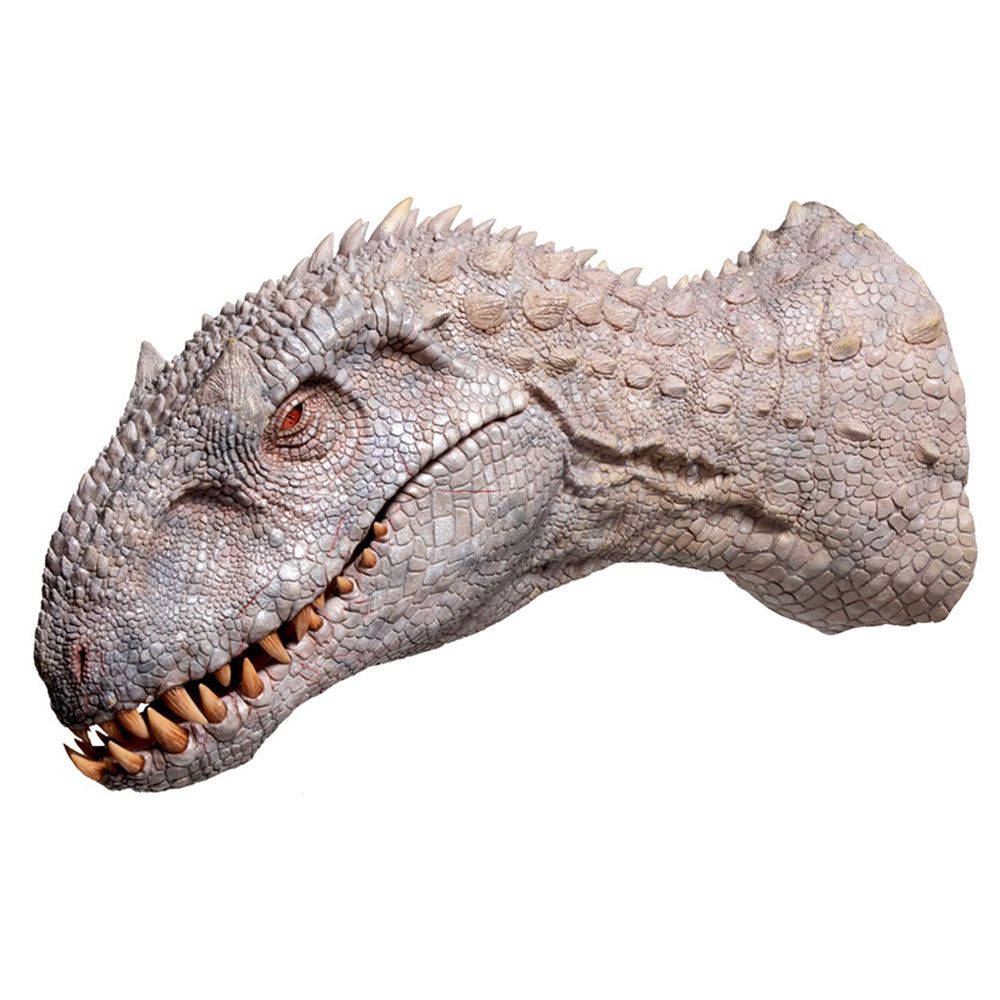 Jurassic World Indominus Head Mount Prop Replica
You don't have to be a big game hunter in the Jurassic World universe to desire this stunning exact replica of the Indominus Rex's head. Hand molded and painted, this larger-than-life offering (28" L x 15" H x 11" W) comes packaged in a Universal Studios crate and is the most ferocious collectible imaginable.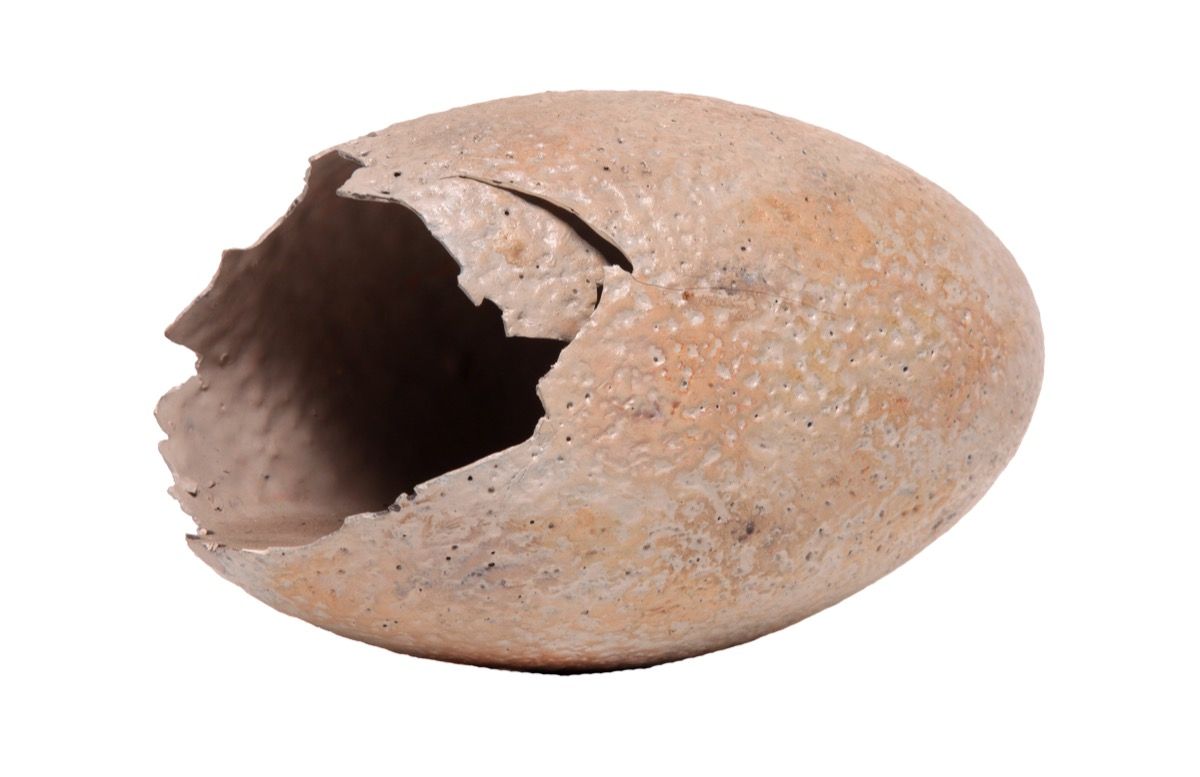 Jurassic Park Hatched 
Velociraptor

Egg Prop Replica

Packaged with a certificate of authenticity, this limited editon (only 100 have been made) Velociraptor egg prop replica is so realistic looking, you'll expect to see Dr. Ian Malcolm pontificating about life finding a way in front of it. Handmade and painted on the Universal Studios backlot, for some extra movie magic at no additional charge!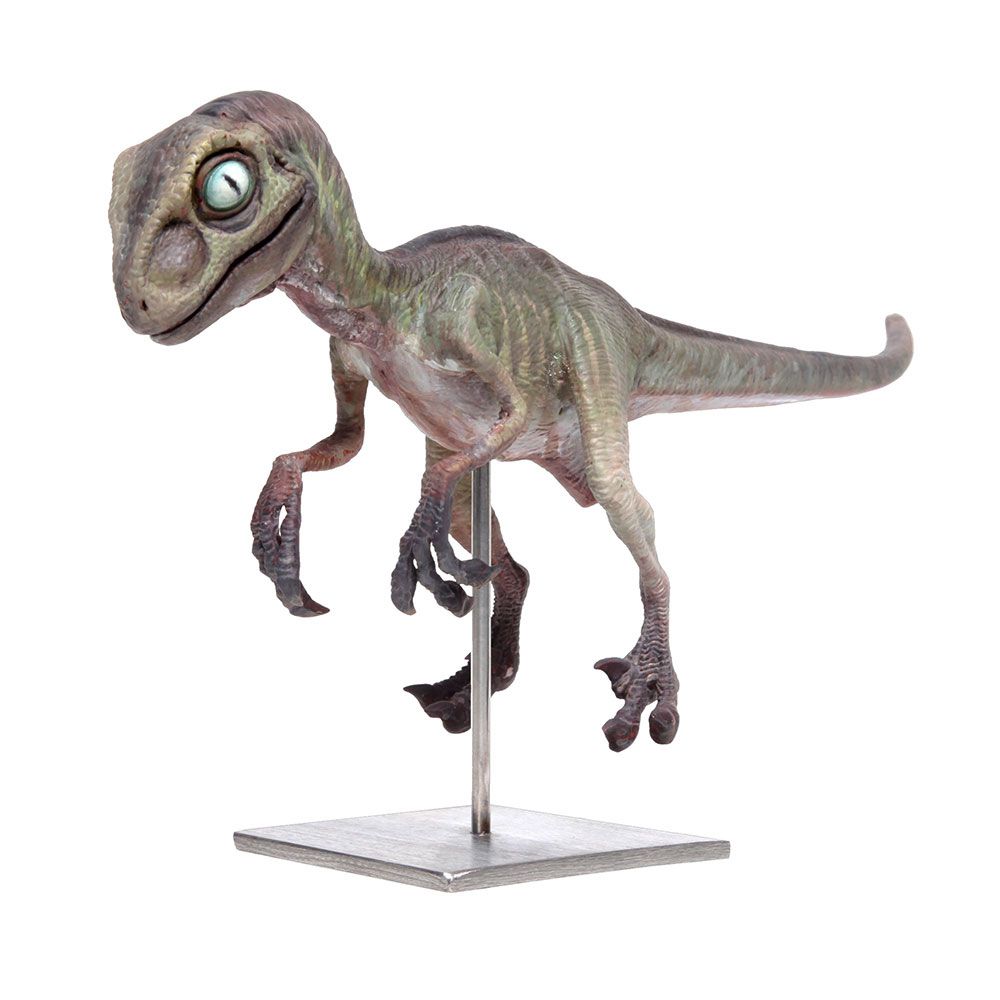 Jurassic Park Baby Velociraptor Prop Replica
Fresh from the incubator and into your hearts! While owning a "real" Velociraptor is impossible for a number of reasons, you can score yourself a deluxe prop replica of a baby version. Individually engraved and numbered, and packaged with a certificate of authenticity, this painfully crafted piece is jaw-dropping. Limited to 100 pieces.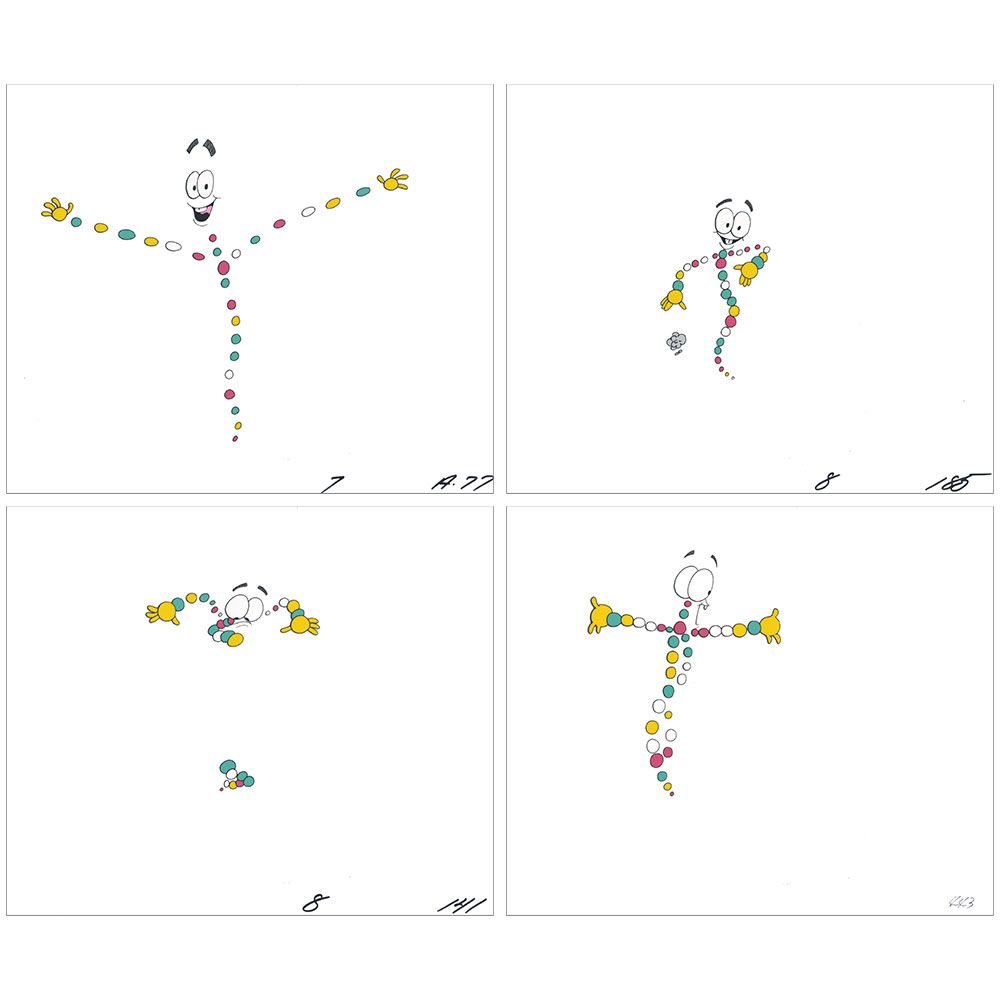 Jurassic Park "Mr. DNA" Animation Cels Replica
In the original Jurassic Park, John Hammond decided the easiest way to explain how dinosaur cloning was possible was through an animated sequence starring the Mr. DNA character.  Printed on transparent film, this set of four cels perfectly recreates the original ones featured in the film. Each cel measures 12.5″ X 10.5″, and the set comes packaged in an archival quality storage box. Limited to 150 sets.
Jurassic Park Theme Park Map Replica
Ever want your very own map of Jurassic Park? Here's your chance. Limited to 250 pieces, this item is a replica of the brochures visitors were given in the first Jurassic Park film. The front side includes an eye-popping and colorful map of the island, with the back featuring facts and information about the park. Talk about an unforgettable souvenir! Measures 14.625″ by 16.375″ and includes a certificate of authenticity.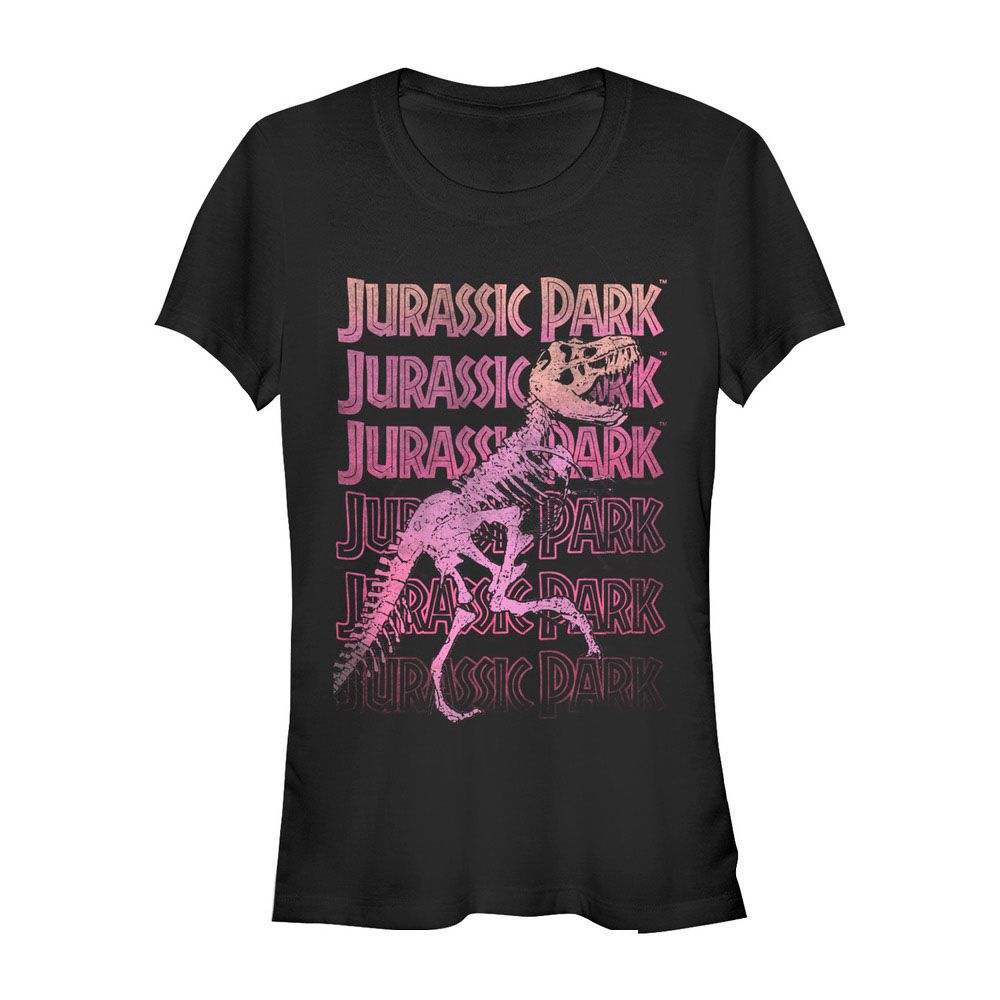 Jurassic World Logo Juniors T-Shirt
Casual and eye-catching, this stylish pink-on-black Jurassic Park T-shirt comes in Small, Medium, Large, and XX-Large sizes.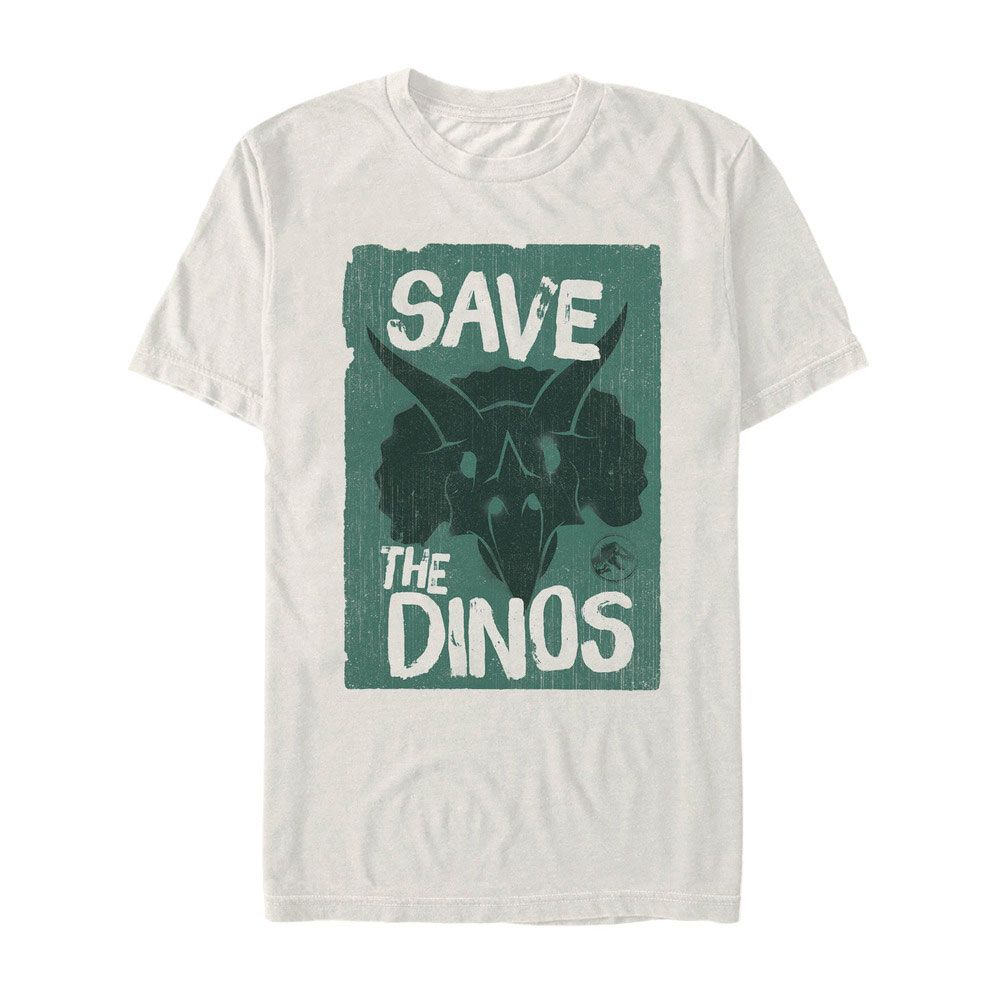 Jurassic World Save the Dinos Triceratops Men's T-Shirt
Claire Dearing would be proud! Good fashion will never go extinct, as proven by this conservation-minded men's tee. You could say this is one tricera-top you'll always want to wear!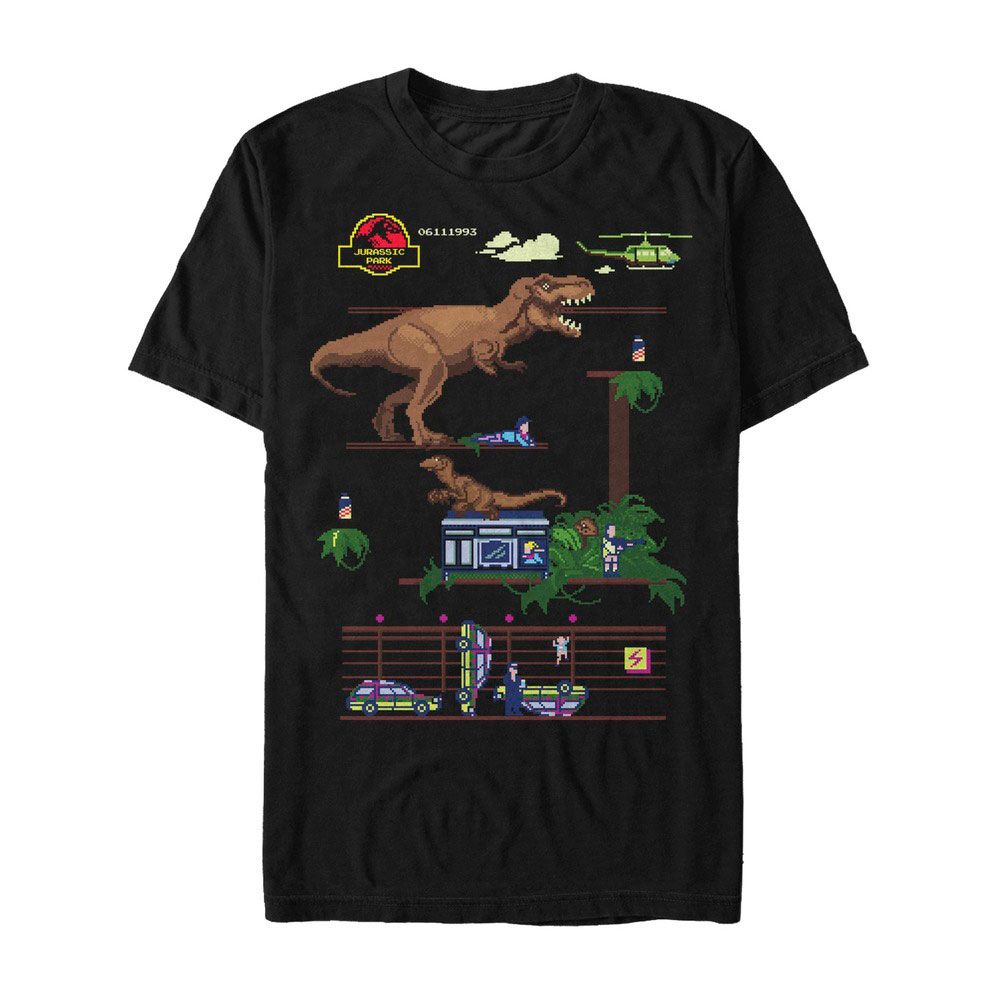 Jurassic Park 8-Bit Classic Dino Gamer Men's T-Shirt
True, there have been plenty of Jurassic Park spin-off video games over the years, but none with the 8-bit charm showcased on this men's T-Shirt. Could some homebrew game maker create this for us ASAP?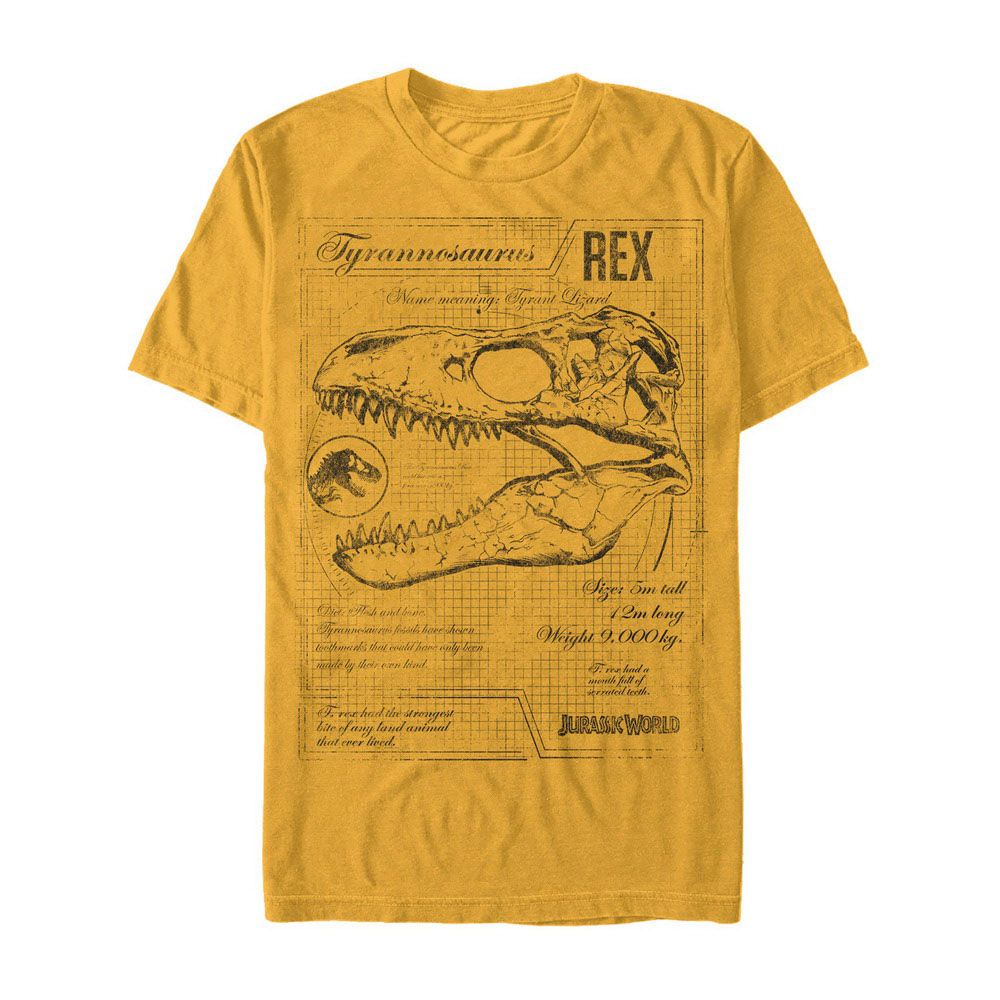 Jurassic World T-Rex Schematic Men's T-Shirt
Look cool and learn something in this 100% cotton men's tee that showcases some vital T-rex facts. Available in sizes Small through XX-Large.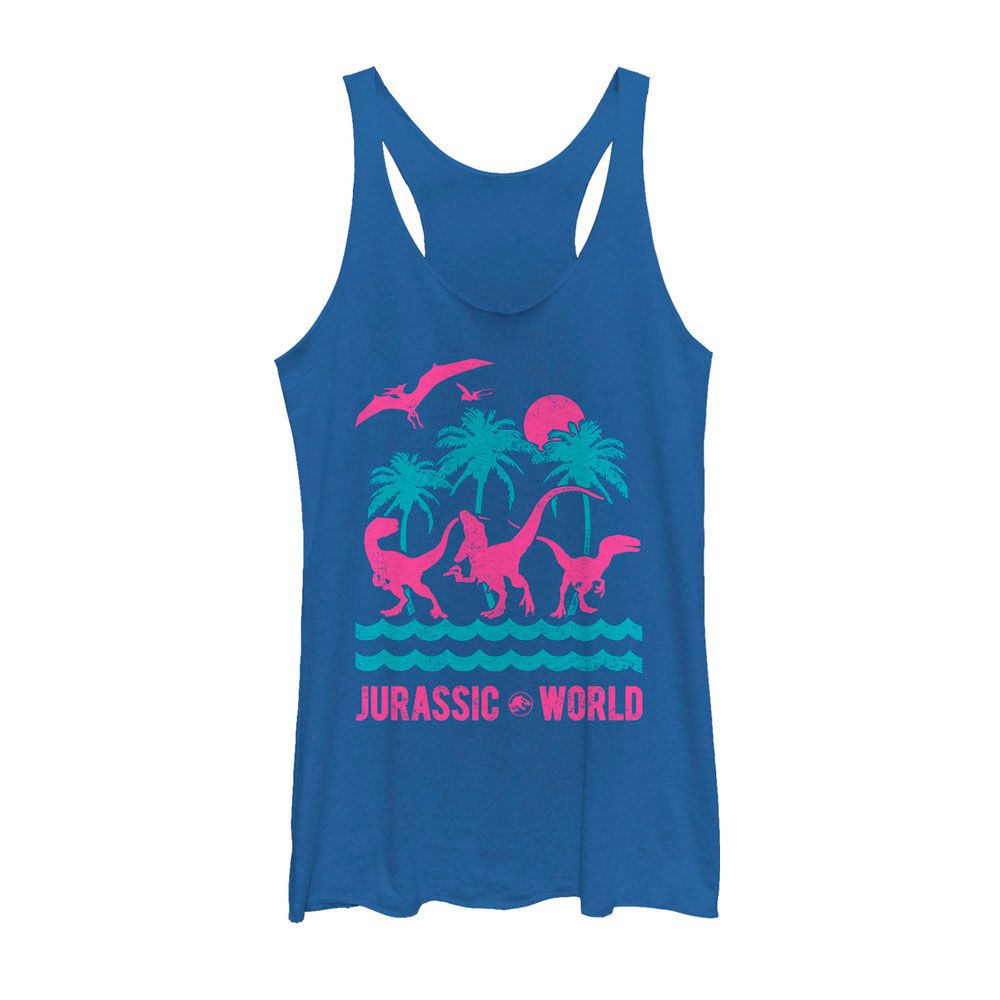 Jurassic World Jurassic Island Juniors Tank
A great casual summer/beach wear option is this racerback tank with cool retro graphics that reminds you that despite the dino dangers, Jurassic World is still a great place to have some fun in the sun! Comes in XS, S, M, L, XL, and 2XL sizes.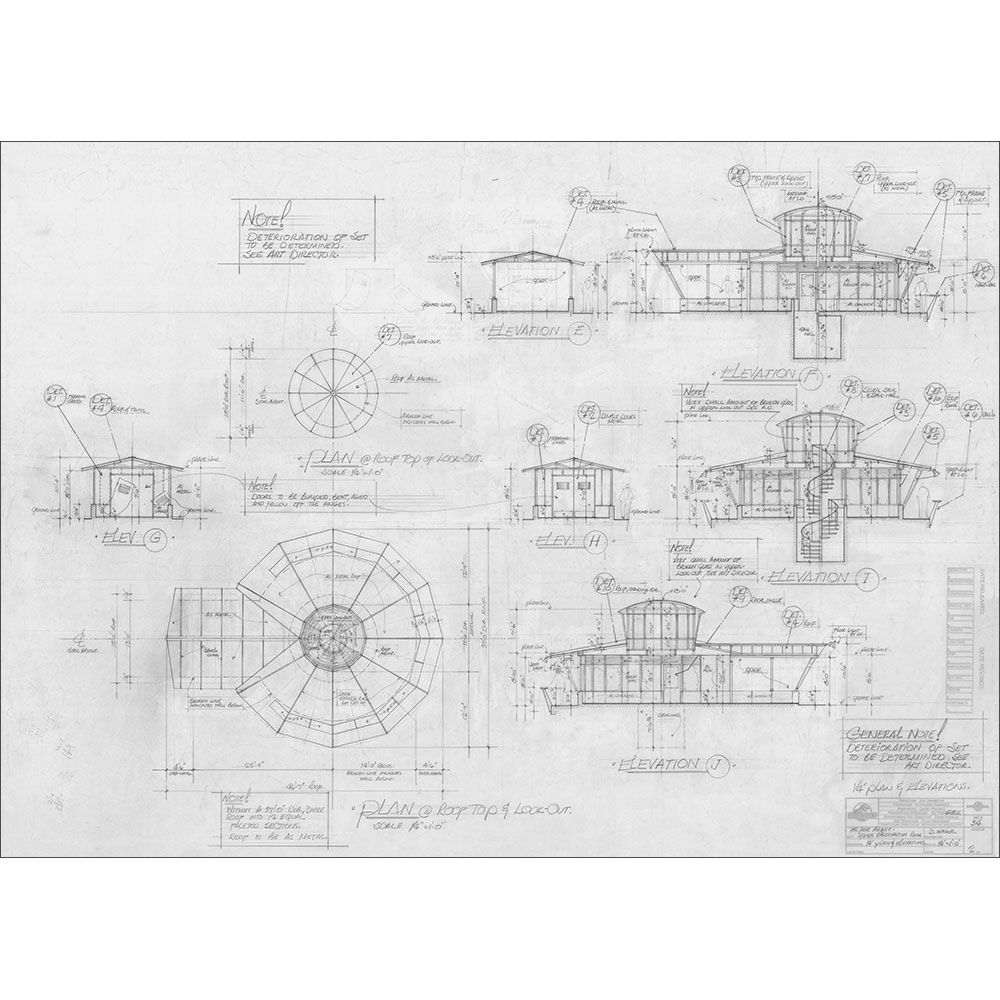 Jurassic Park III Exterior Aviary Set Design Schematics Replica
A dream for architects and movie fans around the globe is this 42″ x 30″ exact replica of the set design schematics for Jurassic Park III's Aviary. Limited to 150 pieces and packaged in a Universal-branded poster tube, this gorgeous illustration is more than suitable for framing — and sure to result in plenty of talk about this enduring film franchise!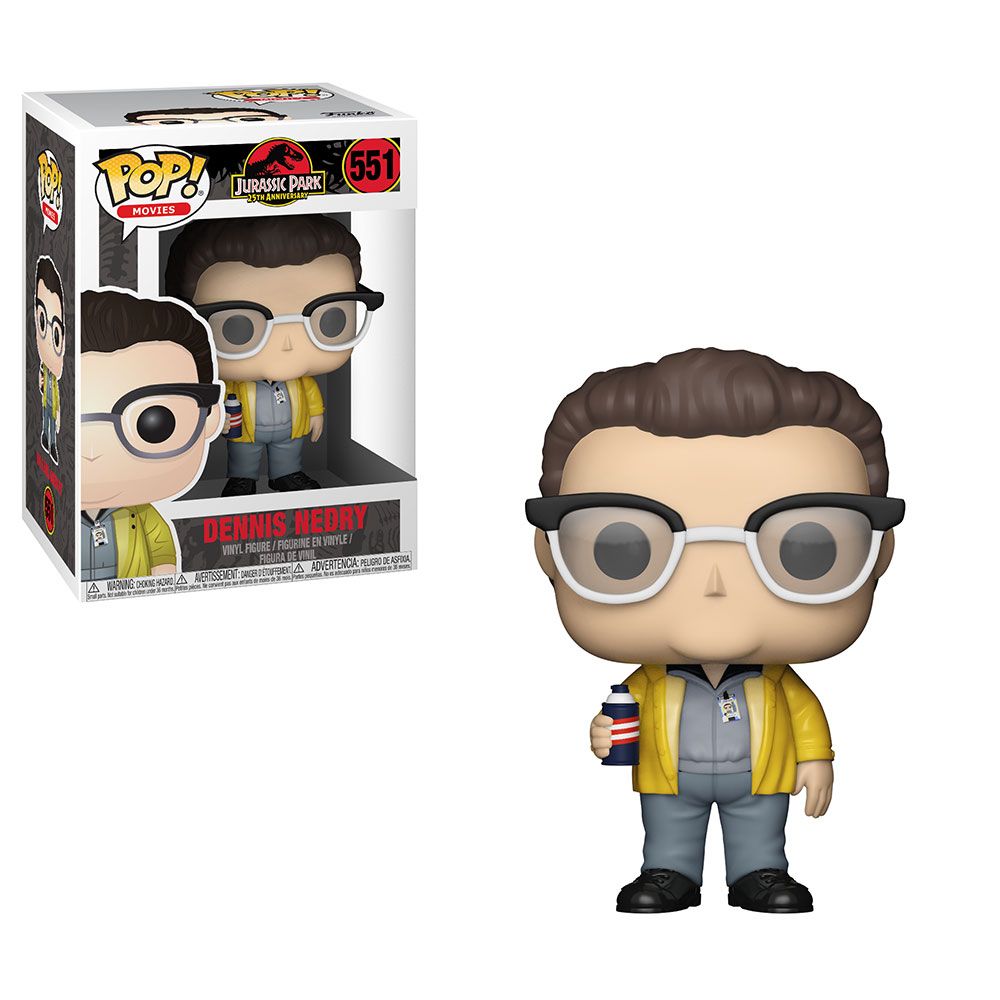 Funko Pop! Jurassic Park Dennis Nedry
So greedy and so doomed, Dennis Nedry was one of Jurassic Park's more memorable deaths. So why not remember his life — and gooey demise — with this 3 3/4-inch Funko Pop! vinyl figurine that comes packaged in a collectible window box.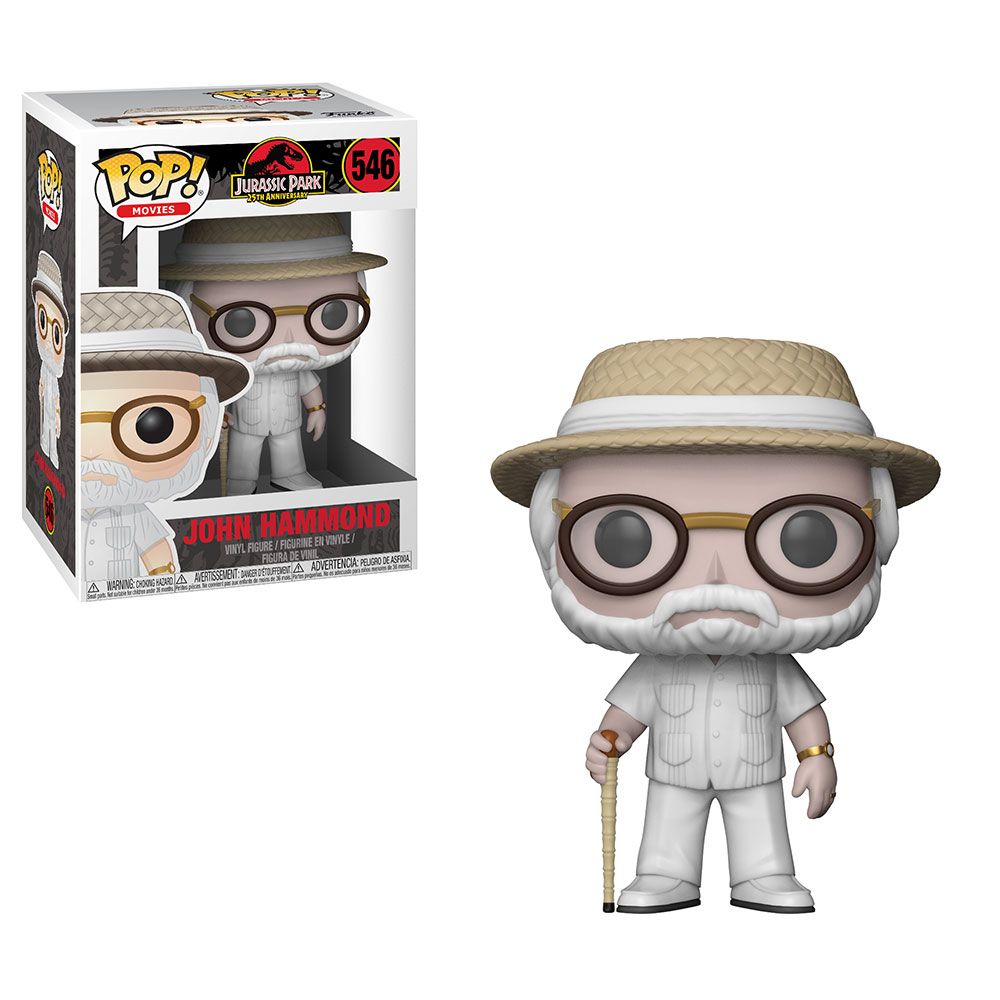 Funko Pop! Jurassic Park John Hammond
Genius or madman? Sinner or saint? John Hammond can be considered any of these things, but without him there would be no Jurassic Park. This Funko Pop! toy both celebrates the imperfect visionary and serves as a reminder of the dangers of hubris. What a twofer!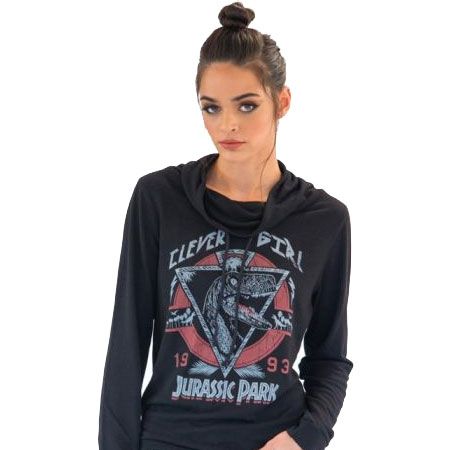 Jurassic Park Clever Girl Rock Pullover
This Jurassic Park pullover is designed like a classic concert shirt, which really makes us hope that the next film in the franchise features a band of raptors who have decided that rocking the roof off of arenas is way more satisfying than viciously murdering humans. Available in Small through X-Large sizes.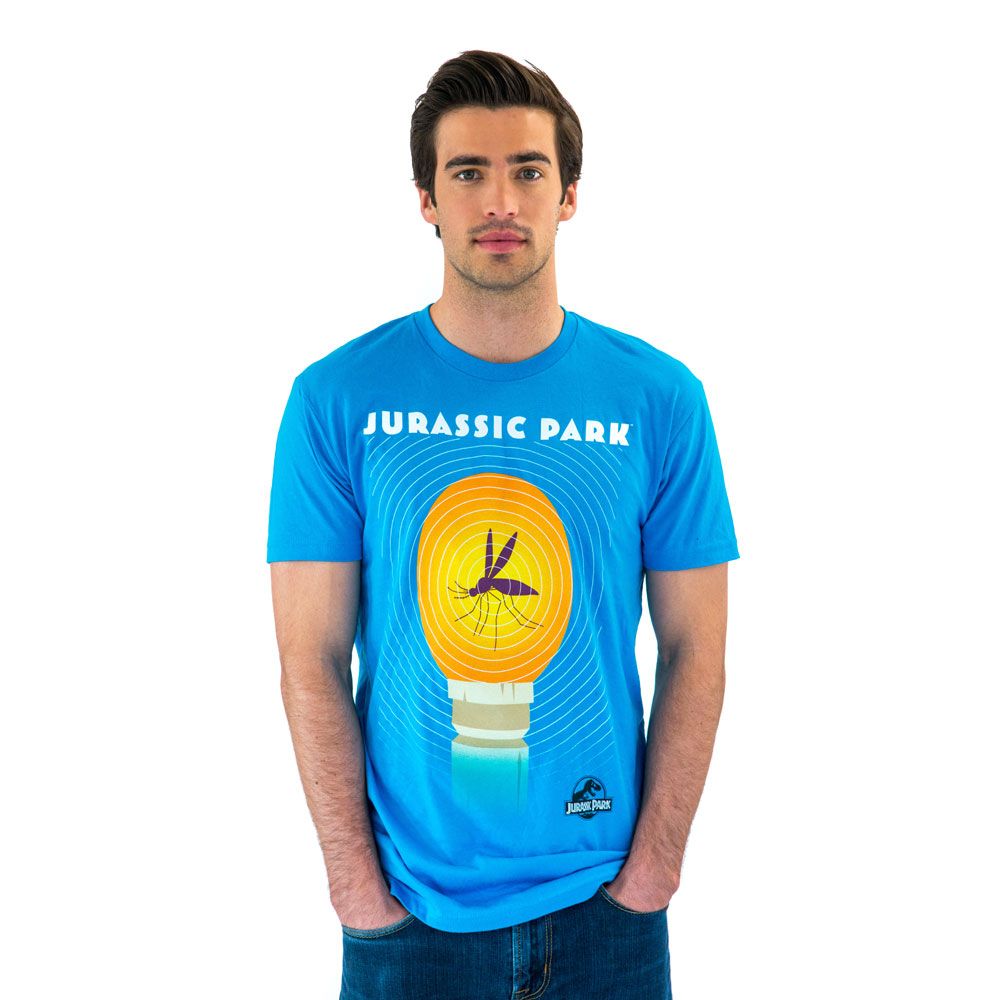 Jurassic Park Mosquito Bulb with Gel Men's T-Shirt
The mosquito in amber is what spurred John Hammond to create Jurassic Park. His iconic walking stick is featured on this shirt that has been specially designed with textured ink in order to create an unforgettable image that allows wearers to show off their love for the Jurassic Park films.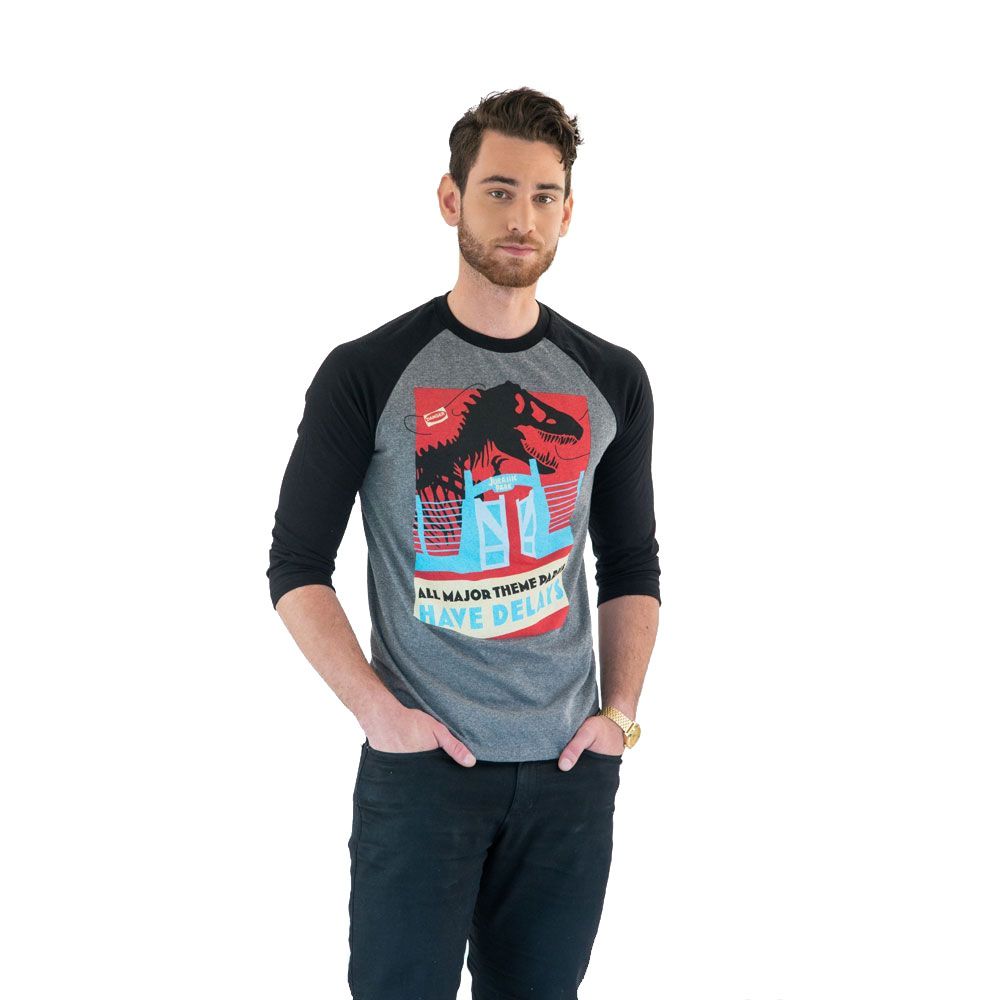 Jurassic Park Major Delays Theme Park Men's Raglan
"All major theme parks have delays." Emblazoned with those words, this raglan-style men's tee showcases imagery from the original Jurassic Park. Cue Ian Malcolm's snarky retort.