Features
Sandy King Carpenter on Bringing Horror to Readers of All Ages With Storm King Comics
Storm King Comics founder Sandy King Carpenter talks publishing horror comics with her and husband John Carpenter's seal of spooky quality.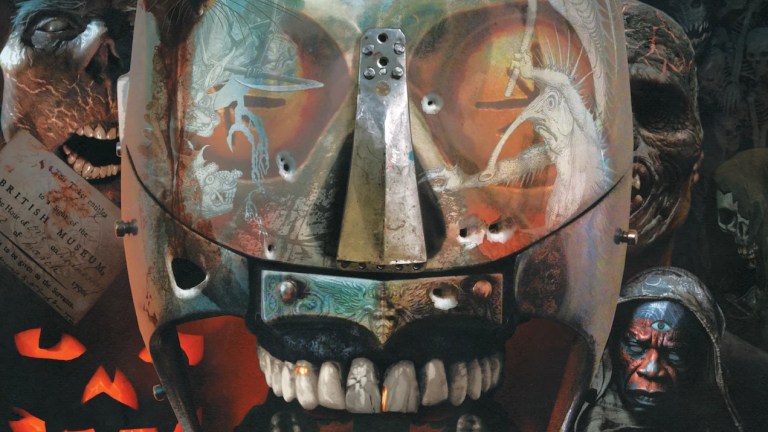 If there's a filmmaker whose legacy is synonymous with horror, it's John Carpenter who created some of the most enduring horror movies in American cinema, with classics like Halloween, The Thing, and The Fog. Joining Carpenter is producer and writer Sandy King Carpenter, John's wife, who has produced fan-favorite horror flicks In the Mouth of Madness, Village of the Damned, and Vampires. Sandy King and John Carpenter launched Storm King Comics through their production company Storm King Productions. The comic book publishing division has released a growing line of horror titles since 2012.
Featuring a whole roster of acclaimed writers and artists, Storm King Comics boasts several award-winning comic book titles, including the long-running anthology series John Carpenter's Tales for a HalloweeNight. Storm King Comics line publishes titles ranging from the decidedly macabre and mature to all-age friendly, such as young reader-oriented title John Carpenter Presents Storm Kids. And through all the different creative teams and diverse horror stories, Sandy King and John Carpenter ensure that these thrillers, chillers, and twisted science fiction series all carry that Carpenter seal of quality in their gripping explorations of the dark side.
In an exclusive interview with Den of Geek at New York Comic-Con 2023, Storm King Comics founder Sandy King Carpenter reflects on over 10 years of publishing horror comics, explains the scope and versatility of horror and what makes a scary story worthy of the Storm King brand, and teases the latest releases from Storm King Comics.
Den of Geek: This is a big week for Storm King Productions, with John Carpenter's Suburban Screams premiering on Peacock on Friday the 13th and Storm King Productions having a huge presence here at New York Comic-Con. How is it having so many plates spinning and culminating at once?
Sandy King Carpenter: I think that we've never really had it any differently. We've always had our hands in so much stuff. John has always done music, he's always done the soundtracks to his movies. There's always been various projects in development – some of them go, some of them don't, it's luck of the draw. 10 years ago, we started the comic company and those became a lot of fun and unfortunately grew like a fungus. [laughs]
One [comic] was fun and we won awards and winning awards is like giving me fangs. In a way we've always had a lot of things going. His recording studio is on a level at our house, so it's always music, always writing – our film production office is separate from our house, but it's life, it's creativity, it's what we do.
I wanted to talk about the breadth of titles published through Storm King Comics. You've got everything from Tales for a HalloweeNight to Storm Kids, appealing to a variety of age groups. How is it curating a growing line of comic book titles?
They kind of grew holistically. First we had Asylum and it was a deal where we'd learn from the conventions. We didn't have anything from John in the comic shops on Halloween and that's how Tales for a HalloweeNight started. We thought it was going to be a three-story one-shot and, basically, at a dinner table, we got drunk and everybody there wanted to do a story, so it turned into a six-story anthology. It was really well-received and it won awards.
Like I told you, it's a problem when we win awards. [laughs] Other writers and artists came up and went "Why didn't you ask me?" and I said "Well, you didn't get drunk in San Diego and we were on a deadline!" That's how Tales for a HalloweeNight started. Every year, in time for New York and for Halloween, we do the anthology.
Then, we were at a convention and I looked around and went "This doesn't represent the breadth of what we make our movies about. There's no science fiction." That's how Tales of Science Fiction started. We wanted to do graphic novel standalones that had some good horror stories and that became Night Terrors.
What I realized is people were coming up with their kids and kids like the beautiful pictures from the adult books, but adult horror has to do with more existential horror. It has to do with things that scare us like dying, issues of faith, stuff that we're contemplating but kids won't even understand. It'll go right over their heads because it's not their experience at the time. I started thinking that little kids really shouldn't be looking at that stuff and that's how we ended up doing some young adult stuff. I had writers like Steve Niles and Louise Simonson doing it.
We don't talk down to kids, but we do what's age-appropriate to their fears. We wound up with 4-8 year-olds, 10-12 year-olds, and young adult stuff because every one of those ages encounters things they're scared of – well, not the 4-8 year-olds, I'm not going to terrify a four-year-old, that's not fair. [laughs]
But they want to be in with all the other kids on Halloween. They want to feel like they're part of the pack. For them, we've got ghost bunnies and kinder, gentler stuff, like the haunted cat, that are safer for them, we don't scare them. That becomes something where they're around and they don't get deprived and they're part of the party.
You hit 8-12 year-olds and they're starting to experience death, loss, parents getting divorced, and things like that. How do we empower them? Bad things happen in life, but what are the tools for getting out of it? How do you feel strong? That's how we got things like The Grimms Town Terror Tales, which is like a modern-day Hansel & Gretel. Twins come home, the house is trashed with green goo all over, there is banging from the closet door, they think aliens have invaded, but it's really Grubb the goblin and he shows them that their parents were actually demon hunters, that they have to be strong, and shows them the guns with the goo and all of that stuff. They become empowered and can handle the situation, it's an empowerment.
We have another one called Fetch which is brilliant and based on Greek mythology. It's about a little girl whose dog has died and she is determined to get him back. There is a substitute teacher who turns out to be a Greek goddess in disguise and also Odysseus, who's a slacker and hasn't been going after his quest to become immortal. She basically tricks Odysseus into giving her the key to a portal to the underworld where she goes to find her dog but, unfortunately, her little brother follows her through the portal. She has to take care of him as a cause bigger than herself.
There are cool things that allow these kids to feel empowered.
Horror is such a diverse and diffused genre. Across all these different types of stories and creative teams, is there an overarching ethos to books published by Storm King Comics?
What it needs to have is the story within the stories. Horror is an allegorical medium. I go out and find the writers and rope them in. They all pretty much get that we're telling bigger stories. My thing is "Why do you want to write this story? What is it that you're trying to say? It's not good enough to me that you just figured out how to throw blood on the wall or sever heads, that's not the point. What are you saying about society? What are you saying as we look inside ourselves? What point should I get from reading this story? How are you looking at the world and saying with this book?"
That's the thing that I look for. I don't want to see a rubber-stamped story.
What do you look for in writers and artists, like Steve Niles, of 30 Days of Night fame?
Sometimes, with the writer, they've got a really good relationship with an artist. If I think they look cool and really great, see something that's really terrific, and they're not under contract with anybody, I'll try to go and lure them in. [laughs] I've brought in writers from other mediums, like Duane Swerczynski, who's had a little background in comics, but he's also a great novelist and screenwriter. David J. Schow had never written comics, but he's best friends with Duane Swerczynski and Duane said he'd hand-hold him with the difference in formatting with comics. We broke him into comics and I knew he was a great storyteller.
Amanda Deibert was known more for comedy, but comedy and horror have a great deal in common. You really have to care about the characters to either laugh or scream, you have to be invested in them. She has a wicked sense of humor, and I said "You know what, come with me and let's go look at the dark side." She had written for Al Gore's climate change broadcast 24 Hours of Reality and this woman is brilliant, she can write for anything, but she hadn't written horror. So let's open up that Pandora's Box and see where she can go with that. She knew how to create these characters and she wrote broadcasts that were incredibly funny and had me on the floor laughing, so I got her that way. I'm always looking for who's a great writer of any kind who should be in comics.
You have worked in television and film extensively. What do you find creatively fulfilling about working within the comic book medium?
The people we work with, it's fun! We have a really good time and love the fact that you can do a story that would cost you $100 million on-screen for the same amount of money that it would cost to do some elementary school story. It's not expensive to write a comic of any story. I can open universes and go between planets for the same amount of money as I would for a story about a serial killer walking down the street.
It's fun, we can open our imaginations as much as we want, and we're not risking anybody else's money. If we think it's good and it entertains us, my guess is that it'll entertain other people and scare other people. If I see a story first and go "Whoa, this is really cool!" and hand it to John and his first response is either "Whoa!" or "Oh, fuck!" I know we've got it.
With Hollywood constantly rebooting or reviving everything as they're looking for new IP, is there any interest in adapting these stories beyond the comic book page?
My first allegiance is to the comic book rather than to make them franchises. I think it really matters to be loyal to the comic book audience and have that be the first imperative. If somehow a studio sees something, I leave the IP in the hands of the creators. Sometimes the creator is me. Essentially, all of these writers are left with, at the very least, a stake in the property that they're writing. Most of the time, they have 100% of the IP.
My artists are work-for-hire because I don't want the James Bond effect to happen where, suddenly, I'm competing with myself. What the deal is, between the artist and other writers, is up to them. I think that, if we're true to what the medium is and a studio wants more out of it, fine. More power to the writer.
What are the big, new comic book titles that Storm King Productions is putting out and promoting now?
Our first title for Dark & Twisted is Death Mask. I created the idea, in conjunction with Amanda Deibert and Cat Staggs, and it's great! Dark & Twisted is more reality-based, more true crime, and what I really hope is that this story evolves from being a bit of a police procedural into a female Punisher. I think it's a really awesome story with really great characters and that one is just out now.
We've also got this year's edition of Tales for a HalloweeNight, it's the ninth volume out. Those are the two that we're really pumping right now. We've also got Dennis Calero's book Interference Pattern, he wrote it and drew it and it's beautiful! It's The Right Stuff gone wrong, it's gorgeous!
To purchase Storm King Comics titles, including both signed and unsigned editions of Tales for a HalloweeNight and Dark & Twisted, check out the Storm King Comics website.