News
Milestone Universe Relaunch Reveals New Static Shock Origin
When Milestone returns to DC, there will be a new Static Shock origin as part of it.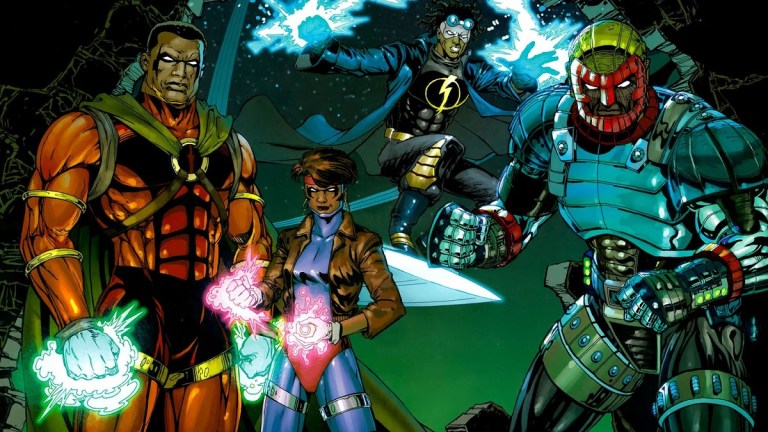 As part of day two of DC's big comic con pandemic substitute, DC Comics has made a metric ton of comics available for free online. Included in that passel of books are several from Milestone Comics – some classic issues of Icon, Hardware, and Static Shock, along with Milestone Returns #0, the kickoff to the big return of the Black-owned comic company slated for February. And there's a pretty big surprise contained within.
The book is written by Reggie Hudlin and Greg Pak, with art from DC Publisher Jim Lee, Brothers Bond artist Ryan Benjamin; Teen Titans artist Khoi Pham; and Milestone co-founder Denys Cowan. Each artist gets a different introduction, and Benjamin and Hudlin rework Static's origin to be a touch more timely.
In this new Milestone, Static gets his powers by being teargassed at a Black Lives Matter protest. On its face, this is a fairly big shift from his comics origin. He was initially given his superheroic abilities from sinister scientific experiments, back when Milestone first launched. But that was almost 30 years and one infinitely ceaseless pandemic March ago – the world has changed quite a bit since then, and it's going to be interesting to see how Static, already an especially relatable teenage superhero that comics seems to do so well, also shifts with the times.
It's also not impossible to imagine Static's new origin dovetailing with his old one, with the Dakota City PD using an experimental formulation of tear gas that they bought as cheap surplus military equipment from an inattentive federal government and made by an evil arms company on the government dime.
The book is part of Fandome's Rocket renaissance – Raquel Irvin is Icon's sidekick in the Milestone universe, and she acts as the point of view character in this new issue. She is also one of the featured characters in Fandome's Young Justice radio play that is meant to bridge the gap leading into the new season of the hit animated series. And Milestone Returns #0 also features a new character, Duo, from Pak and Pham and based on the classic Milestone character Xombi.
Incidentally, Cowan draws two stories in the book, and he's inked by Jimmy Palmiotti on the first, and Bill Sienkiewicz on the second. This flag is in case you wanted to see a beautiful and crystal clear side by side what inking adds to comics line art. Palmiotti and Sienkiewicz are two of the best inkers in the history of comics, but with wildly divergent styles, and it's fascinating to see what they change about the tone of the story by watching them both work from the same penciler.
You can and should read Milestone Returns #0 for free right here!