News
Static Shock and Milestone Returning to DC Comics
The groundbreaking '90s imprint will return under DC with fan-favorite character Static Shock leading a diverse slate of new and revived characters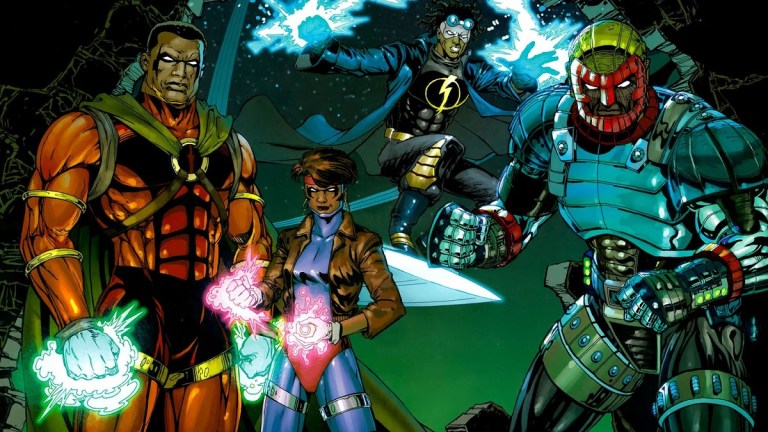 At a surprise DC Fandome panel, Milestone comics co-founder Denys Cowan announced that beloved 90s/2000s-era character Static Shock will be getting a new digital comic series in February of 2021 as part of a revival of 1993's Milestone Media, under DC. Cowan made the announcement alongside DC Entertainment's Co-Publisher Jim Lee, producer/director Reginald Hudlin, and Phil Lamarr, voice of Static Shock from the animated series. They announced the creation of "Earth-M," which will be home to the "Dakota" universe of characters from Milestone and a slew of new characters.
"We couldn't be more proud and excited about the opportunity to bring the 'Dakota' universe back to DC," said Lee. "This is a huge step forward for us in bringing readers a more diversified lineup as part of the New DC Universe, and we're anxiously looking forward to telling new stories that are socially and culturally impactful and representative of the world in which we live."
Created by a group of Black artists and writers, the groundbreaking imprint was always home to diverse characters and socially relevant storylines, which they intent to continue with the revival. The new imprint will include the return of fan-favorite Milestone characters like Icon, Rocket, Hardware and Xombi, who will be getting their own series, as well as new heroes and villains.
"Milestone Media was the first company to create a superhero universe full of Black, Latino, Asian, and white superheroes – both gay and straight," said Hudlin. "Its fan-base was equally diverse. This new relationship will enable us to not only revive classic Milestone characters, but introduce new ones as well. Denys and I have had a great time working with Jim and Geoff as we reinvent the Milestone Universe for the 21st century. We have a lot of innovative ideas – from how the characters are presented to how the books are released – that will excite both new and old fans."
As many as two "Earth-M" titles will be published each year. The revival is slated to include original graphic novels (including an original focused on Static Shock), one-shots, and miniseries as well as eventually expanding to include an upcoming Static Shock digital series and action figures. Hudlin, Cowan, Lee, and Geoff Johns will be tapped to work on the series, as well as other, as-yet-unnamed "all-star creative talent." There's even a Static Shock movie in the works!
Fans can also look forward to seeing prior Milestone comics digitized and reissued on Comixology, Kindle and other platforms in collected editions in September of this year, as well as in print again.