News
Static Shock Movie in Development
A Static Shock movie is in development, as revealed by the Milestone Comics creators. Here are the details.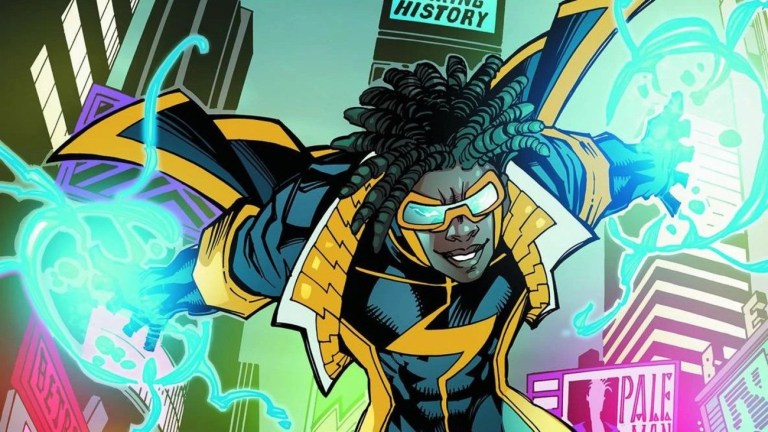 Good news, Static fans! During a surprise Milestone Comics panel as part of the DC FanDome digital event, fan-favorite Black Panther writer Reginald Hudlin teased that the company was developing a Static Shock movie based on the beloved comic book character.
While Hudlin didn't have much more to say other than the fact that the film was "in development," this was still one of the most exciting reveals in a day packed with massive moments. Not only will Milestone Comics be relaunching under DC Comics in February, with a new Static OGN as well as a new digital-first series no less, but there is a good chance that we'll finally get to see Static come to the big screen. Created by the original Milestone founders Dwayne McDuffie, Denys Cowan, Michael Davis, and Derek Dingle, the Black teen superhero found a massive fanbase in both comics readers and young cartoon fans who discovered the character in the 2000 WB animated series which centered on the hero.
In case you aren't already a fan, Static's real name is Virgil Hawkins and he's only 15 when he gains his powers — he can manipulate electricity — and becomes the hero known as Static. Charming, awkward, funny, and smart, Static stood out as a realistic representation of teenagehood in '90s comics and was a flagship hero for the groundbreaking publishing initiative created by Milestone Media.

In a world where superhero movies and comics are often lacking when it comes to representation, it makes sense to look to Milestone and its roster as a way of rectifying that. Plus, it's great to see Black creators getting to shape the future of their own characters. This is a huge move for WB and DC Comics, especially as Static has a passionate fanbase who have grown up with the character and are eager to see him come back to life.
Despite the fact that we know barely anything about the movie as of yet, the fact that the first new Milestone release will be a new Static graphic novel from brilliant artist Kyle Baker and writer Hudlin. So, even though we might be waiting a while on that Static movie–get your fan casts ready– you'll have plenty of new Static stories to enjoy in just a few months. Leading up to the relaunch of Milestone, DC will also be releasing Milestone's backlog of books digitally, which means new fans can catch up on Static and all of the imprints other great characters.
We'll definitely be keeping our eyes and ears open on this one as more news comes because a Milestone resurgence has the potential to shake up the superhero landscape as we know it.