Reviews
Yellowstone Season 5 Episode 1 – 2 Review
Yellowstone fans are treated to a double-sized premiere of the Dutton family drama in a deliberately paced and character driven opening.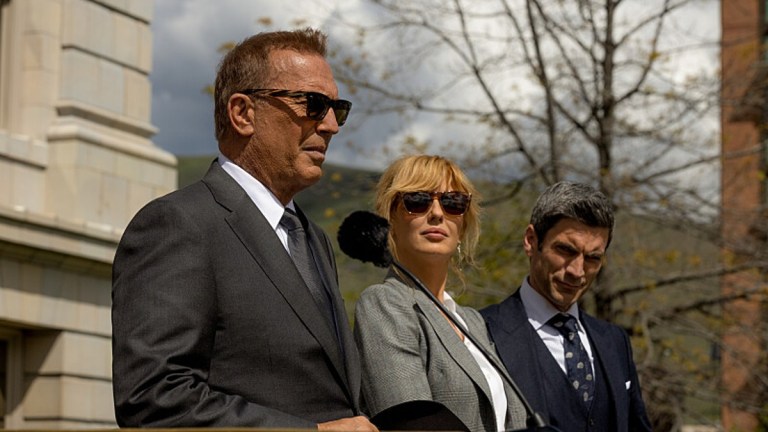 This Yellowstone review contains spoilers.
Yellowstone Season 5 Episode 1 and 2
Yellowstone creator, showrunner, and deity to the cowboy-at-heart, Taylor Sheridan, is often praised for his intense, gritty, and typically crime-driven dramas, yet the prolific writer isn't recognized enough for his sense of balance. It's one of the major reasons Yellowstone's audience continues to grow, even while the show is now entering its fifth and rumored penultimate season, and how it has kept viewers hooked the entire time. Sheridan understands pacing.
Last season started with a literally explosive premiere, as the Duttons were targeted by a then-unknown group of assassins. The Duttons' youngest son, Kayce (Luke Grimes) chased those who came after him and his family with an indignant vengeance only a Dutton could bring. The season 4 premiere was full of blood, bodies, and bullets and gave viewers exactly what they had been ravenous to see.
Do not expect that in the introduction of season 5.
In the first episode this season, the narrative jumps forward since last we saw the Dutton clan, and things are looking good for the family. John Dutton (Kevin Costner) has won the gubernatorial election to become Montana's (and in turn, his ranch's) steadfast and obstinate gatekeeper. Lynelle Perry (Wendy Moniz) has been elected Senator, so the Dutton family and their allies are in a real position of power to start the season. So far, it's nothing shocking or surprising if you caught the trailer for season 5 and what it might hold. However, if you expect John to immediately rock the boat, be prepared for a gentle sway more than a violent ride.
The season 5 premiere is more about the promises of a rocky ride, but those promises are certainly intriguing enough. One of the storylines that was left somewhat open last season was Beth (Kelly Reilly) and her mistreatment of the Dutton black sheep, Jamie (Wes Bentley). Since it was discovered that Jamie's biological father (Will Patton) was behind the Dutton attack, Beth manipulated the weak-willed Jamie into killing his father, and tucked him neatly back into the Dutton family pocket. Yet the Jamie storyline might eventually be the most interesting thread this season, if some of the moments Sheridan peppered into the first episode pay off.
When John and Lynette finish their joint victory speeches, Beth is of course, right by John's side, but Jamie is a little further off, keeping his distance. This happens again when John was sworn in a little later in the episode, and the Duttons' long list of enemies begin to notice the rift between alleged family members simply by studying Jamie's reactions to his adopted father's victory. More interestingly, Jamie and Beth share a long stare when the confetti falls on John's celebration, and for a glimmer of a moment, it seems Jamie has a plan, as he tries to stare down Beth. Even his sister notices the uncharacteristic show of confidence.
Of course, Jamie's smirk is wiped from his face very quickly. Bentley and Reilly truly shine in these first two episodes, reigniting the hatred that took a bit of a backseat in last season, and setting up what looks to be the explosive conclusion of their love/hate (but mostly hate) sibling dynamic. Reilly reminds the audience just how much of a viper Beth can be, and Bentley does what he has done for four seasons as he shows Jamie's perpetual fear behind those steely-gray eyes.
Truthfully, it is these character-driven threads that are the strength of the first two episodes. It's not explosive like last season's premiere, it's not all that exciting, but it does what any safe premiere should do – it sets up the rest of the season. There is some wiggle room within that descriptor, "safe," as Sheridan certainly promises this boat will eventually rock and likely throw some of the Dutton family off, but the biggest moments come buried in the final 10 minutes of "One Hundred Years of Nothing".
Part of the slight jump forward also reveals a grown Tate (Brecken Merrill) at home with his very pregnant Mom, Monica (Kelsey Asbille) who has certainly grown as well since last season. Kayce, while chasing horse thieves into Canada and back again gets a call from a panicked Monica as she is going into labor. She has no choice but to load herself and Tate into the truck, and try to drive herself to the hospital, while Kayce races to be with his family.
As it so often does, tragedy strikes, and Tate, Monica and her baby all end up in a horrific crash. Monica and Kayce lose their baby boy, who they named John in honor of the patriarch of the Dutton's, and the family puts politics and rivalry aside to mourn together.
The moments that follow are often somber, but the second episode "The Sting of Wisdom" once again gives Grimes and Asbille an opportunity to do what they have been doing for 4 seasons now, and that's being the heart of the show. Kayce's story throughout the show is the one that reflects the most centered approach to the chaos that surrounds his family, and Monica is always the voice of reason. They are intentionally the middle ground that Sheridan has created to make what could easily devolve into melodrama into relatable situations.
Kayce struggles with his duties as a father, husband, and a son. They have marital problems. They have money problems. In short, they are the most accessible characters, and the two actors and their stellar performances are, at times, underrated in a world of political intrigue, kick-ass cowboys, and fiery romance. "The Sting of Wisdom" is such a brilliant title for the episode as Kayce and Monica have learned so many invaluable lessons to become wiser, and those lessons have often come at a high price. Grimes and Asbille truly give nuanced and grounded performances, and are easily the highlight of the first two episodes.
Which brings us to the aforementioned sense of balance that Sheridan brings. With the darkness, comes light. With the tragedy of Kayce and Monica's loss in the second episode, it balances the celebration of John's victory, which includes some much needed laughs while the Dutton ranch hands drink and dance. With Jamie being beat down by his sister once again, comes the promise he may finally fix Beth once and for all. With John being away from his beloved Yellowstone because of his new position, comes Rip (Cole Hauser) basically running the show, and a touching scene between a very grown Carter (Finn Little) and his seemingly surrogate grandfather-figure, John.
The first two episodes can be best summarized as a collection of excellent moments. Ryan (Ian Bohen) finding a possible love-interest at the gubernatorial dinner. The introduction of John's assistant, Clara (Lilli Kay) who seems to be a new ally. The introduction of Sarah Atwood (Dawn Olivieri) who in every conceivable way seems to be a match for Beth. John, in his first days in office, already stretching the law and abusing his power to the chagrin of Caroline Warner (Jackie Weaver) and even Jamie. Rainwater (Gill Birmingham) looking like his position of power might be challenged by the snakelike Angela Blue Thunder (Q'orianka Kilcher). All great storylines, but merely thrown our way in the premiere episodes.
The real issue is, the two premiere episodes have a lot going on, without anything actually truly progressing. Even before the season 5 trailer was released, audiences had to know John was going to win the election, but it still doesn't change the fact the Duttons are at war with Market Equities. The ranch is still in peril, Beth and Jamie still hate one another, and Kayce and Monica have to deal with another major blow to their marriage: these are all story threads that aren't all that new, and so episode 1 and 2 this season feel somewhat superfluous.
However Sheridan will undoubtedly do what he always does, and there is solace in that. He will bring balance to the season. Much like the explosive season 4 premiere which was followed by a fairly slow season (in all fairness), perhaps the season 5 premiere is setting up one of the most explosive seasons in the show's run. These character moments are important, of course, however if they were aired in the middle of the season instead of the premiere, audiences would easily be calling them predominantly "filler" episodes. It simply remains to be seen if the balance can be found once again.
New episodes of Yellowstone season 5 premiere Sundays at 8 p.m. ET on Paramount Network in the U.S. and the day after on Paramount+ in the U.K.