Features
Yellowstone: Jefferson White Teases Disaster for Jimmy in Season 5
As he heads off to The Sixes, Jimmy might have some unfinished business on Yellowstone 5.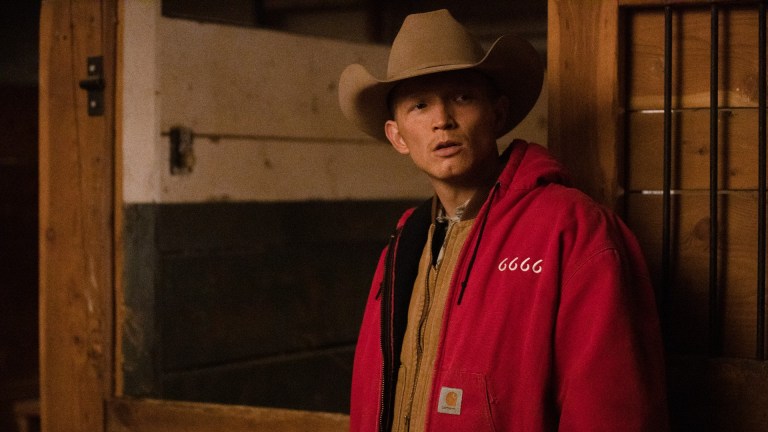 Yellowstone's Jimmy Hurdstram better be careful for what he wishes for – as his decisions may come back to haunt him in the upcoming season 5.
From being completely without family to being thrown off horses and branded, the ranch hand, played by Jefferson White, has been well-and-truly loyal to the Dutton family, even when he was a little hapless about it.
At the end of season 4, patriarch John (Kevin Costner) offered him a rare opportunity to make his own decision, and with that he went to live on the 6666 ranch (aka 'The Sixes') in Texas.
But was that the best idea for him?
Speaking to Den of Geek at the New York premiere of season 5, White explained: "He's spent four years getting his ass kicked, and falling off horses, and getting beat up. So it's an amazing thing that for the first time in season five, he's sort of found some steady footing. 
"I think at the end of season four, for the first time in his life, he got to make a decision. John Dutton presented him with a decision which is a very rare thing in his life. Season five, we find him living a life that he chose, you know, maybe for the first time, which I think is a real, really incredible gift."
But just how long is he going to be living the high life in Texas? Well, if White's teaser is anything to go by, if we know anything about Jimmy is he's a disaster waiting to happen, and that's not going to change away from the Dutton ranch.
"It's interesting, because there's accountability that comes with that [decision], right? If you make the decision yourself, you're responsible for the consequences of your decisions," he told us. "I think Jimmy has been a follower his entire life. He's been a sort of a good soldier his entire life and now for the first time he's made some decisions about what he wants, and he's going to have to live with the consequences of that."
He later ominously added that "he doesn't have a Rip down in Texas" to solve all his problems.
"We'll find out together how well his choices pan out," the actor added. "I'm nervous for him. I'm always nervous for him."
Jimmy's future is at least set in stone, considering a spin-off of Yellowstone, titled 6666, was confirmed all the way back in February 2021.
The spin-off is the latest in a collection of shows expanding the Yellowstone universe, which includes prequel series 1883 and 1932. 
However, since the initial announcement, details on the project have been scarce, with no new casting announcements or a release date yet confirmed.
It's believed more will be revealed in the process of season 5, where we get fully introduced into the world of The Sixes ranch with Jimmy.
Yellowstone season 5 premieres Nov. 13 on Paramount Network in the U.S. and Nov. 14 on Paramount+ in the U.K.