News
Yellowjackets Season 2 Episode 6 Release Time: When and Where to Watch the Next Episode
Yellowjackets is taking a brief pause in between episodes, so it looks like we'll have to wait an extra week to find out what happens next.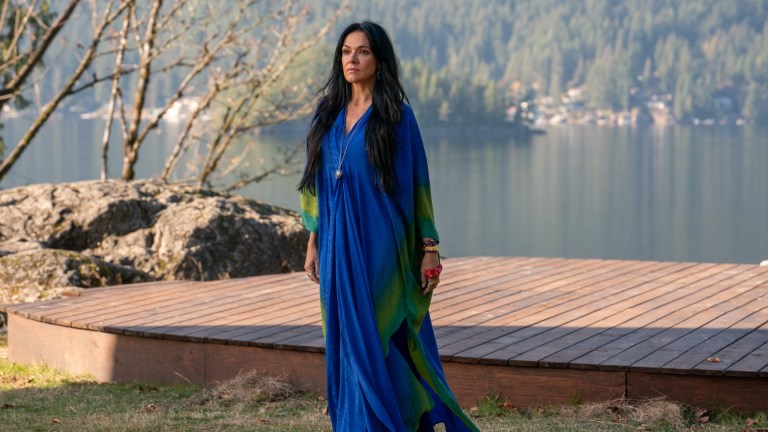 This article contains spoilers for Yellowjackets season 2 episode 5.
For the first time this season, Yellowjackets is taking a brief pause in between episodes. Unfortunately, this means that we'll have to wait a week longer to see what happens to Shauna's (Sophie Nélisse) baby, whether the Sadeckis will be able to fool the cops, and how cult life treats Misty (Christina Ricci) in the present.
At the end of episode 5 "Two Truths and a Lie," Shauna begins to give birth in the wilderness soon after Lottie (Courtney Eaton) gives her a blanket with the symbol of the forest stitched into it. Misty also kinda killed Crystal (Nuha Jes Izman) after confessing to her that she destroyed the plane's black box. In the present, Misty has pushed Walter (Elijah Wood) away and decided to join Lottie's (Simone Kessell) cult, not believing that Natalie (Juliette Lewis) is there of her own free will. Tai (Tawny Cypress) has tracked down Van (Lauren Ambrose) in an effort to curb her sleepwalking and appease the "other one." With the help of Lottie, Natalie revisits the last time she saw Travis alive, realizing that she almost died that night and potentially saw the sinister spirit of the forest there with them.
With so much revealed, waiting for episode 6 will not be easy. Here's what we know so far about the episode and when you'll be able to watch it.
When and Where Will Episode 6 "Qui" Be Available to Watch?
Yellowjackets season 2 episode 6 will be available to watch for those subscribed to Paramount+ on Friday May 5th in both the U.S. and the UK, though U.S. subscribers are required to have the Showtime add-on in order to watch the series.
Those subscribed to Showtime via a cable provider will be able to watch episode 6 on Sunday May 7th at 9 p.m. ET.
What Can We Expect From Episode 6 of Yellowjackets?
Shauna's birth seems to be the focus of the wilderness timeline, with the trailer for this episode diving right into it. Misty seems uneasy after the whole Crystal thing, but is trying to push that aside to help Shauna. The present-day Yellowjackets are finally set to reunite once again, this time at Lottie's commune. Natalie, Lottie, and now Misty are already there, so it will be interesting to see why Van, Tai, and Shauna make the journey.
For Tai, it probably has to do with her sleepwalking. Following Lottie's teachings in the wilderness seemed to help, for a time at least, so it makes sense that she or Van would suggest finding Lottie again to make the sleepwalking stop. Thanks to Randy (Jeff Holman) and his condom full of lotion, the cops, specifically Detective Saracusa (John Reynolds), are once again suspicious of Shauna (Melanie Lynskey) regarding Adam's murder. They also know that Callie (Sarah Desjardins) has realized that Saracusa is a cop and that she potentially lied to him about Randy and Shauna having an affair. The trailer only shows Shauna in an interrogation room, but it's not out of the question for them to bring Callie in for questioning too.
Even though Yellowjackets still hasn't confirmed whether or not there is actually a supernatural force in the wilderness with them, present-day Lottie and Natalie seem to think that they brought something back with them when they were rescued, and both are convinced that it's something a lot more sinister than trauma. The present-day Yellowjackets seem to be pulled back together by something, and hopefully episode 6 will give us an idea of what that "something" is and what it might want from them.