Reviews
Yellowjackets Season 2 Episode 5 Review: Two Truths and a Lie
An unexpected death shakes up the latest episode of Yellowjackets season 2.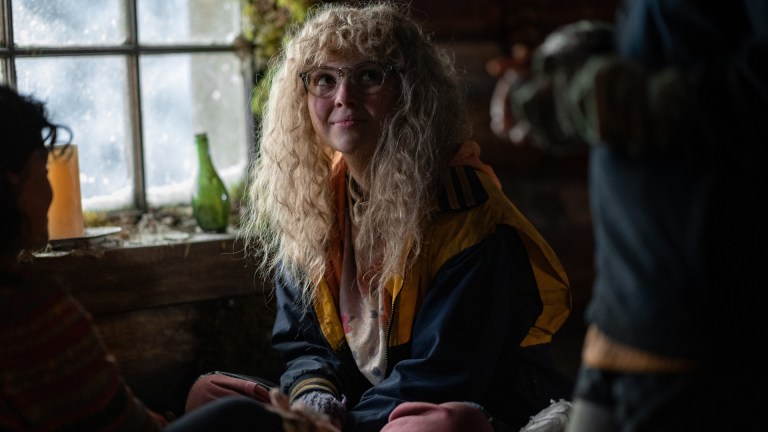 This Yellowjackets review contains spoilers.
Yellowjackets Season 2 Episode 5
Yellowjackets' formula is really, really clicking this season. Each episode is structured and paced in essentially the same way, nimbly flitting between the storylines and timelines, guided by the emotion of whatever's happening on screen. There's a music to the way the episodes play out, and this week's episode, "Two Truths and a Lie," hums along without a hitch. All of the stories are pushed along in interesting ways, and while nothing particularly nuclear happens, we've arrived at a point where these characters are simply entertaining to be with, which is the sweet spot for any show.
Having Van folded into Tai's present-day storyline is fantastic for a few reasons. Lauren Ambrose is a stellar actress and is no stranger to the medium, first and foremost. But as it pertains to the narrative, Van and Tai's supportive relationship in the '90s timeline is one of the most emotionally charged on the show, so seeing them reunite in the present day to exercise Tai's sleepwalk demon together like they did years ago just feels right.
We see a lot of adult Van's personality communicated through her job at the video rental store and her home decor. She's obviously a serious cinephile, but what's more interesting is that she's seemingly obsessed with nostalgia and movies from her youth, which could mean she has trouble moving on from that time in her life. Tai's confession that she can't bring herself to ask Van for her help for fear of hurting her is just heartbreaking, but Van's curious interaction with the "other" Tai raises questions about what her relationship to the "evil" alter-ego is.
Back in the '90s, Lottie is amassing more and more followers with her "woo-woo," and many of the girls, particularly Van, seem to be finding a deep connection with nature and each other with her guidance. The way this supernatural tether of sorts comes into play later with Shauna and Tai finding the group in the blizzard is great, because it makes it harder and harder for the characters, and even for us as viewers, to deny that Lottie's rituals are making a difference here.
As for Shauna and Tai's heart to heart in the snow, it's quietly one of the best scenes in the series thus far. Aside from the extraordinary circumstances of the show, Shauna being freaked out that Lottie and the rest of the group are more obsessed with her baby than she is feels like a common experience for many moms-to-be who face tremendous pressure and anxiety. Sophie Nelisse is phenomenal here, and Jasmin Savoy Brown is a terrific screen partner to boot. Of all the scenes in the episode, this one feels the most real.
Both of Misty's storylines reach a fever pitch and develop in unexpected ways. In the '90s, her confession to Crystal/Kristen that she smashed the plane's emergency transmitter leads to her poor "bestie's" untimely death, which will obviously be problematic for Misty to cover up moving forward (as Crystal said in horror before her demise, Misty is a bad actor).
But the great thing about this surprise death is how the show uses it to juxtapose what's going on with Misty and Walter in the present-day. Misty got close to Crystal, and it led to her death. With Walter, it seems Misty is afraid of getting too close to him and dooming him to the same fate as Crystal. The synergy between her past and present storylines is evocative and elegantly done.
At the start of the season, the adversarial dynamic between adult Nat and Charlotte wasn't nearly as entertaining as the oil-and-water rapport Nat and Misty had last season. But as Nat has spent time on Charlotte's compound, gotten closer to Lisa, and come to find that Charlotte isn't as dastardly and delusional as she once thought, their conversations have become more and more enjoyable to watch. This storyline is in a great place right now, and now that they seem to be on the same page with regards to what Travis was trying to tell them before he died, things should get very interesting as the season progresses, especially now that Misty is the newest resident in the House of Purple.
Javi finally speaking—to Ben of all people—and telling him that his "friend" told him not to come back to the group is yet another mini mystery thrown on the pile of supernatural oddities cropping up in and around the cabin. But at this point, the "what's really going on in the woods" game is getting a little old. We've seen visions, markings, inexplicable animal self-sacrifices…we get it. There's something strange and dangerous out there. But it seems about time that we get some solid developments—or heaven forbid, a few answers—to help prevent the mystery from going stale.
Callie and Detective CreepFace's courtship has been the show's weakest subplot since it started, but mercifully it's come to an end thanks to Callie finally figuring out that the douche she's been seeing isn't who he says he is. Shauna, Jeff, and Randy's failed attempt to throw Kevin and Matt off of their trail by staging an affair is a hilarious bumble (poor Randy—he just has no idea), and while the whole operation feels a little contrived, it does move their storyline in a more interesting direction. The irony of Shauna's family having to tell a collective lie to the world to finally be honest with one another is just brilliant. Shauna's present-day story is really coming together, and with teen Shauna apparently going into labor, we should be in for some serious drama next week.