Features
The Songs and Soundtrack of Yellowjackets Season 2
From the '90s and beyond - here are the songs featured in Yellowjackets season 2, all from a variety of genres and decades.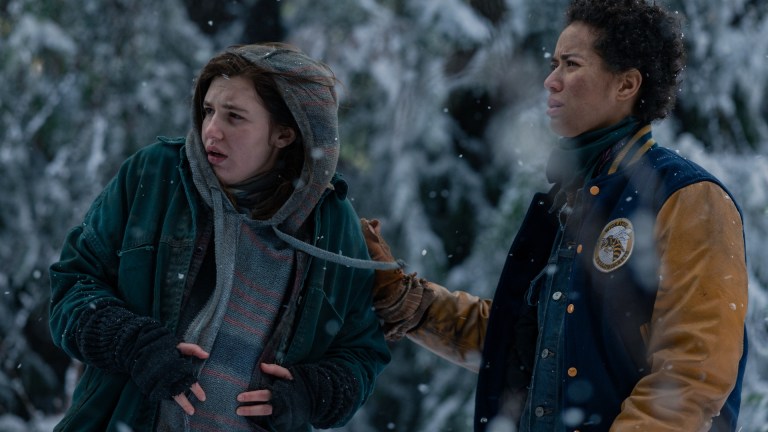 This article contains spoilers through the latest episode of Yellowjackets
Yellowjackets has been doing deep-cut needledrops since before Stranger Things season 4 made it cool. While the series certainly leans into the late '90s setting of the plane crash flashbacks for much of its music (as it should), the present day timeline keeps the series from feeling too limited in its scope of song choices. Yellowjackets is one of the few shows that could pull off having songs from Papa Roach and Sharon Van Etten in the same episode without it being too distracting. Instead, this eclectic mix of music shows that the music supervisor and showrunners know how important the right song is to the story.
Yellowjackets may cover heavy things like trauma and cannibalism, but that doesn't mean that its soundtrack can't be full of bops and bangers, including the title sequence song "No Return" by Anna Waronker and Craig Wedren. Here are the best needledrops from each episode, as well as the other notable songs featured.
Episode 6 – Qui
"F***k Tha Police" – NWA
I really hope that Jeff jamming out to angsty tunes in his car is a thing that keeps happening in Yellowjackets, because even though it's only happened twice so far, I have yet to be disappointed by his song choices. When Shauna and Callie are called into the police station for questioning, Jeff tags along to offer support. While he waits in the car for them, he rolls the windows down and blares NWA's "F***k Tha Police" making sure everyone knows whose side he's on. In an episode full of emotional moments like teen Shauna's lengthy birth, the baby-eating fake-out, and the adult Yellowjackets reuniting at Lottie's compound, watching Jeff show his support through this song is a much needed moment of levity.
Other Notable Songs:
"Song 2" – Blur
"Your Woman" – White Town
"Rescue Me" – Madonna
"Sorted for E's & Wizz" – Pulp
"Pitseleh" – Elliott Smith
Episode 1 – Friends, Romans, Countrymen
"Last Resort" – Papa Roach
It was hard to choose just one great song from this episode, but Jeff's (Warren Kole) angst-filled car jam sesh to "Last Resort" by Papa Roach is so unexpected and hilarious that it has to be talked about. Jeff is doing his best to be supportive of Shauna (Melanie Lynskey) and he continues to help her cover up Adam's (Peter Gadiot) murder. This includes going to Adam's art studio that happens to be covered with paintings and sketches of Shauna and getting rid of the evidence. When they get back home, it becomes clear that as much as Jeff still loves Shauna, he is also struggling to fully embrace her darker side. Jeff's golden retriever energy makes him seem like the last person who would have Papa Roach on his playlist, and yet the unexpectedness of this song choice is what makes this scene so good.
Other Notable Songs:
"Seventeen" – Sharon Van Etten
"Drown" – Smashing Pumpkins
"A Night in Rio" – Graham Francis de Wilde
"#1 Crush" – Garbage
"Cornflake Girl" – Tori Amos
Episode 2 – Edible Complex
"Climbing Up the Walls" – Radiohead
With lyrics that include "you know we're friends till we die," "open up your skull" " and "lock the kids up safe tonight," what better song to accompany the Yellowjackets' first foray into cannibalism than Radiohead's "Climbing Up the Walls?" This song plays as the teens eat the freshly barbequed Jackie, and we see them shift in and out of reality, imagining that they're eating a feast of regular food instead of a dead friend.
Other Notable Songs:
"No Room For A Nihilist in Hollywood" – Peachy!
"Inertia Creeps" – Massive Attack
"Little Queenie" – Sadgirl
Episode 3 – Digestif
"Bells for Her" – Tori Amos
This episode ends with both versions of Lottie (teen version played by Courtney Eaton, adult played by Simone Kessell) struggling with the weight of their visions. After a flock of dead birds fall onto the cabin, teen Lottie reassures the others that they aren't diseased, but rather a gift from the forest. Adult Lottie is starting to have visions for the first time since their rescue and sees the beehives of her wellness retreat covered with blood. "Bells for Her" by Tori Amos plays over both scenes, its haunting melody conveying the danger that awaits Lottie in both the past and the present. The lyrics of the chorus "Can't stop what's coming. Can't stop what's on its way" further emphasizing the impending doom that Lottie feels.
Other Notable Songs:
"Past Not Forgotten" – Parachute Men
"These Are Days" – 10,000 Maniacs
"Full Time Jack Move" – Larry Thomas West
"Seether" – Veruca Salt
"When I Go Walking" – Popecoke
"Take Me Down" – Sonica Disturbia
Episode 4 – Old Wounds
"No Return" – Alanis Morissette (Craig Wedren and Anna Waronker cover)
Even though Craig Wedren and Anna Waronker's "No Return" is a certified bop on its own, Yellowjackets introduced an update to the iconic title sequence song this week with a cover by the legendary Alanis Morissette. But not only did we get to hear this rocking cover over the opening titles of the show, a more sinister version also plays in the background of teen Lottie's mall hallucination. As she wanders through the mall, eventually finding her friends in the food court, the slowed down lyrics play over the mall's speakers before getting louder as Lottie starts to succumb to the unforgiving cold of the wilderness in the real world.
Other Notable Songs:
"Rainbow Tour" – Andrew Lloyd Webber, Original Evita Cast
"Angst in My Pants" – Sparks
"Won't Waste a Day" – James Donald Davies and Martin Jackson
"Mother" – Danzig
Episode 5 – Two Truths and a Lie
Episode 5 starts off strong with 4 Non Blondes' "What's Up" playing in the background as we see "what's going on" with adult Van (Lauren Ambrose) and the queer video store she owns before Taissa (Tawny Cypress) comes crashing back into her life. But as perfect as this song is for adult Van's introduction, the best song of the episode has to go to "Mother" by Danzig because of how perfectly it captures the drama of teen Shauna's (Sophie Nélisse) birth. Back in the wilderness, a harsh winter storm comes out of nowhere just as Shauna starts having contractions, forcing her and Tai (Jasmin Savoy Brown) to fight their way back to the cabin through the strong winds and snow. They make it back to their friends while the slightly foreboding guitar chords of "Mother" start to play in the background. Akilah (Nia Sondaya) asks if Shauna is in labor, to which Shauna replies with a loud, primal scream as the scene cuts to black and "Mother" continues to play over the credits. Looks like teen Shauna is about to be a mother, whether she's ready to be or not.
Other Notable Songs:
"What's Up?" – 4 Non Blondes
"Big Mouth" – Necking
"Stayin' Alive" – Tropical Fuck Storm (Bee Gees Cover)
New episodes of Yellowjackets season 2 premiere via Showtime.com on Fridays and Showtime on Sundays.