Reviews
Yellowjackets Season 2 Episode 1 Review: Friends, Romans, Countrymen
The Yellowjackets season 2 premiere answers all sort of pressing questions, including "hey, why is the episode named that?"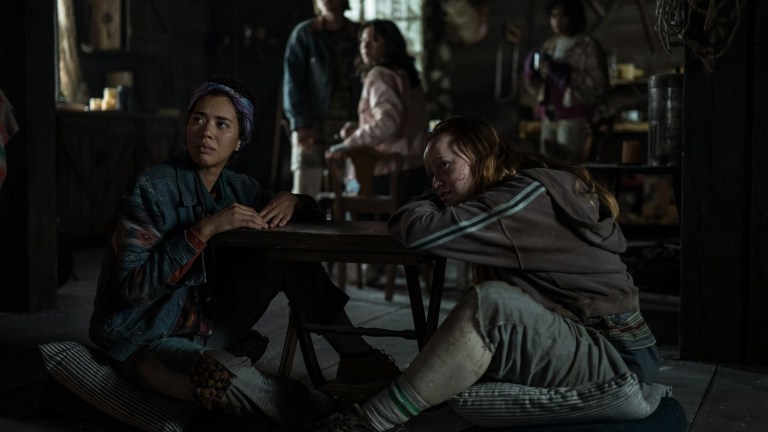 This Yellowjackets review contains spoilers.
Yellowjackets Season 2 Episode 1
Yellowjackets' season 2 premiere opens with an extended montage centered on the series' emergent antagonist, cultish mystic Lottie. It's set to Sharon Van Etten's "Seventeen," a Springsteenian anthem in which she has a conversation with her younger self. "I know what you're gonna be/Afraid that you'll be just like me/But you're just seventeen." The song is a perfect fit for this manic, macabre coming-of-age tale. Clever artistic choices like this are what made season 1 so damn cool, and judging from this first episode, season 2 looks to be another smart, stylish cocktail of murder, mayhem, and mystery, garnished with a twist of nostalgia for good measure. 
We learned at the end of last season that Lottie was the one who sent her fellow survivors the cryptic postcards, likely killed Travis, and most definitely arranged for Natalie's abduction. And now we find out that she was so transformed by her time in the woods that, upon returning home in 1998, her parents subjected her to FREAKING ELECTROSHOCK THERAPY to get her back to "normal." And as an adult she's attracted a flock who have committed their lives to her "Wicca bullshit" and do her bidding blindly, even if it means committing felonies, apparently.
Last season the show pulled off an impossible juggling act, presenting seemingly dozens of unique storylines and relationships across two timelines while making every one of them compelling, typically in some twisted or perverse way. Positioning Lottie as the center of gravity for both timelines feels like a natural evolution for the story. It'll be interesting to see Courtney Eaton featured more prominently this season, and Simone Kessel (Obi-Wan Kenobi) is an exciting addition to the cast.
Natalie's storylines seem to be the most tethered to Lottie's so far, with '96 Nat feeling Travis drift away towards Lottie in the wake of Javi's disappearance after she shows him trippy visions of "hope." And then there's adult Nat, who makes a stabby escape from her prison on Lottie's compound only to find her old friend in command of an army of bedsheet-wearing cultists who apparently bury their brethren alive. She offers Nat a message from the very-dead Travis, and man…on paper, it all sounds absolutely insane. But the show is so weird and so good that it all works in practice.
One of the wonkier aspects of the show is the disconnect between Sophie Thatcher and Juliette Lewis's performances. Aside from the fact that they don't resemble each other at all, they also seem to have slightly different interpretations of the character. It may be that Lewis is too idiosyncratic to match. Still, both performances are terrific and serve their respective storylines well. There's just a lack of connective tissue between the actors that isn't present for the other teen/adult counterparts.
Case in point, Christina Ricci and Samantha Hanratty's respective takes on the maniacally dependent Misty align flawlessly. They truly feel like older and younger versions of the same person, and it's fun to watch Misty sociopathically navigate situations in both timelines. The present-day confrontation between Misty and the motel clerk who shall not be bothered is a hilarious display of passive-aggressive posturing, and it's juxtaposed nicely by young Misty, who's seemingly lost all confidence but may have found her first real ally in the warm-hearted Crystal.
Wait…Crystal? Who's Crystal? It seems the show has added a new face, and it'll be interesting to see how she's folded into the larger story. She loves musical theater, which we know adult Misty is obsessed with, so all signs point to her replacing Coach Ben as her new object of obsession.
Shauna's story looks to be even more complex and wickedly funny this season, with the cover-up of Adam's murder being the going concern for the foreseeable future. A subtle but notable change in this first episode is that Jeff—one of the most unexpectedly endearing characters on the show—graduates from side character to protagonist. We see things from his perspective for the first time, like when he finds odd catharsis in jamming out to Papa Roach's "Last Resort" in the car. Warren Kole and Melanie Lynskey have really found their groove with one another, and the looming specter of Adam will no doubt alter the onscreen couple's dynamic in fascinating ways. And now that Callie is onto her parents' schemes, the drama is about to get real thick.
'96 Shauna is going through a different kind of drama altogether. She's having heart to hearts with her dead bestie on the daily, and the episode ends with her committing the show's first act of cannibalism (chronologically). The C-word has been looming large for the entire series thus far, but it's still no less shocking to see, especially considering who's eating who.
Of the main storylines, present-day Taissa's has consistently been the least compelling. She's torn between her home life and her political career, but both subplots feel largely irrelevant to the rest of the show, with her most interesting interactions, by far, being those with her fellow Yellowjackets. Some of the familial drama just feels a bit awkward.
When Simone tells her to "stay the f*ck away" from their son, citing the diabolical stash of horrors she found in their basement, it's strange that she's coming at her with such anger. It's understandable that she's frustrated Tai won't seek professional help, but doesn't she realize that Tai sincerely has no idea about Biscuit's decapitated head in the basement? The rage-to-empathy ratio feels a little disproportionate here, especially when Van is so sweet and understanding with '96 Tai, even after all of the craziness they've been through.
Yellowjackets looks to be in top form as it kicks off its second season, with the main plot lines maturing in fascinating ways. Adult Lottie's nature cult, in particular, seems to signal a shift from the thus-far urban setting of the present-day storyline to a return to the wilderness, where the survivors may be forced to finally confront their traumas head-on. Lottie preaches to her flock that there's nothing more painful than hiding your "primal, elemental self." We'll see if she's able to lure her former teammates and unlock their primal, elemental selves as the season unfolds.
The first episode of Yellowjackets season 2 is available to stream on Showtime.com and Showtime on Demand now. New episodes premiere via streaming Fridays and cable on Sundays.