Features
How Yellowjackets Became TV's Buzziest New Drama
Showtime's Yellowjackets is slowly becoming that rarest of things in television - a word of mouth hit. And it absolutely deserves all this attention, and then some.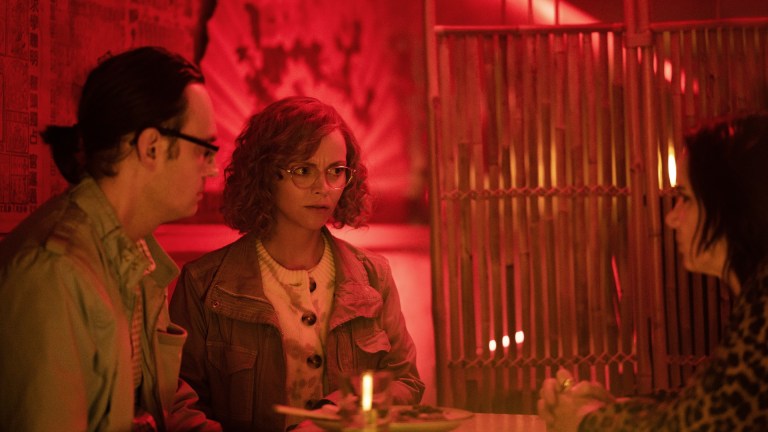 On paper, a story about a team of high school girls soccer players stranded in the wilderness after a plane crash feels like a CW Network fever dream (or a nightmare depending on how you feel about CW dramas). In actuality, Showtime's Yellowjackets has turned out to be one of television's most surprising and underrated new series, a fascinating mix of the best aspects of Lord of the Flies and Losttopped off with a banging 1990s soundtrack, a consistent sense of crushing dread, and a hint of cannibalism. Utterly fearless in almost every way, it's honestly one of the best shows on any network anywhere right now.
Part traditional teen drama, part '90s-set horror movie, and part modern-day mystery, Yellowjackets is a deliciously clever and disturbingly entertaining survival thriller that doubles as a rather deft exploration of the complex inner lives of teenage girls. The end result is something completely unlike anything else on TV at the moment, which explains the slow and steady drumbeat of genuine buzz (pun intended) that's been building around it since its November premiere. Maybe you haven't heard about Yellowjackets yet for some reason, but if that's the case, consider this a heartfelt plea to give it a try. (And when you do, please prepare to become the person that serves as an evangelist for the series to all your friends.)
Yellowjackets follows the story of the eponymous New Jersey state champion girls soccer team, whose chartered plane crashes in the Canadian wilderness where they are left stranded for 19 months. It also follows the story of a handful of survivors from that same crash 25 years later, as they find themselves facing both a blackmailer who claims to know their darkest secrets and a series of mysterious messages consisting of nothing but the same cryptic symbol that was drawn around their camp. This is all a lot of drama to keep track of, though the show does a rather phenomenal job of parceling out tidbits of information on all these fronts week to week. But what really makes the show work, in the end, is the cast of compelling women at its center.
Far too often, stories like this revolve around men. After all, pop culture constantly reminds us that teenage boys are generally bursting with barely contained violence. That men cheat on their partners because they can't help themselves. It's just their nature, after all. But while we're very used to stories about the complex hierarchies that exist between young women and the cruelties they visit on one another in their names, few are willing to look too closely at the very real rage and menace that often powers those same girls. Yellowjackets is more than willing to do so – it was originally pitched as Lord of the Flies, but with female characters – and it's why this show feels like such a breath of fresh air.
Since this is a series about teen girls, tried and true tropes and character archetypes abound among the crash victims. But Yellowjackets delights in subverting our expectations about what these young women should be and do, granting even the most second-tier characters interiority and complex layers of their own. Peppy squad captain Jackie (Ella Purnell) stumbles when asked to assume a leadership role in the woods and finds herself slowly being supplanted by her mousy BFF Shauna (​​Sophie Nélisse as a teen, Melanie Lynskey as an adult), who boasts a secret spine of steel and hidden desires of her own. Burnout Natalie (Sophie Thatcher/Juliette Lewis) drinks to deal with a traumatic home life but still manages to extend much-needed empathy to some of the group's most lost members. And socially awkward equipment manager Misty (Samantha Hanratty/Christina Ricci) discovers both purpose and popularity while putting her survival skills to use in the forest, but makes dark choices in order to hang on to these connections she's never experienced before.
Whether as teens or adults, these women are so much more than the neatly prescribed boxes that pop culture expects them to fit into, and Yellowjackets' clear joy in letting them be their most complicated (and sometimes worst) selves without judgment is a big part of the show's appeal. And its dual timeline format allows us to see the emotional fallout from their experiences and the complex relationships that spring up between the crash survivors play out over many years. The friendships between these women – both pre-and post-crash – are authentically messy, vacillating from uncomfortable competition and petty jealousy to quiet support, dogged loyalty, and genuine love (of both the platonic and sexual variety).
Bolstered by multiple twisty mysteries and a weekly airing schedule that allows viewers to obsessively dissect each individual installment in often excruciating detail, it's easy to see why this story has captured the imaginations of viewers everywhere. What really happened to those girls in the woods? Which of them actually made it back to civilization? One of the girls out there was pregnant – what became of her baby? Which Yellowjacket got eaten by (some of) the others in the series' opening sequence? And who's wearing that incredibly creepy furred antler mask? And that's all before we get to the potential supernatural element that's connected to all this, at least if Lottie's (Courtney Eaton) strange visions and chatter about curses are anything to go by.
These are just a few of the questions that fans on social media have been buzzing about over the course of Yellowjackets' first season, crafting elaborate theories about the identity of the Antler Queen and debating whether Jackie (who we know is no longer alive in the present-day timeline we're currently watching) most likely died in the woods with her friends or made it out of their collective nightmare to meet some other ill-timed fate back in the real world. And while we probably won't find out the answers to everything by the time the credits roll on season 1 – the show has, thankfully, already been renewed for a second season – it's hard to imagine a more fun or tension-filled journey to find out.
The Yellowjackets season 1 finale airs Sunday, Jan. 16 at 10 pm on Showtime.