News
Yellowjackets: The One Line Season 2 Won't Cross
The actors involved in Yellowjackets season 2 confirm that a certain storyline is not going the way you might fear it's going.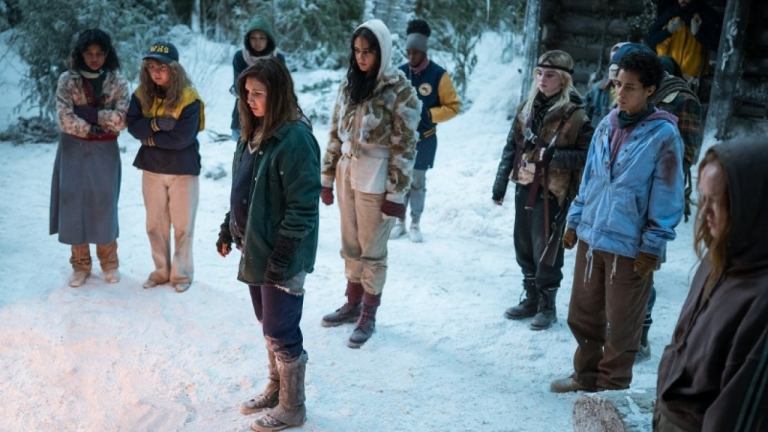 This article contains spoilers for Yellowjackets season 1.
Throughout its first season, Yellowjackets proved that it wasn't afraid to take risks. The series follows a high school girls soccer team whose plane crashes in the wilderness in 1996 while also showing us how the survivors have learned to cope (or rather not cope) with their trauma 25 years later. In the pilot episode we see an unknown teen girl being chased, killed, and eaten in a ritualistic ceremony in the woods. The girls almost kill teen Travis (Kevin Alves) in the woods after accidentally mixing mushrooms with homemade alcohol. The finale reveals that adult Taissa Turner (Tawny Cypress) sacrificed the family dog while in a fugue state in order to win the senate seat she's been campaigning for. But one of the things that fans have been concerned about is the fate of teen Shauna's (Sophie Nélisse) baby.
While in the wilderness, Shauna discovers that hooking up with her best friend Jackie's (Ella Purnell) boyfriend had some serious consequences – she's pregnant. Even though we know that adult Shauna (Melanie Lynskey) has a daughter, Callie (Sarah Desjardins) is too young to be the child that Shauna is pregnant with in the forest and Shauna hasn't mentioned having an adult child thus far. The circumstances of her pregnancy are already less than ideal, but throw in a potentially demonic forest, young girls losing their minds, and the confirmed descent into ritualistic cannibalism and it's understandable to worry about the baby's fate and whether or not it will be eaten.
However, a couple of the actors that play the older versions of these characters have already confirmed that eating babies is the one line that Yellowjackets definitely won't cross. In an interview with Jimmy Fallon last year (via The Wrap), Christina Ricci says that she asked the writers of the series "We don't eat Shauna's baby, do we?" and according to Ricci, "They said no." Further confirming this, Tawny Cypress confirms in a recent interview with Entertainment Weekly that there are a few lines that Yellowjackets won't cross, saying "They're not going to eat the baby. But beheading dogs? Totally."
This is reassuring given that newcomers to the show Lauren Ambrose and Simone Kessel, who play adult Van and Lottie respectively, discuss in the same EW interview how intense the finale is. In regards to making the finale, Ambrose says "It was just so intense. How are we ever going to recover from that?" While Kessel says this after filming the finale "I feel like I've been in a car accident. I'm still, like, shaking from it. It's insane." Season 2 may be crazy, and have a potentially wilder ending than season 1, but at least we don't have to worry about babies being eaten.
But just because we know that the baby won't be subjected to the cruel fate of cannibalism doesn't mean that Shauna's pregnancy won't end in tragedy. Between the lack of food, resources, and medical equipment, she has a long road ahead of her this season. Yellowjackets may not shy away from putting its characters through horrific and traumatic events, but at least there are still some lines that the series won't cross.