Features
Would I Lie To You's Funniest Lies And Truths
Feat. legendary moments from Bob Mortimer, Greg Davies, Claudia Winkleman and more, we celebrate Lee Mack, David Mitchell and Rob Brydon's modern TV classic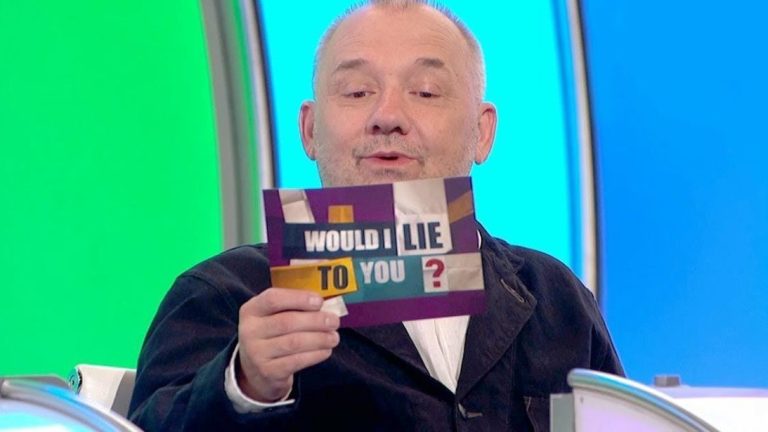 There are few bad days that can't be remedied by watching an episode of Would I Lie To You?
This award-winning BBC panel show has been making us laugh for over 15 years thanks to hilarious repeat performances from the likes of Bob Mortimer and Rhod Gilbert, and the top-tier chemistry between team captains Lee Mack and David Mitchell and host Rob Brydon.
It's created so many legendary funny moments that picking a favourite is almost impossible, but here are the Would I Lie To You? stories that have gone down in TV history:
16. Henning Wehn Goes Missing in Morocco
Henning Wehn appears to have gone to the Kevin Bridges School of Storytelling (more on that later) – his yarns have a similarly scatter-brained approach that are pleasingly impossible to predict. Here he claims Interpol listed him as a missing person when he went on a bike ride in Spain and ended up getting a train to Morocco and going to stay with a stranger who may or may not have been called Mohammed.
It's brilliantly bonkers throughout, but one particularly laugh-out-loud moment is when he explains the reason his parents called Interpol was because his friend basically pranked them into thinking he'd gone missing, and when David Mitchell asks what would possess his friend to play such a cruel trick, Wehn shrugs and says "Well, it's German sense of humour."
VERDICT: TRUE
15. Big Narstie Plays Ukabong
When Big Narstie is on the line-up for a show, you know you're in for a treat, and he certainly doesn't disappoint on Would I Lie To You? Here, he teaches us a supposed family game of his, Ukabong, which essentially seems to entail all his relatives gathering in a darkened room to whack each other with makeshift sock weapons while shouting "Ukabong". Of course, the other contestants want to try it out themselves, which only adds to the fun, but what makes this particularly memorable is Big Narstie's larger-than-life personality, which shines throughout.
VERDICT: TRUE
14. Lou Sanders Can't Sing
At first glance, Lou Sanders' claim that a singing teacher once refused to give her lessons because her voice was so terrible seems far-fetched… until you hear her sing. Sanders helpfully gives several examples of her questionable singing voice in this clip, each funnier than the last, and her helpless corpsing throughout only adds to the charm. Her story peaks when we discover her band's signature song is apparently called "Rocking In The Evening With My Friend Called Stevening". You simply couldn't make that up – or could you?
VERDICT: TRUE
13. Rhod Gilbert's Animal Hat Trick
Any of Rhod Gilbert's appearances on Would I Lie To You? would have been a worthy entry on this list, from his claim that he slept on a bench for a month to avoid his housemates to the time he sold his car for some tapas, but we've chosen this example – where he claims he got fired from a zoo for taking photos of the animals in hats – to show how he's equally entertaining whether lying or telling the truth.
He's one of those comedians that makes it look easy, leaving the audience weak with laughter from the first moments – where he claims he put a hippo in a flat cap – to his ludicrous attempt to invent a zoo name and plumping for the suspiciously-like-Whipsnade "Oaksnade". Mackenzie Crook nodding sagely at Rhod's story, like he's a discerning connoisseur of animal-hat-combos, is another excellent touch.
VERDICT: LIE
12. Claudia Winkleman's Animal Assignations
Winkleman is an absolute pro at this game, effortlessly weaving ridiculous-yet-somehow-convincing yarns that constantly leave us all guessing. As a result – and because she's famously a delightful kook – it becomes utterly plausible that she labels every person she meets as an animal, as she claims here. She has great fun assigning animals to her fellow contestants, with mixed reactions, from Lee Mack's horror at being called a beaver to Rhod Gilbert's adorable pride at being described as a red setter puppy, and somehow when she describes herself as "97% camel, 3% mouse" it just makes sense. It's Winkleman's world, we're all just living in it.
VERDICT: LIE
11. James Acaster's Cabbage Fiend
The sight of Acaster pointing at a child and saying "I hate him with all my heart" simply shouldn't be as funny as it is, but there we go. This is also one of the rare times that the viewers of Would I Lie To You? had something of an advantage, as many had seen James Acaster's ongoing cabbage trolling on Twitter, so knew this daft story (that Mick was the son of his friend, and had been pranking him with cabbages for months, filling his bed with cabbage leaves and sending him cabbages in the post) was completely true.
Mick deserves serious brownie points for managing not to crack up as James recounts his antics, but what really makes this truth stand out is the pair's obvious adoration for each other.
VERDICT: TRUE
10. Lee Mack's Secret Liaison with David's Wife
The reason this clip is so terrific is the way the David Mitchell instantly plays along with the bit the second Lee Mack reads out the card, becoming increasingly agitated as he tries to ascertain why and how Lee has been "secretly liaising" with his wife – Only Connect host Victoria Coren Mitchell – behind his back.
The fact that it's quickly pretty obvious that Lee Mack simply pitched a question for Only Connect, plus David and Victoria being absolute Couple Goals, make this a short but very sweet moment on the show.
VERDICT: TRUE
9. Bob Mortimer, Chris Rea and The Egg
Bob Mortimer's Would I Lie To You? appearances are so iconic that now, whenever he's due to appear on an episode, his name trends on Twitter hours before the show even airs. You can't go wrong with any of Mortimer's many utterly bonkers stories, but we've chosen this one (the first of two in this list) because it's the perfect example of how his tales are so unfathomable and impossible to call that they're driving David Mitchell utterly mad.
The image of Chris Rea running Bob Mortimer a bath and leaning in to tell him "I've popped an egg in there for you", his aside that the singer had also sent him a gold doily, and the way Bob earnestly begs David "please don't base your decision on the albumen whitening", all adds up to a fantastically ludicrous few minutes of television that it's hard to forget.
VERDICT: LIE
8. Lee Mack and The Royal Wedding
10 years of wind-ups between Mack, Mitchell and Brydon led to this glorious moment, as Lee Mack tries to convince his co-stars that he got invited to Harry and Meghan's wedding, but they didn't.
Brydon's incredulous, whereas Mitchell seems so haunted by the prospect that Lee might actually be telling the truth he goes through the five stages of grief before our very eyes. Mack plays an absolute blinder, keeping us all guessing, and the twist at the end is simply *chef's kiss*. Delicious.
VERDICT: LIE
7. Chris McCausland's "Rude" New Neighbour
From the off, this claim – "I thought my neighbour was ignoring me, and he thought I was ignoring him, until he found out I was blind, and I found out he was deaf" – is so outlandish it's impossible to imagine it's true. Chris McCausland has us in the palm of his hand throughout with his razor-sharp wit and refreshingly frank, matter-of-fact comedic takes on his blindness.
Particular highlights include his assertion he could probably drive on the motorway "if they had them things from the bowling alley down the sides", and him revealing that his phone reads out emojis for him, for some reason referring to the main smiley face as "smiling face with normal eyes".
VERDICT: TRUE
6. Lee Mack's Bermuda Girlfriends
One of the great traditions of Would I Lie To You? is Lee Mack being given increasingly impossible claims to pass off as truths, which results in the double delight of David Mitchell forensically picking the story apart while Mack shows off why he's the quickest wit in the business.
This is a masterclass in the genre: Lee has to convince David that the initials of all his past girlfriends spell out Bermuda, and it goes about as well as you'd expect. Top marks to Mack for choosing the most ridiculous names of all time, from B for Brenda to D for Delia, which also just so happens to be his mother's name…
VERDICT: LIE
5. John Cooper Clarke's Monkey Roommate
It's hard to pick a favourite line from punk poet John Cooper Clarke's brilliantly authentic storytelling here, all greatly improved by his gorgeous Mancunian twang, as he tries to convince David Mitchell, Chris McCausland and Judi Love that he spent three months pet-sitting a monkey in Amsterdam back in the 1970s.
Hot contenders are: "Sometimes there are things in life that are a disappointment, but living with a monkey isn't one of them", "I threw it, as if t'were a cat", or "it shrieked once and once only, but for about 10 minutes, like it was plugged into the mains." Massive bonus points for Lee Mack's mega-quick monkey wrench quip.
VERDICT: TRUE
4. Greg Davies Says "Vegetables"
Taskmaster's Greg Davies has gone viral for impressions before, when he disastrously attempted to take on boxer Chris Eubank on 8 out of 10 Cats Does Countdown, but his impression of a former Austrian teaching colleague saying 'vegetables' is just as memorable. There's an infectious glee in the way he tells this story, embellishing it with some superb bonus anecdotes, including the time they lost all the children's passports on a school trip to France.
Another Davies WILTY appearance that has to get an honourable mention is the time he brought his own mother on the show as a guest.
VERDICT: TRUE
3. Kevin Bridges Accidentally Buys a Horse
Despite airing over a decade ago (2010 to be precise), this moment will probably be near the top of most Would I Lie To You? fans' lists of favourites, thanks to Kevin Bridges' absolutely superb bluffing. He tries to convince David Mitchell, Keeley Hawes and Stephen Mangan that while on holiday in Bulgaria, he and his friend thought they were spending £90 to go horse riding for the oddly specific "25 minutes, and then the horse needs a break for five minutes", but discovered they'd actually bought the horse outright.
The joy of this is that Bridges knows precisely how to lure David Mitchell into a frothing rage at the absurdity of his tale, keeping quiet in all the right places, and completely winding up Mitchell, the audience and even Rob Brydon as he seemingly innocently struggles to stick to his story. It's pure, unadulterated chaos, and it's wonderful.
VERDICT: TRUE
2. Rob Brydon's Cuddle Jumper
There isn't a second of this clip that isn't hysterically, laugh-out-loud funny. The vision of Rob and his wife wearing that obscenely ugly orange jumper together is amusing enough, but Nick Hewer's suggestive facial expressions while he and Rob model the jumper leads to one of the few instances in the show's history where we see David Mitchell absolutely beside himself with laughter, and it's a joy to watch. Lee Mack getting inside Miranda Hart's jumper, and their accidental synchronised speech, is the comedy cherry on the cake. Absolutely iconic.
VERDICT: LIE
1. Bob Mortimer: Theft And Shrubbery
If we had to pick the best Would I Lie To You? moment of all time, this would win hands down. It was the moment that took the show from good to iconic, and cemented Bob Mortimers' reputation as the ultimate WILTY contestant.
Where do we start with this one, where Bob claims to have played a childhood game called Theft and Shrubbery? There's his description of his memories as "fingerprints on an abandoned handrail". Then comes his school friends' incredible nicknames – "Neil Overall – Gerry Dungarees' son" and "Gary Cheeseman", who has a big head, leading to the memorable line: "Sniper's dream, they used to call him…". And that's before we even get to the game itself, which leads to the unforgettable image of him creeping through strangers' gardens yelling "WE DO BEG YOUR PARDON, WE ARE IN YOUR GARDEN!"
It's five minutes of pure joy, and rewatching it will simply never get old.
VERDICT: TRUE
Would I Lie To You? Series 16 is available to stream on BBC iPlayer