Features
The UK TV Panel Show Is Dying (But It's Probably For the Best)
The cancellation of Mock the Week marked another nail in the coffin for UK TV panel shows. Is this the end of an era?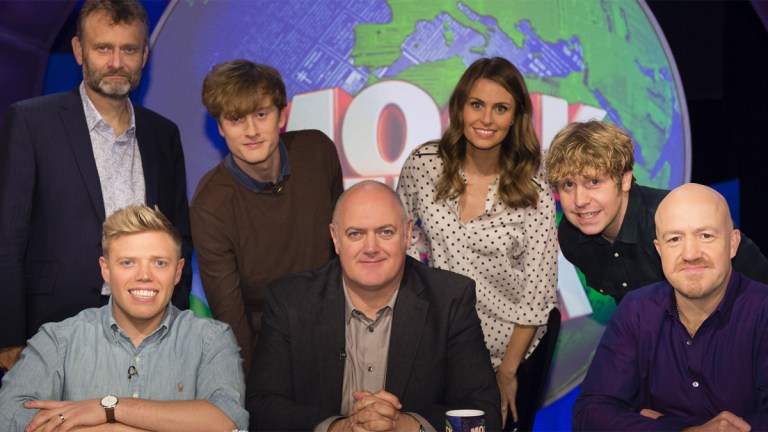 Last month, Mock The Week was cancelled after 17 years on air. The satirical comedy was only one of a flurry of modern panel shows featuring teams of comedians, spawning from the format used in Have I Got News For You that emerged during the nineties and noughties. Taking cues from long-running HIGNFY which hit TV screens in 1990, popular series such as Never Mind the Buzzcocks and the anarchic, absurd Shooting Stars were followed by the likes of QI, 8 Out Of 10 Cats, Would I Lie To You?, Celebrity Juice and, of course, Mock The Week. But with ratings plummeting and cancellations abounding, is it high time the genre called it a day? 
The Good, The Bad & The Ugly
These shows were initially a great way to finish off your evening after a long hard day at school or work, just like a late night chat show helps to wind our American friends down after the watershed. They were satirical, witty and a fun and fresh look at everything from politics and current affairs to pop culture and more highbrow knowledge. Many of us don't watch the news these days, especially since the rise of the smartphone. It's dry, often repetitive, and chockablock with filler content about the royals and celebrities. Have I Got News For You gave us a quick and entertaining synopsis of the week's top stories when few could be bothered to watch a full half hour of serious news every day. QI arguably educated the country to a higher standard than the national curriculum and spawned books and games equally chockablock with interesting factoids. Meanwhile Never Mind The Buzzcocks helped us gain street cred with an encyclopaedic knowledge of the last four decades' worth of popular music, largely thanks to Phill Jupitus. Panel shows were the kind of half-hours that had you learning and laughing, that you could stick on in the background, eyes half asleep and giggle along to, nodding your head in agreement with the hilarious observations of the late Sean Lock on 8 Out Of 10 Cats, who often felt like the whole nation's grumpy dad. 
Along with occasionally being educational, comedy panel shows gave up-and-coming comedians a space to earn their chops alongside well-established acts, with many going on to tour the country with their own sold out stand-up live shows thanks to the likes of Buzzcocks or Cats. But only if they could stand the heat, and manage to say their bit. Because, well, comedy panel shows didn't always stick to the rules.
Nobody was safe on these comedy panel shows and guests would often be the victim of a tirade of insults, which only added to our laughs, especially if they stormed off in a huff. The must-watch seasons were those that featured the most shockingly brutal hosts, like Buzzcocks' Simon Amstell and Mock The Week's Frankie Boyle. In the last decade or so, hurling shocking abuse at celebrities has lost its humour – if it ever had any. Simon Amstell and Frankie Boyle have moved on, so shouldn't we?
Since emerging from radio and successfully making the transition into the world of television in the late 1940s, panel shows have remained a boys' club for the majority of their time on the small screen. 8 Out Of 10 Cats former team captain Aisling Bea – who has done her time, and then some, in the world of comedy panel shows – has recently revealed on The Last Of Your Laughs podcast, that she had a terrible experience early on in her career. When appearing on an unnamed panel show, she recalls talking at the same time as a male comedian:
"I remember I went to speak at the same time as this guy and I didn't know that I was supposed to and still don't know this fact because I refuse to learn it that when a man goes to speak and I go to speak at the same time that he would get, like, first dibs."
Following the recording of the show, she could see that the host was irritated and asked him if she had done okay, only to be met with: "'well, the thing about a panel show is, Aisling, you know, the host is like the dad and you're sort of like brothers but when daddy or whatever is talking, the little girl should shut the f*** up." Bea apologised profusely and returned to her hotel room sobbing, feeling like throwing in the towel over the incident.
Aisling Bea's experience is echoed with other female comedians' criticisms towards panel shows. In 2009, Victoria Wood accused the genre of being "male dominated" and "testosterone-fuelled". Jo Brand agreed, commenting in her brilliant op-ed for The Guardian: "Women don't want to go on panel shows for six reasons. 1) They won't get a word in edgeways. 2) They may be edited to look stupid. 3) They may get the piss taken out of them. 4) They may not be funny. 5) They don't like competing for air time. 6) They may be patronised, marginalised or dismissed." She goes on to explain that QI is a great space for women, but Mock The Week is one of the worst, not just for women but for both genders – perhaps one of the reasons its ratings declined – along with They Think It's All Over (which came to an end in 2006) with whose regular panellist Rory McGrath, Brand would regularly "lock horns" due to his "'all sportswomen have moustaches and are dykes' lines".
But it's not just the sexism that will be the genre's demise. Comedy panel shows have become stale, like anything would when it's been left out too long. The same panellists, the same guests, the same jokes. There is a severe lack of diversity, not just in terms of gender or race, but in terms of variety of guests. Have I Got News For You has not only had the same two team leaders since its inception in 1990, but its guests are equally as unvaried. Victoria Coren Mitchell has appeared over 24 times, Jack Dee has hosted 16 times while Alexander Armstrong has presented 37 times. What's more, many of these figures do the rounds, featuring in a different panel show each week (or so it seems!). Besides, with the rise of social media, we no longer need anyone to point out the irony in the latest political news or poke fun at the latest "it girl", we are doing it ourselves, and with the political climate feeling a hell of a lot heavier, perhaps social commentary-based humour just isn't as appealing.
Never Mind the Buzzcocks was axed in 2015 and it was a tragic hit for comedy panel shows at the time. It's since returned to a new home on Sky, where it's about to air its second series with Daisy May Cooper as the show's first female team leader. Reviews of the reboot have been largely lukewarm with a sense of 'so what?'. The "British institution" that is Have I Got News For You is still alive and ticking, but at this point, it's in a repetitive time loop whereby the headlines change but the text stays the same. The every man for himself attitude just doesn't sit right with modern audiences. Comedy panel shows often descended into chaos, with comedians entering into shouting matches in a bid to have the last laugh. This can mean many of the less experienced, or not so loud, personalities get left behind and watching it becomes boring and more about egos than genuine wit. So what can be done to save these beloved British shows before another one bites the dust just like Mock The Week, if anything?
Too Little Too Late
The first real step forward for comedy panel shows was the marriage of 8 Out Of 10 Cats with Countdown. Not only did it keep a longstanding well-loved British game show alive, it made it funny – infinitely improving it. What's more, it meant women were a permanent feature, with Rachel Riley and Susie Dent assuming their Countdown roles. The more structured format also makes room for any female or non-white-male contestants and nobody can shout over anyone else. Jimmy Carr's host also, while edging into the dark, dry wit and insult humour of Boyle and Amstell, laughs at himself and is a hugely popular presenter.
In 2014, the lack of women was addressed with BBC director Danny Cohen outwardly banning all-male line-ups. Yet forcing women onto panels and one token female becoming the norm is just as problematic. Despite these changes, a 2016 study found that only one comedy panel show in the history of the BBC has had an all-female line-up, and out of 4,700 episodes analysed 1488 were made up solely of men. Only 31% of appearances on comedy panel shows are women, even today, and even since the BBC ban on all-male line-ups, Mock The Week only ever had one token female for the rest of its time on air. Less than a quarter of the guest hosts of Have I Got News For You have been female, and many of them, including Jo Brand, have featured more than once.
Also in 2016, Sandi Toksvig replaced Stephen Fry as presenter of QI, but this wasn't particularly helpful as QI was perhaps the only panel show that didn't really need a woman to take over hosting duties. Fry always remained a courteous and supportive host to female participants and the show never had the same boys club feel as many of the others. The departure of Fry, a national treasure, many folks stopped watching – even if Sandi Toksvig is a brilliant, knowledgeable host. Insert Name Here, hosted by Sue Perkins, also premiered in 2016 with an equal number of female to male panellists, but the show was cancelled by 2020 – so perhaps it isn't all about representation, maybe the whole genre needs a complete rethink in order to satisfy modern viewers.
More recently, Taskmaster injected new life into the panel format, with its non-traditional game-style tasks. It lends itself to a more down-to-earth and less aggressive type of panel show without aggression and vying for camera time with shocking quips. The show sees comedians set a variety of tasks and judged by presenter Greg Davies alongside show creator Alex Horne. Taskmaster has also always had a variety of comedian participants, with almost always an equal selection of male and females, but its unique set up – so different to any other panel show that it barely fits the genre – is what made it so popular. Its comedy is more situational, throwing genuinely funny people into strange situations to perform bizarre tasks and their reactions to it makes for laughs that aren't all about shock value and aggression.

Whatever changes have been made to the traditional panel show, it's clear that nothing works except complete genre overhaul. The new generation doesn't care for men aggressively arguing with other men to shoehorn in the better joke, nor do they care for humiliating the latest celebrity. With streaming being the first and foremost way that most people watch television, why would you pick a panel show when you could watch Peaky Blinders or The Sandman instead? We are no longer governed by a late night schedule, and so, perhaps, the heyday of panel shows has passed and maybe the cancellation of Mock The Week is just the beginning of the end. Young folks and even Millenials and Gen-Xers have lost interest, and while the older generation are seemingly happy with watching the groundhog day that is HIGNFY, perhaps it'll prove to be the last archaic comedy panel show still standing. The rest of us, if we care at all, are happy reminiscing with re-runs on Dave and perhaps the odd Christmas special.