Features
The Divisive Wonder Woman TV Pilot That Never Aired Was Actually Ahead of Its Time
The Orville and Agents of SHIELD star Adrianne Palicki played Diana of Themyscira in an unaired Wonder Woman pilot. What happened?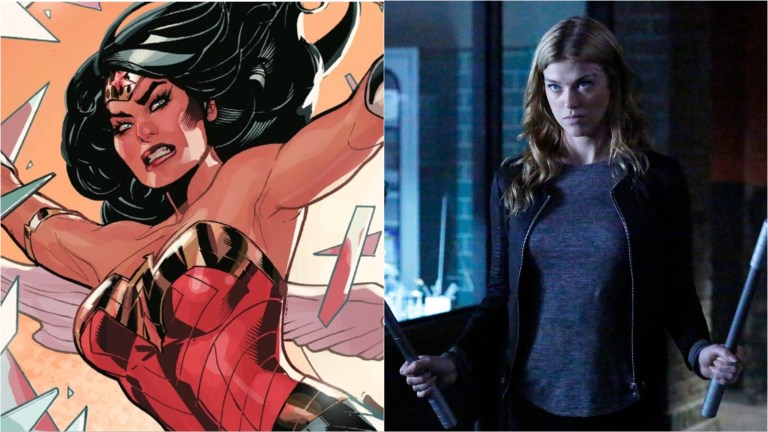 Back in 2011, more than three decades after Lynda Carter signed off as the character and some five years before she'd make her big-screen debut in Batman v Superman: Dawn of Justice, Wonder Woman starred in her own modern-day TV show…well, sort of.
Writer-producer David E. Kelley (Ally McBeal, Big Little Lies) and Warner Bros. Television managed to sell the idea of a Wonder Woman TV series to NBC, which ordered a pilot. Adrianne Palicki – best known for Friday Night Lights and, more recently, The Orville and Agents of SHIELD – was cast as Diana, while the supporting players included Elizabeth Hurley, Cary Elwes, and a then largely-unknown Pedro Pascal.
The pilot was shot in early 2011, and although the series was anticipated to be part of NBC's lineup that fall, the network passed in May of that year (the pilot remains unaired, although a workprint version, minus many visual effects, can be found online).
For Palicki, who tells Den of Geek that getting to play Wonder Woman was a "childhood dream," NBC's rejection of the show was a heavy blow. While Kelley told the Hollywood Reporter in 2013 that "we made mistakes" with the pilot, Palicki today believes that the show was just the victim of poor timing.
Although films like The Dark Knight and Iron Man had already launched the next wave of superhero movies, it really wouldn't be until 2012 – a full year after the Wonder Woman pilot was produced – that The Avengers became a box office phenomenon and, just as importantly, Arrow launched the Arrowverse on the CW network.
"It was just right before all that hit hard," says Palicki. "[Wonder Woman] was just like, two years too soon."
The actor adds that she "enjoyed every moment" of making the pilot: "I loved the version of the character," she elaborates, "where she has pretty much three different personas, and you really feel for this person who you think is like the luckiest person in the world, but who's lonely. I did like that idea. I think if it been made four years later, it'd still be on."
A Different Version of Wonder Woman
Kelley's Wonder Woman did downplay the character's Amazonian origins to some degree in favor of giving her a sort of triple identity. Wonder Woman is already an established superhero in the pilot, and the world also knows her as Diana Themyscira (there's the nod to her home), the head of a corporation that actually merchandises the Wonder Woman persona as a brand.
But in order to get some time to herself, when Diana takes off her costume or leaves the corporate offices, she assumes the role of quiet, unassuming Diana Prince, who hangs out with her cat and watches TV in her apartment.
In some ways, the idea anticipates the big screen version of the character, played by Gal Gadot, who's seen in Justice League and Wonder Woman 1984 as working unobtrusively as an antiquities curator in a museum, with no one the wiser about her true identity.
Speaking of Wonder Woman 1984, the main villain in that movie, Maxwell Lord, is played by none other than Pedro Pascal. But his first interaction with the character of Diana, as a police officer named Ed Indelicato in Palicki's pilot, predated his arrival in the DCEU as well as his breakout starring roles in The Mandalorian and The Last of Us.
"He's just one of the loveliest people ever," says Palicki about her co-star. "He always has been. He was a huge Friday Night Lights fan, so when he got to work, he was geeking out, which is hilarious to look at him now…But he was just so easy to work with. He was always so good as an actor, but as a human, even when I see him now, he's just always so lovely. It hasn't got the best of him."
That Controversial Costume
As with any superhero property, even back then, Wonder Woman was the subject of both intense curiosity and controversy. "It was really funny how many paparazzi were around because it was such a big deal," Palicki recalls. "I had to leave my trailer in robes, top to bottom covering me."
The controversy arose from the first publicly released photos of Palicki in her costume, which traded Wonder Woman's classic star-spangled blue shorts for snug blue pants with stars running down the sides, which Palicki wears for the first half of the show before emerging in the shorts in Act Four.
"It was annoying because they didn't release the regular one," Palicki says now. "I did wear the old school version. But that's not what they released and everybody went crazy over the pants. That's why the end is the big reveal where she wears [the classic costume]. I was like, 'Wait, guys!' It was unbelievable. It was so crazy. We've come a long way [but] that was such a big deal at the time."
Joining a Special Group of Women
Although Palicki – who can currently be seen in the Hulu original movie Quasi – says that she has never had the chance to speak with either Lynda Carter or Gal Gadot about the role, she reveals that David E. Kelley did have early discussions with Carter about coming on the show as a guest for several episodes, had it gone to series. "I loved watching [her] show when I was a kid," Palicki says. "I wanted to be her. She's the most beautiful woman in the world."
In a way, Palicki did get to "be" her, joining the very small group of women who have played the legendary Wonder Woman in live-action. Even though her show was not destined to move forward, playing one of the most influential female characters in all of pop culture is an honor the actor doesn't take lightly, as she recalls her favorite moment from the entire experience.
"We were the first TV show to ever shut down Hollywood Boulevard for a couple of nights, and I used to manage a sunglasses store in the Hollywood and Highland mall, right there," she says. "And to be standing there, with all of these people around, in front of a camera, wearing a Wonder Woman suit, in front of the place I used to work, while I was trying to be this person, was one of the best moments of my life. It was just really, really surreal and beautiful."