Features
Why Myron Bolitar Isn't In Harlan Coben's Shelter TV Series
Mickey Bolitar's much more famous uncle has been replaced in the Prime Video thriller by a made-for-TV aunt.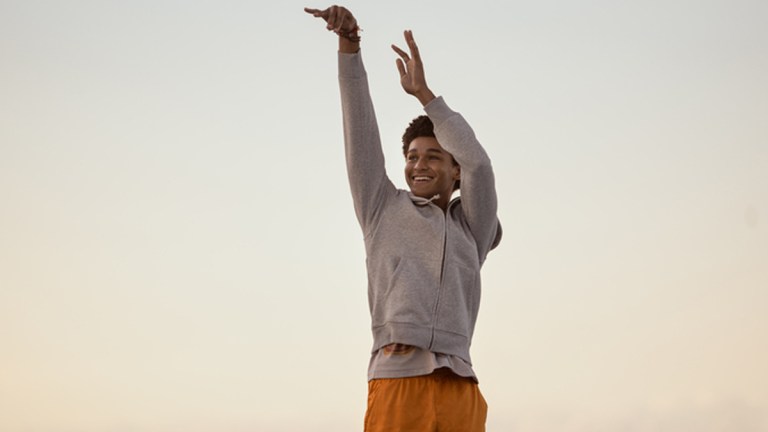 Swapping a book character from male to female for a screen adaptation is nothing new. It's usually done to even out the gender balance or modernise an older story. Not though, in the case of Harlan Coben's Shelter, an eight-part thriller now streaming weekly after its first three episodes arrived on Prime Video on August 18.
In the book Shelter, by aforementioned hit-machine Harlan Coben, the lead character Mickey Bolitar is the nephew of Coben's most famous character – Myron Bolitar. A talented high school basketball player who became a sports agent to the rich and powerful, Myron is the lead in an 11-novel series, which spawned a three-book Young Adult spin-off about his nephew Mickey (comprising Shelter, Seconds Away, and Found).
Because every streamer wants a bite of the profitable Harlan Coben cherry, the author has multiple adaptation deals. His main contract is currently with Netflix, which has already adapted several of his (mostly) standalone novels into TV series in English (Stay Close, The Stranger, soon Fool Me Once) Spanish (The Innocent), French (Gone For Good) and Polish (The Woods, Hold Tight), and is planning to adapt more.
Coben's Netflix deal has been so successful that in late 2022, it was expanded (cha-ching) to include the adaptation rights to his Myron Bolitar books. The only spanner in the works is that the rights to the Mickey Bolitar spin-off Young Adult books had already been snapped up by Prime Video.
The result is that Harlan Coben's fictional Bolitar family has been split between two streamers: Netflix gets Myron and his adventures, while Prime Video gets nephew Mickey, and never the twain shall meet. That means that when Netflix's Myron Bolitar series arrives, it won't feature his nephew Mickey. Coben explained to Deadline in late 2022:
"He is tied up at Amazon right now. So why knows, maybe we'll get to do something at some point but right now, there'd be no plans for him to be in the series. Mickey doesn't really cross into the Myron series except for one or two books, so I don't think that'll be an issue."
Mickey's Aunt Shira
Amazon has worked around the fact that their Mickey Bolitar series can't feature his uncle Myron (with whom Mickey goes to live in the original books) by creating new character Shira Bolitar. Shira, played in the series by Constance Zimmer, is Mickey's aunt, and sister to his father Brad. She's a successful lawyer in Seattle who returns to her family's hometown of Kasselton, New Jersey to raise Mickey while his parents are… well, that's spoiler territory.
Does that mean that Myron doesn't exist in the Prime Video series? It does not. One of Shelter's earliest shots is of a varsity basketball trophy inscribed to the man himself, and his basketball jersey hangs on the wall among his medals in his old basement bedroom in the family's New Jersey home.
Myron's name is even mentioned a couple of times in Shelter. In episode one, Mickey's schoolfriend Spoon and basketball captain Troy both mistakenly assume that Myron is Mickey's father, and he corrects them. Myron is considered "legendary" at Kasselton High says Spoon, and the Bolitar name is all over the school trophy cabinet.
Don't expect to actually meet Myron in the Prime Video series though, or hear much more about him after episode one. He doesn't appear in Shelter in person, doesn't feature in the show's flashbacks to the 1990s, and isn't even in any family photos at the Bolitar home. Even when Mickey's grandparents show up in episode three, their other son goes unmentioned.
Myron's role in the Mickey Bolitar books largely goes to his sister Shira. She's the one Mickey goes to live with in Kasselton, she's the one who struggles to connect with her teenage nephew, and she's the one with a secret about a key incident in Mickey's father's childhood. In the books, that's all Myron. In Shelter, Shira also gets her own personal storyline with flashbacks to her own high school days.
Netflix's New Myron Bolitar Show
Thanks to the newest Netflix deal, Coben fans can rest assured that (strike-related delays notwithstanding – streamers, pay your writers properly!) they will see Myron Bolitar on screen in the not-too-distant future. A Myron Bolitar Netflix series was announced in October 2022, and is planned to be Harlan Coben's first continuing TV series – all the other adaptations have been standalone with some Easter Egg connections making them all part of the same universe.
For those yet to meet him on the page, Myron Bolitar first appeared in 1995's Deal Breaker, and is the owner of a sports celebrity agency. In his early 30s, handsome and very tall, Myron's a former talented basketball player of Jewish heritage who went to Harvard Law School and does Taekwondo. Casting for the character is still to be confirmed, so… any suggestions?
New episodes of Harlan Coben's Shelter stream on Fridays on Prime Video.