Features
Why Do TV Game Show Sets Look Like Spaceships?
Answering trivia questions, or piloting the TARDIS? What's behind the trend for TV game show sets looking like they could go to Warp 5?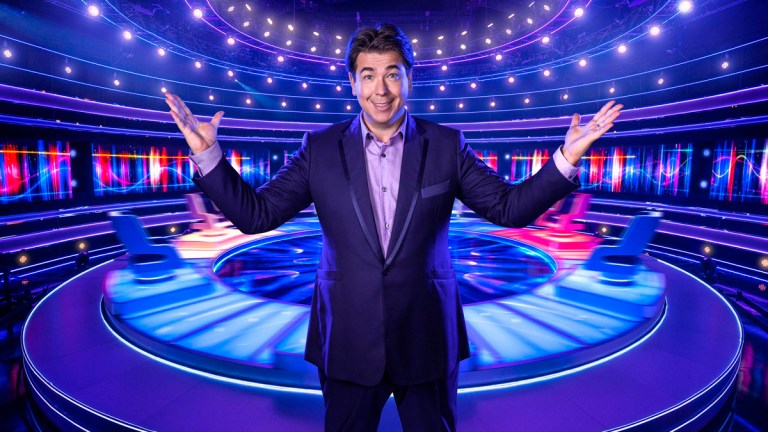 Glowing floor panels, pulsing lights, futuristic furniture, people standing at consoles with a look of intense concentration on their faces as information is displayed across a gigantic viewscreen. It all brings to mind one question – are you watching the latest big budget space opera, or have switched on a mid-afternoon weekday quiz show?
It doesn't matter whether you're watching Michael McIntyre's The Wheel or Warwick Davis' Tenable, there is something about the current generation of game show sets that leaves you never quite certain if the presenter is going to ask you what Madonna's biggest selling single was, or order you to go to Warp 5.
Of course, it wasn't always this way. There was a time where game shows looked more like faded end-of-pier variety shows, with velvet curtains and palettes of drab oranges, browns and beige.The lighting was as flat and boring as possible, as if the show was trying its hardest not to distract you from the absolutely scintillating action of Ian from Derbyshire answering questions about European capital cities.
But this all changed in the 1990s, with after-school staples like Blockbusters and Saturday night classics like The Generation Game assaulting the audience with strip-lights and glowing panels, with lighting changes and spotlights being brought into play to amp up the mood during quickfire rounds or a tense final question.
As cinematographer Neil Oseman points out in his blog on lighting the fictional game show "The Knowledge", quiz show sets through the ages are a handy signifier for the wandering time traveller trying to figure out what decade they've landed in.
One of the factors behind these trends, predictably, is technology.
Stephen Bryce is a production designer who has worked on numerous game shows and more, and is responsible for the futuristic sets you can see in The Family Brain Games, Viral Tap, and the companion show The Apprentice: You're Fired. He explained to us that many of the tools for making game show sets more dramatic and futuristic have simply become much cheaper and easier to use.
"Years ago, a lit edge used to need neon lights, glass tubes, and it was really expensive," Bryce says. "Now it's much, much cheaper. We have LED tape lights that are much cheaper and easier to install. The basically advances in technology make these options much more readily available."
There are still exceptions to the rule – shows like Richard Osman's House of Games, Taskmaster, or the Child Genius series that Bryce himself has worked on take on a different aesthetic entirely. But Bryce points out there is a common look among what he calls the "Saturday Night Shiny Floor" shows.
Games Without Final Frontiers
The reasons behind the space-age game show aesthetic go beyond cheaper funky lighting. There has, over the decades, been a great deal of osmosis between the genres in terms of talent, influences and ideas. Richard D James is a well-known production designer known primarily for his work on the sets of Battlestar Galactica, Star Trek: The Next Generation and Star Trek: Voyager, but he cut his teeth designing sets for game shows like Let's Make a Deal, The Choice is Yours, and Split Second.
While anyone looking to get into designing spaceship interiors might find designing gameshow sets a route into the business, but at the same time, ultimately their job is to realise a brief according to the requirements of the show's producers.
"When you design any show you're always designing in response to someone else's request," Bryce tells us. "You have to know how the show works, and design the set around the mechanics of the show."
For a straight up game show or panel show like University Challenge or QI, this can be as straightforward as a presenter, two teams, and having the right number of chairs or podiums for each team. With a show like Ant and Dec's Saturday Night Takeaway, the show might be faster moving and require people to move about the set. And today, of course, those considerations have to be combined with ensuring the set is also Covid-compliant.
But over the years it has not been uncommon for game shows to tie in science fictional elements, some of them more explicit than others. The name of Granada Television's The Krypton Factor is a legally daring reference to Superman's home planet, while shows like The Crystal Maze go even further still, introducing a time travelling obstacle course with an entire "zone" set aboard an actual spaceship.
The Most Dangerous Game (Show)
Science fiction is one of many sources of inspiration for gameshow set designers, as Bryce points out.
"As a designer you look for inspiration everywhere. It might be you're given a brief and the producers say they want it to look sci-fi, or they want a really retro sci-fi aesthetic," he says. "I might see the side of a building and it can inspire the look for a set married with something else. I'm always on the lookout."
It is a kind of osmosis that goes two ways. By which we mean, science fiction loves nothing more than a gameshow that might actually kill you.
Most recently we have been enjoying the murderous playground-game tournament of Squid Game, which in turn as inspired the not-at-all-dystopian real-life game show, Squid Game: The Challenge (which is going exactly as well as you would expect).
But that is only the latest in the deadly game show genre that includes everything from The Hunger Games to the Black Mirror episode, "Fifteen Million Merits", all the way back to The Running Man, with aesthetic influences flowing smoothly from real game shows into fictional game shows and back again.
The Doctor Who episode "Bad Wolf" literally had the Doctor transported into dystopian version of shows like The Weakest Link and Big Brother, and the sets didn't even need updating (although in a show littered with poorly aged references, it's got to be said these are the ones possibly hardest to explain to modern young viewers).
A Virtual World
Another reason for the similarities between gameshows and spaceship interiors is that they are ultimately both realised using the same technology, whether it's shonky plywood sets in the 80s, a judicious application of greenscreen in the early noughties, or still more high-tech solutions now.
Looking at modern science fiction, one of the game changing new technologies has been the introduction of giant LED screens to create virtual sets. In our interview with Jonathan Lee, a production designer on Star Trek: Strange New Worlds, we learned how the Enterprise's engine room is made to look bigger with the use of a huge LED screen to portray the ship's engine stretching off into the distance. The same technology has also been used on Avatar: The Way of Water. And it is a popular tool for game show set designers.
"It's being used an awful lot. The thing with these screens – they never used to be that high resolution but they're becoming bigger and bigger and cheaper and cheaper and they're being used because they're readily available," Bryce points out. "You can get a really dynamic set with a couple of bits of video wall and a floor. Some people love it, some people can't stand it, but it gives you maximum flexibility. If you don't like the set you can just change what's on the screen."
Bryce points to The X Factor as a show that really relies on video wall technology, with a set that can appear quite basic when all the lights are off, but really comes alive thanks to the video wall technology. It's also useful on game shows where you need the set to change from game to game.
But this crossover is down to more than just a shared aesthetic and tools. Science fiction and game shows have, ultimately, some common interests at heart, looking at ordinary people in unusual and intense situations.
This is why game shows make such a great science-fictional setting. They allow the creation of a dystopian society in microcosm- arbitrary rules, charismatic yet despotic figureheads, seemingly impossible challenges and incredibly high stakes (and once again, real life TV producers completely miss the "cautionary" in "cautionary tale" with shows like The Great Donor Show in 2007.
At the same time, the thought experiment aspect of many science fiction stories can inspire high concept quiz show ideas. As well as the real life Squid Game show, there was once a time when Big Brother was a reference to a science fiction novel rather than a game show in its own right, and its format was originally suggested by Quatermass writer Nigel Kneale's teleplay, The Year of the Sex Olympics. Even the impostor dynamic of seemingly un-sci-fi-ish shows like The Traitors owe a debt to space games like Among Us and movies like The Thing.
So next time you're enjoying a hellish vision of a dystopian space-age future, bear in mind you might get the chance to go there to compete for fantastic cash prizes.