Features
Why AI Was Such an Important Fight for the Actors Guild
Artificial Intelligence is a rapidly evolving technology, and SAG-AFTRA fought to protect actors' likeness from exploitation.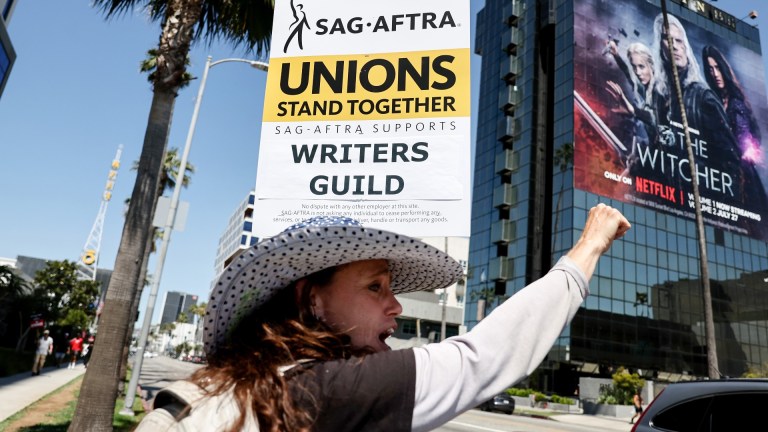 After 118 days, the AMPTP seems to have finally met the Screen Actors Guild's terms for a fair contract and a tentative deal between the parties has been reached. Like the WGA, SAG-AFTRA has been fighting for better wages, working conditions, and guaranteed protections against artificial intelligence. 
While an increase in residual payments has certainly been one of the major things that SAG-AFTRA has gone back and forth with the AMPTP on, the use of artificial intelligence has been an even greater sticking point throughout negotiations. Whereas residuals have a framework based on decades of network television that SAG-AFTRA can base their negotiations on as they push for equitable rates in streaming, A.I. is still new technology without a contractual precedent in the industry.
When SAG-AFTRA first announced that it would be moving forward with their strike in July, Chief Negotiator Duncan Crabtree-Ireland said during a press conference that the AMPTP initially proposed that "background performers should be able to be scanned, get one day's pay, and their company should own that scan, their image, their likeness and should be able to use it for the rest of eternity, in any project they want with no consent and with no compensation."
Even as the months passed, the AMPTP didn't seem to budge on their A.I. stance. Their most recent offer from only a few days ago contained something that is being referred to as a "zombie" clause, which gave studios the ability to essentially resurrect dead actors on screen without adequate compensation or consent from their estate or SAG-AFTRA. This clause also suggested that studios would only pay actors for an initial scan of their likeness rather than every time that their likeness is used.
While we don't yet know what's in the version of the contract that is set to be voted on by the SAG-AFTRA national board and union members, according to an official statement from the union, it contains "unprecedented provisions for consent and compensation that will protect members from the threat of A.I."
SAG-AFTRA has been so adamant about cementing protections against A.I. because it's been clear throughout the negotiation process that the AMPTP are willing to exploit the new technology as much as they can. This fight is about ensuring that all performers, from background actors to Oscar winners, have a say in how their likeness is used on screen and that people aren't replaced by uncanny replicas just because it's "cheaper."
Replacing actors, especially those considered "background," also threatens the livelihood of other workers in the film and television industry. The fewer actors a production employs, the fewer people in hair, makeup, wardrobe, craft, props, etc. are needed behind the scenes to keep the production going. If a big crowd scene is being populated exclusively by CG "people," then the studio doesn't have to bring in extra people to help them fit the look of the movie.
If SAG-AFTRA wasn't steadfast in their position now, then the AMPTP likely would have taken advantage of performers until this contract expired. With how rapidly technology is changing and impacting the industry, it's important that SAG-AFTRA stood firm in their fight to guarantee future generations wouldn't have to settle for less than they deserve. As details on this agreement are released in the coming days, hopefully the A.I. protections are truly as groundbreaking and "unprecedented" as they appear to be.