Features
Who Will Win Succession?
From the Roy children to WayStar execs to even a few wild cards, here is who could succeed Logan Roy on Succession.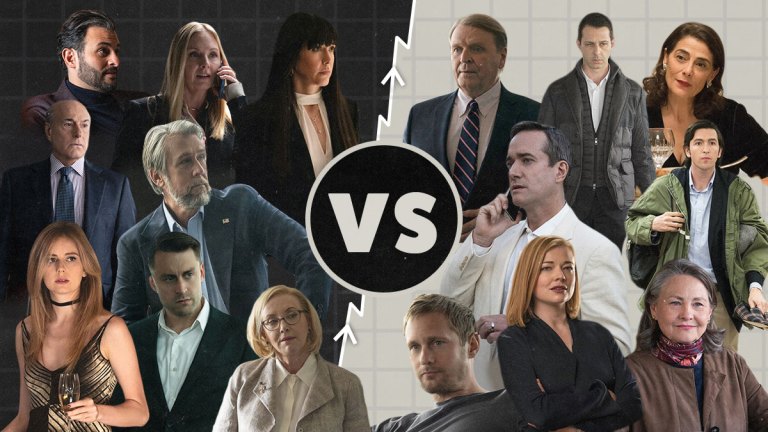 Look, nobody is going to ever "win" on Succession.
HBO's prestige drama following the uber rich Roy family's media empire isn't about winning per se. As we saw in season 4's riveting "America Decides," it doesn't matter who sits on the metaphorical throne as Waystar Royco CEO in the end – they'll still lose a big chunk of their soul and make the world a worse place in the process.
Still, the horse race among Logan Roy's children, his executives, his investors, and others along the way makes for some relentlessly compelling television. Even if victory will lead to only ruin, we still want to know who is gonna "win" this damn thing. With that in mind, we decided to turn to you, the reader, to figure out who will wear the Waystar crown when all the dust settles.
Over on Twitter and Instagram, we presented a series of polls that featured 16 Succession characters who could hypothetically succeed Logan Roy by the end of this fourth and final season. The polling was broken down into an NCAA March Madness-style bracket with candidates grouped into four distinct regions: The Roy Family Region, The Waystar Royco Exec Region, The Waystar Royco Investor Region, and The Wild Card Region.
Through four rounds, each contestant duked it out in a battle of wit and wills (i.e. who got the most votes) until we eventually ended up with a Final Four and then a champion. Here is how the tournament went, complete with our final choice for who will win Succession.
Round 1
The Roy Family Region
Kendall Roy over Connor Roy
A classic eldest son v. eldest son battle. While Connor is technically Logan Roy's oldest, Kendall was always the heir apparent. And that alone appears to have been enough to have him carry the day…regardless of how interested Connor was in politics from a young age.
Shiv Roy over Roman Roy
Shiv and Roman have perhaps the most volatile relationship of any Roy pairing. As we saw in season 4 episode 8, they have vastly different opinions regarding both politics and the continued existence of Waystar Royco. At the end of the day, our readers found Shiv's views to be at least slightly more palatable than Rome's.
The Waystar Royco Exec Region
Tom Wambsgans over Frank Vernon
Tom Wambsgans is a relentless social climber from the Midwest while Frank Vernon is just a mostly anonymous exec who keeps his head down and does his job. Ultimately all of ex Mr. Shiv Roy's flash wins out over Frank the Tank's workmanlike consistency.
Gerri Kellman over Karl Muller
Everyone respects longtime Waystar CFO Karl Muller for his innovative work in the '90s. But this is a "what have you done for me lately?" business and for our readers, ice queen Gerri Kellman has clearly done a hell of a lot more.
The Waystar Royco Investor Region
Lukas Matsson over Nan Pierce
It seems like someone is always on the verge of acquiring or being acquired by Waystar Royco. This matchup presents the two most prominent figures in those potential deals. PGM owner Nan Pierce put up a solid fight but she was unable to "bleed the Swede." Matsson moves on.
Stewy Hosseini over Sandi Furness
Investor Stewy Hosseini is one of Kendall Roy's oldest friends…inasmuch as Kendall is capable of having "friends." Those close ties helped catapult the smooth operate over Sandi Furness, the woman who took over for her father (and Logan's long time rival) Sandy.
The Wild Card Region
Greg Hirsch over Marcia Roy
Logan Roy's (most recent) ex-wife Marcia Roy is more ruthless and cunning than she lets on. Still, there's no way she could top the ultimate wild card Cousin Greg "The Egg" Hirsch.
Willa Ferreyra over Kerry Castellabate
Ladies and gentlemen, we present to you our biggest beatdown of the whole tournament. Do fans really love Connor's sex-worker-crush-turned-wife Willa or just really hate Logan's handler/girlfriend Kerry Castellabate. The answer is probably a little bit of both.
Round 2
The Roy Family Championship
Shiv Roy over Kendall Roy
Kendall may have been his father's number one boy but Shiv is clearly fans' number one girl. She is the ultimate winner of the Roy Family Bracket.
The Waystar Royco Exec Championship
Gerri Kellman over Tom Wambsgans
Poor Tom never stood a chance. Despite Gerri technically being "fired" on the show currently, folks rightfully don't believe her story is anywhere close to over. And why would they? Roman's mommy is the ultimate survivor.
The Waystar Royco Investor Championship
Lukas Matsson over Stewy Hosseini
Stewy was hot stuff through Succession's first three seasons. Unfortunately for him there's a new heavy hitter in town. If even Waystar Royco is prepared to fold in the presences of Matsson's billions then what chance does our Stewy have?
The Wild Card Championship
Greg Hirsch over Willa Ferreyra
After a dominating first round victory, Willa is decisively defeated by Greg. In Succession's fourth season, the Roy family cousin has proven himself to be quite the shrewd operator and we can see the shape of things for him to come.
Round 3 (The Final Four)
Shiv Roy over Lukas Matsson
Shiv Roy and Lukas Matsson's fates are currently tied to each other. Inevitably, however, one must betray the other. And when that time comes, we have our money on Shiv to come out stronger.
Gerri Kellman over Greg Hirsch
Greg had a good run but sometimes you just run into the buzzsaw that is Gerri Kellman.
Round 4 (The Championship)
Shiv Roy over Gerri Kellman
Having taken down both her brothers to clear her region, then Lukas Matsson, and now her own godmother, Shiv Roy is our ultimate champion. They say in the game of thrones you win or you die. Well, in the game to succeed her father, Shiv certainly is livin'…at least for now. We'll see if Succession concurs with our findings in its series finale on Sunday, May 28 at 9 p.m. ET on HBO.