Features
Succession's Biggest Surprise Is Its Healthiest Relationship
As Succession nears the end of its run, only two characters appear to be enjoying each other's company.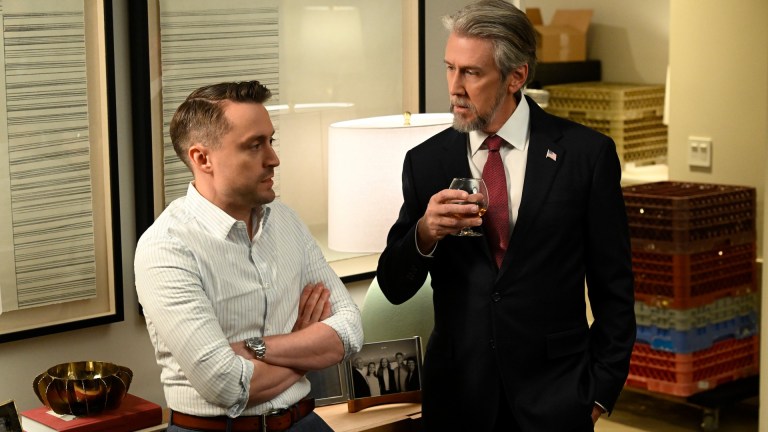 This article contains spoilers for Succession season 4 episode 7.
Four episodes after the death of Logan Roy (Brian Cox) of Succession, many of the show's characters are behaving exactly the way we'd expect them to. Roman (Keiran Culkin) is struggling to come to grips with the unresolved trauma he endured from his father, and he'll look to put some of it to rest when he delivers Logan's eulogy at the funeral. Shiv (Sarah Snook) feels like an outsider, trying to cuddle up to Lukas Mattson (Alexander Skarsgård) to find any way to undercut those around her until she's on top, whatever that means in her mind. And Kendall is so far successfully riding high without his father in the way, deciding to pillage the village and go reverse viking on Mattson in the hopes of taking over GoJo for himself and Waystar Royco.
With all of this toxicity in the air, the biggest surprise of the show's final act is the ongoing healthy marriage between Connor (Alan Ruck) and Willa (Justine Lupe). While these two didn't have a reciprocal relationship early in the show, Connor's loyalty and aw-shucks demeanor that works in surprisingly good taste compared to the rest of the Roy clan has won Willa over. Creator Jesse Armstrong made sure to demonstrate just how much this couple stands in juxtaposition to two others in the show with three brilliant relationship scenes in the seventh episode of the fourth season, "Tailgate Party."
Tom and Shiv Clear the Air
There's nothing more visceral and raw than a pent up argument that's been brewing for an entire series. Tom (Matthew Macfadyen) and Shiv have struggled to communicate honestly and effectively for much of the four seasons of the show. Shiv often treats Tom like a trophy husband, parading him around like a show dog and demeaning him at every corner of every room they both enter. All of Shiv's worst traits come out when she's in Tom's presence, and most of the time Tom ignores or goes along with the poison he's dealt because he enjoys the money and power of the Roys.
After Shiv tells everyone at the election party that Tom is going to be fired, Tom finally grows enough of a spine to confront Shiv for years of abuse. The argument on the balcony at the end of the episode can almost be felt reverberating through the TV screen, images of real-life lopsided couples careening through viewers' minds. Many of us know that domineering wife who commands her slithering husband, only for him to finally run out of rope. Tom deals death blow after death blow to Shiv, from screaming that her sense of self is "too transparent to find in a book" to making her face the truth about her incapability of being a mother. The last insult is clearly one that Shiv has had crossed her mind before (especially since her mother told her as much), but never expected to pass the lips of her husband.
Shiv's impending pregnancy has clearly been thrown up in the air after this fight. Will she ever tell Tom about the baby? They clearly can't raise the child together, as there's too much baggage anchoring both people to the floor. This argument was one of the show's absolute all-time scenes because both characters force each other to confront the despicable truths the audience has known about them for years.
Gerri and Roman Finally Quit the Cat and Mouse Game
Much of Succession has featured a weird, sometimes inappropriate relationship between Gerri (J. Smith-Cameron) and Roman. Gerri has the business smarts and people skills to negotiate her way out of any problem, and she actually did like Roman at one point in the show. She believed Roman showed potential within the company, but Roman preferred to send nude photos and flirt with Waystar's most trusted asset.
When Roman decides one of his first moves as co-CEO is to fire Gerri, she lets him know that there's really nothing Roman can do to win this war. Using all of the lewd evidence she possesses of Roman's kinks and sexual obsessions, Gerri rightfully threatens Roman to get what she wants. This is a supreme wake-up call for Roman, or at least it should be. The one person who had his back quite a bit of the time has finally stopped playing cat and mouse with him. Now Roman is left to lick his wounds and resolve his trauma solo. The timing of this relationship ending is symbolic of the way Roman's world has continued to crumble after his father's death.
Connor and Willa Are . . . Actually in a Healthy Marriage?
We've finally reached the only heartwarming scene of the episode. While Willa was originally lukewarm on marrying Connor, since their matrimony became official the couple have been on pretty good terms. This was even more evident on pre-election night as Willa continues to be the only one who supports Connor's plucky attempts at the Presidential office. When Roman goes into Logan mode and tries to crush Connor's dreams one last time, Willa encourages Connor to block out the haters.
In a show with a negligible amount of healthy personal development, it's been inspiring to see Connor and Willa attempt to detach themselves from the horrors of the Roy misery. Connor knows what he wants, he communicates with Willa, and he's starting to not care if anybody else supports him except Willa. This wasn't always the case, but Connor was able to climb this mountain and grow because he was willing to have authentic and mature conversations with Willa throughout the show, something that the other two relationships that blew up in this episode should have done.
This conversation in which Connor confronts Willa about her true intentions before their wedding is the type of vital marital conversation that helps spring them towards an optimistic future. While Succession has been known as a tragic and depressing depiction of family drama, the oddball of the Roys might just be the most human of them all, and we certainly hope he gets a happy ending! Connor may be rich, but he's not empty. He knows how to love, and he knows when to step away. This is a simple bar to clear, yet nobody else has vaulted it in Jesse Armstrong's world of backstabbing and deceit.
New episodes of Succession premiere at 9 p.m. ET on Sundays on HBO.