Features
Where Did Succession Season 4 Episode 5 Film?
An attempt to "bleed the Swede" takes the Roys to some stunning Norwegian filming locations on Succession.
This article contains spoilers for Succession season 4 episode 5.
If there's one thing we know about Succession, it's definitely not shy about pushing HBO's travel budget to the limit. The beloved drama follows the lives of the disgustingly rich Roy family and as such it likes to shoot in some disgustingly rich places.
With season 4 episode 5 "Kill List," however, the show's location scouts truly outdo themselves. Almost immediately following the death of their father and Waystar Royco leader Logan Roy (Brian Cox), the Roy siblings are cruelly forced by GoJo CEO Lucas Matsson (Alexander Skarsgård) to come visit him in Scandinavia for a corporate retreat to close their all-important Waystar acquisition. While Matsson himself is Swedish, said retreat will be held in Norway. Tom (Matthew Macfadyen) explains the reasoning for the location to Cousin Greg (Nicholas Braun) in crude terms.
"What's the difference?" Tom asks of Sweden and Norway. "They're all descended from the same rapists."
In a pre-season interview with Variety, Succession producer Scott Ferguson revealed that the decision to shoot in Norway wasn't quite so flippant.
"Norway is a glorious, natural setting," Ferguson said. "It immediately seemed like a perfect place for a family gathering in the series. We studied different countries, but we realized Norway just has this exceptional landscape — like nowhere else in the world."
Norway indeed provides an exceptional landscape for "Kill List." And thanks to that aforementioned Variety interview and some other useful online sleuthing, we now know all of the major filming locations for Succession season 4 episode 5. Give them a look below in case you ever need to find a spot to close a nearly $200 billion business deal.
Atlantic Ocean Road
Every exotic new location on a TV show or movie deserves an appropriately stunning establishing shot. For Succession season 4's fifth episode, producers choose to visually announce that the plot has officially moved to Norway with the help of the Atlantic Ocean Road.
The Atlantic Ocean Road is an 8.3-kilometer stretch of County Road 64 that runs across several islands on an archipelago before arriving in western Norwegian on the Scandinavian peninsula. Blessed with stunning views, the Atlantic Ocean Road is the perfect introduction to the natural splendor of the region. It's a popular site to film car commercials and was previously seen in Daniel Craig's final James Bond film No Time to Die.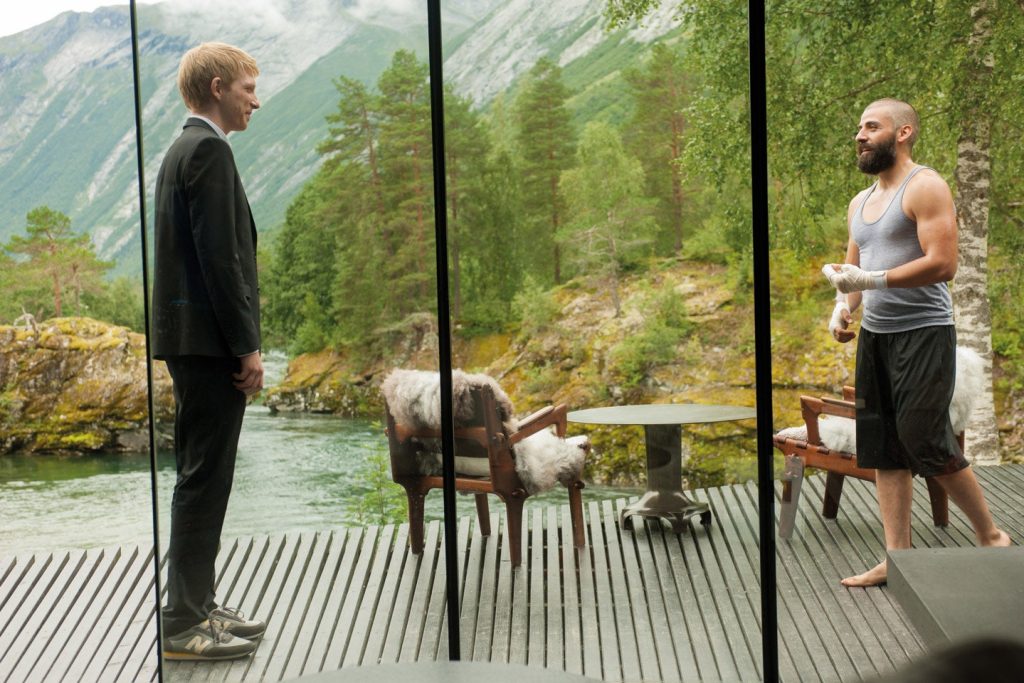 Juvet Landscape Hotel
Much of the action in "Kill List" takes place at the Juvet Landscape Hotel. The hotel, located in Valldal, takes the "landscape" (or "landskaps") portion of its name quite seriously. Made up of seven distinct cubes that sit on stilts, the rooms of the campus are designed to blend in seamlessly with nature, something that was understandably appealing to the Succession team.
"When we saw images of the remarkable architecture and setting of Juvet we got really excited," Ferguson told Variety.
The hotel has previously served as the setting for the entirety of Alex Garland's 2014 sci-fi film Ex Machina (see screengrab above). Kendall (Jeremy Strong) and Roman (Kieran Culkin) seem a little annoyed by the size of their rooms but we can't imagine anyone else would object to being placed in the middle of the Norwegian countryside and given access to lush shelter and a three-course dinner. According to Reservations.com, a stay in one of the Landscape rooms will run you a scant 6400 Norwegian kroner or 600 USD a night.
Romsdalen Gondola
The climactic scene of "Kill List" takes place atop a very cinematic mountain called Nesaksla. To get there, Succession production utilized the services of the Romsdalen Gondola or Romsdalsgondolen. This electric cable car ascends nearly 1700 meters into the air to provide passengers with a 365-degree view of the Romsdalen mountains.
It's all quite beautiful but one of the three actors involved in the emotional scene couldn't quite appreciate it until it was over.
"I didn't even like see (the mountain) until we finished shooting. I think it was because Roman was so hyper-focused on having to talk to this guy. The setting could have been anywhere. We could have been in a bathroom," Kieran Culkin said in HBO's post-episode feature. "When we were done we went down to the base and I went 'wait a minute, people were telling me how beautiful it was up there.' So I took a stroll back up to the top of the mountain and went 'oh wow, it's really lovely up here. This is really great.'"
New episodes of Succession premiere at 9 p.m. ET on Sundays on HBO.