News
Succession: Wait, Was That Jamie Chung?
A former reality star turned successful actress drops by the most momentous episode of Succession ever.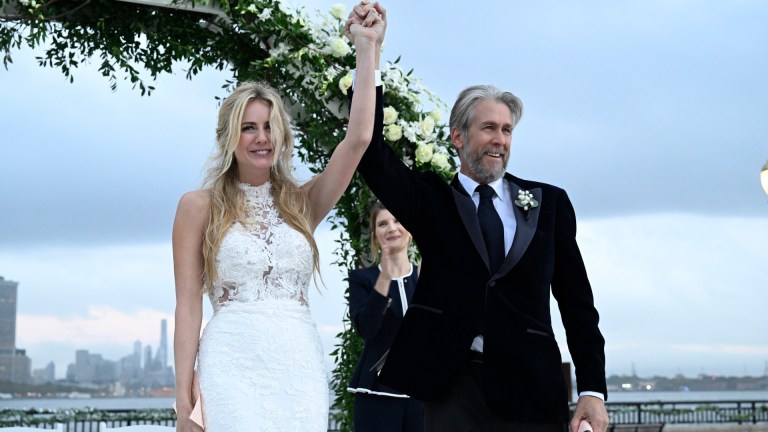 This article contains spoilers for Succession season 4 episode 3.
After four successful seasons of prestige TV storytelling, HBO's Succession finally did the thing we've all been waiting for this week. That's right: it introduced one of the stars of 2011's The Real World: San Diego. What, you were expecting us to mention something else?
OK, obviously Succession season 4 episode 3 "Connor's Wedding" is forever going to be known in the TV canon as "The one where they killed off Logan Roy." The shocking and sudden demise of the multimedia monster and paternal boogeyman made for an absolutely classic hour of television. But shortly before Logan collapsed on his private jet offscreen, there was another moment that was of almost equal import to pop culture die hards.
Around the 12-minute mark of "Connor's Wedding," viewers catch up with the titular Connor Roy (Alan Ruck) as the throws a bridezilla-esque fit about the quality of his wedding cake. As we come to find out minutes later, this is actually a deceptively tragic moment. Connor refers to the spongey consistency of the cake as making it a "looney cake." According to his brother Kendall (Jeremy Strong), Connor is likely associating the cake with the time that his father Logan (Brian Cox) got Connor's mother committed to a mental institution and plied him with cake for weeks after to get him to calm down. So uh…R.I.P. Logan Roy, I guess.
In addition to being crushingly sad, however, Connor's brief meltdown also happens to feature one of Succession's most random cameos yet. Playing Connor and Willa's unnamed wedding coordinator is none other than former reality TV star and current successful actress Jamie Chung.
Chung first came to prominence as one of the seven strangers who "stopped being polite and started getting real" on season 14 of MTV's The Real World, titled The Real World: San Diego. Ultimately, that season of The Real World would end up accommodating eight strangers, since Frankie Abernathy left midway through the season (and tragically died two years later at age 25 from complications of cystic fibrosis). While several former Real World castmembers have tried to enter the acting game following their appearance in the long-running reality franchise, Chung has been among the most successful few alongside Mike "The Miz" Mizanin and Karamo Brown.
The performer has some truly impressive work on her acting resume, including lengthy arcs on HBO's Lovecraft Country and Showtime's Dexter: New Blood. She's also contributed to several genre-friendly projects like Star Wars: Visions, Big Hero 6, and Batman: Death in the Family.
It's no wonder then that Jamie Chung would make an appearance on Succession. What is somewhat surprising, however, is what a small appearance it is. Chung's role as an unnamed wedding coordinator amounts to little more than a cameo. During her roughly 10 seconds onscreen, Chung's character merely mumbles "yes, ok" to Connor's bizarre request and we'll leave it up to SAG-AFTRA as to whether that even constitutes a speaking role.
Perhaps a longer subplot involving Connor's wedding woes was left on the cutting room floor. Or perhaps the brief inclusion of an MTV reality celebrity-turned-actor was meant to add to the surreal sensations the viewer experiences upon confronting the impossible: that Logan Roy was even capable of dying. Either way, it's nice to see Jamie Chung back on HBO and once again dealing with people who are neither polite nor real.