Features
Succession: Shiv Roy is Carrying a Secret That Could Change the Entire Game
One night in Tuscany could have changed the shape of things for Shiv Roy on Succession's final season.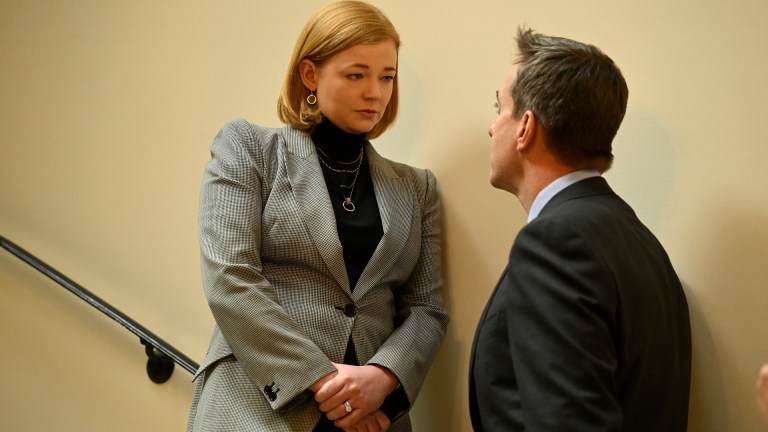 This article contains spoilers for Succession season 4 episode 4.
Siobhan "Shiv" Roy certainly isn't cut out to be a mother, but she's going to be one anyway. In the opening moments of the latest episode of Succession, entitled "Honeymoon States," Shiv takes a call from her doctor. Setting aside the totally wild fact that Shiv calls her doctor by her first name — who does that?! — Dr. Hubbard, er, Sharon, delivers some news to her patient. A recent test returned with a "good result" and "everything looks healthy," she says. The conversation only lasts a minute or so, but it leaves viewers with so many questions. Shiv is having a baby? When? How? With whom?! And what's an amniocentesis?
Let's start with that last question. Given the Roy family's proclivity to rabidly seek out the absolute best medical care at every point in time, it's unsurprising that Shiv would want all the tests for her unborn child. Amniocentesis is a procedure where a thin needle is inserted into the uterus and a small amount of amniotic fluid — the fluid surrounding the fetus — is extracted during the second trimester of a pregnancy. The purpose of this procedure is to test the fluid for potential genetic abnormalities in the fetus, such as cystic fibrosis and Down syndrome. Because amniocentesis comes with a small elevated risk of miscarriage, it's only carried out if routine blood testing comes back with a concerning result. It's pretty sad to think that Shiv has been worrying about the results of these tests all alone, without the support of a partner or even a friend, but moving through life in an emotionally stunted way is practically the Roy family motto.
That brings us to another question: Who is the father of this healthy, thriving baby? The timeline on Succession has always been a bit shaky, but recent episodes offer up some clues. According to doctor Sharon, Shiv is due for her 20-week ultrasound, which means that she's about four-to-five months along in her pregnancy. In the Season 4 premiere, the kids share that, in the wake of getting edged out of the GoJo deal, they've spent three months putting together their inane idea for a media hub called "The Hundred." So, it certainly seems like Shiv was still with Tom at the time the baby was conceived. Sure, they had an open relationship, but it doesn't feel like the show would introduce such a juicy plot device and then just attribute it to some rando.
The last time we heard Shiv talking about children, she was in Italy, having a conversation with Tom in which she reluctantly agreed to bank some embryos for potential later use. However, given Tom's wicked double cross in the season 3 finale, it feels like those babycicles never got a chance to come into play. No, it feels more likely that Shiv and Tom conceived this child the old fashioned way: in a villa in Tuscany, following the cruelest dirty talk ever committed to film. Shiv's exact words to Tom in the moments before they probably created their baby? "That's why you love me, even though I don't love you." Yikes.
This mystery baby is sure to shake things up in a spectacular way when Shiv finally reveals its existence to the rest of her family. Rumor has it that each episode in this season takes place over the course of a single day, so Shiv won't be visibly pregnant by the end of the series. But, with anything in the Succession universe, there will be a value associated with it as soon as the rest of the Roys — and likely daddy Tom — learn about its existence. What can Shiv possibly gain from this turn of events (other than a healthy child)? Is this advantageous for Tom? Will the baby motivate them to get back together and quite possibly win this whole thing?
Fun fact, both routine blood tests and amniocentesis can also reveal the gender of a baby, so Shiv probably already knows if her little bundle of future stock options is a boy or a girl. If it's a boy, you just know she's going to name him Logan.
New episodes of Succession premiere at 9 p.m. ET on Sundays on HBO.