News
When Will Riverdale Return With New Episodes?
Riverdale has two more episodes left in Season 4.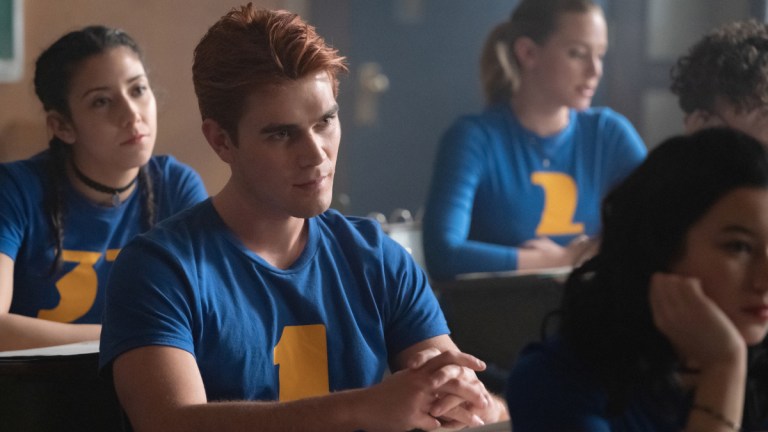 Riverdale was one of the first TV productions to shut down as part of the "social distancing" measure currently being observed across the world due to the COVID-19 pandemic. The Vancouver-based production shut down back on March 11th "over a crew member's suspected contact with coronavirus." Here's what we know about how it will affect Riverdale Season 4…
Riverdale will be back with a new episode tonight (Wednesday, April 29th). It is the 18th episode of the season, titled "Chapter Seventy-Five: Lynchian." Check out the full, glorious synopsis below…
Jughead and Charles follow a new lead after the contents of the latest videotape take a sinister turn; Kevin, Reggie and Fangs take their latest business venture to the next level; Cheryl and Veronica's maple rum business faces a new threat.
And here is the promo…
"Lynchian" will be the second to last episode of the season. While there were meant to be 22 episodes in Season 4, the last episode of the season (via TV Guide) will actually be Episode 19, which will air next week (Wednesday, May 6th). That episode is titled "Chapter Seventy-Six: Killing Mr. Honey," and it was directed by Riverdale's own Mädchen Amick (Alice Cooper).
According to TV Guide, the episode "will follow a revenge fantasy Jughead (Cole Sprouse) has for Mr. Honey (Kerr Smith) that he's submitting as a story to the University of Iowa. The undoubtedly gruesome tale will detail how the new principal has ruined senior year for the core four and all of their friends."
While TV broadcast networks (i.e. The CW, NBC, CBS, Fox, and ABC) will begin running out of new content very soon, cable and premium cable platforms, as well as streaming services, are likely to have a bit more time before they face the same problem. Basically, the more common it is for a platform to film an entire season or series of something before dropping it or rolling it out, the more of a stockpile that platform probably has.
"What's happening now is we work pretty far ahead. We deliver all of our shows with all the episodes at once," Netflix chief content officer Ted Sarandos told CNN (via BGR). "So we're pretty far ahead, so we don't see any disruption in our output over the next few months. You know, maybe later in the year if this progresses longer we'll start feeling some of that as the production side isn't operating."
That being said, it's only a matter of time before new content becomes much more scarce, potentially forcing media creators and contributors to come up with a new model for new, original content. For now, however, at least we have a few Riverdale episodes to look forward to.