News
What's Next For The Endeavour Cast & Creators?
True crime, Tetris, and Tom Jones. Here's where to see Shaun Evans, Roger Allam and more in 2023.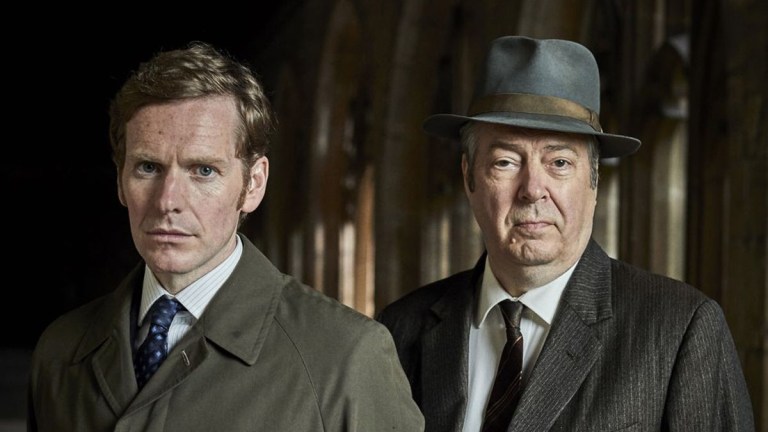 It's tough to say goodbye. Endeavour's ninth series concluded over a decade spent with the Cowley Station (later Thames Valley) gang, so it's only natural for fans feeling bereft to seek out their favourites' next steps. Having hung up his Fred Thursday hat, Roger Allam can be seen this year on screen and stage, while Shaun Evans is taking on a very different kind of crime drama role.
From Endeavour production company Mammoth Screen, there's a new period drama co-production, plus the return of series creator Russell Lewis' next ITV detective drama, starring John Simm. Find all the info below.
Shaun Evans – True Crime Serial Killer Drama Delia Balmer (w/t)
Actor-director Shaun Evans is currently filming the role of real-life serial killer John Sweeney in a new ITV true crime drama. Evans will star opposite Anna Maxwell-Martin (Motherland, Line of Duty), who plays Sweeney's former girlfriend Delia Balmer in the four-part series, set between the early 1990s and 2010s. Balmer survived brutal physical and emotional torment from Sweeney, and was then forced to fight her way through a justice system that let her and Sweeney's previous victims down severely before his conviction was secured.
Delia Balmer is the working title of the drama, which comes from the makers of Line of Duty, Bodyguard and Vigil, the first series of which Evans starred. Inspired by Balmer's book Living With a Serial Killer, the series is written by Nick Stevens (The Pembrokeshire Murders, In Plain Sight), directed by Julia Ford (Everything I Know About Love, Grace, The Bay) and will air on ITV and ITVX at a later date.
Roger Allam – Frank and Percy with Sir Ian McKellen, Robert Maxwell in Tetris
Look out for Roger Allam in new film Tetris, which charts the creation and rights battles of the legendary puzzle game, and is available to stream on Apple TV+ from March 31st. Allam stars as Czechoslovakian-born publishing tycoon Robert Maxwell, the newspaper bigwig who played a part in the intellectual property war surrounding Tetris before finding infamy following his 1991 death, when he was found drowned off the yacht named for his daughter Ghislaine Maxwell. Allam stars alongside Rocketman's Taron Egerton, Detectorists' Toby Jones and many more in the film.
Come summer, Endeavour fans can see Allam alongside Sir Ian McKellen in new comedy play Frank and Percy, which premieres at the Theatre Royal Windsor on June 9th before moving to the Theatre Royal in Bath from July 25th to August 5th. It's the story of an unexpected relationship blossoming between two men who meet when their dogs play together in the local park. Allam will play Frank, a widowed schoolteacher, and McKellen will play "somewhat radical elder statesman" Percy in the production, written by Ben Weatherill and directed by Sean Mathias.
Sara Vickers – Guilt Series 3
In April 2023, the third series of Neil Forsyth's dark Scottish crime comedy-drama Guilt will arrive on BBC iPlayer. Edinburgh-born Sara Vickers (who plays Joan Thursday in Endeavour) returns to the role of Erin, the daughter of local gangsters Roy and Maggie Lynch (played in Series 2 by Stuart Bowman and Phyllis Logan). In Guilt's second series, Erin is trying to maintain distance with her estranged father Roy, but an incident brings him back into her orbit.
Vickers appears alongside Mark Bonnar and Jamie Sives in Guilt Series 3. The four-episode series will be available to watch as a box-set on BBC iPlayer, as well as airing on the BBC.
Anton Lesser – Red Sky at Sunrise
Since filming Endeavour's final series, ACC Bright's Anton Lesser hasn't stopped, touring in stage play The Two Popes last autumn, playing Vernon Marley in BBC crime drama Better, taking a key role in Star Wars series Andor, and voicing a part in BBC Radio 4 and BBC Sounds series One Five Seven Years, for which he recently won a BBC Audio Drama award for Best Actor.
In 2023, fans can see Lesser in person playing the author Laurie Lee in a one-off concert 'Red Sky at Sunrise' at the Royal Shakespeare Theatre in Stratford-upon-Avon on Wednesday the 31st of May.
Russell Lewis – Grace Series 3
It can't be common for a screenwriter to occupy the Sunday night primetime drama slot with two consecutive series, but that's what Endeavour creator Russell Lewis has done by following up the Morse prequel's final run with the third series of Grace.
Starring John Simm in the title role as DS Roy Grace in the Brighton-set series and adapted from the novels by Peter James, Grace Series 3 adapts the 2010-2012 novels Dead Like You, Dead Man's Grip and Not Dead Yet. It began airing at 8pm on Sunday the 19th of March on ITV1 and ITVX, in the two-hour Endeavour slot.
Mammoth Screen – Tom Jones
In addition to follow-up series for crime dramas The Tower and McDonald and Dodds, and alt-history race drama Noughts + Crosses, production company Mammoth Screen are the co-producers of new ITV/PBS period drama Tom Jones. Screenwriter Gwyneth Hughes has adapted Tom Fielding's famous 18th century comic novel into a romantic four-part drama starring Solly Mcloed and Sophie Wilde, supported by Hannah Waddingham, Pearl Mackie, Shirley Henderson, Felicity Montagu, James Fleet and more.
Tom Jones starts in the US on PBS Masterpiece on April 30. The UK air date is still tbc, but you can get a taste with the first full trailer here.
Endeavour Series 9 is available to stream on ITVX in the UK. Series 1-8 are available to stream on BritBox.