News
What is the Song in the WandaVision Trailer?
The Platters' "Twilight Time" takes on an eerie significance for Vision and Scarlet Witch in Marvel's WandaVision trailer.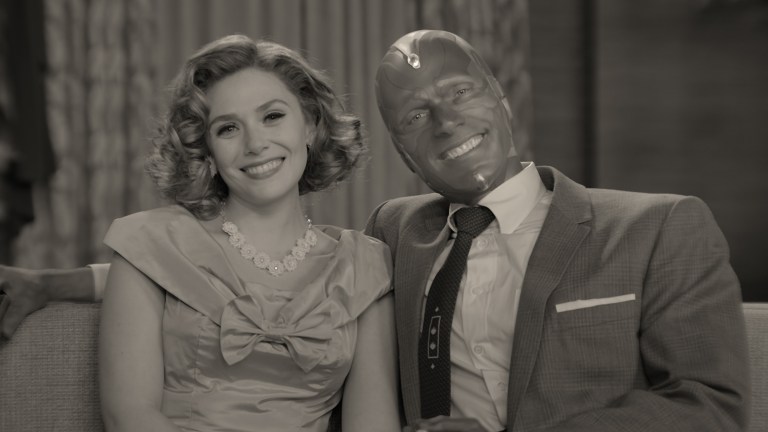 The first trailer for Marvel's WandaVision Disney+ series has arrived, and it most certainly didn't disappoint. Alternating between clever sitcom homages, comics accurate costumes, and the eerie knowledge that one of its title characters is supposed to, well, quite dead to be frank, WandaVision looks like a genuinely fascinating and unpredictable MCU entry.
It's set to the haunting melody of The Platters' version of "Twilight Time." The song itself dates back to 1944, when it was written by Buck Ram (lyrics), Morty Nevins, Al Nevins, and Artie Dunn (music). The song was originally conceived as an instrumental, to which Ram later added lyrics. While there have been many recordings of "Twilight Time" through the years, none are as famous as the version by The Platters, which was a #1 hit upon its release in 1958.
1958 is era-appropriate considering how 1950s sitcom-heavy that the WandaVision trailer is, so it's a nice bit of mood setting. But its lyrics take on a particular moving (if dark) meaning when looked at in the context of the story of Scarlet Witch and Vision.
With lyrics about a lover's voice calling "out of the mist" at "end of day" or "as day is done," or meeting "deep in the dark" and "like days of old" it calls to mind someone pining for a love of the past. Or perhaps a lover who died years before, and now their partner waits for the end of their life so they can be together again.
Here are the full lyrics to "Twilight Time" for reference.
Heavenly shades of night are falling
It's twilight time
Out of the mist your voice is calling
'Tis twilight time
When purple colored curtains
Mark the end of day
I'll hear you my dear at twilight time
Deepening shadows gather splendor
As day is done
Fingers of night will soon surrender
The setting sun
I count the moments darling
'Till you're here with me
Together at last at twilight time
Here in the afterglow of day
We keep our rendezvous beneath the blue
Here in the sweet and same old way
I fall in love again as I did then
Deep in the dark your kiss will thrill me
Like days of old
Lighting the spark of love that fills me
With dreams untold
Each day I pray for evening just
To be with you
Together at last at twilight time
Here in the afterglow of day
We keep our rendezvous beneath the blue
Here in the sweet and same old way
I fall in love again as I did then
Deep in the dark your kiss will thrill me
Like days of old
Lighting the spark of love that fills me
With dreams untold
Each day I pray for evening just
To be with you
Together at last at twilight time
Together at last at twilight time